Free Buyer Home Warranty For Buyers
I offer a free Home Warranty for all Buyers who sign up with me to be your REALTOR® upon every successful closing of your new home. *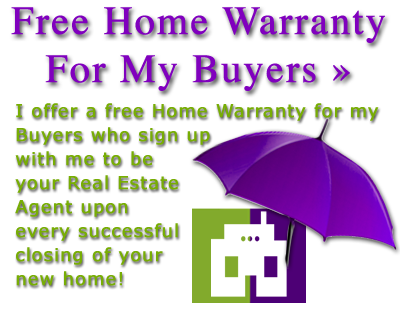 A Free Home Warranty allows my buyers peace of mind when they move into their new home. It is a thank you from me to you, for trusting me with your most important transaction: the successful search, negotiation and the buying of your new home.
A Home Warranty is a residential service contract that provides repair and replacement coverage for many of the home's most essential systems and appliances. With a home warranty, sellers, buyers and agents can all be protected against costly breakdowns before, during, and after the sale of the home.
What is a home protection plan? A home protection plan is a service contract that covers the repair or replacement of many of the most frequently occurring breakdowns of home system components and appliances. It puts you in control of your budget with an economical way to help protect against otherwise potentially costly situations.
Benefits for the home buyers:
When you buy a new home, you're making a major investment in your family and your future. A home protection plan can give you the reassurance of knowing you're helping to safeguard that investment.
Additionally, home buyers can move in with confidence knowing that their budget and new home is protected against unexpected mechanical failures. They'll also get the convenience of having live service representatives available to them 24 hours a day, 365 days a year.
Relief from some of the expenses of unexpected breakdowns on covered items
Affordable, flexible and customizable plans
Access to a network of service contractors
Increased confidence in your home purchase
Benefits for the home sellers:
When you're selling a home, you want to find ways to make your home more attractive to potential buyers. A home protection plan can make your property stand out simply by giving buyers the boost of confidence they need to make a decision in your favor.
It may discourage downward price negotiation
It can help distinguish properties from other listings
It can help boost buyer confidence
It can help reduce your liability in post-sale issues
* Offer Subject to Your Lender Guidelines
If you prefer a $150 gift card instead, just let me know!
Valid on purchases above $1,500,000.00
Cannot be combined with any other offers
Offer does not apply to past transactions
Not valid or assignable to third-parties
Santa Fe Association of Realtors