Awakening Joy & Creativity Resources For a Life Worth Living
Awakening Joy & Creativity Resources – Links to websites that can feed your soul.
I want to share some online resources that nurture my spirit, awaken joy and stimulate my creativity. I will be adding more over time. Please send me your suggestions!
Conscious Links to Awakening: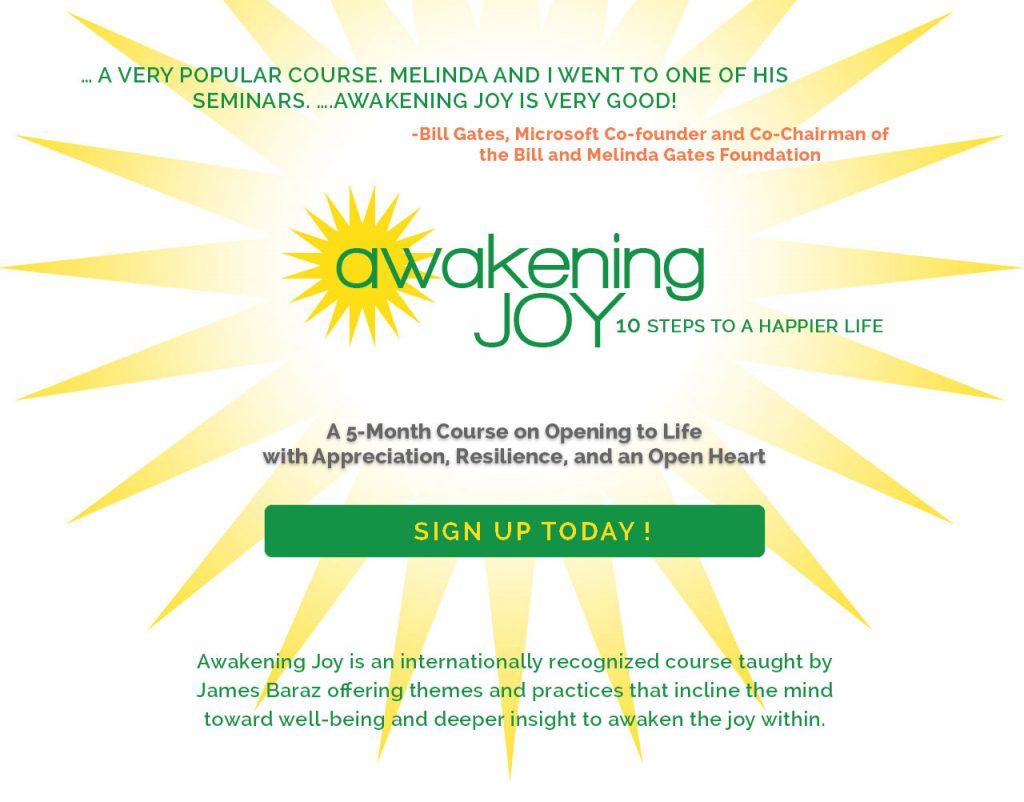 Awakening Joy
I have taken this online class many times. Each time it is different. I like to think of this as my source for staying connected to my inner self while discovering joy in my daily life.
Joy is not for just the lucky few–it's a choice anyone can make.
Awakening Joy is an internationally recognized Internet course created by noted teacher and author, James Baraz. The course is designed to awaken joy through an exciting curriculum of principles and practices that incline the mind toward well-being, happiness and ease. Led by James, the course features a range of renowned guest speakers and fosters a supportive community of fellow participants. Over 12,000 people worldwide have experienced the power of Awakening Joy, and the course has been celebrated in media publications such as O Magazine. Bill Gates has recommended Awakening Joy on his 2012 Summer Reading List.
The course starts each year the first week in February and lasts for 5 months.
Awakening Joy has GREAT app for your iPhone!
---

Abraham Hicks
This is the original source material for the current Law of Attraction wave that is sweeping the world, and it is the 21st century inspiration for thousands of books, films, essays and lectures that are responsible for the current paradigm shift in consciousness.
Here you will find accurate clarification of the basics of the Law of Attraction and practical applications as well as up-to-the-moment leading-edge expanding information regarding the Law of Attraction. (Also known as "The Teachings of Abraham")
This is the fountainhead of the information upon which the hit movie, "The Secret" was based.
It is amazing to me how much we as people have to learn how to be better people. The Abraham teachings are the instruction manual we were not given at birth.
---

En*Theos
Optimize your life. Let's change the world.
Our mission is simple.
We want to change the world. How? Well, we think it's pretty straightforward. We've each gotta be the change we want to see. Helping you do that is what we're all about.
en + theos. Two little Greek words. Put 'em together and you've got enthusiasm—or "God within"—the secret sauce to creating an extraordinary life while making a difference in the world.
A great resource for your whole life!
---

MindValley
Pushing Humanity Forward
Mindvalley stands for ideas and products that allow human beings to live healthier, happier lives. From online universities, for personal growth, to events, apps and courses—we are ambitiously, ridiculously, and irreverently determined to unleash the full potential of humanity so that everyone can truly be the best version of themselves.
I really like the Omvana meditation app for my iPhone!
---
Accenting the Soul – Products for Your Lifestyle
Glassbaby

If you do not know Glassybaby.com, you will now!
Every glassbaby gives!
10% from the sale of every glassybaby goes directly to organizations that support people in all kinds of need.
Thier giving carries no judgement, often supporting the needs that aren't often supported.
They just want to help where help where help is needed. it's that simple.
Hand blown glass holds a votive candle. Great client & friend gifts. May the light be with you!
Rustica Ornamentals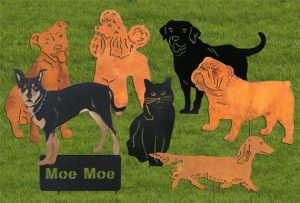 I fell in love with the poodle and contacted the Etsy store where I also learned about their other products.
The decorative metal yard stakes come in an amazing array of dog breeds that really capture the breeds essence. Krista and Chris also create custom pieces of ones own dog when provided with a photo.
From their Facebook page they also make custom metal panels that make great privacy screens. Their creativity seems to have no limits when it comes to metal crafting in all sizes. I am excited to discover them and will be adding them to my client gifts, where appropriate.
Contact Rustic Ornamentals
61 Arrow Road, Bay 10
Wethersfield, CT 06109
Order by phone anytime: 860.778.6841
Contact Customer Service: 860.778.6841
Monday – Saturday, 10:00 am – 7:00 pm (EST)
E-mail: k.t@rusticaornamentals.com
Web: https://rusticaornamentals.com/
Etsty: www.etsy.com/shop/RusticaOrnamentals
Jaclyn Hamilton Hand Painted Wine Glasses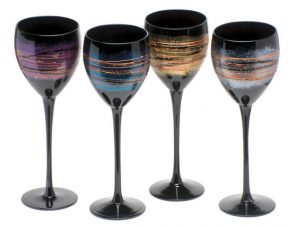 These one-of-a-kind wine glasses are a great conversation piece and are hand-painted in Metallic Purple, Gold, Blue and Green.
Beautiful to look at with the texture of an original oil painting, these are totally safe to wash in the top rack of your dishwasher.
These glasses are stunning! The custom order was so easy to transact. Jaclyn is a very gifted artist. Thank you for making such beautiful art work and sharing it with the world! I will be telling all my realtor colleagues how wonderful they are and what great house warming gifts these make.
Jaclyn Hamilton Hand Painted Wine Glasses
jaclynayn@gmail.com