About Aldea de Santa Fe
Overview of Aldea: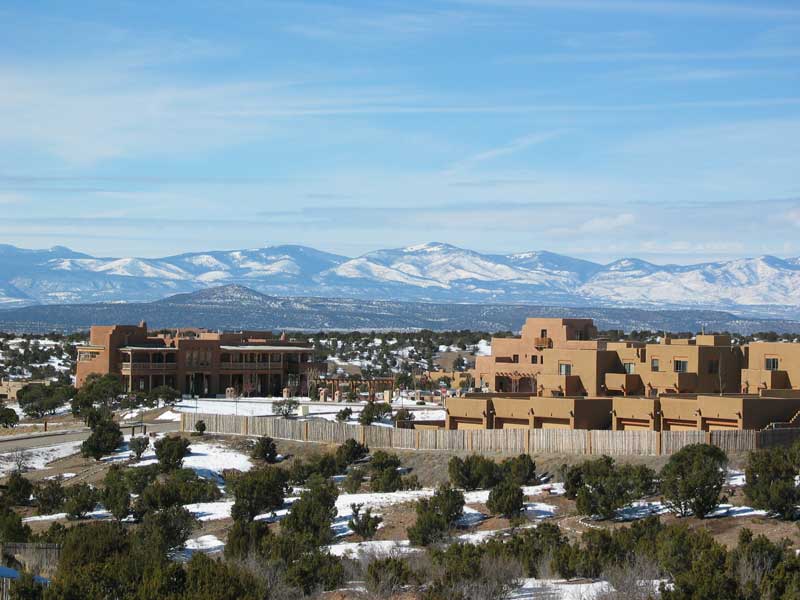 An exciting new urbanist village within Santa Fe's prestigious northwest side, Aldea de Santa Fe has been thoughtfully conceived as a harmonious community where people can live, work, shop, socialize and play in a beautiful safe environment.
Aldea de Santa Fe consists of 345 acres, with 205 acres of perpetual open space, superbly located in the high-value northwest corridor of Santa Fe County, with easy access to Highway 599 ("Relief Route"), and on the north, by the highly successful, 4,700 acre golf-course development of Las Campanas.
Built on a series of dramatic ridges, the Aldea Village has terrific views of the surrounding mountains. The site's rolling hills create a splendid community, with unimpeded views of mountain ranges and long vistas with a feeling of natural open space. Each lot owner owns an undivided interest in the open space, including an open space preserve of approximately 100 acres on the Northwest side. Sidewalks and internal trails throughout Aldea link to the open space, Aldea Plaza, and the Northwest Trail System.
The Aldea Plaza is only an eight-minute drive east to the famous 17th Century Plaza and related amenities of the City of Santa Fe, and a ten-minute drive west to the new Municipal Recreation Complex, which includes 27 excellent holes of golf.
Aldea de Santa Fe (which means small village of Santa Fe) has master plan zoning for 476 dwellings units, 185,000 square feet of retail/commercial, and one institutional site. One hundred forty acres are allocated for building purposes, leaving approximately 60% of the overall property as open space.
Community Information: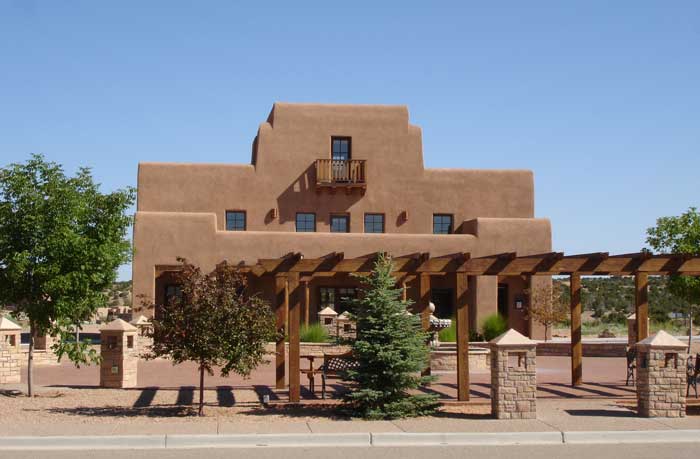 Aldea is a New Urbanist Village, with a central civic plaza surrounded by traditional neighborhoods of multiple housing types & miles of walking trails.
New Urbanism provides a unique mix of commercial properties, live/work lofts (apartments over storefronts), townhouses, patio homes, & single family homes with yards. Diverse, walkable neighborhoods surrounding a mixed-use commercial core, are what distinguishes New Urbanism from other development styles.

Aldea is in Santa Fe County and is connected to the Santa Fe County water and sewer systems. (The vast majority of houses in Santa Fe County, not in Aldea, are on wells and septic tanks). The roads in Aldea are owned and maintained by the Homeowners Association. Santa Fe County Real Estate taxes are very low, and monthly Homeowners Association dues cover the maintenance of private roads, open space, parks, and a community building. Current dues for homes are approximately $150 per month, paid quarterly and LiveWorks/commercial currently pay approximately $98 per month. When the Aldea Village Center builds out with remaining commercial, there will be a commercial dues added to all commercial properties that should equal the homeowners fees.
Designed and engineered to maximize opportunities for views from private homes as well as from the sidewalks, open spaces and numerous pocket parks, Aldea has views of four mountain ranges as well as rolling foothills near and afar. The Aldea Design Code, created by Andres Duany along with local architects, works to produce attractive streetscapes that emphasize the public realm.
The professionally managed Architectural Review Committee reasonably and aesthetically implements the Aldea design code, and helps to ensure the integrity of real estate investments within Aldea. Your investment is secure owning a home and living in this premiere Santa Fe village designed by Andres Duany.
Community Master Planning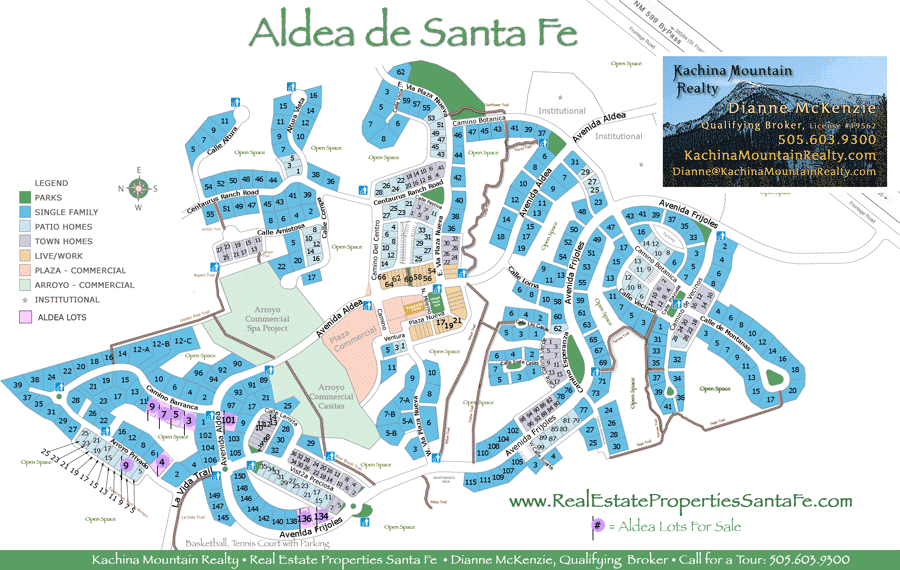 Masterfully planned by internationally acclaimed New Urbanist Architect Andres Duany, Aldea de Santa Fe has been intentionally created to recapture the vibrancy and urbanist traditions of old Santa Fe.
Drawing on the rich architectural heritage of Old Santa Fe, Aldea Plaza's timeless architectural themes have been creatively composed by renowned New Urbanist Architect, Stefanos Polyzoides.
While I have lived & worked in Aldea (formerly at Equity New Mexico Real Estate Office on Aldea Plaza) and currently with Kachina Mountain Realty, as the Qualifying Broker, I also represent Buyers & Sellers of properties in and around Santa Fe, Taos County and beyond (visit KachinaMountainRealty.com). I am available for a Seller consultation to give you a full evaluation of what your home is worth. For Buyers, I know the Santa Fe area as well as Taos County and can find your next home, so please contact me and let me give you a tour of the properties that are currently on the market!