Get Pre-Approved for a Mortgage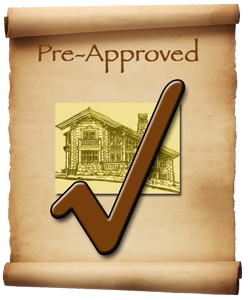 Unless you are going to pay cash, the first step toward owning your new home is to become pre-approved for a mortgage loan. There is different from becoming pre-qualified.
To become pre-qualified, you simply talk with a mortgage lender and tell them about your assets, liabilities, and income. They don't verify any data you give them. Based on what you have said, they give you a guestimate of how much you can borrow and estimated rate of interest.
To become pre-approved, you meet with the lender and present documents to verify your financial status. The lender will also order a copy of your credit report. Based on this information, they will tell you what loan programs you qualify for, how much they will lend you, and the interest rate and fees they will charge.
The lender will also give you a pre-approval letter.  In today's housing market, this is an important document. Bring this document with you when you meet with your real estate broker!
Because so many people are having a hard time obtaining mortgage loans, home sellers are skeptical of offers from buyers who don't have a pre-approval letter. Naturally, they do not want to remove their houses from the market, only to learn weeks later that their buyer can't close on the purchase.
Most sellers, including the banks, won't even consider an offer unless it is accompanied by a pre-approval letter. 
The other advantage to obtaining a pre-approval is in knowing exactly how much you can spend as you begin your home search. It's frustrating and disappointing to fall in love with a home that's just above your price range. The pre-approval letter will keep you looking where you can buy.
Be Prepared!
To expedite your approval and prevent the need for an immediate second visit to your mortgage lender, take these items with you on the first visit:
Your present mortgage or rental information.
Two-year history of employment and verification of all income sources.
If self-employed, copies of past two years' Federal Income Tax Returns.
Information about your checking, savings and credit card accounts.
Name, account number and outstanding balance of each of your debts.
Application deposits.
Information about any assets, including assets that will be used as funds to close.
Information on child-support payments – incoming or outgoing.
Copy of your Social Security card and photo ID.
If VA – Certificate of Eligibility or DD214
Before You Start Looking For Your New Home:
Check your credit rating. Straighten out any errors before its too late.
Determine a comfortable monthly budget for your new purchase, including down payment and monthly payment.
Find a loan program that meets your needs and get pre-qualified (preferably pre-approved).
Choose a REALTOR® that you trust and who understands your needs.
Determine what neighborhood best matches your needs.
Identify important features you need your new home to have.
Closing Costs to Expect:
Lender fees include charges for loan processing, underwriting, preparation and establishing an escrow account.
Third-party fees include charges for insurance, title search, and other inspections such as termites.
Government fees include deed recording and state & local mortgage taxes.
Escrow and interest fees include homeowner's insurance, loan interest, real estate taxes, and occasionally private mortgage insurance
---