7 View Lots For Sale in Santa Fe
Price Reduced on all 7 View Lots in Santa Fe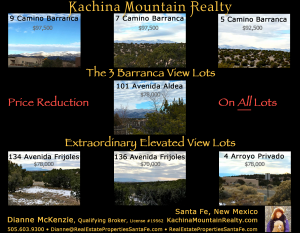 I represent a seller who has 7 of the best remaining Aldea View Lots for sale!
According to the real estate pundits, the coming wave of residential sales in 2018 is in view lots with new construction. To prepare for this wave, it is a good time to buy lots in anticipation of the real estate surge. There are very few and far between quality view lots for sale on the west side of Santa Fe and these are the best.

If you have ever considered building your Santa Fe dream home, now you have some amazing view lots in which to choose. Aldea is 90% built out and up until now, there have not been a lot of choices for view lots, as most have already been built on. Now you have a great selection of view lots in which to choose to build your dream home!