Buyer Beware: Due Diligence is the Key to Buying Property
Due Diligence is the Key to Buying Property
Buyer Beware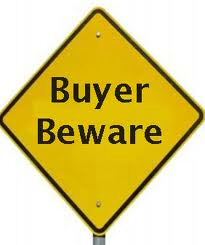 Whenever a Buyer is considering purchasing property, the most important aspect before purchasing is Buyer Due Diligence. Due diligence means taking precautions and doing ones homework by researching the property and the surrounding area before one makes a purchase.
Buyers are responsible for conducting their own independent due diligence on any property they are considering purchasing. Before purchasing property, Buyers should always verify data at the local government authorities.
A Realtor's® role is to help a Buyer by advising them on where to get the information needed to do the Buyer's independent Due Diligence. Sellers and Realtors® have the legal responsibility is to disclose adverse material facts about the property that they are aware of. It is not possible for them to disclose facts that they are not aware of.
Role of a Realtor®
A real estate broker (Realtor®) works to negotiate and arrange real estate transactions. This licensed individual has daily duties that include writing contracts and overseeing transactions for sales and purchasing activities on homes, land and commercial properties. A Realtors® role in a real estate transaction is to provide real estate services to their clients while following a strict code of ethics.
A Realtor® is the source of the source, not the source of information.
Some of a Realtor® duties on behalf of Sellers include:
• Listing homes for sale on the local, MLS, Multiple Listing Service
• Sharing the brokerage listings with other MLS broker members to get Buyers to the property
• Sharing the listing commission with successful Buyer brokers
• Advising the home seller in preparing their home for listing and showings
• Supervising showing, report to sellers results and feedback
• Submitting any offers to the Seller for consideration
• Helping the Seller negotiate offers to try and execute a purchase contract with a buyer
• Working on the Seller's behalf in coordinating the transaction process
• Delivering and explain documents, disclosures and transaction items
• Working with the Seller through the closing and their move-out from the home
On the Buyer's side of the transaction, Realtors® work with people wanting to buy a property by providing advice and services to help them to find a property that fits their needs and completing the steps of the transaction, such as:
• Helping Buyers locate all properties in their desired area in their price range and meeting their criteria
• Coordinating and helping Buyers to visit and view properties
• When a decision is made to attempt a purchase, helping the Buyer craft their initial offer and purchase agreement
• Working with the Buyer on their behalf in negotiations with the seller through their Realtor®
• Once a purchase contract is executed, coordinating the transaction process on the Buyer side
• Delivering and explaining documents in the transaction process
• Coordinating inspections, reports and repair negotiations
• Assisting Buyers through to closing and taking possession
Realtor Code of Ethics:
https://www.nar.realtor/about-nar/governing-documents/code-of-ethics/2021-code-of-ethics-standards-of-practice
Title Companies Role in Due Diligence
A title company is a firm that researches legal ownership claims on real estate. Title companies come into the home buying process after an offer has been made and the property is under contract. Title companies work to protect the Buyer from fraud by making sure there are no outstanding liens or mortgages on the house so the buyer can be confident in their purchase.
When a Buyer purchase real estate, it's essential to be aware of any liens (old debts secured by the home), omitted heirs (those who should have inherited the home but didn't), mistakes in the public record and other title issues. The title company can also provide a map of plotted easements.
Title companies perform title research and property surveys, issue title insurance and provide other services related to title search and title insurance. The title insurance company sends a closing protection letter (CPL) to the lender that protects against fraudulent activity or errors by contracted closing agents working on the mortgage. This is a standard part of any real estate transaction.
Most of the time, lenders require a property survey to establish property lines and boundaries. The survey will also point out any issues that may arise, like a neighbor's fence over the property line. According to the American Land Title Association (ALTA) and the National Society of Professional Surveyors (NSPS), a land title survey can include:
• Boundary lines of the purchasing property
• Access points
• Water features
• Improvements and structures
• Plottable recorded documents (easements, utility rights, etc.)
• Historical monuments
• Cemeteries
The survey inspector notes structures on the premises, such as fences, sheds or decks. Title companies also conduct survey inspections. During a survey inspection, the title agency sends someone to observe the property in person. The state of the property is then compared with the survey notes to look for discrepancies. Title companies generally require a survey before they will insure a property without exceptions.
Further information on Title Companies: https://www.consumeraffairs.com/finance/what-does-a-title-company-do.html
Final Thoughts
Do as much research as you can before even submitting an offer. That way, you will know what you are purchasing and understand the surrounding area. Further research, if needed, can be part of the Purchase Agreement written in an Addendum.
Remember, it is the duty of the Buyer to do their own DUE DILIGENCE. It is not the responsibility of the Realtors® or Seller to investigate the property & surrounding area for zoning, building codes and other pertinent information.
The information provided by the Seller, Realtor® and title company will usually not address everything that you might want to know about the property and may not be sufficient for you to decide whether or not you want to buy the property. The Realtor® and Seller will tell you what they already know concerning adverse material facts concerning the property, but beyond that it is your responsibility to do whatever additional research is needed.
For example, if the corners are unmarked, it is not the Seller's responsibility to mark the corners of the land unless you explicitly wrote a survey into your offer and the Seller agreed to do it. It is not your Realtor's® responsibility to perform detailed research on building requirements. It is not the title company's responsibility to plot easements on adjacent land unless you explicitly ask them to do that. A Buyer must do their own independent due diligence.
"Won't My Agent Do All This Research For Me?"
A Realtor's® role is to help a Buyer by advising them on where to get the information the Buyer needs as they move down the path of doing their own independent due diligence.
"The key point here is that your Realtor®, who has your back, knows that it is in your best interest for you to do your own due diligence. The information you will receive will be more accurate and helpful if you get it straight from the information-provider, not filtered through a Realtor® as an intermediary." ~Tammy Tengs
Here is a great article that covers many Buyer's frequently asked questions:
http://buyingandsellingland.com/due-diligence-when-purchasing-vacant-land-buyers-frequently-asked-questions/
---
Excerpts from a New Mexico Real Estate Purchase Agreement
NEW MEXICO ASSOCIATION OF REALTORS®
PURCHASE AGREEMENT – RESIDENTIAL RESALE – 2021
NMAR Form 2104 (2021 FEB) New Mexico Association of REALTORS.
20. SELLER'S DUTY TO DISCLOSE. Seller shall disclose to Buyer any Adverse Material Facts known to him about the Property. However, Seller does NOT have an obligation to inspect the Property for the Buyer's benefit or to repair, correct or otherwise cure known Adverse Material Facts that are disclosed to Buyer or unknown Adverse Material Facts that are discovered by Buyer's inspections.
21. BUYER'S INVESTIGATION OF SURROUNDING AREA. Buyer warrants that prior to entering into this Agreement, he has thoroughly investigated the neighborhood and the areas surrounding the property, to include, but not be limited to investigation of the following: the existence of registered sex offenders or other persons convicted of crimes that may reside in the area; and the presence of any structures located, businesses operating or activities conducted in the area that, in Buyer's opinion, affects the value and/or desirability of the property. By entering into this Agreement, Buyer represents he is satisfied with the neighborhood and surrounding areas and agrees that any issue regarding the surrounding area will NOT serve as grounds for termination of this Agreement. (______Buyer initials required)
26. DISCLAIMER. The Property is sold in its current condition including, but not limited to, the nature, location, amount, sufficiency or suitability of the following: current or future value; future income to be derived therefrom; current or future production; condition; size; location of utility lines; location of sewer and water lines; availability of utility services or the possibility of extending improvements (paving, sewer, water, utilities, access) to the Property; easements with which the
Property is burdened or benefited; lot boundaries; adjacent property zoning; physical and legal access; soil conditions; permits, zoning, or code compliance; lot size or acreage; improvements or square footage of improvements; and water rights. Broker has not investigated and is not responsible for the forgoing aspects of the Property, among which lot size, acreage, and square footage may have been approximated, but are not warranted as accurate. Buyer shall have had full and fair opportunity to inspect and judge all aspects of the Property with professional assistance of Buyer's choosing prior to settlement. Buyer and Seller acknowledge that Brokers' only role in this transaction is to provide real estate advice to Broker's respective client and/or customer and real estate information to the parties. For all other advice or information that may affect this transaction, including but not limited to financial and legal advice, the parties shall rely on other professionals.(______Buyer & _________Seller initials required)
NEW MEXICO ASSOCIATION OF REALTORS® PROPERTY DISCLOSURE STATEMENT (ADVERSE MATERIAL FACTS) – 2021
NMAR Form 1110 (2021 JUN) ©2021 New Mexico Association of REALTORS®
IMPORTANT DEFINITIONS
ADVERSE MATERIAL FACTS: An "ADVERSE MATERIAL FACT" is a fact that would significantly affect the desirability or value of the property to a reasonable person.
ACTUAL KNOWLEDGE: "ACTUAL KNOWLEDGE" means the Seller has direct and clear knowledge of things, without investigation, analysis or review. ACTUAL KNOWLEDGE is not what the Seller should have known or could have found out. This Disclosure Statement is strictly based on Seller's ACTUAL KNOWLEDGE of ADVERSE MATERIAL FACTS relating to the Property as of the date Seller completes this Disclosure Statement.
If Seller has no ACTUAL KNOWLEDGE of ADVERSE MATERIAL FACTS relating to the feature, fixture, and/or element, leave the section blank. If more space is required, attach additional pages.
• Disclosure of ADVERSE MATERIAL FACTS applies to all features, fixtures, and/or elements and/or improvements located on the Property identified above. (e.g. homes, detached garages, carports, barns, studios, workshops, etc.).
• Seller is required to disclose all ADVERSE MATERIAL FACTS about which they have ACTUAL KNOWLEDGE, even if they have never occupied the property.
• If Seller becomes aware of any changes in the information contained herein, Seller shall update this Disclosure Statement promptly after discovery. (See NMAR Form 1110A – Addendum to Adverse Material Facts Disclosure Statement).
• Each element of the Property listed below includes several specific examples of features or fixtures associated with that element. Neither the list of elements, nor the list of examples include all possible elements of the Property or features associated with those elements. Seller's disclosure of ADVERSE MATERIAL FACTS associated with the Property or an element should not be limited to the examples provided.
1. ACCESS (Easements, Private, Public, Shared Road Agreements, etc.)
2. APPLIANCES (Dishwashers, Dryers, Microwaves, Refrigerators, Ranges, Washers, etc.)
3. BASEMENTS AND/OR SUB TERRAIN CONSTRUCTION
4. BUILDING/STRUCTURAL (Ceilings, Doors, Exterior/Interior Walls, Flooring, Slabs, Windows, etc.)
5. BUILT-IN SYSTEMS (Garage Openers, Intercoms, Security Systems, Smart House Technology, etc.)
6. DOMESTIC WATER SUPPLY (Associations, City/Municipal, Community, Storage Tanks,Wells, etc.)
7. ELECTRICAL AND/OR WIRING (Cable, Electrical, Ethernet, Telephone, etc.)
8. FLOODING
9. FOUNDATION
10. HAZARDOUS, ENVIRONMENTAL AND TOXIC
11. HEATING AND/OR AIR-CONDITIONING SYSTEMS
12. INSURANCE CLAIMS, PAST DAMAGE AND/OR REMEDIES
13. IRRIGATION RIGHTS AND SYSTEMS (Not Domestic Wells)
14. NOISE, ODORS AND/OR POLLUTION
15. PEST OR ANIMAL INFESTATION AND/OR DAMAGE
16. PLUMBING (Gas Lines, Radiant Heating, Sprinkler Systems, Water Heaters, Water Supply Lines, etc.)
17. POOLS, SPAS AND/OR SAUNA
18. RENEWABLE ENERGY (Hydropower, Solar,Wind Turbines, etc.)
19. ROOFS, GUTTERS AND/OR DOWNSPOUTS
20. SEWER AND/OR SEPTIC SYSTEM(S)
21. SOIL, VEGETATION AND/OR LANDSCAPING
22. SUPPLEMENTAL WATER SUPPLY (AGRICULTURAL/LIVESTOCK) – Dirt Tanks, Livestock Wells, Storage Tanks, Streams, etc.
23. USE, ZONING AND/OR LEGAL
Describe known issues such as: Citations from Government Entity, Covenants, Deed Restrictions, First Right of Refusal, HOA/COA/LOA Restrictions/Bylaws, Judgements, Lawsuits or Legal Proceedings, Liens, Un-Permitted Construction and/or Repairs, Variances, Zoning, Violations of New Mexico Subdivision Act, etc.
24. OTHER