Common Appraisal Myths in the Home Buying Process
Originally Posted by: Kaplan Appraisal Education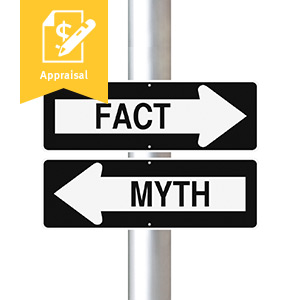 Appraisals play one of the most important roles in the home buying process and understanding its function is crucial in today's real estate market. Appraisals are needed for any real estate transaction that involves a loan of $250,000 or more from a federal institution. Despite their importance, appraisals are still one of the most misunderstood parts of the buying process. Some common appraisal myths can be debunked.
Some believe that the function of the appraisal is to set the home's value or to confirm the selling price. This is simply not true. According to David S. Bunton, president of The Appraisal Foundation, the role of the appraisal is to "produce a credible opinion of value based on thorough and unbiased research and analyses that reflect the market value of a property."
There are many myths floating around about the appraisal process, especially in regard to how appraisals are ordered. In the infographic below, The Appraisal Foundation debunks the most common myths they encounter. To view the entire article on AppraisalBuzz.com, read more ».