Eco Lifestyle And Home News – May 2022
Eco Lifestyle And Home News – May 2022


Dear Friends, Clients, Business Associates and Neighbors,
May 2022, marks the 73rd edition of Eco Lifestyle and Home Newsletter produced by Kachina Mountain Realty. We offer Real Estate & Lifestyle news in the email newsletter covering Santa Fe, Taos County and beyond.
In this edition, we offer the following: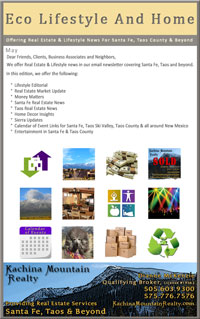 COVID-19 UPDATE
Lifestyle: Forgiveness
Real Estate Market Update
Santa Fe Real Estate News
Taos County Real Estate News
Home Decor Insights:Debbie DeMarais on Home Staging
Sierra Updates!
Calendar of Event Links for Santa Fe, Taos Ski Valley, Taos County & all around New Mexico
Entertainment Links for Santa Fe, Taos County & around New Mexico
---
COVID-19
NMDOH will not host a COVID-19 update unless something drastically changes with the pandemic, now endemic. We'd love to believe this is the last of COVID-19, but if there's one thing that is evident in the past year, it's that we'll likely never be rid of the coronavirus. We'll simply have to live with it.
The next step for the Virus is hard to predict, if only because the virus has a mind of its own. New cases and deaths are falling, but other omicron variants are lurking in the world. If history is any guide, the virus will morph. The wisest among us will remain wary and remember the smart practices that kept hundreds of thousands safe. We knew what to do because public officials were driven in their zeal to make sure we understood. Let's hope neither leaders nor the public become complacent in the coming weeks and years.
Please be mindful that many people who have been fully vaccinated may have underling health issues such as pulmonary, respiratory and immune issues, therefore they should still take precaution in wearing masks, as well as continue with social distancing.
What you can do
Get a COVID-19 vaccine as soon as it's available to you.
If you are fully vaccinated, you can return to many activities that you did before the pandemic — without wearing a mask, except where required by a rule or law. However, if you are in an area with substantial or high transmission of new cases in the past week, the CDC recommends wearing a mask indoors in public.
If you haven't had the COVID vaccine, you can take many steps to reduce your risk of infection.
What We Know
COVID-19 vaccines are effective at preventing COVID-19 disease, especially severe illness and death.
COVID-19 vaccines reduce the risk of people spreading COVID-19.
The Delta Variant is more infectious, but Omicron is worse.
What We're Still Learning:
How effective are the vaccines against variants of the virus that causes COVID-19?
Early data show the vaccines masks work against some variants but could be less effective against others.
How well the vaccines protect people with weakened immune systems, including people who take immuno-suppressive medications.
How long COVID-19 vaccines can protect people?
As we know more, CDC will continue to update our recommendations for both vaccinated and unvaccinated people.
Resources & Links:
CORONA VIRUS
---
Lifestyle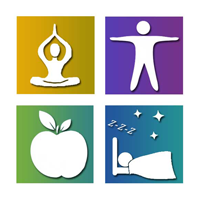 Forgiveness
"Forgiveness is the capacity to let go, to release the suffering, the sorrows, the burdens of the pains and betrayals of the past."
~ Jack Kornfield
Writing an editorial is a challenging responsibility. The monthly themes are planned for an entire year in the last part of the previous year. So when the month's editorial theme is due, it always seems like it is a direct link to whatever is going on in my personal/professional life. So here we are with another topic that beckons me to follow the advice and wisdom of those that are more enlightened than I. I turned for inspiration to one of my teachers, Jack Kornfield. Below are excerpts from an article he wrote in 2011 for the Greater Good: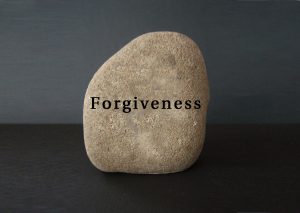 "Forgiveness is a conscious, deliberate decision to release feelings of resentment or vengeance toward a person or group who has harmed you, regardless of whether they actually deserve your forgiveness. Forgiveness does not mean forgetting, nor does it mean condoning or excusing offenses."
"Forgiveness shifts us from the small separate sense of ourselves to a capacity to renew, to let go, to live in love. As the Bhagavad Gita says, "If you want to see the brave, look to those who can return love for hatred. If you want to see the heroic, look to those who can forgive."
"With forgiveness we are unwilling to attack or wish harm on anyone, including ourselves. And without forgiveness, life would be unbearable. It's hard to imagine a world without forgiveness, because we would be chained to the suffering of the past and have only to repeat it over and over again. There would be no release."
"Forgiveness is a deep process of the heart. And in the process, you need to honor the betrayal of yourself or others—the grief, the anger, the hurt, the fear. It can take a long time."
"Forgiveness is a process. Be willing to grieve, and then to let go. Grief consists of bargaining, loss, fear, and anger."
"Forgiveness involves a shift of identity. There is in us an undying capacity for love and freedom that is untouched by what happens to you. To come back to this true nature is the work of forgiveness."
"Forgiveness includes all the dimensions of our life. Forgiveness is work of the body. Its work of the emotions. Its work of the mind."
"Forgiveness involves perspective. We are in this drama in life that is so much bigger than our 'little stories.' When we can open this perspective, we see it is not just your hurt, but the hurt of humanity. Everyone who loves is hurt in some way. Everyone who enters the marketplace gets betrayed. The loss is not just your pain, it is the pain of being alive. Then you feel connected to everyone in this vastness."
Thank you for reading our newsletter & feel free to pass it on to other kindred spirits. ~ Dianne McKenzie & Sierra

---
Real Estate Market

In March 2022, Santa Fe home prices were up 13.7% compared to last year, selling for a median price of $499K. On average, homes in Santa Fe sell after 35 days on the market compared to 54 days last year. There were 163 homes sold in March this year, down from 181 last year.
According to Redfin in the Santa Fe recent real estate market:
Some homes get multiple offers.
The average homes sell for about 1% above list price and go pending in around 38 days.

Hot homes can sell for about 6% above list price and go pending in around 25 days.
From Altos Research:
Tue Apr 26 2022
This week the median list price for Santa Fe, NM 87507 is $619,000 with the market action index hovering around 89. This is less than last month's market action index of 94. Inventory has held steady at or around 15.
The market has not shown strong directional trends in terms of supply and demand. However, inventory is sufficiently low to keep us in the Seller's Market zone and prices have been moving upward as evidence.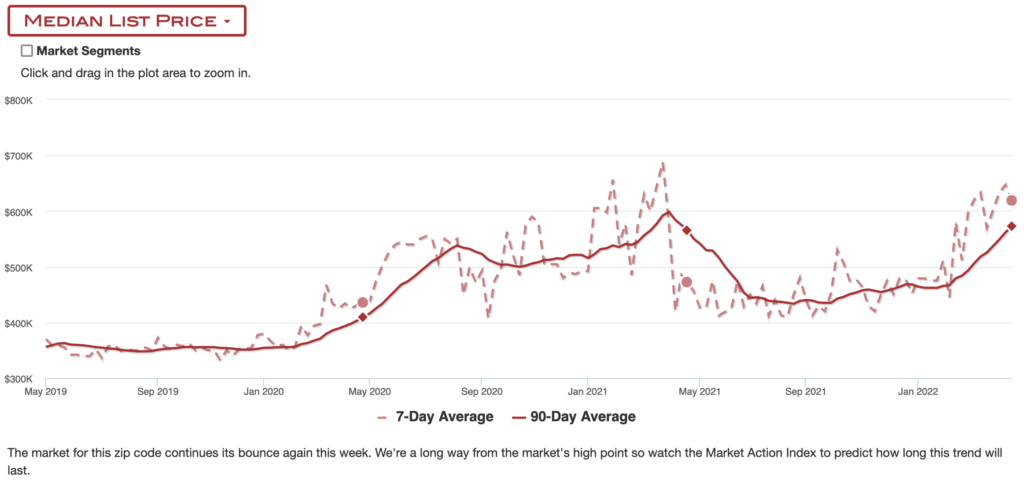 ---
Santa Fe Real Estate News
Aldea Real Estate Stats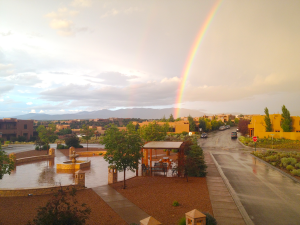 SOLD: 7 Homes, DOM 2 | 1 Lots, DOM 193
PENDING: 3 Homes | 0 Lots
LISTED: 2 Homes, Avg $455,000 | 6 Lots, Avg $370,000
Aldea de Santa Fe consists of 345 acres, with 205 acres of perpetual open space with 13 miles of walking trails, basketball & tennis courts, community center, (which offers yoga classes, exercise equipment & gathering space for events), a local cafe, superbly located in the high-value northwest corridor of Santa Fe County, with easy access to Highway 599, all just 10 minutes from downtown Santa Fe.
Aldea Sales Stats to date 2022
Sold! Represented the Seller & Buyer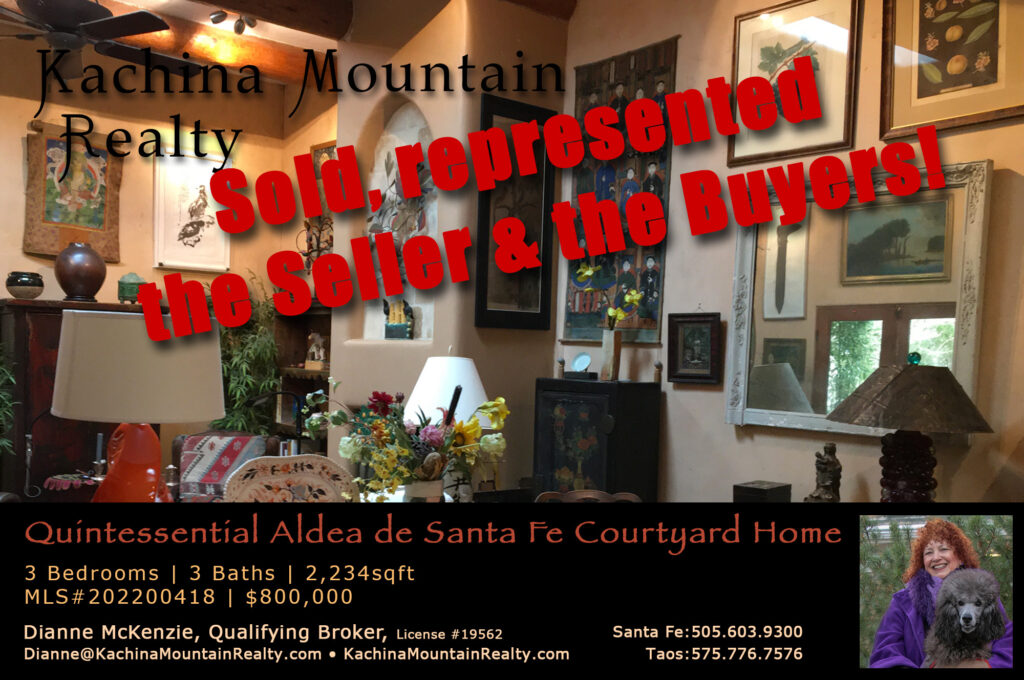 ---
Las Campanas Real Estate Stats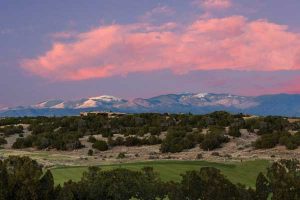 2022 Stats: Sold, Pending, Listed

SOLD: 14 Homes, DOM 38 | 8 Lots, DOM 473
PENDING: 30 Homes | 20 Lots
LISTED: 16 Homes, Avg $3,410,312 | 31 Lots, Avg $258,236
Las Campanas is the only luxury master-planned community in Santa Fe. Stretching across 4,700 acres surrounded by pristine high desert, the community is comprised of exclusive neighborhoods. Las Campanas is also home to The Club at Las Campanas, where members can enjoy two award-winning Jack Nicklaus Signature golf courses, the 46,000 square foot Hacienda Clubhouse, a peerless Equestrian Center and the Fitness & Tennis Center, which includes a luxurious spa.
There are currently 16 homes for sale in Las Campanas
0 Homes under $1,000,000
16 Homes over $1,000,000
There are currently 31 Lots for sale in Las Campanas
2 Lots under $100,000
29 Lots over $100,000
Let me take you on a tour in Las Campanas!
---
Marketing Properties, Not Just Listing Properties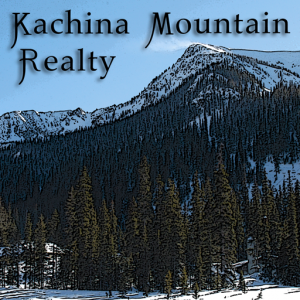 If you are thinking of selling your property, why not list it with a realtor who will market the property, not just list it in the MLS? By actively marketing your property, the property gets the most exposure to other realtors and to the general public through online blogging, email campaigns & the typical MLS exposure.
Call me, Dianne, 505.603.9300, to discuss your property needs, or for a tour of Lots & Homes in Aldea, Las Campanas and the Santa Fe region. Taos Office: 575.776.7576
Visit the website for Santa Fe information: RealEstatePropertiesSantaFe.com
Visit the Kachina Mountain Realty company main website: KachinaMountainRealty.com
---
Taos Real Estate News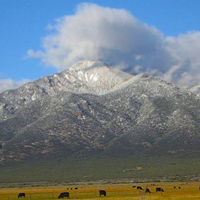 2022 Stats: Sold, Pending, Listed

*SOLD: 70 Homes, DOM 113 | 32 Lots, DOM 248
*PENDING: 74 Homes | 72 Lots
*LISTED: 28 Homes, Avg $73,410 | 148 Lots, Avg $228,372
* Areas tracked:
Lower North, Upper North, West North, Town of Taos, Taos Ski Valley, South West, South East
See map for areas »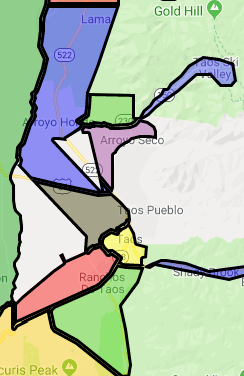 Taos is very different than Santa Fe in many ways. With a population of 5,763 people and many surrounding neighborhoods, Taos is the 39th largest community in New Mexico. The greater Taos area is made up of several unincorporated areas and neighborhoods that separates out as if they were their own destinations or towns. Unincorporated areas around Taos have distinctive names that represent the ancient traditions of naming a place for a stream or topographic feature. Arroyo Hondo, Arroyo Seco and El Prado are all such places. These are not towns and have no political jurisdiction, they are simply places that help folks zero in on a very specific neighborhood. Within Taos itself are many such neighborhoods that may comprise no more than six "blocks."
Selling real estate in Taos county is challenging for sellers, buyers and realtors, as the typical closing time for a property averages 90+ days, compared to under 30 days in Santa Fe. I have closed properties in Santa Fe under 20 days. There is a shortage of title companies which the realtors can work with in Taos. The back log of properties waiting to close often creates buyers to back out and leave the sellers in the same cycle for closing when the next offer comes in. Many buyers become frustrated as their lenders charge additional hold fees or back out all together. Below are some statistics that highlight the problem.
I receive inquiries almost daily from out of town buyers who are researching homes in the Taos area. These buyer profiles are looking to live in a safe community, with a country atmosphere, small homes, with flexible spaces. They are wanting to move to the area, but can't find the properties that offer amenities that don't include huge HOA fees. They want walking trails, localized eateries, a small grocery store, community activities and a sense of neighborhood. They are either downsizing their home and retiring or wanting a second home. They are wanting to go smaller, but the quality of their lifestyle and home features are upscale. "Does such a community even exist?" they ask.
In the coming months, I will be featuring such a community.
If you have been thinking about selling your home, now is probably a good time. Inventory is low and the demand for quality homes is up.
If you been looking to buy a home, you are probably frustrated with the lack of quality homes on the market at any price point.
Call our Taos Office: 575.776.7576
---
Home Decor Insights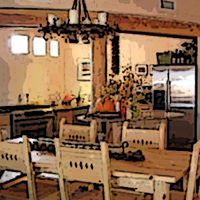 The Emotional Rollercoaster of Staging and Selling a Home
by Debbie DeMarais
I came across this article the other day. The title pretty quickly tells you how the author felt about her experience: "My Home Was Staged for Sale—and It Horrified Me." As a home stager, I recognized what this person was going through. And I wanted to share the guidance I often give to my own clients.
Just to recap, the article details a fairly typical staging process. The seller and her husband hired a home stager at the suggestion of their real estate agent. In this case, most of their furniture and belongings were removed and their "dark, dated" furniture was replaced with items from the stager's inventory, rental items, and items purchased at the suggestion of the stager.
While that's not the only way to stage a home*, it certainly is one of the methods that allows for the most transformation of the spaces. Here's an example of the same scenario from one of my past home staging projects in Santa Fe…
Late in the article, the author says, "the home stager knew what she was doing. By the end of its very first day on the market, our house had multiple offers over asking price." But leading up to that point, the author details how she and her husband felt like strangers in their own home. They even ended up renting an apartment while their home was on the market—rather than confront the "shell of [their] former home" each day.
I have empathy for the sellers. Staging a home changes the overall look and feel. The home begins to feel as if it belongs to someone else. To put my clients at ease:
I'm always conscious of the psychological and emotional triggers that arise when having a home staged. To put my clients at ease, I always try to offer the "why" element to the changes I recommend.
Styling and re-purposing a home's furnishings and décor may not make sense to the homeowners. I understand that—change is difficult. But I try to point out how the changes create new energy, how these changes open up a floor plan, give rooms a proper sense of purpose, and increase the sense of flow.
But most importantly, I try to help my clients understand the purpose of home staging. These changes may be uncomfortable, but the optimal goal in selling a home is to attract a larger buying audience and get the most return.
The moment your home is listed, consciously it belongs to the buying audience. As difficult as it may be, all emotional ties to the home itself need to be carefully put aside.
You will always have the memories you created in your home. Nothing can take those away. But as far as the house, the condo, the apartment, the physical building itself; buyers need the space to envision creating their own story in your home.
Nothing can take those away. But as far as the house, the condo, the apartment, the physical building itself; buyers need the space to envision creating their own story in your home. Home stagers have the experience and, importantly, the objectivity to make that possibility come to life. The sooner a home sells, and the better price you receive, the sooner you can move to the next stage.
In the case of this author's experience, had she and her husband opted to not have their home staged, had they instead decided to keep the nostalgic and sentimental elements that made the home "theirs" in place, the final outcome (multiple offers over asking) could very easily have been far different. The article might even have been titled, "My Home Was Not Staged For Sale—and It Sat on the Market for Way Too Long While My Husband and I Restlessly Waited to Start the Next Chapter of Our Lives."
Maybe that's a little long, but you get my point.
*There are many ways a home stager can customize the staging process for sellers, but most home staging jobs can be simply grouped into three categories (you can see examples of all of these categories on this page of my website):
OCCUPIED STAGING – An occupied staging means that the sellers intend to continue to live in the home while it is on the market. Generally, occupied stagings involve assessing what the sellers already have in their home, and then rearranging those belongings into new configurations that will best compliment the home's finest selling features. More often than not this involves quite a bit of downsizing and depersonalizing of the spaces, which can be emotionally challenging for the sellers, who have been used to their home looking and functioning in a different way.
VACANT STAGING – A vacant staging means that the sellers intend to, or already have, vacated the property while it is for sale. While generally a more expensive staging job, vacant staging really allows a property to show at its very best because every aspect of the furnishings and decor are carefully curated by the stager from their business inventory. The home stager is able to create magazine-worthy spaces that excite the most aspirational tendencies in buyers. Excited buyers can translate into more, and more aggressive, purchase offers for a home.
SHOW HOME STAGING – Also know as model home, or spec home, staging: this is similar to vacant staging except it is performed on a newly constructed display model home or custom build. Often used by developers and contractors, show home staging brings spaces that have never been lived in to life by adding decor and furnishings throughout. It is much more helpful for prospective buyers to see how spaces might be used rather than be confronted with an empty shell of a new house.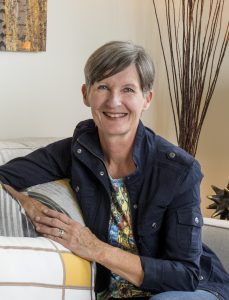 Debbie DeMarais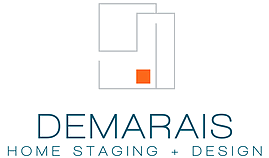 Certified Home Stager & Designer
HSR, CLIPP™, CCE, ASID Allied Member
505-699-4989
homestagingsantafe.com
---

For ideas on decorating with autumn in mind, check out Pinterest and explore a whole new way to spend your time online and check out my Pinterest page: KachinaRealty Happy pinning!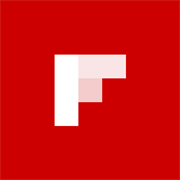 While you are surfing the "net" check out Flipboard for a variety of news and lifestyle reading.
---
Sierra
CFO, (Chief Fun Officer)
Our 3.1 year old female silver standard poodle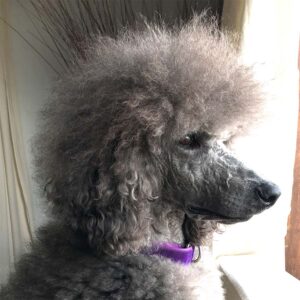 April 1-30, 2022
April is always a celebration month for me. Well, so is March, as it is Sierra's birth month. May is extra special, as it is the month we adopted Sierra and then of course July is a birthday fiesta for John. Celebrations are a very important part of our life, as well as for Sierra. Every day we take her out to play, or go for a walk, or have a picnic, is a cause for celebration for Sierra.
Sierra attended a very extra special event on April 7th by working as my service dog at the Beyond Van Gogh immersive experience in Albuquerque. We all had an amazing time at this art event. Sierra performed extremely well, especially since she has not attended a public outing since COVID began.
I weigh & measure Sierra once a month, so here are her stats as of February 28, 2022: 14″ collar, girth: 24″, height to shoulder: 25″ weight: 33.5 lbs.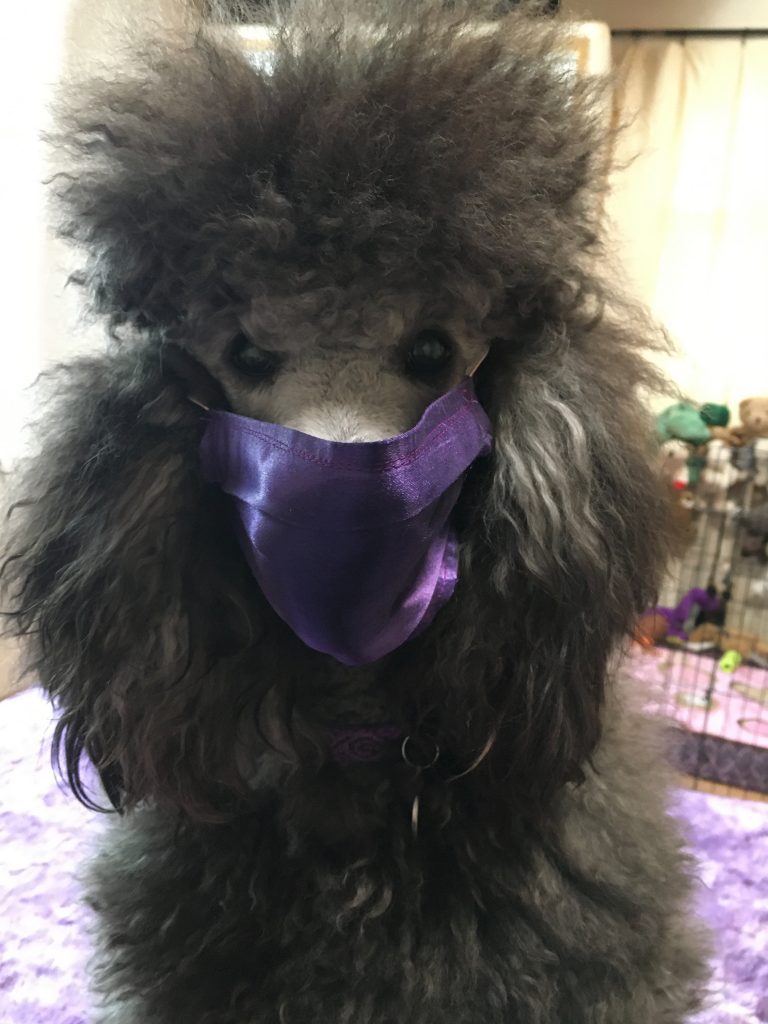 You really need to watch Sierra's videos as they capture her spirit!
Here is the link to Sierra's Videos »
Sierra's 1st video explains who she is and her new role at Kachina Mountain Realty. In Sierra's 2nd video she talks about Dianne's role at Kachina Mountain Realty in the era of COVID-19. In Sierra's 3rd video, Sierra talks about selling and buying real estate during the COVID-19 pandemic. In Sierra's 4th video she talks about how staying safe in the era of COVID-19.
As you probably already know, Sierra is the CFO (chief fun officer) at Kachina Mountain Realty. Sierra talks to you today about using your imagination in Sierra's 5th video. When Sierra turned 2 years old on March 18, 2021, people asked what she sounded like now that she was older. While she does not have a lot to say right now, she is quick and to the point, as she starts her 2nd year as CFO, in Sierra's 6th video. Currently Sierra is not recording videos at this time.
Sierra's web page: www.diannemckenzie.com/sierra
More photos will be continually posted on her own web page, so check back monthly, as we chronicle her life with us!
---
Calendar of Events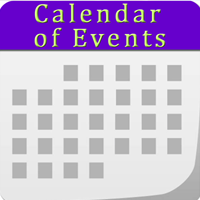 New Mexico has long been a center for arts, culture, classes and gourmet food. With such a strong art market, there are hundreds galleries to explore and experience, along with a wide selection of thriving restaurants. Our Museums feature culture, history and traditions of the region and the world. Santa Fe, Taos County and beyond have something scheduled every day & night of the week, all year long.
---
Entertainment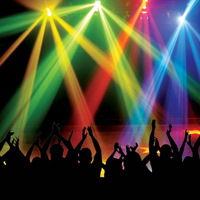 If there's one thing you can count on when spending time in New Mexico, it's the treasured experiences and wide selection of entertainment: music venues, great sporting events, theatrical and musical entertainment as well as year-round festivals.
From festivals, music concerts and dance performances to theatrical offerings by local and touring groups, the performing artists work hard to keep its locals and visitors entertained by both New Mexico performers and acclaimed stars from around the world.
---
About Kachina Mountain Realty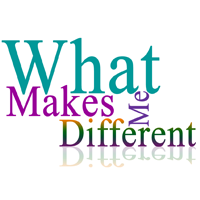 I am passionate about real estate development. I consider myself a "Dream Maker", and strive to help my clients manifest their dreams and lifestyle goals.
I believe that, "…the dreams which accompany all human actions should be nurtured by the places in which people live and work".
To promote this possibility, I encourages my clients to develop and share their dreams and lifestyle goals as part of the process of selling, buying or investing in property.
I have over thirty years of business experience as an executive producer, web architect, social media marketer, business developer, architecture assistant, real estate marketing developer and real estate consultant.
I am a licensed real estate qualifying broker for Kachina Mountain Realty & an accredited ACRE® real estate consultant. I have worked in the Santa Fe & Taos real estate market for years. I specialize in working with buyers and sellers who are looking for a solid real estate investment.
Contact me, Dianne McKenzie, for your real estate transactions & let me help you manifest your dreams!
I am readily available by cell phone, text, (505.603.9300) & email. I return calls promptly, seven days a week!
Taos Office: 575.776.7576
---
Go Green:

Recycle This E-Newsletter!
After you've enjoyed our Eco Lifestyle and Home newsletter, please recycle it by emailing it to a family member, friend, neighbor or coworker!
---