Eco Lifestyle And Home Newsletter January 2016 Resilience
Eco Lifestyle And Home
Newsletter January 2016
Resilience
Dear Friends, Clients, Business Associates and Neighbors,
In this 26th edition of Eco Lifestyle and Home News, we offer Real Estate & Lifestyle news in 22 pages of content where our contributors address the current monthly theme of "Resilience", as relates to all areas of our life.
In this edition we offer: 
Events Around New Mexico
Take a Hike! with Cecilie Bodman
January Numerology
Creating Clarity with Lainie Grimmer
Sarah Claudia Stout
Nerium: Age defying products
Mortgage News with Francis Phillips
Debbie DeMarais: Home Staging+Design
Real Estate Market Report Albuquerque
Albuquerque Real Estate Listings
Santa Fe Real Estate Listings: Aldea & Las Campanas
Mobile Real Estate Search App: Free for Smart Phones & Tablets
Taos Ski Valley Real Estate News
Dog Treat Recipe of the Month: Standard poodle & service dog, Aeowyn, shares her Dog Treat Recipe
Free Reports: How Sellers Price Their Homes, How To Sell Your House For The Most Money In The Shortest Possible Time, and more…
January Theme Editorial: Resilience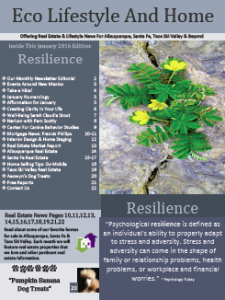 Resilience is the quality that allows some people to be knocked down by life and to come back stronger than ever. Instead of failure defining them, they find a way to rise from the ashes.
Cultivating a positive attitude, optimism, the ability to regulate emotions, and the ability to see failure as a form of helpful feedback, is what makes one resilient. Even after misfortune, resilient people often develop an outlook where they are able to change course and move on.
Resilience is a practiced art, the ultimate art of living. At the heart of resilience is a belief in oneself.
"Resilient people do not let adversity define them. They find resilience by moving towards a goal beyond themselves, transcending pain and grief by perceiving bad times as a temporary state of affairs." ~ Psychology Today
When something goes wrong, do you tend to bounce back or fall apart?
"When you have resilience, you harness inner strength that helps you rebound from a setback or challenge, such as a job loss, an illness, a disaster or the death of a loved one. If you lack resilience, you might dwell on problems, feel victimized, become overwhelmed or turn to unhealthy coping mechanisms, such as substance abuse." ~ Psychology Today
"Resilience won't make your problems go away — but resilience can give you the ability to see past them, find enjoyment in life and better handle stress. If you aren't as resilient as you'd like to be, you can develop skills to become more resilient." ~ Psychology Today
Factors that contribute to resilience include:
Close relationships with family and friends
A positive view of yourself and confidence in your strengths and abilities
The ability to manage strong feelings and impulses
Good problem-solving and communication skills
Feeling in control
Seeking help and resources
Seeing yourself as resilient (rather than as a victim)
Coping with stress in healthy ways and avoiding harmful coping strategies, such as substance abuse
Helping others
Finding positive meaning in your life despite difficult or traumatic events
Thank you for reading our newsletter. ~ Dianne McKenzie & Aeowyn, and Cecilie Bodman
---
Eco Lifestyle and Home News comes to you in its twenty-sixth edition of our Newsletter. The creators of this newsletter are Dianne McKenzie & Cecilie Bodman, real estate associate brokers for Equity New Mexico. We decided to produce a conscious newsletter that has information about some real estate but more about living, playing & working. We also wanted to include our professional friends' expertise as it relates to home, health, well-being, & lifestyle.
Please introduce us to your friends and family for their real estate needs, whether they are considering buying a home or thinking about getting their home sold this year. Many thanks.
Thank you for reading our newsletter.
– Dianne McKenzie & Aeowyn, Cecilie Bodman & our content contributors