Eco Lifestyle And Home February 2014 Newsletter Loving Kindness
Eco Lifestyle And Home
February 2014 Newsletter: Loving Kindness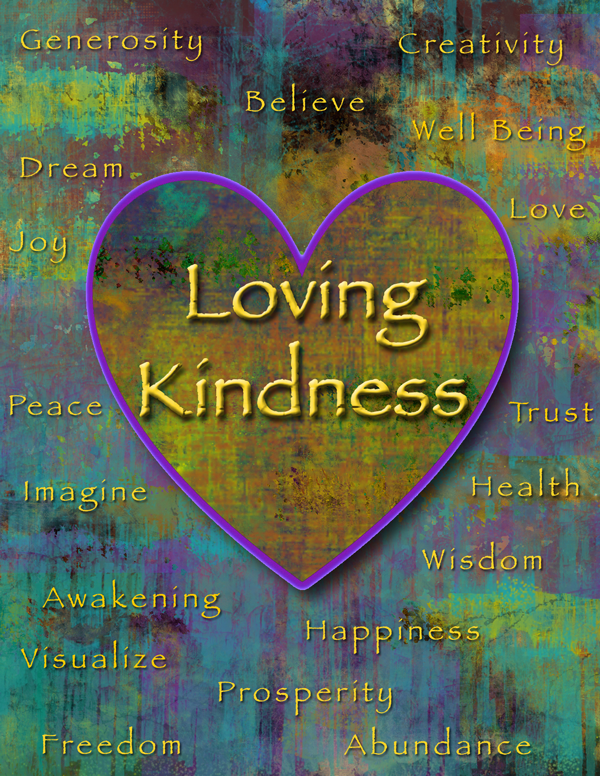 Dear Friends, Clients, Business Associates and Neighbors,
February is the month of love, and Valentine's Day is the day we celebrate all forms of love: love for our significant other, for our family, friends and animal companions. So this month's theme is centered around Love.
Can't wait? Read Our PDF Eco Lifestyle And Home News Now» Eco Lifestyle & Home News_02-2014_PDF »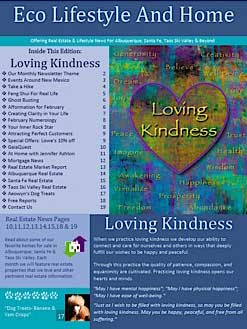 Loving kindness is a state of mind that can be cultivated in each of us. If our thoughts help determine our reality, then when we cultivate loving kindness, we increase our sense of well-being and joy.
Meditation is about training the mind and heart to live in a way that allows us to be truly happy with our life as it is right now.
The practice of loving kindness meditation can lead to shifts in people's daily experiences of a wide range of positive emotions, including love, joy, gratitude, contentment, hope, pride, interest, amusement and awe. Loving kindness meditation has been shown to increase social connectedness, consciousness and social action. You will have to read the newsletter to find simple ways to increase loving kindness in your life!
Can't wait? Read Our PDF Eco Lifestyle And Home News Now» Eco Lifestyle & Home News_02-2014_PDF »
In this edition we offer:
Events Around New Mexico: Tribal Feasts, Celtic Nights, USA Indoor Track & Field, Sleigh Rides in the Caldera, & Los Poblanos Inn & Farm
Take a Hike: Art of the Home Tour
Feng Shui for Real Life: Attracting Love & Romance
February Numerology #9 Master Number & Completion
Creating Clarity: Loving Kindness
Your Inner Rock Star Coach: Loving Yourself
Attracting Perfect Customers: From Dinner Date to Soul Mate
GaiaQuest Shares Thoughts on Permaculture
Special Offers to Our Readers: 10% Discount at Lowe's
Mortgage News: from Mortgage Daily News
Interior Designer Jennifer Ashton: What's New in Design
Real Estate Market Report
Albuquerque Real Estate Listings
Santa Fe Real Estate Listings
Taos Ski Valley Real Estate News
Dog Treat Recipe of the Month: Standard poodle & service dog, Aeowyn, shares her Yam & Banana Dog Treat Recipe
Free Reports:How Sellers Price Their Homes, How To Sell Your House For The Most Money In The Shortest Possible Time, and more
Eco Lifestyle and Home News comes to you in its fourth edition of our Newsletter. The creators of this newsletter are Dianne McKenzie & Cecilie Bodman, real estate associate brokers for Equity New Mexico. We decided to produce a conscious newsletter that has information about some real estate but more about living, playing & working. We also wanted to include our professional friends' expertise as it relates to home, health, well-being, & lifestyle.
Please introduce us to your friends and family for their real estate needs, whether they are considering buying a home or thinking about getting their home sold this year. Many thanks.
Sending blessing of loving kindness to all of you!
Dianne McKenzie, Cecilie Bodman & Aeowyn