Eco Lifestyle And Home News – January 2018
Eco Lifestyle And Home News – January 2018

Dear Friends, Clients, Business Associates and Neighbors,
January 2018 marks the thirteenth edition of Eco Lifestyle and Home Newsletter produced by Kachina Mountain Realty. We offer Real Estate & Lifestyle news in the email newsletter covering Santa Fe, Taos Ski Valley, Taos County and beyond.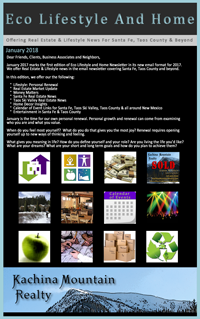 In this edition, we offer the following:
Lifestyle: Balance
Real Estate Market Update
Money Matters
Santa Fe Real Estate News
Taos County Real Estate News
Home Decor Insights
Aeowyn's Dog Treats
Calendar of Event Links for Santa Fe, Taos Ski Valley, Taos County & all around New Mexico
Entertainment Links for Santa Fe, Taos County & around New Mexico
---
Lifestyle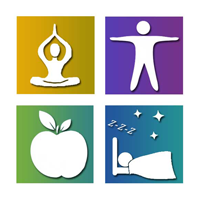 Balance
What is a well-balanced life? What would a balanced life look like? How does one achieve balance in the midst of all our responsibilities?
The answers evolve out of finding equilibrium. In equilibrium, there is an absence of reactivity, where one can respond to situations appropriately with ease.
When you find balance, you are in the state of equanimity. When you reach a state of equanimity, you feel calm, grounded, clear-headed, and motivated in the midst of all the turmoil, stress or activity. There is an evenness of mind. Equanimity is something that you are not born with, but something you can cultivate and apply in your day-to-day life. Developing mental calmness, composure, and evenness of temper, especially in a difficult situation, takes practice, awareness and deep understanding.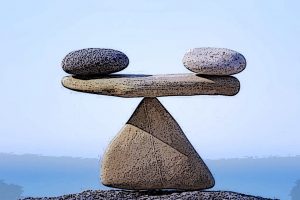 Equanimity plays a major part of unconditional love. When we cultivate a balanced life, being in a state of equanimity, we no longer get to the point where we withhold our kindness or compassion from anyone. It doesn't matter whether we like people or dislike them, whether they are skillful or unskillful, whether we know them or do not know them, whether we admire them or not, whether they're similar to us or wildly different.
The barriers that separate us from others dissolve when we recognize another person's basic humanity — their deep-rooted wish to be happy, their even more deep-rooted wish to be free from suffering. It is our compassion then that keeps us in a balanced state; compassion for ourselves compassion for our family, friends, clients, our communities, strangers and all living beings.
One way to cultivate equanimity is to cultivate a meditation practice. Meditation trains & calms the mind, so that the "normal" reaction to stress is a response, not a knee jerk reaction. Another way to cultivate balance is to take a break from your routine and go for a long walk, clear your mind of thoughts and just walk and notice, without judgment. Be present for the experience. Calming the mind can lead to balance.
Here are a few other suggestions to cultivate balance in your life:
Take care of yourself. Cultivate mental happiness, physical happiness & ease of well-being, daily.
Develop healthy eating, healthy living, healthy thinking.
Maintain a positive attitude.
Take time alone.
Expand your awareness, learn new ways to nurture your well-being.
Prioritize in all areas of your life: work, life & play.
Minimize toxic behavior, toxic situations & toxic people.
If you start cultivating balance in your life, you'll find that this experience of equanimity is a very positive and vibrant state of being.
Thank you for reading our newsletter & feel free to pass it on to other kindred spirits. ~ Dianne McKenzie
---
Real Estate Market Update

Realtor.com® 2018 National Housing Forecast
"Inventory constraints that have fueled a sharp rise in home prices and made it difficult for buyers to gain a foothold in the market will begin to ease next year as part of broad and continued market improvements."
"The easing of the inventory shortage, which is expected to result in more manageable increases in home prices and a modest acceleration of home sales, is being predicted based on developments first detected by realtor.com® late this summer. The annual forecast, which is among the industry's bellwethers in tracking and analyzing major trends in the housing market, also foresees an increase in millennial mortgages and strong sales growth in Southern markets. The wildcard in 2018 will be the impact of tax reform legislation currently being debated in Congress."
"This 2018 year will set the stage for a significant inflection point in the housing shortage. Inventory increases will be felt in higher priced segments after spring home buying season, which we expect to take hold and begin to provide relief for buyers and drive sales growth in 2019 and beyond."
Realtor.com® Forecast for Key Housing Indicators
Five Housing Trends for 2018
Inventory expected to begin to increase –
Price appreciation expected to slow –
Millennials anticipated to gain market share in all home price segments –
Southern markets predicted to lead in sales growth –
Tax reform will be a major wildcard –
"In 2018, home prices are anticipated to increase 3.2 percent year-over-year after finishing 2017 up 5.5 percent year-over-year. Existing home sales are forecast to increase 2.5 percent to 5.60 million homes due in-part to inventory increases, compared to 2017's 0.4 percent increase or 5.47 million homes. Mortgage rates are expected to reach 5.0 percent by the end of 2018 due to stronger economic growth, inflationary pressure, and monetary policy normalization in the year ahead."
My Predictions for 2018
Home remodels will dominate the home market –
Builders will build spec homes on their inventory lots purchased just after the real estate collapse in the middle $400,000 to $525,000 range –
Second homes in vacation hot spots will increase in sales –
Inventory in vacation/second home markets will see increase in listings, especially in 4 season markets –
The interest in agrihoods across the country will make headlines. (In future 2018 editions of Eco Lifestyle and Home News, agrihoods will become a monthly feature.) –
---
---
---
Money Matters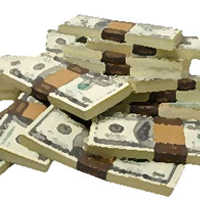 Mortgage Daily News Reports:
Summary:
Home Price increases outpace inflation by 3x.
Home Prices slow down, but still continue to rise.
A decade after the housing bust, housing is coming back.
Sales of existing homes have been strong.
Builders have picked up the pace of new construction.
U.S. economic confidence index up slightly.
Mortgage rates move daily. Stay connected and informed! Visit: http://www.mortgagenewsdaily.com/mortgage_rates/
---
Recommended Mortgage Lender

Francis Phillips, NMLS #193642, is Senior Mortgage Loan Originator with First Choice Loan Services Inc. in Santa Fe. He has served as director of business development for national mortgage companies. He and his mortgage partners have funded and built three homes for Santa Fe Habitat for Humanity. Contact him at francis.phillips@fcloans.com or 505.982.3400.
First Choice Loan Services Inc. (NMLS# 210764), a Berkshire Bank Company (NMLS# 506896 / Member FDIC), is located at One Tower Center, Floor #18 East Brunswick, NJ 08816. First Choice Loan Services Inc. is registered or exempt from state licensing in the states it originates mortgage loans. Licensed by the NJ Department of Banking and Insurance. AZ BK #0918586. First Choice Loan Services Inc. is not an agency of the federal government and is not affiliated with your current lender. All loans are subject to credit approval. Programs, rates, terms and conditions are current, but are subject to change and may expire without notice. Other restrictions may apply. All applications must be submitted in writing. This advertisement is not a loan disclosure and all disclosures provided after applying should be reviewed carefully. This is not a commitment to provide a loan approval or a specific interest rate.
---
Santa Fe Real Estate News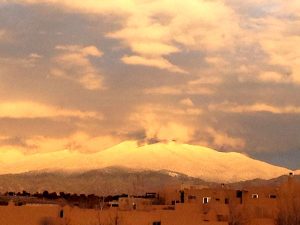 Aldea Lots
2018 will see lot & home prices increase
Currently, I have 7 of the last and best remaining Aldea view lots. 2 lots have already SOLD!!! If you have ever considered building your Santa Fe dream home, now you have some amazing view lots in which to choose. Aldea is 98% built out and up until now, there have not been a lot of choices for view lots, as most have already been built on. Now you have a great selection of view lots in which to choose to build your dream home, before they are all gone! Prices will go up in Spring 2018, so buy now and save!
Builder package available for the Aldea lots, please inquire.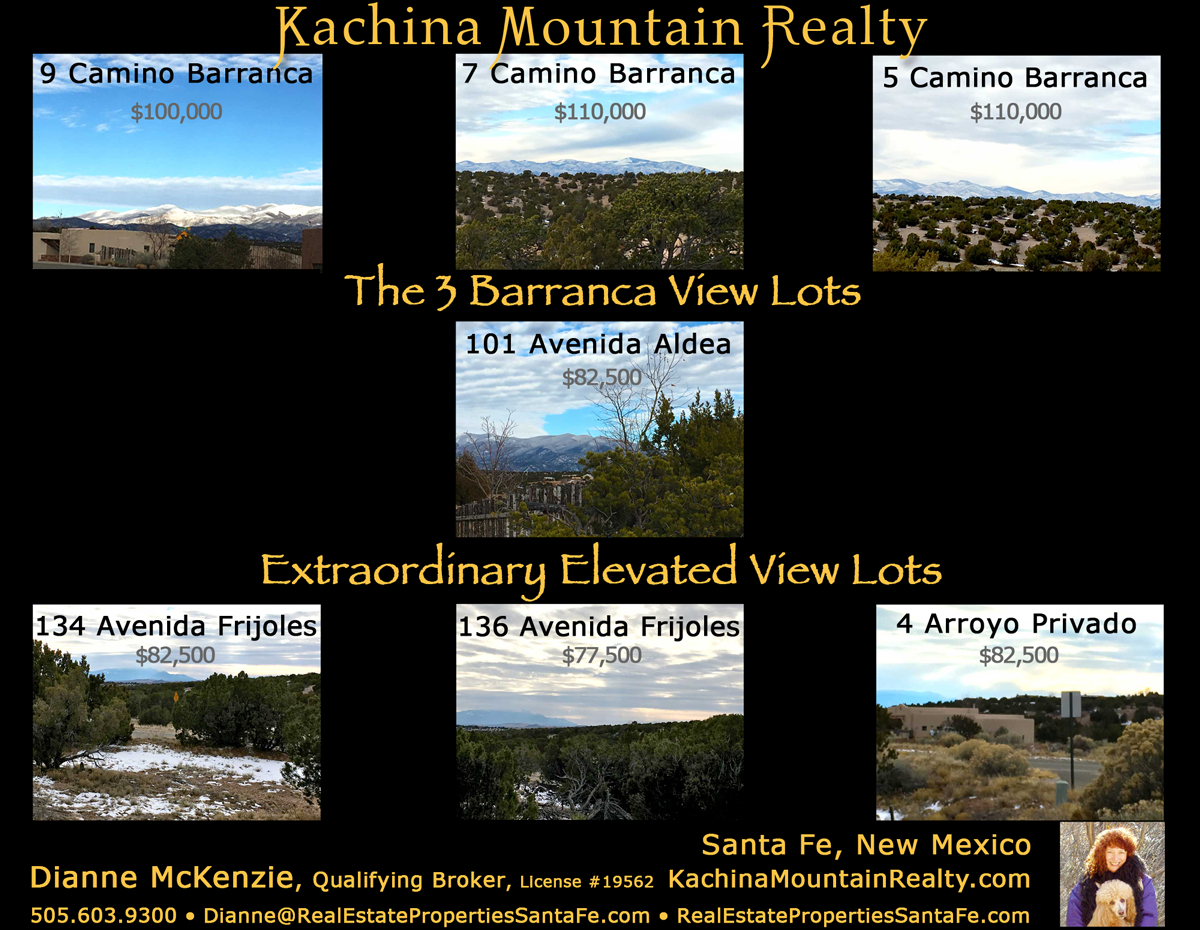 For more information visit the website: Aldea Lots For Sale »
7 Aldea Lot For Sale —

Price Adjustment on 4 Lots!!!




The Barranca Lots: 3 Amazing View Lots!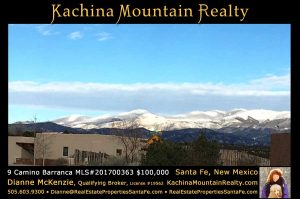 9 Camino Barranca | Lot Size Acres 0.180 | MLS #201700363 | Listing Price: $100,000
Considered the prime location with one of the 4 best remaining lots now all available for sale. Come build your dream home with coveted panoramic views to the Sandias & Ortiz to the south, with west Jemez mountain sunset views and east sunrise views of the Sangre de Christo mountains.
Lot #454
is the highest lot of the 3 remaining lots and has incredible 180°+ views. These 3 contiguous lots have the most prized views in all of Aldea.
Builder package available for all 3 lots:
Lots #454, #455, & #456, please inquire.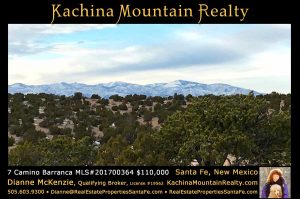 7 Camino Barranca | Lot Size Acres 0.180 | MLS #201700364 | Listing Price: $110,000
Considered the prime location with one of the 4 best remaining lots now all available for sale.
Lot #455
captures views that will delight with 180° views. Come build your dream home with coveted views to the Sandias & Ortiz to the south, with west Jemez mountain sunset views and east sunrise views of the Sangre de Christo mountains. These 3 contiguous lots have the most prized views in all of Aldea.
Builder package available for all 3 lots:
Lots #454, #455, & #456, please inquire.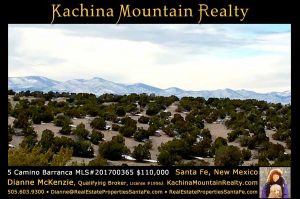 5 Camino Barranca | Lot Size Acres 0.180 | MLS #201700365 | Listing Price: $110,000
Considered the prime location with one of the 4 best remaining lots now all available for sale.
Lot #456
has incredible 180° views. Come build your dream home with coveted views to the Sandias & Ortiz to the south, with west Jemez mountain sunset views and east sunrise views of the Sangre de Christo mountains. These 3 contiguous lots have the most prized views in all of Aldea.
Builder package available for all 3 lots:
Lots #454, #455, & #456, please inquire.
Avenida Frijoles 2 View Lots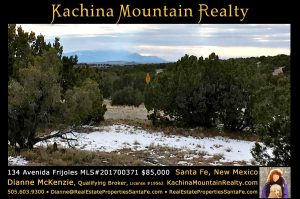 134 Avenida Frijoles | Lot Size Acres 0.230 | MLS #201700371 | Listing Price: $82,500
Peaceful setting from this amazing elevated view lot with south views to the Ortiz & Sandia Mountains across open space and green belt with arroyo sunset views. Lot #378, 134 Avenida Frijolles is on the south of the 2 lots, and lot #377, 136 Avenida Frijoles is also for sale.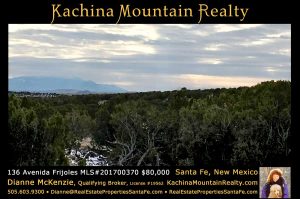 136 Avenida Frijoles | Lot Size Acres 0.200 | MLS #201700370 | Listing Price: $77,500
This amazing elevated view Lot #377 showcases south views to the Ortiz & Sandia Mountains across open space green belt with arroyo sunset views. Lot #378, 134 Avenida Frijoles is also for sale.
Avenida Aldea View Lot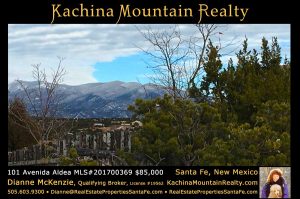 101 Avenida Aldea | Lot Size Acres 0.230 | MLS #201700369 | Listing Price: $82,500
This elevated view Lot #363, has expansive west sunset views and views south to the Ortiz & Sandia mountains. There is a view to the eastern Santa Fe ski basin views.
Arroyo Privado View Lot
4 Arroyo Privado | Lot Size Acres 0.190 | MLS #201700368 | Listing Price: $82,500
This corner slightly elevated Lot #464 has expansive arroyo west sunset views and views south to the Ortiz & Sandia mountains. Open space to the front and rear of this view lot in a pastoral setting.
---
Aldea Stats
2017 Stats: Sold, Pending, Listed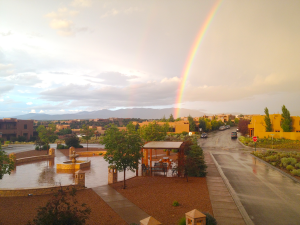 SOLD: 21 Homes, DOM 92 | 2 Lots, DOM 122
PENDING: 4 Homes | 0 Lots
LISTED: 7 Homes, Avg $593,142 |13 Lots, Avg $83,923
Aldea de Santa Fe consists of 345 acres, with 205 acres of perpetual open space with 13 miles of walking trails, basketball & tennis courts, community center, (which offers yoga classes, exercise equipment & gathering space for events), a local cafe, superbly located in the high-value northwest corridor of Santa Fe County, with easy access to Highway 599, all just 10 minutes from downtown Santa Fe.
Update: In 2016, 46 homes sold in Aldea. In 2017, only 21 homes have sold in Aldea. Prices show a listing increase for homes and lots available than in 2016. Currently there are 7 homes on the market, 4 pending. Out of the 7 listings, 1 is a townhouse below $360,000. Our Winter sales are slow with a low inventory. With the 4 homes pending, 1 is in the price range $600,000. The high end market has been stagnant up until now. 1 townhome sold $250,000 range, 5 townhomes sold in the $300,000, 1 single family home in the $300,000 range, 4 single family homes in the $400,000, 5 single family homes in the $500,000, 4 single family homes in the $600,000 and 1 home in the $800,000. The highest priced home sale was the largest Aldea home of 4,500 square feet but was also the lowest price per square foot at $176 per sqft. sold below replacement cost and the highest cost per sqft was $264. There were 2 live works that sold for a substantial loss at $107 sq ft, originally built for over $300 sq ft. The commercial properties in Aldea have proven to be a financial disaster, according to realtors and commercial property owners.

---
Las Campanas Real Estate News
2017 Stats: Sold, Pending, Listed.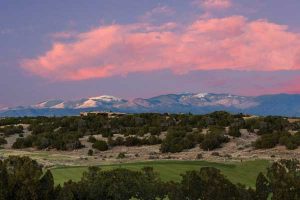 SOLD: 89 Homes, DOM 165 | 23 Lots, DOM 47
PENDING: 8 Homes | 5 Lots
LISTED: 46 Homes, Avg $1,348,668 | 71 Lots, Avg $142,675


Las Campanas is the only luxury master-planned community in Santa Fe. Stretching across 4,700 acres surrounded by pristine high desert, the community is comprised of exclusive neighborhoods. Las Campanas is also home to The Club at Las Campanas, where members can enjoy two award-winning Jack Nicklaus Signature golf courses, the 46,000 square foot Hacienda Clubhouse, a peerless Equestrian Center and the Fitness & Tennis Center, which includes a luxurious spa.
There are currently 46 homes for sale in Las Campanas.
20 Homes under $1,000,000
26 Homes over $1,000,000
There are currently 71 Lots for sale in Las Campanas.
32 Lots under $100,000
39 Lots over $100,000
Black Mesa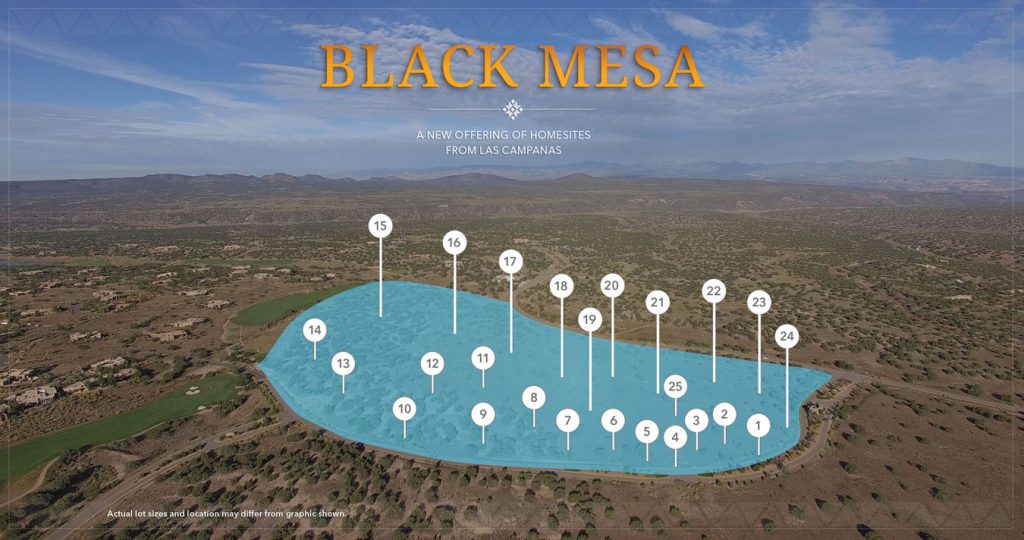 Las Campanas recently announced the release of the first new custom home neighborhood in over 10 years! Black Mesa, is their new 44 acre neighborhood consisting of 25 larger, estate sized mountain and golf view properties. The minimum size home in this section will be 2,500 sqft, with lots ranging from 1.02-2.58 acres. The property contains a centerline crest that rolls down in both directions off the roadway, creating dramatic unobstructed views.
Overlooking the sweeping mountain vistas of the Sangre de Cristo and Jemez Mountains, Las Campanas' new Black Mesa neighborhood offers a unique collection of homesites boasting the largest lot sizes in the best section of the Las Campanas property with awe-inspiring mountain views and centrally located to their finest amenities: golfing and the Hacienda Clubhouse.
Let me take you on a tour and arrange a stay at Las Campanas!
---
Marketing Properties, Not Just Listing Properties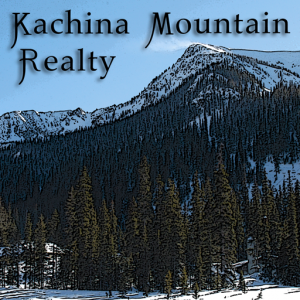 If you are thinking of selling your property, why not list it with a realtor who will market the property, not just list it in the MLS? By actively marketing your property, the property gets the most exposure to other realtors and to the general public through online blogging, email campaigns & the typical MLS exposure.
Call me, Dianne, 505.603.9300, to discuss your property needs, or for a tour of Lots & Homes in Aldea, Las Campanas and the Santa Fe region.
Visit the website for Santa Fe information: RealEstatePropertiesSantaFe.com
Visit the Kachina Mountain Realty company main website: KachinaMountainRealty.com
---
Taos Real Estate News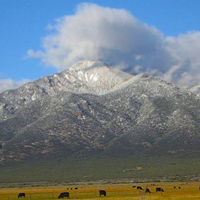 Real Estate Summary For Taos Area

With a slow start to the 2017-2018 ski season, real estate sales have also slowed down in the Taos area. Snow is not visible on the ground in the surrounding areas of Taos and only the mountain peaks show signs of snow. This winter is setting up to be a minimal snow season.
Single-family home sales were up by 2 units, even with the low inventory of homes available for sale. Year-to-date sales are up 15% over last year's reporting, while the inventory of single family homes is low. Supply is way below demand. Good homes in preferred locations are selling faster, and prices are on the rise.
Condo sales are approximately the same volume of sales as with last year. Year-to-date sales are still 11% below last year's rate. Condo sales are affected by the low inventory, as well as by tighter lending qualifications.
Land unit sales in November & December were the same the same as last year. Year-to-date unit sales are 40% ahead of last year. Buyer interest in land is starting to increase. It appears that some home buyers who can't find an existing home they like with what is available in inventory, are opting to buy land and build. Building costs have gone up for materials, while labor costs have stayed the same.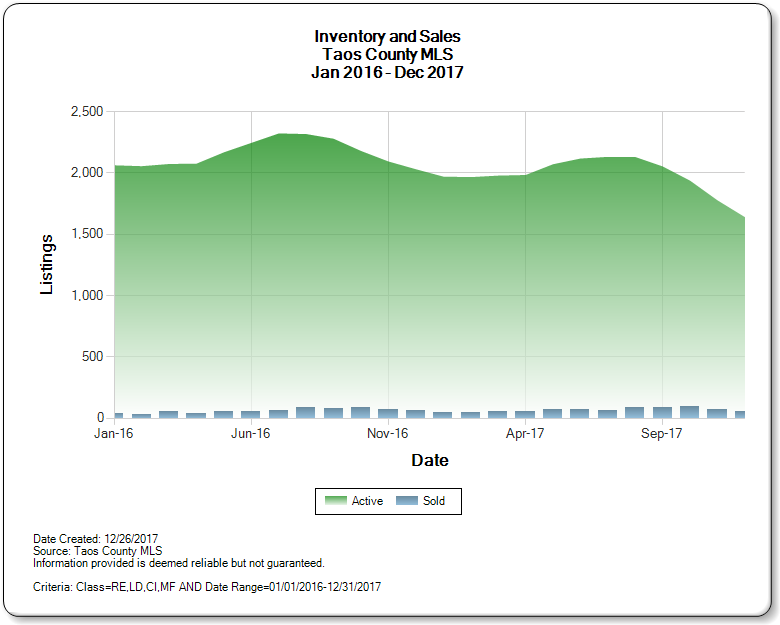 ---
Home Decor Insights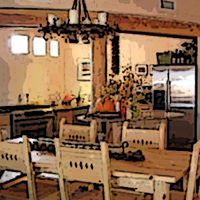 Home Trends for 2018
PANTONE 18-3838 Ultra Violet, PANTONE® Color of the Year 2018
From the Pantone website announcing the 2018 color of the year:
"A dramatically provocative and thoughtful purple shade, PANTONE 18-3838 Ultra Violet communicates originality, ingenuity, and visionary thinking that points us toward the future."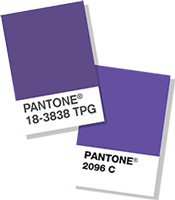 "Complex and contemplative, Ultra Violet suggests the mysteries of the cosmos, the intrigue of what lies ahead, and the discoveries beyond where we are now. The vast and limitless night sky is symbolic of what is possible and continues to inspire the desire to pursue a world beyond our own."
"Nuanced and full of emotion, the depth of PANTONE 18-3838 Ultra Violet symbolizes experimentation and non-conformity, spurring individuals to imagine their unique mark on the world, and push boundaries through creative outlets."
"Historically, there has been a mystical or spiritual quality attached to Ultra Violet. The color is often associated with mindfulness practices, which offer a higher ground to those seeking refuge from today's over-stimulated world. The use of purple-toned lighting in meditation spaces and other gathering places energizes the communities that gather there and inspire connection."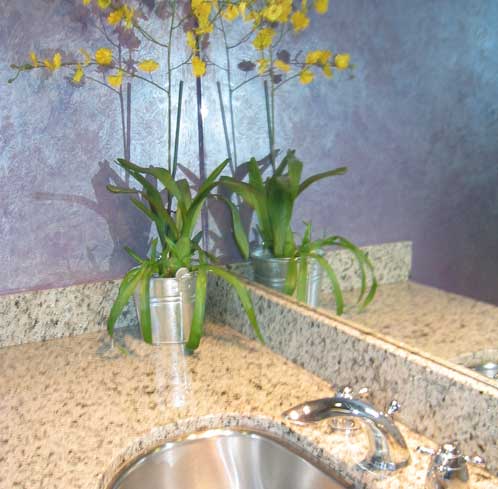 I personally find this announcement very exciting. I love purple, as it has been my favorite color for most of my life. I strongly feel purple goes with everything, every color, every style and crosses over male/female design codes. Purple is an "all season" color as it contrasts and compliments other colors all year long. I love wearing purple, decorating with purple accessories and have even painted walls in deep purple tones.
For ideas on planning for the 2018 New Year, check out Pinterest and explore a whole new way to spend your time online and check out my Pinterest page:
KachinaRealty
Happy pinning!

---
Aeowyn's Dog Treats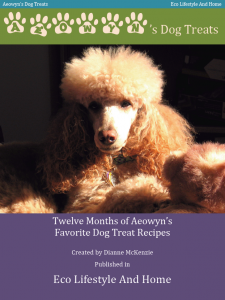 Aeowyn is our 14 year old apricot standard poodle, retired service dog, Comet Studios visionary, Kachina Mountain Realty office receptionist and CFO (Chief Fun Officer).
Aeowyn is the inspiration for this dog treat recipe book. Her enthusiasm and her keen intense interest while we cook, has greatly encouraged our recipe development. While she loves to watch us cook, she prefers to taste test everything. We have confined her taste testing to vegetables, fruits and dog treats. She prefers not to share her treats or her toys, being that she is our "only" dog.
However, if you would like to receive Aeowyn's Dog Treat Recipe e-booklet, please send me an email for your free copy.
Pumpkin Carrot Cranberry Ginger Squares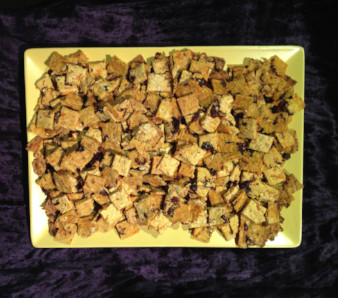 Ingredients:
2 cups of rice flour (you can use any flour)
1 cup oatmeal
1 cup dried cranberries
1 can organic raw pumpkin, 15oz
2 cup grated raw carrots
½ wheat germ
½- cup of chicken broth (low sodium) or water as needed
½ cup flax meal
1.5 tablespoons apple cider vinegar
1 tablespoon coconut oil
1 tablespoon ginger
*Parchment paper for rolling out the dough, pizza cutter, ruler for cutting straight lines & a dog to snoopervise.
Method:
Preheat oven to 350° F.
Mix the carrots, canned pumpkin & dried cranberries in a bowl. Wait to add the chicken broth or water.
Mix dry ingredients in a large bowl. Stir in the wet ingredient mix & add in small amount of the liquid, as needed.
Mix all ingredients until thoroughly combined, then mix with hands. Add more liquid or flour, if needed. Divide into 4 balls.
Roll out dough ball between parchment paper, 1/8" consistent thickness in rectangular shape to fit baking sheet. Discard top parchment paper, use for next baking tray. Transfer rectangular shaped dough with the bottom parchment paper to baking sheet. Use pizza cuter to cut dough in parallel strips to create a checkerboard of 1" squares. Use a ruler to help cut straight lines.
Bake 35 minutes slightly brown, not burnt. If you prefer a softer treat, bake for 20-30 minutes. Remove from oven and cool. This recipe uses 4 baking sheet/trays. These treats are a crunchy, thicker treat & are very tasty. Recipe makes enough treats to fill a 3 quart storage container. Keep treats in tins at room temperature in an airtight container for up to 1 week or in the refrigerator for up to 4 weeks. Aeowyn loves these treats!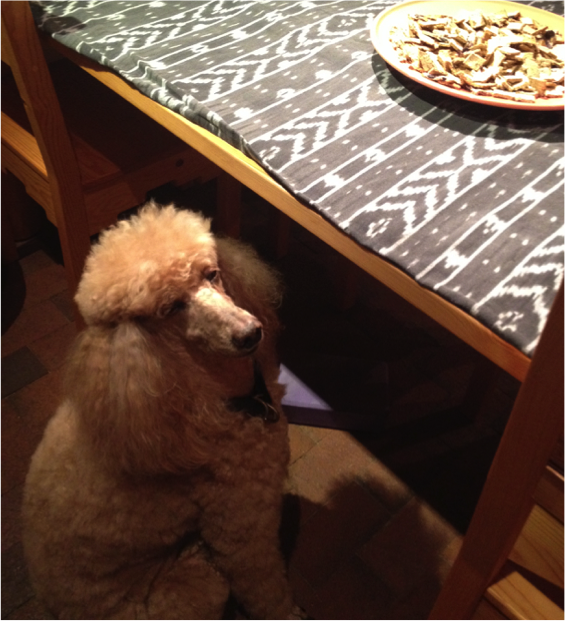 In this photo, Aeowyn sits waiting to taste test her dog treats. She "snoopervises" the whole process from start to finish. She tests every batch after the treats are removed from the oven and cooled.
Posing with her treats is the least favorite part of the process, as she is anticipating eating all of them at once. She can get rather bored with the photo shoots unless she is rewarded for her patience.
So far she has never rejected a recipe. Her favorite treat is the one she just ate!
---
Calendar of Events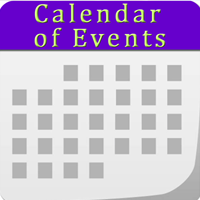 New Mexico has long been a center for arts, culture, classes and gourmet food. With such a strong art market, there are hundreds galleries to explore and experience, along with a wide selection of thriving restaurants. Our Museums feature culture, history and traditions of the region and the world. Santa Fe, Taos County and beyond have something scheduled every day & night of the week, all year long.
---
Entertainment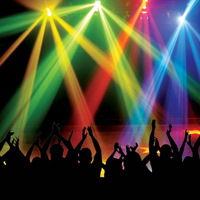 If there's one thing you can count on when spending time in New Mexico, it's the treasured experiences and wide selection of entertainment: music venues, great sporting events, theatrical and musical entertainment as well as year-round festivals.
From festivals, music concerts and dance performances to theatrical offerings by local and touring groups, the performing artists work hard to keep its locals and visitors entertained by both New Mexico performers and acclaimed stars from around the world.
---
About Kachina Mountain Realty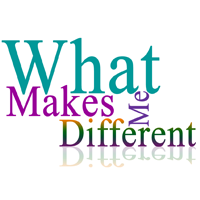 I am passionate about real estate development. I consider myself a "Dream Maker", and strive to help my clients manifest their dreams and lifestyle goals.
I believe that, "…the dreams which accompany all human actions should be nurtured by the places in which people live and work".
To promote this possibility, I encourages my clients to develop and share their dreams and lifestyle goals as part of the process of selling, buying or investing in property.
I have over thirty years of business experience as an executive producer, web architect, social media marketer, business developer, architecture assistant, real estate marketing developer and real estate consultant.
I am a licensed real estate qualifying broker for Kachina Mountain Realty & an accredited ACRE® real estate consultant. I have worked in the Santa Fe & Taos real estate market for years. I specialize in working with buyers and sellers who are looking for a solid real estate investment.
Contact me, Dianne McKenzie, for your real estate transactions & let me help you manifest your dreams!
I am readily available by cell phone, text, (505.603.9300) & email. I return calls promptly, seven days a week!
---