Eco Lifestyle And Home News – January 2020
Eco Lifestyle And Home News – January 2020


Dear Friends, Clients, Business Associates and Neighbors,
January 2020 marks the thirty-seventh edition of Eco Lifestyle and Home Newsletter produced by Kachina Mountain Realty. We offer Real Estate & Lifestyle news in the email newsletter covering Santa Fe, Taos Ski Valley, Taos County and beyond.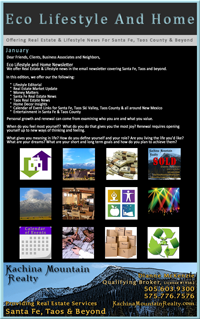 In this edition, we offer the following:
Lifestyle: Renewal
Real Estate Market Update
Money Matters
Santa Fe Real Estate News
Taos County Real Estate News
Home Decor Insights –
Sierra Updates!
Calendar of Event Links for Santa Fe, Taos Ski Valley, Taos County & all around New Mexico
Entertainment Links for Santa Fe, Taos County & around New Mexico
---
Lifestyle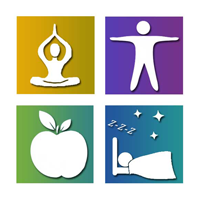 Renewal
January is the time for our own personal renewal. Personal growth and renewal can come from examining who you are and what you value.
When do you feel most yourself? What do you do that gives you the most joy?
Renewal requires opening yourself up to new ways of thinking and feeling.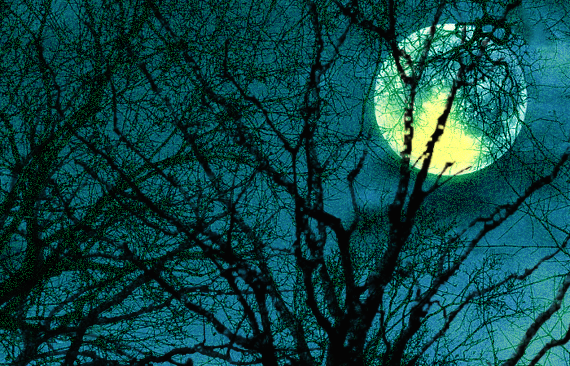 What gives you meaning in life? How do you define yourself and your role? Are you living the life you'd like? What are your dreams? What are your short and long term goals and how do you plan to achieve them?
If you write down a concrete plan, you'll be more likely to succeed.
Be spontaneous and try something different. This opportunity to pause and rejuvenate may consist of a night camping or a stay at a local B & B, a trip to a museum, a day playing tourist, taking a course, or a long bike ride, hike, a picnic or just time off in your own quiet space.
Turn off technology for your renewal day. You can control your devices rather than having them control you.
Don't make yourself promises that you don't passionately want to keep. Separate your goals into "have to's" and "want to's" and then prioritize things to ensure a healthy balance between self-nurturing activities, family, work and leisure.
Let go of perfectionism and acknowledge that you can't be or do everything for everyone. Make sure your own needs are being met before you try and help others. Let others know what you need. They cannot read your mind. Time, energy, money and ability can either enable or prevent you from reaching your goals and being happy.
Listen to both your body and your mind. Get enough sleep, eat properly and take care of your basic needs. Life looks much better when you do.
Take time to be your own best friend.
Simplify and de-clutter your personal and professional life. You will feel lighter and better about yourself.
If you tend to procrastinate, focus on getting started and not on finishing a task. In life it is the journey and not the destination that is often important.
Vary your activities to avoid boredom and resentment.
Volunteer. Do something for someone else and you will inadvertently benefit.
Be positive. See problems as challenges.
Find ways to be grateful and appreciative.
Take time to pray, meditate and enjoy life. Take the time to smell the roses and make every minute count.
Thank you for reading our newsletter & feel free to pass it on to other kindred spirits. ~ Dianne McKenzie
---
Real Estate Market Update

Santa Fe Market
It is that time of year when we realtors evaluate the market and others make predictions.
The market around the country appears to be stable. Santa Fe & Taos are a different market altogether, as we are more of a retirement/vacation home market.
My predictions:
2020 will see more affordable housing trends as well as the creation of small home market expansion. Developers are seeking creative ways to create communities with a variety of housing types that will cover the gamut from estates, single family, condos, apartments and small homes (tiny homes on foundations).
Another trend across the country and soon coming to New Mexico are "agrihoods", communities developed around farming, where people can choose a cleaner lifestyle. People are wanting walkable communities where there are activities and open space. Agrihoods are creating neighborhoods through a sustainable lens, with a fresh perspective on modern housing, and is gaining momentum as a green living trend. 2020 will be the year to make an announcement of the first community in Taos. Stay tuned to this resource to learn more over the coming months.
In the meantime here are some stats from the Santa Fe real estate market recap of 2019.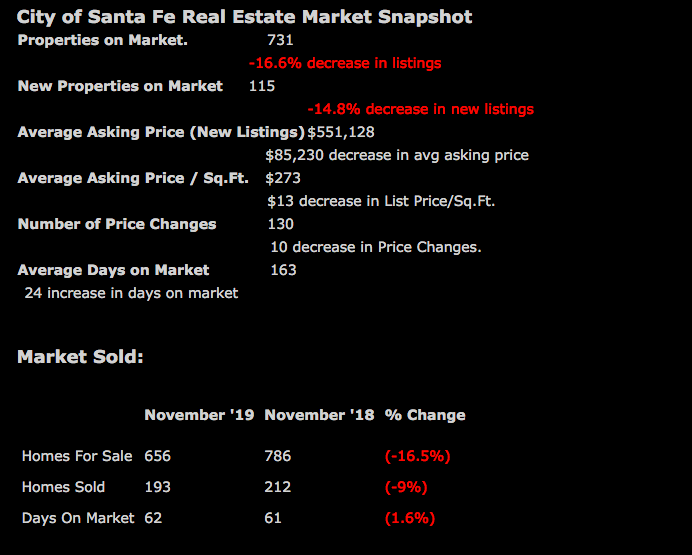 Graphs often tell the story: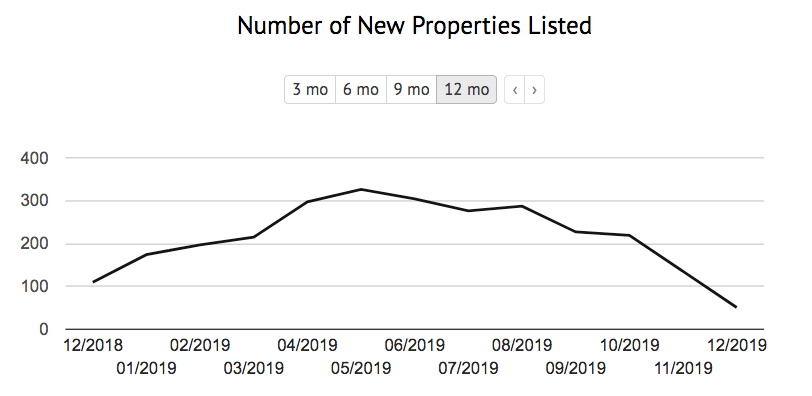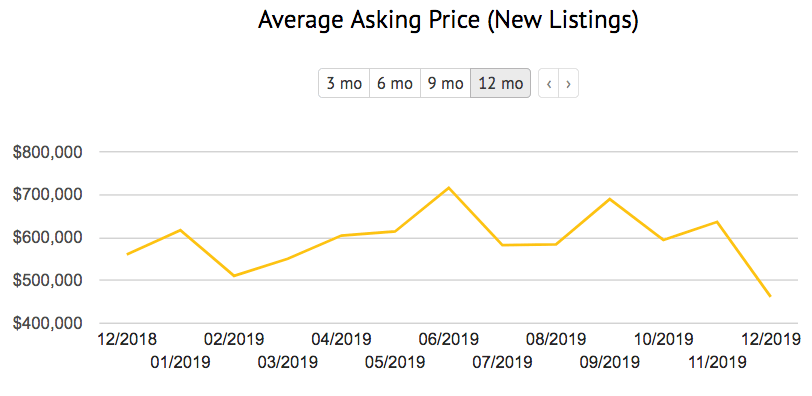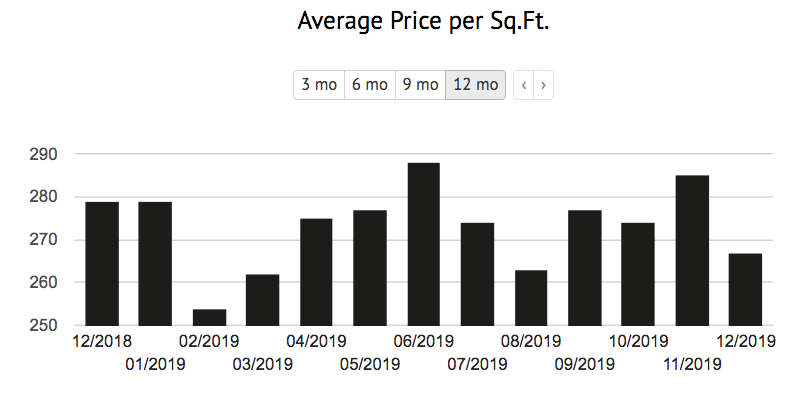 ---
Money Matters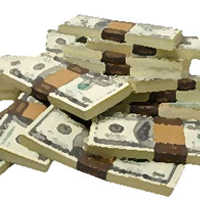 Real Estate Forecast
At its first-ever Real Estate Forecast Summit on December 11, 2019, the National Association of REALTORS® released a consensus forecast from 14 leading economists in the housing and finance industries, projecting continued but slowing growth in 2020. Housing analysts at the summit discussed policy challenges in the years ahead, including the need for zoning reform, and economists from California, Florida, Texas, and Virginia gave snapshots of the outlook in their regions.
NAR Chief Economist Lawrence Yun said the economy is unlikely to achieve what's considered a healthy 3% GDP growth in 2020 but that recession is improbable. The economists expect unemployment to rise slightly to 3.9%—still well below the 5% level they consider "full employment"—and mortgage rates to rise incrementally to a still-historically low 4%.
The economists said the Fed is unlikely to change the federal funds rate in the coming year, possibly because economic factors won't warrant it, Yun said, or possibly "because, in an election year, the Federal Reserve does not want to be perceived as helping or hindering any presidential candidate."
10 Markets Expected to Explode in 5 Years
NAR identified 10 markets expected to outperform the rest of the market, factoring in domestic migration, housing affordability for new residents, consistent job growth, population age structure, retiree appeal, home price appreciation and more. The following 10 markets emerged on top (listed in alphabetical order by city):
Charleston, S.C.
Charlotte, N.C.
Colorado Springs, Colo.
Columbus, Ohio
Dallas-Fort Worth, Texas
Fort Collins, Colo.
Las Vegas, Nev.
Ogden, Utah
Raleigh-Durham-Chapel Hill, N.C.
Tampa-St. Petersburg, Fla.
"Potential buyers in these 10 markets will find conditions especially favorable to purchase a home going into the next decade," says NAR President Vince Malta. "The dream of owning a home appears even more attainable for those who move to or are currently living in these markets."
---
Santa Fe Real Estate News
Aldea Stats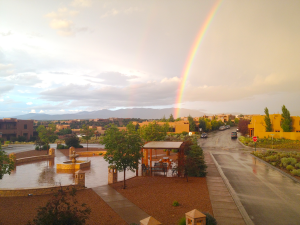 2020 Stats: Sold, Pending, Listed
SOLD: 21 Homes, DOM 34 | 0 Lots, DOM 0
PENDING: 6 Homes | 0 Lots
LISTED: 6 Homes, Avg $575,500 | 4 Lots, Avg $72,750
Sales of homes in 2019 (23) are down compared to 2018 (36) and sold lots are also down in 2019 (0) vs in 2018 (3). The Santa Fe real estate market has slowed some this fourth quarter.
Aldea de Santa Fe consists of 345 acres, with 205 acres of perpetual open space with 13 miles of walking trails, basketball & tennis courts, community center, (which offers yoga classes, exercise equipment & gathering space for events), a local cafe, superbly located in the high-value northwest corridor of Santa Fe County, with easy access to Highway 599, all just 10 minutes from downtown Santa Fe.
Aldea listings are very limited at this time.

---
Las Campanas Real Estate News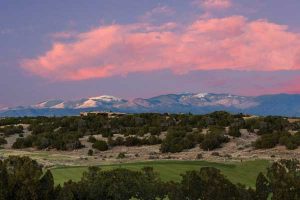 2020 Stats: Sold, Pending, Listed
SOLD: 61 Homes, DOM 149 | 44 Lots, DOM 268
PENDING: 8 Homes | 19 Lots
LISTED: 36 Homes, Avg $1,895,916 | 74 Lots, Avg $183,017
Sales increased in Las Campanas in 2019 for homes (61) vs 2018 (56) and land sales increased in 2019 (44) vs 2018 (43). New inventory of lots and newly built homes have boosted sales in 2019.
Las Campanas Realty recently shared that 2018 was a record year in terms of sales and average sale prices since the downturn a decade ago for both the developer and the overall community. Average home prices for resales (excluding new construction) increased 9%, while average homesite prices increased 12.5% for the overall community and 15% for the developer. The demand for many to find the perfect location to enjoy the best four-season weather in the nation, a world-class private club and a special city that is recognized for its rich culture and diverse art community, makes Santa Fe the perfect fit. "Many buyers this year were already sold on Santa Fe and Las Campanas. They just needed to find the perfect site within the Las Campanas community," says Jonathan Bartlett, VP of Sales for Las Campanas Realty.
Las Campanas is the only luxury master-planned community in Santa Fe. Stretching across 4,700 acres surrounded by pristine high desert, the community is comprised of exclusive neighborhoods. Las Campanas is also home to The Club at Las Campanas, where members can enjoy two award-winning Jack Nicklaus Signature golf courses, the 46,000 square foot Hacienda Clubhouse, a peerless Equestrian Center and the Fitness & Tennis Center, which includes a luxurious spa.
There are currently 63 homes for sale in Las Campanas.
2 Homes under $1,000,000
34 Homes over $1,000,000
There are currently 74 Lots for sale in Las Campanas.
25 Lots under $100,000
49 Lots over $100,000
Let me take you on a tour in Las Campanas!
---
Marketing Properties, Not Just Listing Properties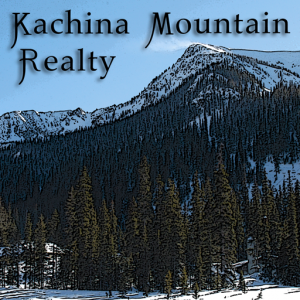 If you are thinking of selling your property, why not list it with a realtor who will market the property, not just list it in the MLS? By actively marketing your property, the property gets the most exposure to other realtors and to the general public through online blogging, email campaigns & the typical MLS exposure.
Call me, Dianne, 505.603.9300, to discuss your property needs, or for a tour of Lots & Homes in Aldea, Las Campanas and the Santa Fe region. Taos Office: 575.776.7576
Visit the website for Santa Fe information: RealEstatePropertiesSantaFe.com
Visit the Kachina Mountain Realty company main website: KachinaMountainRealty.com
---
Taos Real Estate News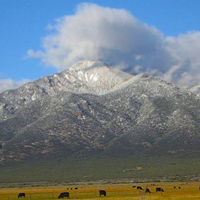 2020 Stats: Sold, Pending, Listed
*SOLD: 154 Homes, DOM 174 | 73 Lots, DOM 281
*PENDING: 22 Homes | 11 Lots
*LISTED: 129 Homes, Avg $608,566| 226 Lots, Avg $163,724
* Areas tracked:
Lower North, Upper North, West North, Town of Taos, Taos Ski Valley, South West, South East
See map for areas »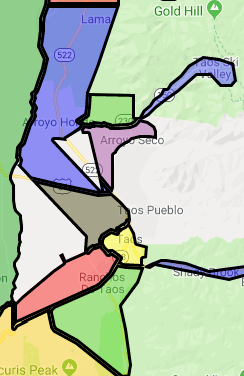 I receive inquiries almost daily from out of town buyers who are researching homes in the Taos area. These buyer profiles are looking to live in a safe community, with a country atmosphere, small homes, with flexible spaces. They are wanting to move to the area, but can't find the properties that offer amenities that don't include huge HOA fees. They want walking trails, localized eateries, a small grocery store, community activities and a sense of neighborhood. The are either downsizing their home and retiring or wanting a second home. They are wanting to go smaller, but the quality of their lifestyle and home features are upscale. "Does such a community even exist?" they ask.
In the coming months, I will be featuring such a community.
If you have been thinking about selling your home, now is probably a good time. Inventory is low and the demand for quality homes is up.
If you been looking to buy a home, you are probably frustrated with the lack of quality homes on the market at any price point.
Call our Taos Office: 575.776.7576
---
Home Decor Insights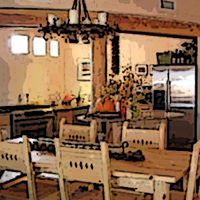 2020 Color of the Year
According to Pantone Color Institute color experts, colors for Spring/Summer 2020 New York express our desire for a sense of the familiar. Friendly and relatable, a palette of colors that conveys a sense of ease. At the same time, in this era of personalized self- expression, this palette of recognized favorites uses the familiar to take some unique twists and turns highlighting elements of humor, modernity and entertainment.
"Combining our desire for stability, creativity, and more spontaneous design approaches, the color palette for Spring/Summer 2020 infuses heritage and tradition with a colorful youthful update that creates strong multi-colored combinations as well as energizing and optimistic pairings," said Leatrice Eiseman, Executive Director of the Pantone Color Institute.
2020 Update
PANTONE 2020 is Classic Blue 19-4052
Classic Blue is a timeless hue, elegant in its simplicity. This color is the response to our research for peace and tranquility for the next decade.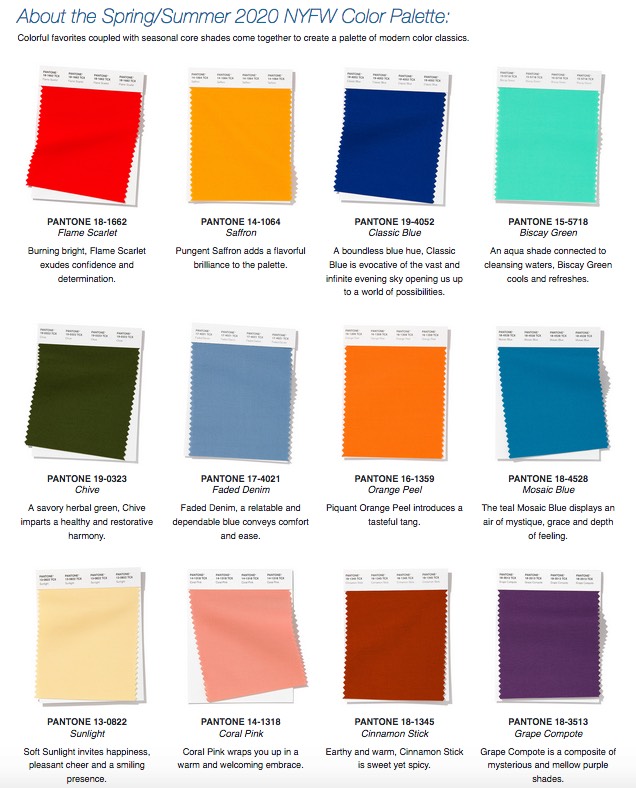 For ideas on decorating with autumn in mind, check out Pinterest and explore a whole new way to spend your time online and check out my Pinterest page: KachinaRealty Happy pinning!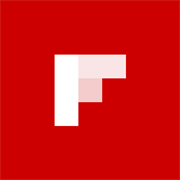 While you are surfing the "net" check out Flipboard for a variety of news and lifestyle reading.
---
Sierra
iCFO, (in-training Chief Fun Officer)
silver standard poodle puppy

Sierra: November 26 – December 31, 2019
Sierra is 9 months old as of December 18 and her monthly weight and measurements: height to shoulder: 23.5″ | neck collar: 14″ | girth: 24″ | weight: 32 lbs. She grew taller by 1.5″ in a month. Weight is the same as last month.
Sierra is becoming a fussy eater. She is not very interested in food. Treats yes, when training, but she needs to be coaxed to eat. If John pretends to eat her food she shows great interest. She likes to be hand fed sometimes and also seems to like to eat late at night after 10:00pm… We try cooked chicken, several types of puppy raw coated kibble, Dr. Harvey's premix, canned raw & raw frozen patties… It is a challenge to know what she will eat.
She loves playing catch with her small bouncy balls. We have put away her tunnel for the winter. Sierra loves the snow. She runs around the side & back yard so fast it is hard to get a photo that isn't completely a blur. We are finding her to be very affectionate and cuddly. A real couch potato that likes to have us toss the ball while we watch a movie. Sleeping with her is the best. She mostly sleeps between us and throws herself against us. Just perfect for a winter nights sleep.
Sierra's web page: www.diannemckenzie.com/sierra More photos will be continually posted on her own web page, so check back monthly, as we chronicle her life with us!
View the full size images »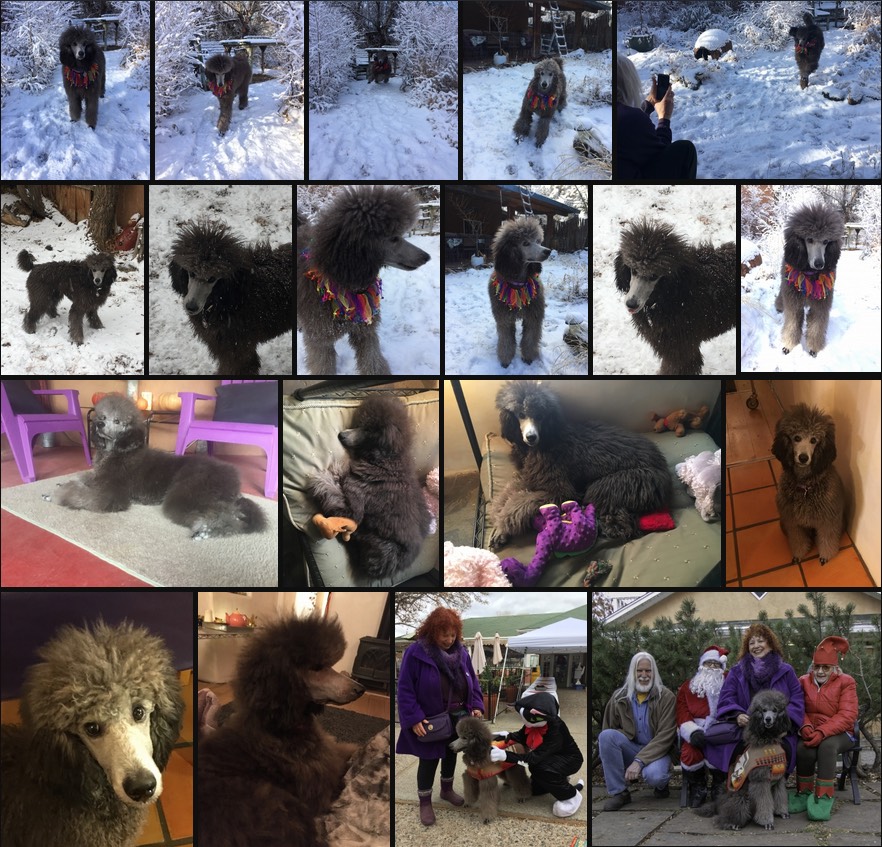 ---
Calendar of Events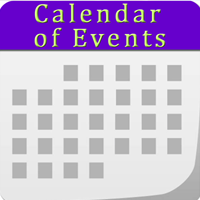 New Mexico has long been a center for arts, culture, classes and gourmet food. With such a strong art market, there are hundreds galleries to explore and experience, along with a wide selection of thriving restaurants. Our Museums feature culture, history and traditions of the region and the world. Santa Fe, Taos County and beyond have something scheduled every day & night of the week, all year long.
---
Entertainment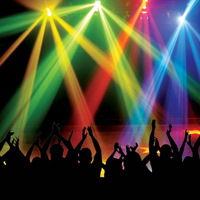 If there's one thing you can count on when spending time in New Mexico, it's the treasured experiences and wide selection of entertainment: music venues, great sporting events, theatrical and musical entertainment as well as year-round festivals.
From festivals, music concerts and dance performances to theatrical offerings by local and touring groups, the performing artists work hard to keep its locals and visitors entertained by both New Mexico performers and acclaimed stars from around the world.
---
About Kachina Mountain Realty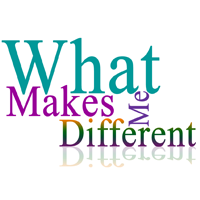 I am passionate about real estate development. I consider myself a "Dream Maker", and strive to help my clients manifest their dreams and lifestyle goals.
I believe that, "…the dreams which accompany all human actions should be nurtured by the places in which people live and work".
To promote this possibility, I encourages my clients to develop and share their dreams and lifestyle goals as part of the process of selling, buying or investing in property.
I have over thirty years of business experience as an executive producer, web architect, social media marketer, business developer, architecture assistant, real estate marketing developer and real estate consultant.
I am a licensed real estate qualifying broker for Kachina Mountain Realty & an accredited ACRE® real estate consultant. I have worked in the Santa Fe & Taos real estate market for years. I specialize in working with buyers and sellers who are looking for a solid real estate investment.
Contact me, Dianne McKenzie, for your real estate transactions & let me help you manifest your dreams!
I am readily available by cell phone, text, (505.603.9300) & email. I return calls promptly, seven days a week!
Taos Office: 575.776.7576
---
Go Green:

Recycle This E-Newsletter!
After you've enjoyed our Eco Lifestyle and Home newsletter, please recycle it by emailing it to a family member, friend, neighbor or coworker!
---