Eco Lifestyle And Home Newsletter January 2015
Eco Lifestyle And Home Newsletter January 2015
Balance –

Dear Friends, Clients, Business Associates and Neighbors,
 
January's theme for our Eco Lifestyle and Home News is Balance.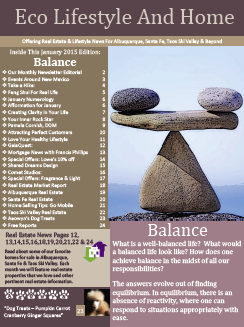 Balance
What is a well-balanced life? What would a balanced life look like? How does one achieve balance in the midst of all our responsibilities?
The answers evolve out of finding equilibrium. In equilibrium, there is an absence of reactivity, where one can respond to situations appropriately with ease.
When you find balance, you are in the state of equanimity. When you reach a state of equanimity, you feel calm, grounded, clear-headed, and motivated in the midst of all the turmoil, stress or activity. There is an evenness of mind. Equanimity is something that you are not born with, but something you can cultivate and apply in your day-to-day life. Developing mental calmness, composure, and evenness of temper, especially in a difficult situation, takes practice, awareness and deep understanding.
Equanimity plays a major part of unconditional love. When we cultivate a balanced life, being in a state of equanimity, we no longer get to the point where we withhold our kindness or compassion from anyone. It doesn't matter whether we like people or dislike them, whether they are skillful or unskillful, whether we know them or do not know them, whether we admire them or not, whether they're similar to us or wildly different. The barriers that separate us from others dissolve when we recognize another person's basic humanity — their deep-rooted wish to be happy, their even more deep-rooted wish to be free from suffering. It is our compassion then that keeps us in a balanced state; compassion for ourselves compassion for our family, friends, clients, our communities, strangers and all living beings.
 
One way to cultivate equanimity is to cultivate a meditation practice. Meditation trains & calms the mind, so that the "normal" reaction to stress is a response, not a knee jerk reaction. Another way to cultivate balance is to take a break from your routine and go for a long walk, clear your mind of thoughts and just walk and notice, without judgment. Be present for the experience. Calming the mind can lead to balance.
 
Here are a few other suggestions to cultivate balance in your life:
Take care of yourself. Cultivate mental happiness, physical happiness & ease of well-being, daily.
Develop healthy eating, healthy living, healthy thinking.
Maintain a positive attitude.
Take time alone.
Expand your awareness, learn new ways to nurture your well-being.
Prioritize in all areas of your life: work, life, & play.
Minimize toxic behavior, toxic situations & toxic people.
If you start cultivating balance in your life, you'll find that this experience of equanimity is a very positive and vibrant state of being.
Read the newsletter to find out how you can increase your ability to cultivate balance.
Can't wait? Read Our PDF Eco Lifestyle And Home News Now»
In this edition our contributors address Balance as relates to all areas of our life.
In this edition we offer:
Events Around New Mexico
Take a Hike: La Luz Trail
Feng Shui for Real Life
January Numerology
Creating Clarity: Balance
Your Inner Rock Star Coach
Pamela Cornish, DOM
Attracting Perfect Customers
GaiaQuest: Balance & Permaculture
Mortgage News with Francis Phillips
Special Offers to Our Readers: 10% Discount at Lowe's Home Improvement
Shared Dreams Design
Comet Studios: Balance & Architecture
Special Offers: Fragrance and Light
Real Estate Market Report
Albuquerque Real Estate Listings
Santa Fe Real Estate Listings
Mobile Real Estate Search App: Free for Smart Phones & Tablets
Taos Ski Valley Real Estate News
Dog Treat Recipe of the Month: Standard poodle & service dog, Aeowyn, shares her Pumpkin Carrot Cranberry Ginger Squares Recipe
Free Reports: How Sellers Price Their Homes, How To Sell Your House For The Most Money The Shortest Possible Time, and more…
 
Eco Lifestyle and Home News comes to you in its fourteenth edition of our Newsletter. The creators of this newsletter are Dianne McKenzie & Cecilie Bodman, real estate associate brokers for Equity New Mexico. We decided to produce a conscious newsletter that has information about some real estate but more about living, playing & working. We also wanted to include our professional friends' expertise as it relates to home, health, well-being, & lifestyle.
Please introduce us to your friends and family for their real estate needs, whether they are considering buying a home or thinking about getting their home sold this year. Many thanks.
Can't wait? Read Our PDF Eco Lifestyle And Home News Now»
Thank you for reading our newsletter!
Dianne McKenzie, Cecilie Bodman, Aeowyn & our content contributors