Housing Market Nears 60% Back to Normal
Housing Market Nears 60% Back to Normal –
For those who do not read online real estate marketing news and are not following the market, I like to post articles from leaders in the field, who are researching the real estate market nation wide. Scouring the web for information on real estate marketing, trends and analyzing what I am reading is some what of an obsession, so I pass the information on to my readers, in hopes of helping you determine where you are going.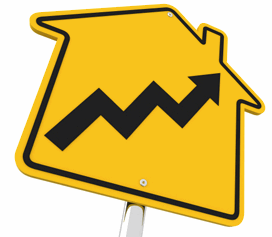 In Aldea, Santa Fe, where my office is located, there are more potential buyers out looking at property. There are 5 properties that are pending, one closed in April so far. We are all anticipating a very active year in comparison than the previous few years. There are 3 houses in the construction phase, after several years of no activity. There is an air of cautious optimism and my clients seem very hopeful about the economy. Santa Fe doesn't have the great highs or great lows in the real estate market compared to other locations across the country. Santa Fe tends to be a bit more stable, unlike the San Francisco bay area, where multiple offers on the first day of a listing is quiet common even now.
So, if you are thinking of buying or selling, this maybe the year to make your move. Aldea is a wonderful new urbanist village, just 11 minutes from downtown Santa Fe, with walking trails and long vistas in a very upscale and safe new community. Stop by my office for a map of Aldea with all the houses & lot listings and let me give you a tour of our neighborhood! My office is located at 19 Plaza Nueva, Santa Fe, New Mexico 87507. Call, text (505.603.9300) or email me. I am available 7 days a week and return calls promptly.
In the meantime, perhaps this article below will help convince you it is a good time to make a move in with your real estate transaction.
April 26th, 2013
Each month, Trulia's Housing Barometer charts how quickly the housing market is moving back to "normal."  We summarize three key housing market indicators: construction starts (Census), existing home sales (NAR), and the delinquency-plus-foreclosure rate (LPS First Look). For each indicator, we compare this month's data to (1) how bad the numbers got at their worst and (2) their pre-bubble "normal" levels.
In March 2013, construction starts and the delinquency + foreclosure rate improved:
Construction starts rocketed to a new post-bubble high. Starts were at a 1,036,000 seasonally adjusted annualized rate – up 7% month-over-month and 47% year-over-year – which is the highest level since June 2008. In March, 38% of new starts were in multi-unit buildings, compared with the typical level of 20%. Construction starts are now 55% of the way back to the normal level of 1.5 million from their low during the bust.
Existing home sales went down a bit. Sales fell 0.6% in March to a seasonally adjusted annualized rate of 4.92 million homes. That's a 10% increase over one year ago. Excluding distressed sales, conventional home sales were up 23% year-over-year in March. Also, inventory rose even on a seasonally adjusted basis for the second month in a row. Overall, existing home sales are 66% back to normal.
The delinquency + foreclosure rate dropped yet again. The share of mortgages in delinquency or foreclosure dropped to 9.96% in March, down from 10.18% in February and 10.98% in March 2012. The combined delinquency + foreclosure rate is 48% back to normal and at its lowest level since October 2008.
Averaging these three back-to-normal percentages together, the housing market is now 56% of the way back to normal, up from 54% in February and 43% six months ago in September. One year ago, the market was only 33% back to normal – so the last year has been a significant recovery. Furthermore, this month's improvement is even better than it looks with the shift of sales from distressed to conventional and early signs that the inventory crunch may be easing, which will bring some relief to would-be homebuyers.
Written By Jed Kolko, Chief Economist
More about Jed Kolko, Chief Economist
---