Santa Fe County advances to yellow in state's 3-tier COVID-19 restriction system
Santa Fe County advances to yellow in state's 3-tier COVID-19 restriction system
By Scott Wyland swyland@sfnewmexican.com
Feb 10, 2021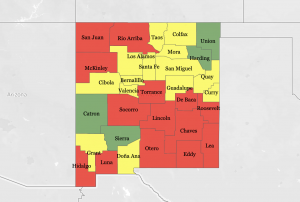 Santa Fe County has slowed its spread of the novel coronavirus enough to be upgraded Wednesday to the state's yellow status, which comes with less stringent COVID-19 restrictions.
The county has reduced its test positivity rate to 4.2 percent, putting it below the state's 5 percent threshold, Department of Health data show. However, its average caseload is at 20 per 100,000 residents for the past two weeks, well above the target of eight per 100,000.
Four counties — Catron, Harding, Sierra and Union — met both of these criteria, allowing them to advance to the state's green status.
Santa Fe County is one of 15 that met one of the two targets, earning the yellow status. The others are Bernalillo, Cibola, Colfax, Curry, Doña Ana, Grant, Guadalupe, Los Alamos, Mora, Quay, Sandoval, San Miguel, Taos and Valencia.
Essential retailers in these counties can now operate at 33 percent capacity. Indoor dining will be allowed at 25 percent occupancy, and outdoor service can run at 75 percent.
Places of worship will see their maximum capacity increase to 33 percent from the current 25 percent.
Close-contact businesses such as salons can run at 25 percent capacity or 20 patrons, whichever is smaller.