Santa Fe County Turns Turquoise while Taos County is Green
Santa Fe County Turns Turquoise while Taos County is Green
For Santa Fe area businesses, a turquoise designation Wednesday from the New Mexico Department of Health was better than a shot in the arm.
Turquoise meant Santa Fe County had made one more stride in its fight against COVID-19.
As a result of improved coronavirus statistics, the county won a turquoise designation and consequently the right to allow more customers into restaurants, entertainment venues and other places. The picture statewide, too, looked better than it did two weeks ago.
For Taos area businesses,a green designation Wednesday from the New Mexico Department of Health means we are moving in the right direction. Taos County has two new cases, bringing the total at 1,603 positives. Taos County had no additional deaths related to COVID-19, leaving the total at 50. The state has listed a total of 1,441 people from Taos County as "recovered" from the virus. The county moved to the green phase Wednesday (March 24) in the state's reopening plan, with 7.5 cases per 100,000 population and 2 percent positivity rate.
The state's color-coded system enables counties to unload some restrictions, and it gives communities the right to conduct more activities when their health data shows the virus is in decline.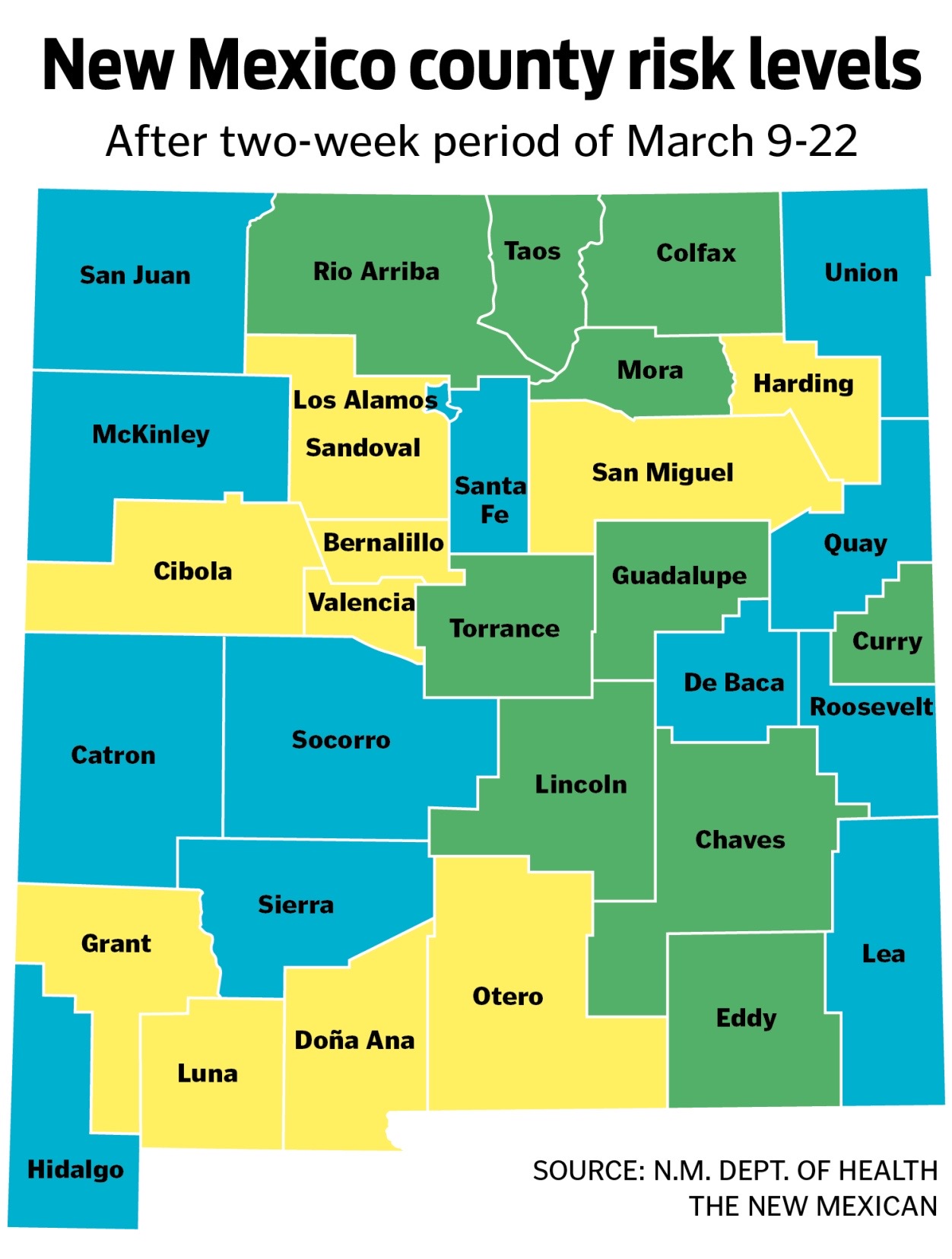 Thirteen counties qualified Wednesday for the turquoise level, up from seven March 10. Ten made the green level, up from seven; 10 belonged in the high-risk yellow category, down from 18; and there were none in the very-high-risk red category, down from one.
For the next two weeks, Santa Fe County restaurants can serve at 75 percent capacity, up from 50 percent in the green category. Attendance at large entertainment venues can be at 33 percent of capacity, up from 25 percent. And bars can serve at 33 percent indoors; in the green category, only outdoor seating was permitted.