Santa Fe Real Estate Market Update
I wanted to share this article to my client Sellers and Buyers:
Shadow inventory a question for Santa Fe home market: Santa Fe Real Estate Market Update
by Bruce Krasnow | Posted: Monday, September 8, 2014 7:00 pm
Bruce Krasnow
BRUCE KRASNOW Business Beat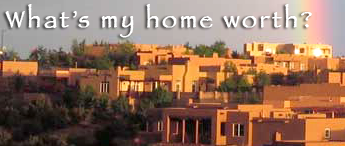 The big question for the Santa Fe residential real estate market is not how many homes are on the market now, but how many will be on the market in the future? It's known as shadow inventory.
Because of the housing meltdown followed by a steep decline in prices, many owners have been unable to sell because they owe too much on their mortgages or have not been able to get a price that makes it worthwhile. By some estimates, values in New Mexico are still 20 percent below pre-bubble levels.
So as prices begin to inch up and people pay down their mortgage debt, owners who want to move are more likely to do so.
"Recently some industry analysts have expressed concern about the size of the shadow inventory that remains," writes Alan Ball, an associate broker at Keller Williams Realty Santa Fe. "Shadow inventory is not a small humorous anecdote or analogy. It is a huge weight on our shoulders, on our market health."
Meantime, the county is holding its own with residential sales through the first seven months of 2014. Ball reports there were 1,019 residential sales through July, up from 953 the same period in 2013 — an increase of 7 percent — and on pace for the best year since 2007.
Ball's August totals are not yet posted, but the monthly tally from Santa Fe's Barker Realty indicates a 15 percent decline in homes sold from a year ago to 157, down from 184 in 2013. The inventory of homes has also declined from last year, but the average number of days on the market has climbed to 156, according to Barker.