Taos Ski Valley Ski Resort to be SOLD
Taos Ski Valley Ski Resort to be SOLD
What This Means for Property Values In Taos Ski Valley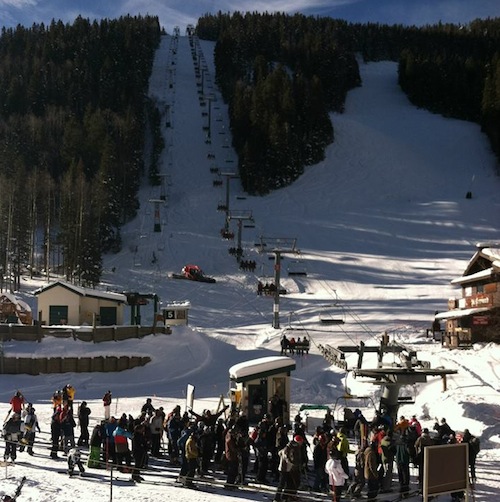 With this purchase of the Taos Ski Valley Resort & its financial capital investment, surrounding property values are bound be good news. This is very exciting news for the future development and for the entire Village.
Within 2 hours from this announcement, my office received almost a dozen emails and phone call inquiries concerning the Aspen One Condo.
Here's just one of many articles:
Blake Family Enters Into Agreement With Conservationist Who Will Acquire Taos Ski Valley Resort
From the Denver Post December 11, 2013
Mickey Blake, chief executive officer of Taos Ski Valley and son of legendary ski pioneers Ernie and Rhoda Blake, announced today that the family-held corporation has entered into an agreement with conservationist Louis Bacon who will purchase the resort.
After almost 59 years, the Blake family is leaving Taos Ski Valley.
Founded in 1955 by skiing pioneer Ernie Blake and run by his children and grandchildren ever since, the family announced on Wednesday it is selling the steep and soulful New Mexico ski area to billionaire conservationist Louis Bacon.
"I'm in mourning a little bit but I realize this is really a good thing for the ski area," said Adriana Blake, whose grandfather moved his family — including her father, Mickey — into an 11-foot camper trailer at the base of the ski area in the early 1950s and built the first chairlift with 16 local men and a mule named Lightning.
"We — this family — we have all these amazing ideas but the ski area itself never makes enough money to do them without risking our ability to pay our people," Adriana Blake said.
Bacon, a media-shy hedge-fund manager and land baron renowned for locking his acreage in conservation trusts, owns several large ranches in Colorado. He famously battled Xcel Energy's plan to run solar transmission lines across his 171,400-acre Trinchera Blanca ranch in southern Colorado's San Luis Valley in 2010 and 2011. In 2012 he placed his 20,000-acre Tercio Ranch near Trinidad in a conservation easement with Colorado Open Lands. His easement prohibiting development on Trinchera Blanca is the largest ever for the U.S. Fish & Wildlife Service as well as the largest in Colorado.
Bacon has owned base-area property in Taos Ski Valley since 1996 and worked with the Blake family to develop a master plan that re-developed the aging village and expanded the mountain's terrain with new lifts like a proposed chair climbing Taos' iconic 12,481-foot Kachina Peak. The Forest Service approved the expansion plans in 2012.
Taos chief Mickey Blake in a statement said Bacon's conservation ethic as well as his partnership with the family prodded the Blakes to suggest an outright sale.
"We believe Louis is the right person to ensure a viable future for the ski valley and that his ownership will be beneficial to our employees, Taos' residents and guests," Mickey Blake said in the statement.
The ski area has 125 employees with more than 20 years experience, a longevity that reveals both the Blakes' management style as well as the role of the ski area in northern New Mexico's rural economy.
"Part of the reason Mickey chose Louis was because … they are not going to come in and change what Taos Ski Valley is. They aren't going to come in and knock down all the buildings and build an Intrawest ski area. They are sticking with the flavor and character of the ski area," Adriana Blake said.
Bacon spokesman Peter Talty — a longtime Taos skier — in a statement said the Bacon team will embrace the Blake tradition.
"It is a once-in-a-lifetime opportunity to be a part of this iconic ski area," Talty said. "Our mandate is clear and we are dedicated to advancing the Blake family vision and legacy of Taos Ski Valley, by continuing to provide an unmatched skiing experience while serving as an economic driver for northern New Mexico."
The deal buys out all the Blake shareholders. (There are many Blake grandchildren who own shares of the ski area.) And while Mickey and Adriana will stick around for the transition, they will be leaving Taos at the end of the season. Longtime chief operating officer Gordon Briner will take over as Taos' ski boss.
The departure of the Blakes marks not just an end of an era of Taos but yet another loss to the increasingly antiquated notion of family-owned ski areas operating and developing with cash earned from lift ticket sales, gear rentals, lessons and hamburgers.
Ernie Blake — who died in 1989 at age 75 — hand hewed the ski area and its precipitous terrain, crafting a premiere ski school and adding flourishes like tucking beakers of martinis behind trees on the mountain. He staunchly prohibited snowboarding but his family opened the area to riders in 2008, reversing a slide in visitation.
While the Blakes in 2010 did begin a base-area real estate venture, it was modest and the revenue from selling 11 slopeside homes went into upgrading lifts and adding terrain. The family operated with minimal debt, eschewing the prevalent "build a village," real-estate centric ethos that has dominated the industry for the past decade.