The Sun Is a Selling Point
More Builders Find the Sun Is a Selling Point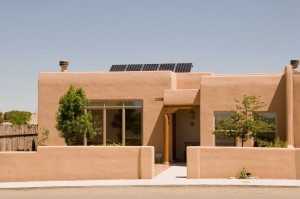 Builders are looking for ways to make it easier and cheaper for home owners to generate their own electricity and lower their utility costs, and they're increasingly turning to solar panels as the answer.
Residential solar installations are on the rise, at a time when costs for installation have moved lower and government incentives further improve the affordability.
Solar-power systems can be even cheaper to install during a home's construction than adding them afterward. Some builders are offering a cheaper option to lease a system than to buy one (which can run from $10,000 to $20,000).
"Up to this point, retrofits have been by far the largest portion" of homes with solar power, Rhone Resch, chief executive of the trade group Solar Energy Industries Association, told The Wall Street Journal. But as more builders step in to offer solar options, that could change, she says.
Lennar, the nation's second-largest home builder, is adding solar panels to many of its homes in several of its developments in California, Colorado, and Nevada.
"We aren't offering homes with solar as an option — it's a standard feature" in certain communities, says David Kaiserman, president of Lennar Ventures, which oversees the builder's solar project. Company officials say they plan to soon offer solar options to more states, particularly ones that have programs that encourage renewable energy.
Other builders like KB Home and Meritage Home Corp. are selling solar options to buyers in many of their communities.
Lennar is allowing home buyers to purchase the system completely or lease the system from a Lennar subsidiary. If they lease, the subsidiary retains ownership of the equipment and then sells the power to the home owner. Lennar promises buyers that utility prices will be 20 percent cheaper than the local utility prices. 
Leasing the solar-power system tends to be a more popular choice, but buyers may end up paying more over the long-term for the system from being locked into contracts for decades, WSJ reports.  What's more, if the home owner sells the house before the contract expires, the new buyer must be willing to assume the remainder of the lease.
"It's a trade-off," says Robert Margolis, a senior energy analyst at NREL. "A lot of people don't want to put all of the money out up front," even if it means they "break even several years down the road."
Source: "Home Builders Tap the Sun," The Wall Street Journal (Dec. 2, 2014)
Selling Green Homes
Making the Case for Energy-Efficient Homes
New Building Materials Nudge Homes Into the Future
Energy-Efficient Mortgages Gain Popularity