Aldea May Market Report

So you might have read my Santa Fe May Market Report by now and here is the current Aldea May Market Report for the first quarter of the year.
There are 3 homes pending sale with days on the market ranging from 12 to 301. Since the start of this year, 7 homes sold with days on the market ranging from 42 to 314. Currently there are 17 homes on the market with days on the market ranging from 14 to 472. Here is a break down of the current listings:
3 Townhomes
2 Patio Homes
8 Single Family
2 Live Work
2 To Be Built Homes
There are 2 homes listed as single family that are really large high end patio homes with zero lot lines. Some single family home owners want me to post the difference in the single family home varieties in Aldea. What I see is lacking in the current Aldea listings, is the higher end real single family homes, which there are many (not currently for sale) in Aldea. Not many Aldea homes have fabulous views, as most of the patio homes have more private, serene inward qualities. A single story, expandable upscale home with great views in all directions, is non existent at this time in the current listings.
If you are thinking of selling such a home, please contact me. I do not just "list homes",  I sell homes by marketing listings. Last year every home I blogged about, whether they were my listings or other agents listings, have sold! I market through social media and blogging, by creating a marketing strategy to other realtors, locally and in national markets that buy in Santa Fe. Marketing is what turns listings into home sales. If you want to SELL your home for top dollar, then hiring me to be your real estate will get you your desired results!
All Home Pending Sales:
Aldea Sold Homes in 2014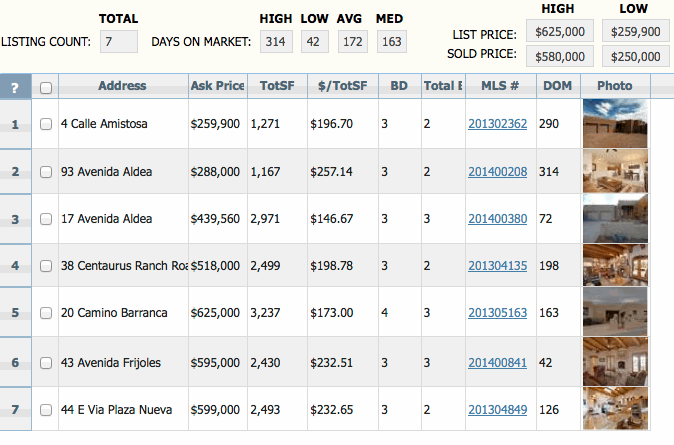 Aldea Current Homes for Sale