Drones Prohibited for Real Estate Marketing Use
Unmanned Aerial Vehicles (Drones) Prohibited for Real Estate Marketing Use
Drones Prohibited for Real Estate Marketing Use! At least for now…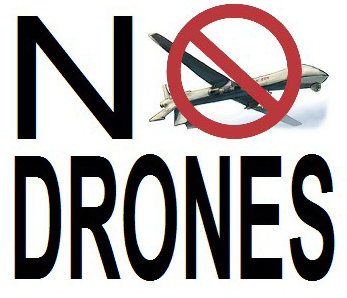 The National Association of REALTORS® advises members that the use of unmanned aerial vehicles for real estate marketing is currently prohibited by the Federal Aviation Administration. 
Such prohibited use of unmanned aerial vehicles may lead to the assessment of substantial fines and penalties.
Real estate pros who were hoping to use drones to capture aerial photos of their listings may have to wait a lot longer than previously thought. The Federal Aviation Administration has extended its original 2015 deadline to issue final rules for small commercial drones by two years. A final ruling is now not expected until 2017.
"We all agree that the project is taking too long," Peggy Gilligan, a top FAA safety official, testified to a congressional House panel on Wednesday. But she said a proposal on drones is under executive review, and once the proposal is published, it likely will take months before settling on a final set of rules.
"The consensus of opinion is the integration of unmanned systems will likely slip from the mandated deadline until 2017 or even later," says Gerald Dillingham, the GAO's director of civil aviation.
The National Association of REALTORS® has instructed its members to not use drones nor hire photographers or videographers who use drones for capturing aerial images of listings until the FAA issues its final guidelines. Those who continue to use drones may be fined by the FAA.
In 2007, the FAA ruled that any commercial use of drones without a permit is illegal. In June, the FAA issued an interpretation of its guideline applying specifically to real estate, saying that "a REALTOR® using a model aircraft to photograph a property that he (or she) is trying to sell and using the photos in the property's real estate listing does not constitute hobby or recreational use." Therefore, such use would fall under commercial purposes and be subject to the FAA's ban.
NAR continues to participate in an ongoing work group with the FAA to address the use of drones and unmanned aerial systems.
Respones from the article:
Source: "The FAA Won't Make Up Its Mind on Drone Rules Until 2017 – at the Earliest," The Washington Post (Dec. 10, 2014)
http://realtormag.realtor.org/daily-news/2014/12/12/faa-drone-rules-delayed-2017#.VItFL0i2GwY.email