Eco Lifestyle And Home August Newsletter – Community
Eco Lifestyle And Home August Newsletter – Community

Dear Friends, Clients, Business Associates and Neighbors,
August's theme for our Eco Lifestyle and Home News is Community.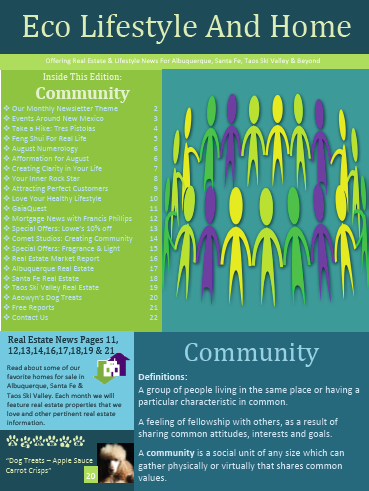 Definition of Community:
A group of people living in the same place or having a particular characteristic in common.
A feeling of fellowship with others, as a result of sharing common attitudes, interests and goals.
A community is a social unit of any size which can gather physically or virtually that shares common values.
How do you create community where you live & work? What makes for a successful, inclusive community? An online community is a virtual community whose members interact with each other via the Internet. Online communities require membership. An online community can act as an information system where members can post, comment on discussions, give advice or collaborate. Online communities have become a way for people to interact, who have either known each other in real life or met online. The most common forms people communicate through are chat rooms, forums, email lists or discussion boards. Most people now rely on social networking sites to communicate with one another. People also join online communities through video games, blogs & virtual worlds.
Community is shifting as we embrace the internet technology, which is changing how we create & participate in communities. Most notably Facebook has the largest appeal to mostly the 30 something & below, but also is now blurring age participation. The smart phone messaging adds to creating community where you can share your whereabouts with friends. Pinterest, which is another online community, made up of mostly women, (but that is shifting), is a pin board of pictures ranging from home décor, technology, fashion, gardening, food travel & much more.
Read the newsletter to find out how you can interact more with your local community!
In this edition our contributors address Community as relates to all areas of our life.
In this edition we offer:
Events Around New Mexico
Take a Hike: Tres Pistolas
Feng Shui for Real Life: Feng Shui Your Car
August Numerology
Creating Clarity
Your Inner Rock Star Coach
Attracting Perfect Customers
Love Your Healthy Lifestyle with Julie Hansen
GaiaQuest: Center for Global Health & Well-Being
Special Offers to Our Readers: 10% Discount at Lowe's Home Improvement
Comet Studios: Creating Community in Aldea
Special Offers: Fragrance and Light
Mortgage News: from Francis Phillips, First Choice Loan Services
Real Estate Market Report
Albuquerque Real Estate Listings
Santa Fe Real Estate Listings
Taos Ski Valley Real Estate News
Dog Treat Recipe of the Month: Standard poodle & service dog, Aeowyn, shares her Apple Sauce Carrot Recipe
Free Reports: How Sellers Price Their Homes, How To Sell Your House For The Most Money In The Shortest Possible Time, and more…
Eco Lifestyle and Home News comes to you in its tenth edition of our Newsletter. The creators of this newsletter are Dianne McKenzie & Cecilie Bodman, real estate associate brokers for Equity New Mexico. We decided to produce a conscious newsletter that has information about some real estate but more about living, playing & working. We also wanted to include our professional friends' expertise as it relates to home, health, well-being, & lifestyle.
Please introduce us to your friends and family for their real estate needs, whether they are considering buying a home or thinking about getting their home sold this year. Many thanks.
Sending blessing to all of you and encouraging us all to interact with our own local community, in person and online!
Dianne McKenzie, Cecilie Bodman & Aeowyn