Eco Lifestyle and Home News – August 2022

Eco Lifestyle And Home News – August 2022

Dear Friends, Clients, Business Associates and Neighbors,
August 2022, marks the 76th edition of Eco Lifestyle and Home Newsletter produced by Kachina Mountain Realty. We offer Real Estate & Lifestyle news in the email newsletter covering Santa Fe, Taos County and beyond.
In this edition, we offer the following: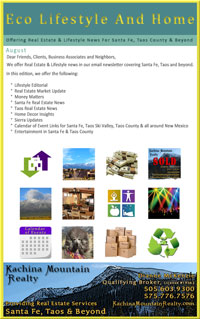 COVID-19 UPDATE
Lifestyle: Participate
Real Estate Market Update
Santa Fe Real Estate News
Taos County Real Estate News
Home Decor Insights: Summer is Starting!
Sierra Updates!
Calendar of Event Links for Santa Fe, Taos Ski Valley, Taos County & all around New Mexico
Entertainment Links for Santa Fe, Taos County & around New Mexico
---
COVID-19
NMDOH will not host a COVID-19 update unless something drastically changes with the pandemic, now endemic. We'd love to believe this is the last of COVID-19, but if there's one thing that is evident in the past year, it's that we'll likely never be rid of the coronavirus. We'll simply have to live with it.
The next step for the Virus is hard to predict, if only because the virus has a mind of its own. New cases and deaths are falling, but other omicron variants are lurking in the world. If history is any guide, the virus will morph. The wisest among us will remain wary and remember the smart practices that kept hundreds of thousands safe. We knew what to do because public officials were driven in their zeal to make sure we understood. Let's hope neither leaders nor the public become complacent in the coming weeks and years.
Please be mindful that many people who have been fully vaccinated may have underling health issues such as pulmonary, respiratory and immune issues, therefore they should still take precaution in wearing masks, as well as continue with social distancing.
Resources & Links:
CORONA VIRUS
---
Lifestyle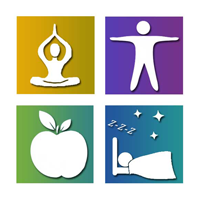 Participate
Definition: "take part in, engage in, join in, get involved in, share in, play a part/role in, be a participant in, partake in, have a hand in, be associated with…"
Well, here we are in the middle of the political mid term season, where we all can participate in the electoral process. This is the epitome of group participation on a mega scale.
While every 4 years the political scene heats up followed by the mid-terms, participation takes on many interpretations. For some, it is actively getting involved supporting a candidate, at the other extreme, it means not voting at all, but voicing an opinion to anyone who will listen as an armchair politician.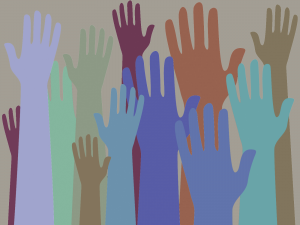 In today's society with so many social media outlets, people voicing their opinions on every issue is now common place. Everyone has become a critic and feels compelled to share their every thought. Participation in social media is rampart with all generations, from the elderly to very young children.
But participation means actively engaging in action, not just rhetoric. Participation means doing, not just talking. The adage, "talk is cheap" has never been so true. To really participate, to really be alive, is to actively engage.
Participation requires one to be engaged. Meaningful participation takes on a deeper commitment with a strong sense of meaning attached to what we are doing, We bring more of our attention and energy to it.
Meaningful participation involves finding relevance, by engaging and partaking in activities with opportunities for responsibility and contribution. Finding meaning in our life helps shape our feeling of well-being.
We all have the opportunity to participate in our life and make our life relevant. We can sit back and watch what happens or we can take an active part.
As a well know meditation instructor and radio personality once said: "If you don't like the news … go out and make some of your own," ~Wes Nisker
I often feel I would prefer to be a hermit, yet I know I must take action to bring meaning in my life and participate with my whole being.
Thank you for reading our newsletter & feel free to pass it on to other kindred spirits. ~ Dianne McKenzie & Sierra

---
Real Estate Market

US Home-Price Growth Slowed in May as Buyers Began to Pull Back and it has Continued though July.
According to Bloomberg:
"Home-price growth in the US decelerated in May as the pressure of higher mortgage rates started to sideline potential buyers.
A national measure of prices rose 19.7% year-over-year, smaller than the 20.6% climb in April, the S&P CoreLogic Case-Shiller index."
"The US housing market has suddenly started to slow after more than two years of a breakneck pace. Sellers are now having to consider slashing prices and homes are lingering on the market longer. More home deals are falling through and sales of previously owned homes dropped in June to a two-year low. Still, price gains decelerated "slightly" from "very high" levels, according to Craig Lazzara, a managing director at S&P Dow Jones Indices."
"Mortgage financing has become more expensive as the Federal Reserve ratchets up interest rates, a process that was ongoing as our May data were gathered," said Lazzara. "A more-challenging macroeconomic environment may not support extraordinary home-price growth for much longer."
"A measure of prices in 20 US cities posted a 20.5% gain in May, down from the 21.2% increase in April, according to the index. Only four cities had price gains in the year ending May that exceeded the growth in the year ending in April. That's a marked change from February, when all 20 cities were accelerating, S&P said."
"The index covers more than 27 years of data and is an important gauge of the health of the US housing market, in part due to its breadth of measurements around the country."
And here in Santa Fe, we are seeing sellers dropping prices and properties staying on the market longer compared to just a few months ago. Multiple offers are now less common as well as over asking bidding wars.
Mortgage Rates Over Time:

---
Santa Fe Real Estate News
Aldea Real Estate Stats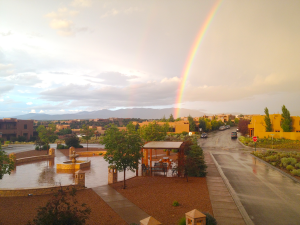 SOLD: 15 Homes, DOM 13 | 1 Lots, DOM 193
PENDING: 4 Homes | 0 Lots
LISTED: 3 Homes, Avg $915,000 | 3 Lots, Avg $90,000
Aldea de Santa Fe consists of 345 acres, with 205 acres of perpetual open space with 13 miles of walking trails, basketball & tennis courts, community center, (which offers yoga classes, exercise equipment & gathering space for events), a local cafe, superbly located in the high-value northwest corridor of Santa Fe County, with easy access to Highway 599, all just 10 minutes from downtown Santa Fe.
Aldea Listings:

Pending



Santa Fe Real Estate Offerings
15 Calle Amistosa in Aldea | Santa Fe, New Mexico
Townhouse | 3 bedrooms, 2.5 baths | 1,800 sqft |

MLS #202201909 | Price: $635,000 | PENDING
Located in the desirable community of Aldea, on a quiet cul-de-sac, this open floor plan, two-story, 3 bedroom, 2.5 bathroom townhouse borders trails and open spaces is move-in ready!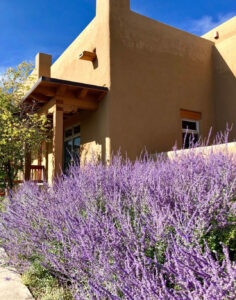 The living room is graced with 12' high wood ceiling adorned with vigas, a gas burning fireplace and tall windows on two sides. The adjacent dining room leads to the sizeable kitchen, convenient for cooking and entertaining.
The landscaped enclosed garden patio with water feature enhances al fresco dining, with a covered portal and access to the detached 2-car garage. The living level includes a 3rd bedroom/office, along with a half-bath, separate laundry room & a new $15,000 Navien high efficiency combi-boiler. Upstairs features a spacious primary bedroom suite with sitting/office/exercise area, private balcony with 180˚ views, walk-in closet and a luxurious bathroom. The tranquil 2nd bedroom is light and airy within steps away from a full bathroom.
From it's coveted large rooftop deck with 360˚ breathtaking panoramic views to the east Sangre de Cristos mountains, sunset west views to the Jemez mountains, and endless vistas to the south Sandias mountains in Albuquerque, you will experience the privacy of your own retreat.
This is an outstandingly beautiful end unit property, where one can wander the arroyos and walking trails, partake in the sports courts, playground, yoga classes, enjoy the workout facilities, Aldea Plaza and local café. Not all townhomes are created equal, this one stands out among all the rest! Schedule your home tour today, before it's gone tomorrow.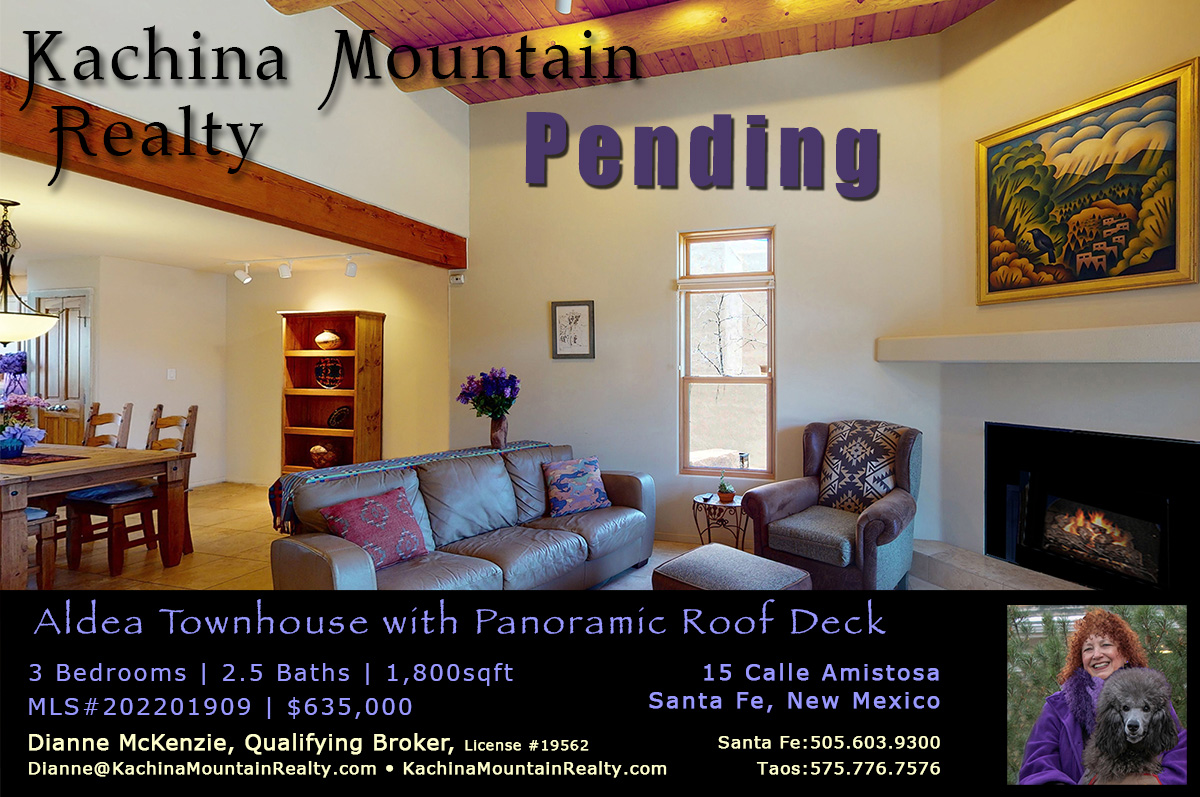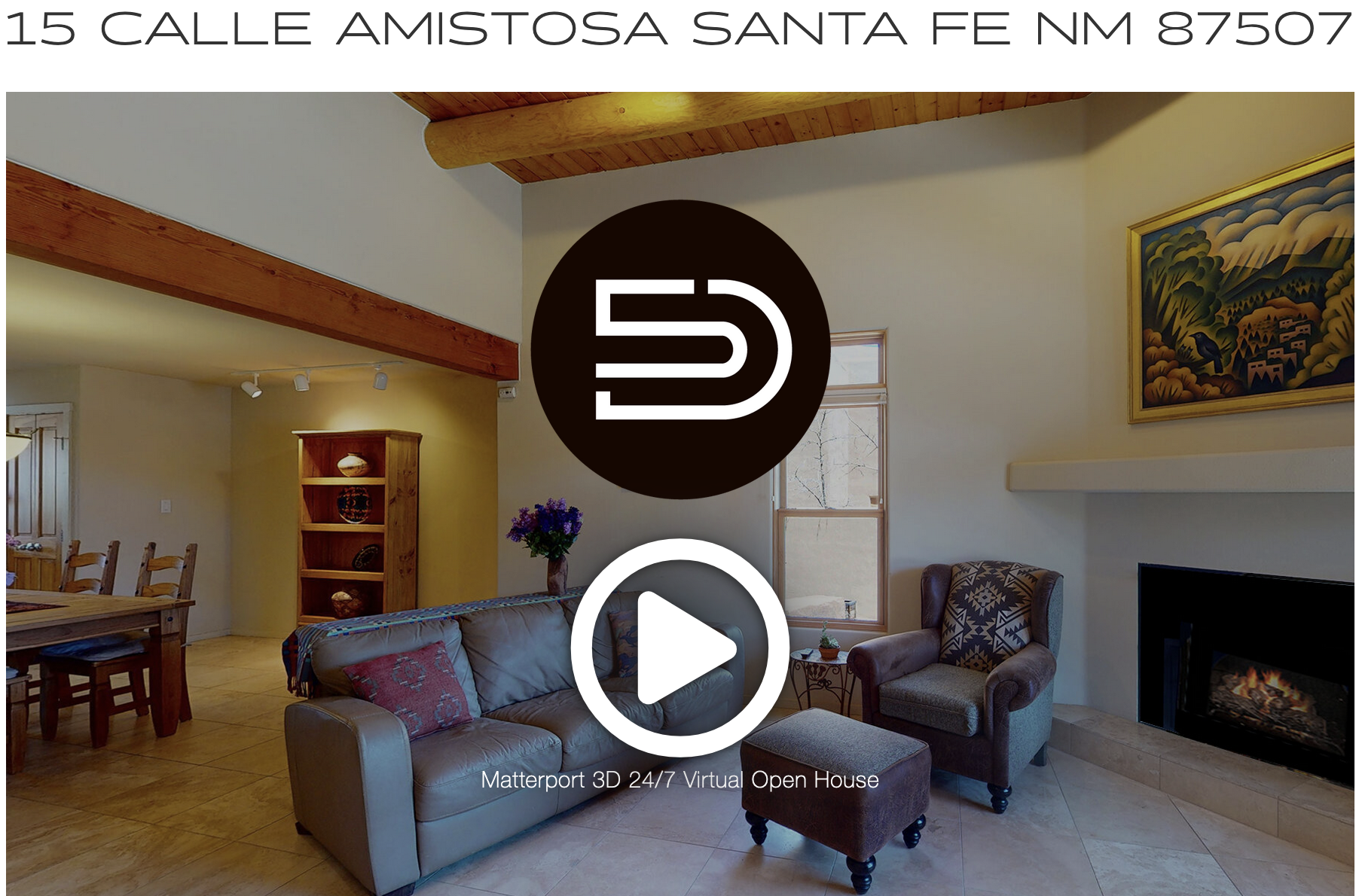 ---
Las Campanas Real Estate Stats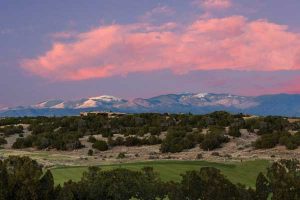 2022 Stats: Sold, Pending, Listed

SOLD: 32 Homes, DOM 54 | 17 Lots, DOM 364
PENDING: 22 Homes | 14 Lots
LISTED: 31 Homes, Avg $2,620,323 | 36 Lots, Avg $266,051
Las Campanas is the only luxury master-planned community in Santa Fe. Stretching across 4,700 acres surrounded by pristine high desert, the community is comprised of exclusive neighborhoods. Las Campanas is also home to The Club at Las Campanas, where members can enjoy two award-winning Jack Nicklaus Signature golf courses, the 46,000 square foot Hacienda Clubhouse, a peerless Equestrian Center and the Fitness & Tennis Center, which includes a luxurious spa.
There are currently 31 homes for sale in Las Campanas
0 Homes under $1,000,000
31 Homes over $1,000,000
There are currently 36 Lots for sale in Las Campanas
3 Lots under $100,000
33 Lots over $100,000
Let me take you on a tour in Las Campanas!
---
Marketing Properties, Not Just Listing Properties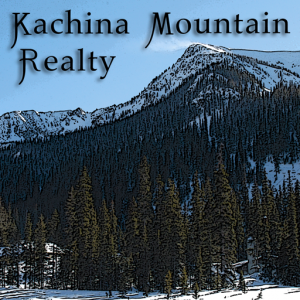 If you are thinking of selling your property, why not list it with a realtor who will market the property, not just list it in the MLS? By actively marketing your property, the property gets the most exposure to other realtors and to the general public through online blogging, email campaigns & the typical MLS exposure.
Call me, Dianne, 505.603.9300, to discuss your property needs, or for a tour of Lots & Homes in Aldea, Las Campanas and the Santa Fe region. Taos Office: 575.776.7576
Visit the website for Santa Fe information: RealEstatePropertiesSantaFe.com
Visit the Kachina Mountain Realty company main website: KachinaMountainRealty.com
---
Taos Real Estate News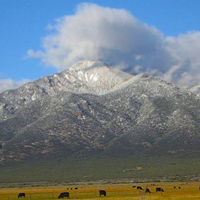 2022 Stats: Sold, Pending, Listed

*SOLD: 114 Homes, DOM 156 | 65 Lots, DOM 250
*PENDING: 68 Homes | 53 Lots
*LISTED: 57 Homes, Avg $842,896 | 158 Lots, Avg $190,932
* Areas tracked:
Lower North, Upper North, West North, Town of Taos, Taos Ski Valley, South West, South East
See map for areas »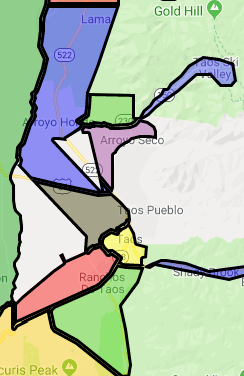 Taos is very different than Santa Fe in many ways. With a population of 5,763 people and many surrounding neighborhoods, Taos is the 39th largest community in New Mexico. The greater Taos area is made up of several unincorporated areas and neighborhoods that separates out as if they were their own destinations or towns. Unincorporated areas around Taos have distinctive names that represent the ancient traditions of naming a place for a stream or topographic feature. Arroyo Hondo, Arroyo Seco and El Prado are all such places. These are not towns and have no political jurisdiction, they are simply places that help folks zero in on a very specific neighborhood. Within Taos itself are many such neighborhoods that may comprise no more than six "blocks."
Selling real estate in Taos county is challenging for sellers, buyers and realtors, as the typical closing time for a property averages 90+ days, compared to under 30 days in Santa Fe. I have closed properties in Santa Fe under 20 days. There is a shortage of title companies which the realtors can work with in Taos. The back log of properties waiting to close often creates buyers to back out and leave the sellers in the same cycle for closing when the next offer comes in. Many buyers become frustrated as their lenders charge additional hold fees or back out all together. Below are some statistics that highlight the problem.
I receive inquiries almost daily from out of town buyers who are researching homes in the Taos area. These buyer profiles are looking to live in a safe community, with a country atmosphere, small homes, with flexible spaces. They are wanting to move to the area, but can't find the properties that offer amenities that don't include huge HOA fees. They want walking trails, localized eateries, a small grocery store, community activities and a sense of neighborhood. They are either downsizing their home and retiring or wanting a second home. They are wanting to go smaller, but the quality of their lifestyle and home features are upscale. "Does such a community even exist?" they ask.
In the coming months, I will be featuring such a community.
If you have been thinking about selling your home, now is probably a good time. Inventory is low and the demand for quality homes is up.
If you been looking to buy a home, you are probably frustrated with the lack of quality homes on the market at any price point.
Call our Taos Office: 575.776.7576
---
Home Decor Insights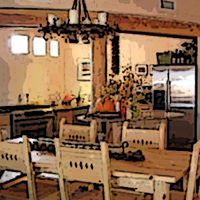 August is the Last Breath of Summer
It is time to start winding down the summer activities, as fall will soon be here. This is the last month of summer and if you have not gotten your summer patio together, this is your last month!
Summer in Santa Fe & Taos, means monsoon season, with afternoon thunder and cooler weather. The monsoons make summer so much more enjoyable for me, as the heat is often followed by cooling breezes.
Sierra, our standard poodle has been taught to coming running for joy when the thunder clashes above, as I give her "thunder treats". She is now not afraid of the thunder and now expects treats. Sitting outside in the patio in the early evening, watching the sunset, brings so much joy, as the skies are filled with a scattering of clouds. Making a comfy place to sit while the summer rain cools down the heat, is especially welcome. Sunshade sails, outdoor umbrellas and covered portals are a real must have this time of year.
Summer Patio Coverings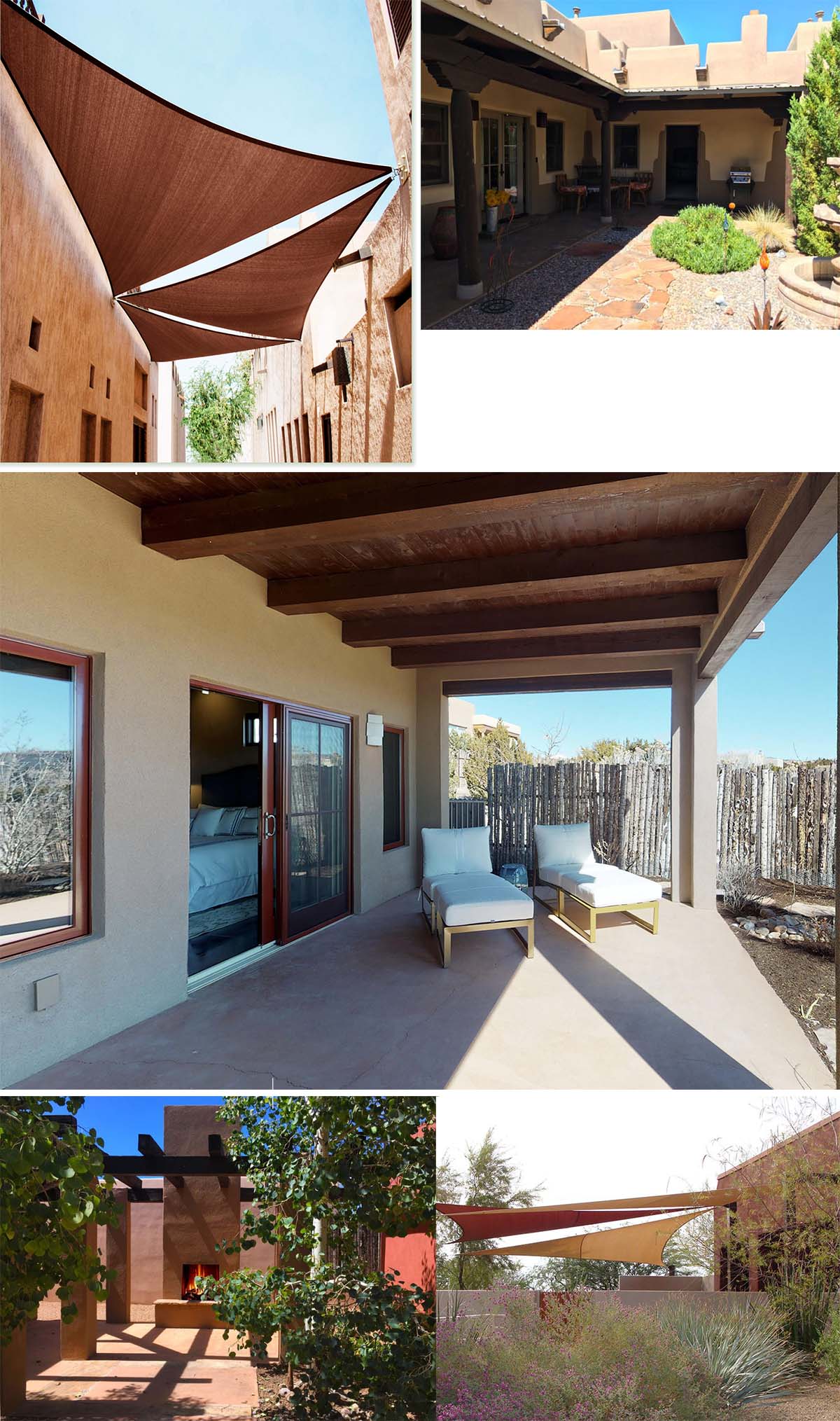 ---

For ideas on decorating with autumn in mind, check out Pinterest and explore a whole new way to spend your time online and check out my Pinterest page: KachinaRealty Happy pinning!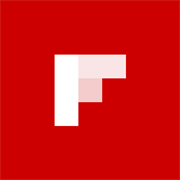 While you are surfing the "net" check out Flipboard for a variety of news and lifestyle reading.
---
Sierra
CFO, (Chief Fun Officer)
Our 3.4 year old female silver standard poodle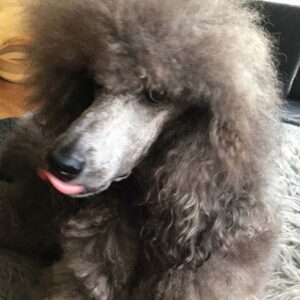 July 1-31, 2022
We live in rural Taos, New Mexico, where there are a lot of cows and cow crossing signs. I see the signs all the time as I derive back and forth from Taos to Santa Fe. I do not see many cows, but the crossing signs are everywhere on the back roads.
I decided some time back that I wanted to make a Poodle Crossing Sign. I took a photo of Sierra, turned it into a silhouette in Photoshop and found a road sign company and had it printed 18″ x 18″ as a surprise for John's birthday. It was a hit, for sure, even with our Facebook poodle group.
You can see the highly reflective Poodle Crossing Sign below. What do you think? Sierra is outstanding in her field, after all!
I weigh & measure Sierra once a month, so here are her stats as of June 2022: 14″ collar, girth: 24″, height to shoulder: 25″ weight: 33.5 lbs.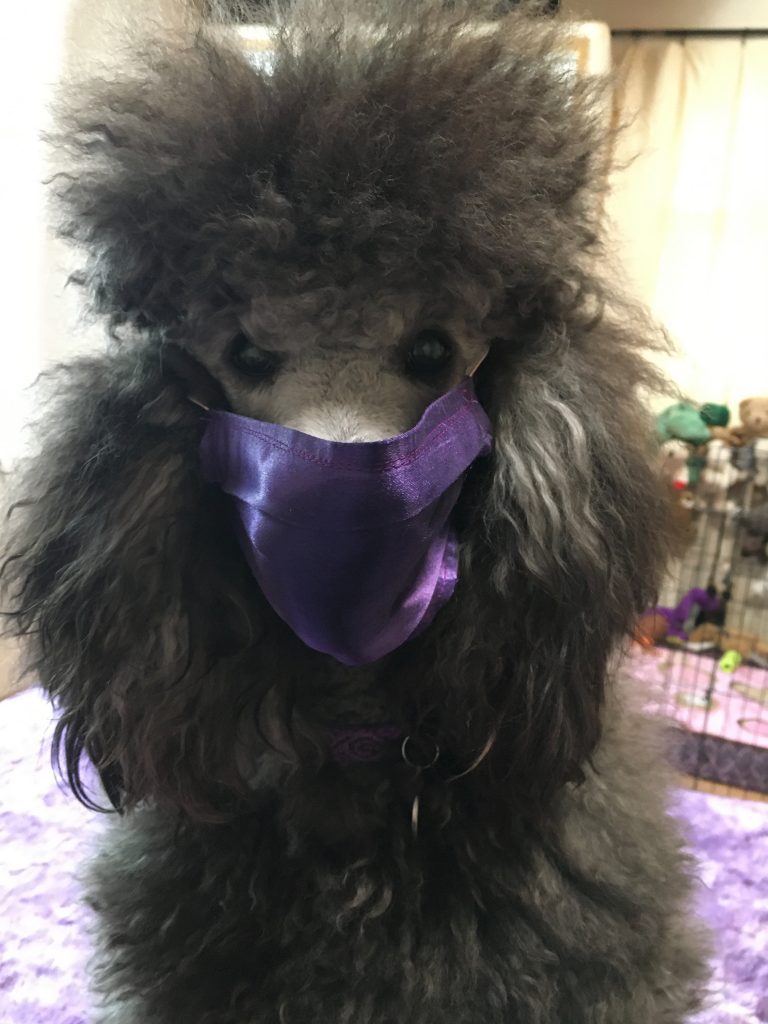 You really need to watch Sierra's videos as they capture her spirit!
Here is the link to Sierra's Videos »
Sierra's 1st video explains who she is and her new role at Kachina Mountain Realty. In Sierra's 2nd video she talks about Dianne's role at Kachina Mountain Realty in the era of COVID-19. In Sierra's 3rd video, Sierra talks about selling and buying real estate during the COVID-19 pandemic. In Sierra's 4th video she talks about how staying safe in the era of COVID-19.
As you probably already know, Sierra is the CFO (chief fun officer) at Kachina Mountain Realty. Sierra talks to you today about using your imagination in Sierra's 5th video. When Sierra turned 2 years old on March 18, 2021, people asked what she sounded like now that she was older. While she does not have a lot to say right now, she is quick and to the point, as she starts her 2nd year as CFO, in Sierra's 6th video. Currently Sierra is not recording videos at this time.
Sierra's web page: www.diannemckenzie.com/sierra
More photos will be continually posted on her own web page, so check back monthly, as we chronicle her life with us!
---
Calendar of Events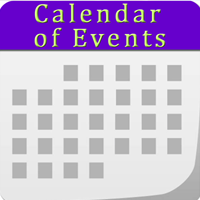 New Mexico has long been a center for arts, culture, classes and gourmet food. With such a strong art market, there are hundreds galleries to explore and experience, along with a wide selection of thriving restaurants. Our Museums feature culture, history and traditions of the region and the world. Santa Fe, Taos County and beyond have something scheduled every day & night of the week, all year long.
---
Entertainment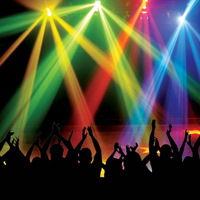 If there's one thing you can count on when spending time in New Mexico, it's the treasured experiences and wide selection of entertainment: music venues, great sporting events, theatrical and musical entertainment as well as year-round festivals.
From festivals, music concerts and dance performances to theatrical offerings by local and touring groups, the performing artists work hard to keep its locals and visitors entertained by both New Mexico performers and acclaimed stars from around the world.
---
About Kachina Mountain Realty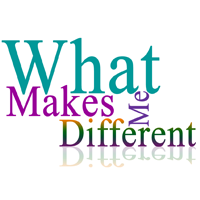 I am passionate about real estate development. I consider myself a "Dream Maker", and strive to help my clients manifest their dreams and lifestyle goals.
I believe that, "…the dreams which accompany all human actions should be nurtured by the places in which people live and work".
To promote this possibility, I encourages my clients to develop and share their dreams and lifestyle goals as part of the process of selling, buying or investing in property.
I have over thirty years of business experience as an executive producer, web architect, social media marketer, business developer, architecture assistant, real estate marketing developer and real estate consultant.
I am a licensed real estate qualifying broker for Kachina Mountain Realty & an accredited ACRE® real estate consultant. I have worked in the Santa Fe & Taos real estate market for years. I specialize in working with buyers and sellers who are looking for a solid real estate investment.
Contact me, Dianne McKenzie, for your real estate transactions & let me help you manifest your dreams!
I am readily available by cell phone, text, (505.603.9300) & email. I return calls promptly, seven days a week!
Taos Office: 575.776.7576
---
Go Green:

Recycle This E-Newsletter!
After you've enjoyed our Eco Lifestyle and Home newsletter, please recycle it by emailing it to a family member, friend, neighbor or coworker!
---