Eco Lifestyle And Home News – January 2023

Dear Friends, Clients, Business Associates and Neighbors,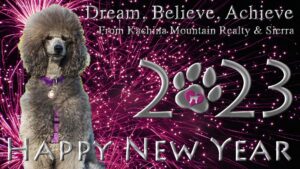 January 2023, marks the 81st edition of Eco Lifestyle and Home Newsletter produced by Kachina Mountain Realty. We offer Real Estate & Lifestyle news in the email newsletter covering Santa Fe, Taos County and beyond.
In this edition, we offer the following: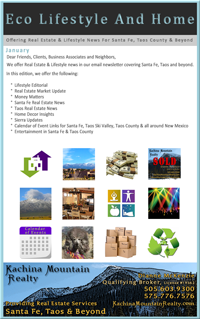 Lifestyle: Renewal
Real Estate Market Update
Santa Fe Real Estate News
Taos County Real Estate News
Home Decor Insights
Sierra Updates!
Calendar of Event Links for Santa Fe, Taos Ski Valley, Taos County & all around New Mexico
Entertainment Links for Santa Fe, Taos County & around New Mexico
---
Lifestyle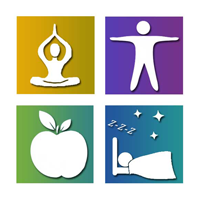 Renewal
reprinted from Lainie Grimmer
Renewal can come from examining who you are & what you value. What gives you meaning in life? How do you define yourself & your role? Are you living the life you'd like? What are your dreams? What are your short & long term goals & how do you plan to achieve them? Renewal requires opening yourself up to new ways of thinking & feeling.
What is the difference between "opportunity" & "disaster"?
First, acceptance of what is.
Second, a willingness to grow & change & to ask, "What's the gift?"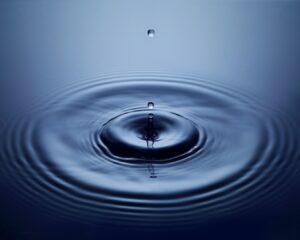 Welcome to January and a new year! This is a great month to reflect, re-­‐dream, re-imagine your life, and move forward…To create clarity around your visions and what is possible, to commit to who you want to be as you step into 2023.
Yet how many of us have made promises to renew ourselves, make a fresh start, improve our lives, make the world a better place, only to watch helplessly as our resolutions fade away by the end of the month? Why don't our goals last more than several weeks?
My answer is a four-­‐letter word: Time. You CAN renew yourself, improve an area of your life, and make the changes you crave become reality if you begin by scheduling some quality time with yourself. This means making time to stop, take stock of where you are, and envision where you want to be.
Before you make resolutions about changes you know will move you forward, make a date with yourself and try this four-­‐step exercise I guide my clients through:
Stop, Consider, Change, Correct.
1. STOP
What in your life isn't feeling true, is calling out for your careful attention and reflection? Once you know what is -­‐ and isn't -­‐ working for you and what you want to change, you will be able to:
2. CONSIDER
Now that you have an idea of what you wish to change, get curious: What about this area of your life isn't supporting you? What has you wanting to change? What does renewal, or change for the better, look like for you? What habits or thoughts might you need to let go of to reach your vision? What steps do you need to take in order to initiate and maintain change?
3. CHANGE
You now have an idea of where you are, some of the steps you need to take and what the end result looks like. Take those first steps and be patient with yourself, because you might have to…
4. CORRECT
Once you begin moving toward your vision, you may encounter bumps in your road, better known as resistance. There's nothing wrong with this. A setback doesn't mean you've failed, rather, it's a sign you might need to make a course correction. Take some time to examine what you need to do to keep moving forward, then take that first step.
Stop, Consider, Change, Correct.
Knowing where you are, where you want to go, and the steps to get there will help you overcome any obstacles as you support and renew yourself this year, and make changes that will last. Happy Renew Year!
Thank you for reading our newsletter & feel free to pass it on to other kindred spirits. ~ Dianne McKenzie & Sierra
Thank you for reading our newsletter & feel free to pass it on to other kindred spirits. ~ Dianne McKenzie & Sierra
---
Real Estate Market

Housing Market Predictions For 2023: Home Prices Set To Fall For The First Time In A Decade
The steep collapse in home sales spurred by rising interest rates will continue into next year and lead to the housing market's first yearly price decline in a decade, real estate brokerage Redfin reported Tuesday, and though the downturn may not rival the one spurred by the Great Recession, other expert predictions are calling for significant declines as high as 20%.
In a Tuesday report, Redfin economist Taylor Marr predicted existing home sales will fall 16% on an annual basis next year to about 4.3 million—their lowest level since the aftermath of the Great Recession in 2011—as high mortgage rates, persistent inflation and a potential recession continue to deter would-be buyers.
Though he expects a slow recovery in the second half of the year, Marr forecasts the decline in home sales will help push the median price for existing homes down from $379,100 in October 4% to roughly $368,000 next year—marking the first annual drop since 2012.
"Prices would fall more if not for a lack of homes for sale," he explains, noting total inventory should remain near historic lows—thereby preventing prices from "plummeting"—as the gloomy outlook deters more potential sellers from listing their houses for sale.
Comerica Bank chief economist Bill Adams says the economy will likely be more resilient to this housing correction than when the 2000s housing boom went bust thanks to mortgage underwriting standards becoming stricter after the Great Recession and most homeowners being in generally better financial shape.
Nevertheless, Adams said he also expects average home prices will fall by "mid-single" percentage points through the middle of next year, with larger declines in tech-centric regions and areas where affordability was most stretched prior to the correction, particularly on the West Coast, where the tech industry's correction is having an "outsize" impact.
In a Tuesday email, Tejas Joshi, a director at investment firm Yieldstreet, said markets like Phoenix, Las Vegas, Boise and Dallas, which saw a 30% to 40% surge in home prices post Covid and have a large supply of new homes being built, are more likely to see prices plummet 20% or so, though many markets will face smaller declines.
What To Watch For
"​​Prices will start their decline in the first quarter," says Marr, predicting a modest 2% fall early in the year, followed by a steeper 5% decline in the second and third quarters before the recovery sets in later in the year.
Surprising Fact
Amid the housing bubble of the mid-2000s, the median sales price for a home peaked at $257,400 in early 2007—only to tumble 19% over the next two years as sales cratered.
Key Background
The housing market has suffered from dwindling demand as the Federal Reserve's interest rate hikes drive up mortgage rates—and the cost of homebuying. According to the National Association of Realtors, existing-home sales in October fell for the ninth consecutive month to an annual rate of 4.4 million. Ushering in the declines, the average rate on the popular 30-year fixed mortgage has more than doubled over the past year to 6.49%, according to Freddie Mac. "The Fed slowing down their rate hikes will send a signal that we are close to the bottom," says Joshi. "Expect that to happen by summer 2023."
So let's watch and see how these predictions come to pass! ~ Dianne
---
Santa Fe Real Estate News
Aldea Real Estate Stats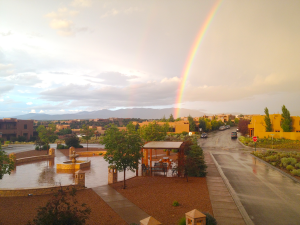 SOLD: 22 Homes, DOM 18 | 1 Lots, DOM 193
PENDING: 1 Homes | 1 Lots
LISTED: 3 Homes, Avg $815,000 | 2 Lots, Avg $115,000

Aldea de Santa Fe consists of 345 acres, with 205 acres of perpetual open space with 13 miles of walking trails, basketball & tennis courts, community center, (which offers yoga classes, exercise equipment & gathering space for events), a local cafe, superbly located in the high-value northwest corridor of Santa Fe County, with easy access to Highway 599, all just 10 minutes from downtown Santa Fe.
Aldea de Santa Fe consists of 345 acres, with 205 acres of perpetual open space with 13 miles of walking trails, basketball & tennis courts, community center, (which offers yoga classes, exercise equipment & gathering space for events), a local cafe, superbly located in the high-value northwest corridor of Santa Fe County, with easy access to Highway 599, all just 10 minutes from downtown Santa Fe.
Aldea Listings:

Just Listed:

27 Camino Esperanza in Aldea | Santa Fe, New Mexico
Residential Lot | MLS #202234155 | Price: $140,000.00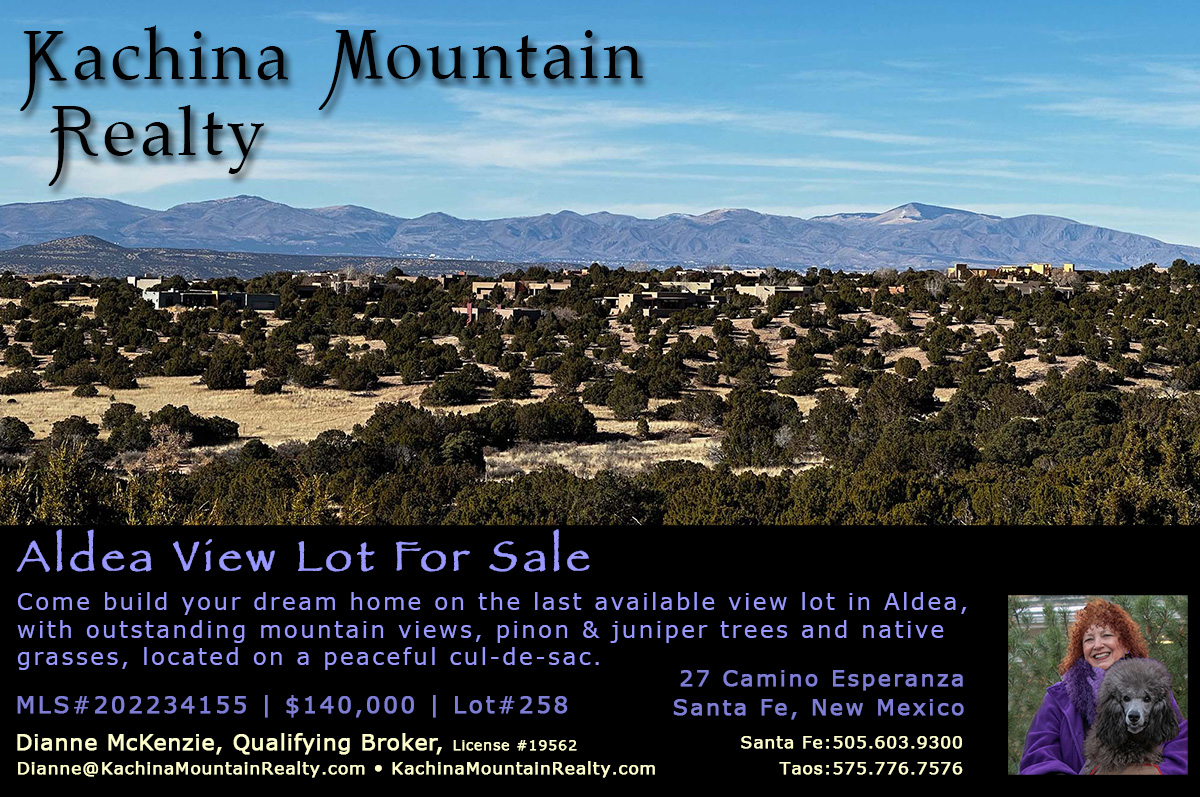 Come build your dream home on the last available view lot in Aldea, with outstanding mountain views, pinon & juniper trees and native grasses, located on a peaceful cul-de-sac. This is the perfect site to build your new home. This prime property has stunning expansive coveted panoramic 180° sunset views west to the Jemez mountains, south views to the Sandias, and Ortiz mountains to the southeast. Lot #258 is marked by open space, with miles of walking trails, and vista seen for miles. Easy access and easy to build on this gently sloping terrain. All underground utilities are at the street and mailboxes are located in the cul-de-sac.
This highly desirable lot in the Aldea Community, provides 205 acres of open space with 13 miles of walking trails, basketball & tennis courts, community center, (which offers yoga classes, exercise equipment & gathering space for events), a local cafe, all just 10 minutes from downtown Santa Fe. Enjoy Santa Fe's stunning natural beauty and the many amenities of the surrounding area.
---
Las Campanas Real Estate Stats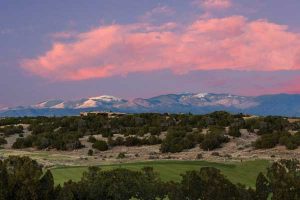 2022 Stats: Sold, Pending, Listed

SOLD: 51 Homes, DOM 53 | 17 Lots, DOM 312
PENDING: 18 Homes | 0 Lots
LISTED: 24 Homes, Avg $2,440,375 | 33 Lots, Avg $279,313
Las Campanas is the only luxury master-planned community in Santa Fe. Stretching across 4,700 acres surrounded by pristine high desert, the community is comprised of exclusive neighborhoods. Las Campanas is also home to The Club at Las Campanas, where members can enjoy two award-winning Jack Nicklaus Signature golf courses, the 46,000 square foot Hacienda Clubhouse, a peerless Equestrian Center and the Fitness & Tennis Center, which includes a luxurious spa.
There are currently 24 homes for sale in Las Campanas
0 Homes under $1,000,000
24 Homes over $1,000,000
There are currently 33 Lots for sale in Las Campanas
3 Lots under $100,000
30 Lots over $100,000
Let me take you on a tour in Las Campanas!
---
Marketing Properties, Not Just Listing Properties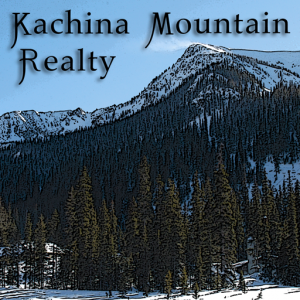 If you are thinking of selling your property, why not list it with a realtor who will market the property, not just list it in the MLS? By actively marketing your property, the property gets the most exposure to other realtors and to the general public through online blogging, email campaigns & the typical MLS exposure.
Call me, Dianne, 505.603.9300, to discuss your property needs, or for a tour of Lots & Homes in Aldea, Las Campanas and the Santa Fe region. Taos Office: 575.776.7576
Visit the website for Santa Fe information: RealEstatePropertiesSantaFe.com
Visit the Kachina Mountain Realty company main website: KachinaMountainRealty.com
---
Taos Real Estate News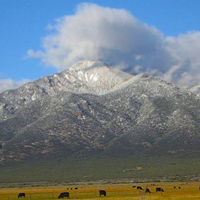 2022 Stats: Sold, Pending, Listed

*SOLD: 227 Homes, DOM 119 | 110 Lots, DOM 299
*PENDING: 22 Homes | 29 Lots
*LISTED: 62 Homes, Avg $765,663 | 215 Lots, Avg $230,329
* Areas tracked:
Lower North, Upper North, West North, Town of Taos, Taos Ski Valley, South West, South East
See map for areas »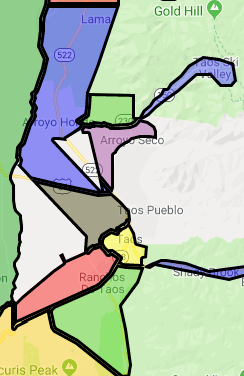 Taos is very different than Santa Fe in many ways. With a population of 5,763 people and many surrounding neighborhoods, Taos is the 39th largest community in New Mexico. The greater Taos area is made up of several unincorporated areas and neighborhoods that separates out as if they were their own destinations or towns. Unincorporated areas around Taos have distinctive names that represent the ancient traditions of naming a place for a stream or topographic feature. Arroyo Hondo, Arroyo Seco and El Prado are all such places. These are not towns and have no political jurisdiction, they are simply places that help folks zero in on a very specific neighborhood. Within Taos itself are many such neighborhoods that may comprise no more than six "blocks."
Selling real estate in Taos county is challenging for sellers, buyers and realtors, as the typical closing time for a property averages 90+ days, compared to under 30 days in Santa Fe. I have closed properties in Santa Fe under 20 days. There is a shortage of title companies which the realtors can work with in Taos. The back log of properties waiting to close often creates buyers to back out and leave the sellers in the same cycle for closing when the next offer comes in. Many buyers become frustrated as their lenders charge additional hold fees or back out all together. Below are some statistics that highlight the problem.
Pioneer Title
As of August 26, 2022, Pioneer Title has opened an office in Taos at 204 Paseo del Pueblo Norte, Suite A, Taos NM 87571, telephone: 866-294-4100. It remains to be seen if closing times will shorten in the coming months, but it is progress for realtors as well as sellers and buyers in Taos County.
I receive inquiries almost daily from out of town buyers who are researching homes in the Taos area. These buyer profiles are looking to live in a safe community, with a country atmosphere, small homes, with flexible spaces. They are wanting to move to the area, but can't find the properties that offer amenities that don't include huge HOA fees. They want walking trails, localized eateries, a small grocery store, community activities and a sense of neighborhood. They are either downsizing their home and retiring or wanting a second home. They are wanting to go smaller, but the quality of their lifestyle and home features are upscale. "Does such a community even exist?" they ask.
In the coming months, I will be featuring such a community.
If you have been thinking about selling your home, now is probably a good time. Inventory is low and the demand for quality homes is up.
If you been looking to buy a home, you are probably frustrated with the lack of quality homes on the market at any price point.
Call our Taos Office: 575.776.7576
---
Home Decor Insights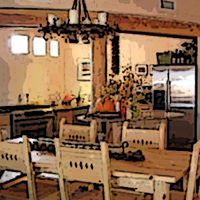 2023 Pantone Color of the Year
What is Viva Magenta?
Pantone's Color of the Year, Viva Magenta 18-1750, vibrates with vim and vigor. It is a shade rooted in nature descending from the red family and expressive of a new signal of strength. Viva Magenta is brave and fearless, and a pulsating color whose exuberance promotes a joyous and optimistic celebration, writing a new narrative.
This year's Color of the Year is powerful and empowering. It is a new animated red that revels in pure joy, encouraging experimentation and self-expression without restraint, an electrifying, and a boundary less shade that is manifesting as a stand-out statement. PANTONE 18-1750 Viva Magenta welcomes anyone and everyone with the same verve for life and rebellious spirit. It is a color that is audacious, full of wit and inclusive of all.
"In this age of technology, we look to draw inspiration from nature and what is real. PANTONE 18-1750 Viva Magenta descends from the red family, and is inspired by the red of cochineal, one of the most precious dyes belonging to the natural dye family as well as one of the strongest and brightest the world has known."
"Rooted in the primordial, PANTONE 18-1750 Viva Magenta reconnects us to original matter. Invoking the forces of nature, PANTONE 18-1750 Viva Magenta galvanizes our spirit, helping us to build our inner strength." ~Leatrice Eiseman Executive Director, Pantone Color Institute
---

For ideas on decorating with autumn in mind, check out Pinterest and explore a whole new way to spend your time online and check out my Pinterest page: KachinaRealty Happy pinning!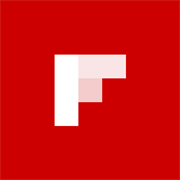 While you are surfing the "net" check out Flipboard for a variety of news and lifestyle reading.
---
Sierra
CFO, (Chief Fun Officer)
Our 3.9 year old female silver standard poodle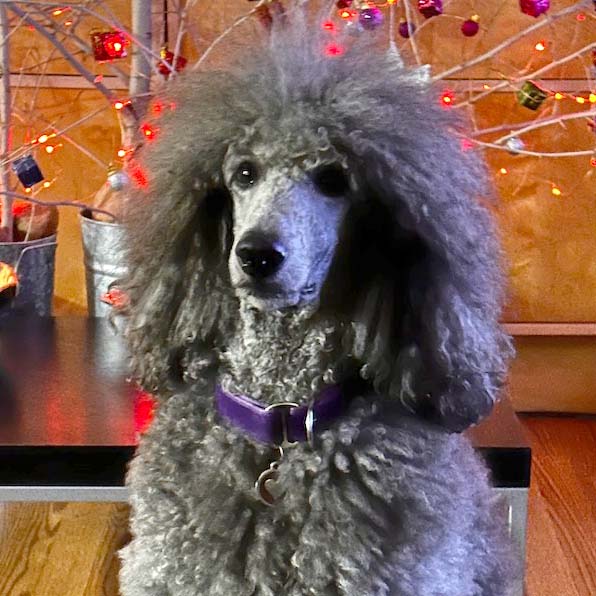 December 1-31 2022
The holidays have been very calm and special with my brothers family visiting and business dealings with a new real estate listing. Sierra was ready for the holidays all month and loving any inch of snow that fell during this very cold month.
I weigh & measure Sierra once a month, so here are her stats as of December 2022: 14″ collar, girth: 24″, height to shoulder: 25″ weight: 32 lbs. Sierra lost weight on the trip, deciding that she was not hungry. We are working on getting her weight back up.
Happy New Year. This is the year to DREAM, BELIEVE & ACHIEVE!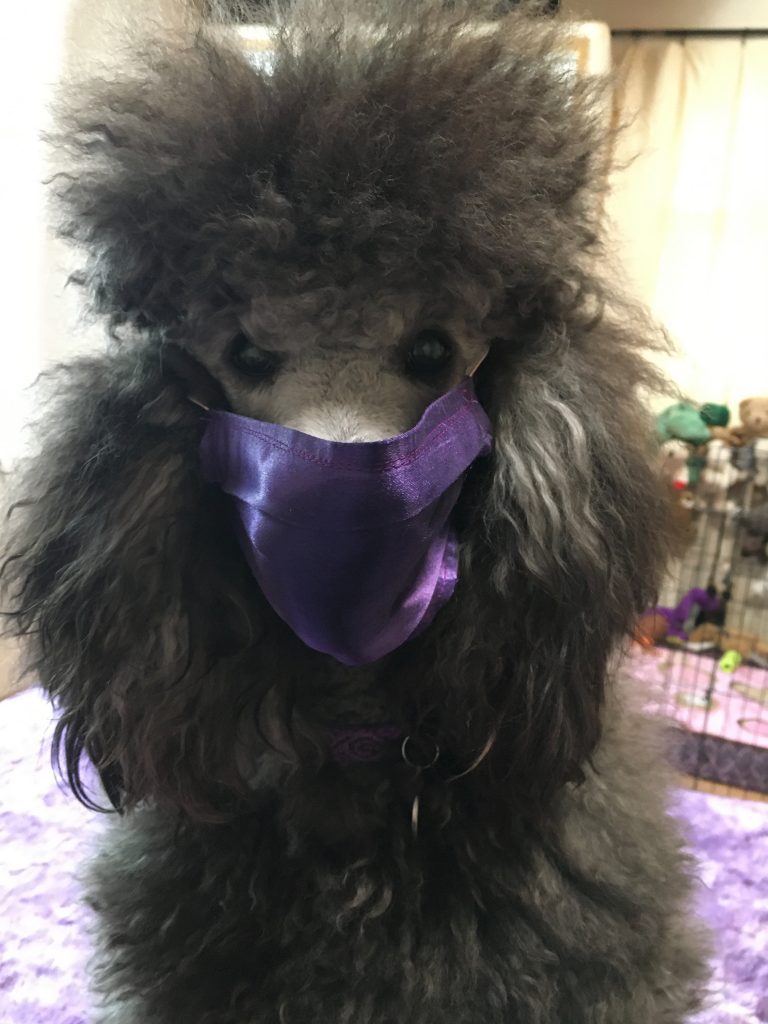 You really need to watch Sierra's videos as they capture her spirit!
Here is the link to Sierra's Videos »
Sierra's 1st video explains who she is and her new role at Kachina Mountain Realty. In Sierra's 2nd video she talks about Dianne's role at Kachina Mountain Realty in the era of COVID-19. In Sierra's 3rd video, Sierra talks about selling and buying real estate during the COVID-19 pandemic. In Sierra's 4th video she talks about how staying safe in the era of COVID-19.
As you probably already know, Sierra is the CFO (chief fun officer) at Kachina Mountain Realty. Sierra talks to you today about using your imagination in Sierra's 5th video. When Sierra turned 2 years old on March 18, 2021, people asked what she sounded like now that she was older. While she does not have a lot to say right now, she is quick and to the point, as she starts her 2nd year as CFO, in Sierra's 6th video. Currently Sierra is not recording videos at this time.
Sierra's web page: www.diannemckenzie.com/sierra
More photos will be continually posted on her own web page, so check back monthly, as we chronicle her life with us!
---
Calendar of Events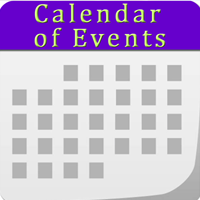 New Mexico has long been a center for arts, culture, classes and gourmet food. With such a strong art market, there are hundreds galleries to explore and experience, along with a wide selection of thriving restaurants. Our Museums feature culture, history and traditions of the region and the world. Santa Fe, Taos County and beyond have something scheduled every day & night of the week, all year long.
---
Entertainment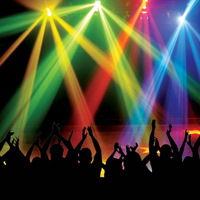 If there's one thing you can count on when spending time in New Mexico, it's the treasured experiences and wide selection of entertainment: music venues, great sporting events, theatrical and musical entertainment as well as year-round festivals.
From festivals, music concerts and dance performances to theatrical offerings by local and touring groups, the performing artists work hard to keep its locals and visitors entertained by both New Mexico performers and acclaimed stars from around the world.
---
About Kachina Mountain Realty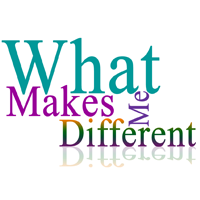 I am passionate about real estate development. I consider myself a "Dream Maker", and strive to help my clients manifest their dreams and lifestyle goals.
I believe that, "…the dreams which accompany all human actions should be nurtured by the places in which people live and work".
To promote this possibility, I encourages my clients to develop and share their dreams and lifestyle goals as part of the process of selling, buying or investing in property.
I have over thirty years of business experience as an executive producer, web architect, social media marketer, business developer, architecture assistant, real estate marketing developer and real estate consultant.
I am a licensed real estate qualifying broker for Kachina Mountain Realty & an accredited ACRE® real estate consultant. I have worked in the Santa Fe & Taos real estate market for years. I specialize in working with buyers and sellers who are looking for a solid real estate investment.
Contact me, Dianne McKenzie, for your real estate transactions & let me help you manifest your dreams!
I am readily available by cell phone, text, (505.603.9300) & email. I return calls promptly, seven days a week!
Taos Office: 575.776.7576
---
Go Green:

Recycle This E-Newsletter!
After you've enjoyed our Eco Lifestyle and Home newsletter, please recycle it by emailing it to a family member, friend, neighbor or coworker!
---