Eco Lifestyle And Home News – June 2019
Eco Lifestyle And Home News – June 2019

Dear Friends, Clients, Business Associates and Neighbors,
June 2019 marks the thirtyth edition of Eco Lifestyle and Home Newsletter produced by Kachina Mountain Realty. We offer Real Estate & Lifestyle news in the email newsletter covering Santa Fe, Taos Ski Valley, Taos County and beyond.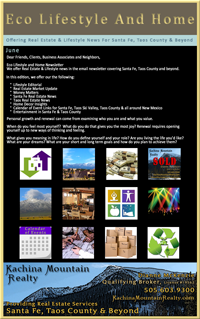 In this edition, we offer the following:
Lifestyle: Encourage
Real Estate Market Update
Money Matters
Santa Fe Real Estate News
Taos County Real Estate News
Home Decor Insights
Calendar of Event Links for Santa Fe, Taos Ski Valley, Taos County & all around New Mexico
Entertainment Links for Santa Fe, Taos County & around New Mexico
---
Lifestyle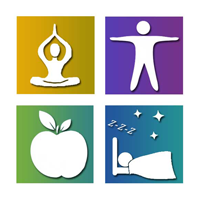 Encourage
To help & inspire with hope, courage, or confidence.
We all need encouragement along our journey. I have been blessed to have lots of encouragement over the years. Almost daily I hear from a client how happy they are in their new home, or how happy they are that I sold their home in record time. I feel very encouraged by my clients, past & present.
Recently a client of mine from the 1990's sent an email thanking me for the tapestry I wove for them many years ago. Over the years the artwork has given my client much joy and she reached out to me just to let me know how much the tapestry plays a part in her daily life.
For my birthday some years back, my sister sent me a juicer to help me on my journey to good health. Her encouragement and friendship throughout the years has been a major contribution in my life.
My husband is another source of encouragement for me. He has stood by me through my recent knee replacement, to getting my real estate license to now getting my qualifying broker license and through many other events.
My colleagues have encouraged me these past few years to keep on going when starting out on this real estate profession after a very hard recession.
Years back I received lots of encouragement from my students when I was touring, lecturing and teaching web design at conferences and corporations around the country. In my early childhood I was encourage to be creative and independent.
Encouraging others starts a ripple effect, that we do not even know how it will impact our or their lives. Several years back, I attended my nephew's graduation from law school. A real accomplishment for my nephew and my sister as well. He was encouraged from before he was birthed, that he had greatness ahead of him and that the world needed wonderful m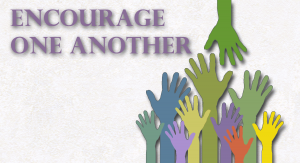 en to do good things.
All these and many more significant and insignificant encouragements shape ones life.
Encouraging others has a deep impact that often takes years to see the total effects. We all need more encouragement and to encourage others to shine. When we encourage ourselves and others, we can set goals that can be attainable.
I encourage you all to set goals, visualize your future, and live your passion. The world needs more of us to dream.
Thank you for reading our newsletter & feel free to pass it on to other kindred spirits. ~ Dianne McKenzie
---
Real Estate Market Update

According to the National Association of Realtors®, existing-home sales saw a minor decline in April, continuing March's drop in sales. Two of the four major U.S. regions saw a slight dip in sales, while the West saw growth and the Midwest essentially bore no changes last month.
Lawrence Yun, NAR's chief economist, said he is not overly concerned about the 0.4% dip in sales and expects moderate growth very soon. "First, we are seeing historically low mortgage rates combined with a pent-up demand to buy, so buyers will look to take advantage of these conditions," he said. "Also, job creation is improving, causing wage growth to align with home price growth, which helps affordability and will help spur more home sales."
Yun says that college student debt continues to hinder millennial homebuyers. "Given the record high job openings in the construction sector, some may want to take a gap year to work there and save, and thereby lessen the student debt burden."
The Santa Fe market is a completely different market, as it caters to mostly the retirement/vacation home market.
Here are the stats for Santa Fe: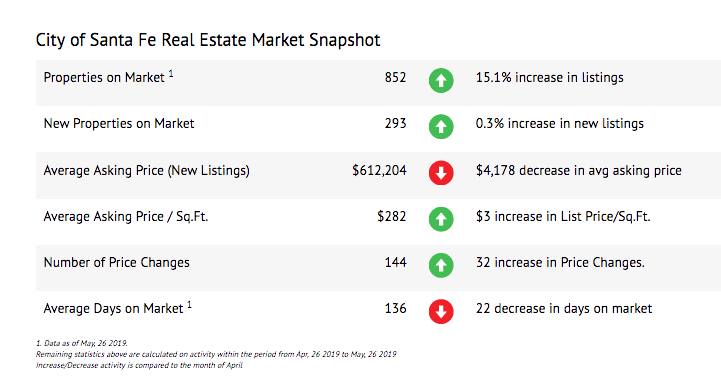 ---
Money Matters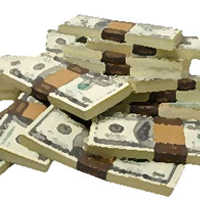 Mortgage Rates Lowest Since January 2018
Mortgage rates fell again today, just barely inching to the lowest levels since early 2018. Keep in mind, that factoid is based on an average of multiple lenders. Some of them aren't quite back to the low rates seen at the end of March. Others had crossed that line several days ago. Either way, the actual NOTE RATE at the top of the average rate quote would be the same then and now. The EFFECTIVE RATE would be just slightly lower due to a small advantage in upfront lender costs (origination or points, depending on the lender).
Relative to market sentiment at the beginning of May, the last 3 weeks have been unexpected. In other words, there was no obvious reason to expect or fear the sort of slide in stocks and yields that we've seen since then. But of course, that's just the sort of thing financial markets like to do! If there's one overarching reason for the move, it's the trade war between the US and China. Just when it seems the issue is put to bed, more drama unfolds. In general, trade war drama damages the economic outlook and a weaker economy is generally good for rates.
Other factors have joined in the fight to push rates even lower so far this week. The longer the broad rate rally continues, the more inevitable a bounce becomes. There's no telling how big the bounce would be or how long it would last, but there's no question each day brings us closer. With rates at the lowest levels in more than a year, and next week bringing lots of potential volatility, this week has been and continues to be a fairly compelling lock opportunity.
Most Prevalent Rates as of May 29,2019
30YR FIXED – 4.0%
FHA/VA – 4.0%
15 YEAR FIXED – 3.875%
5 YEAR ARMS – 3.875-4.25% depending on the lender
---
Santa Fe Real Estate News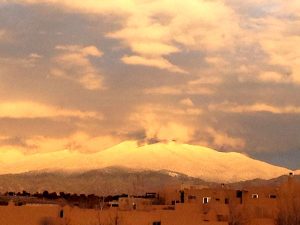 Sold
Pending 9 Days on the Market!!!
Contemporary Custom Home in Aldea
24 W. Camino Esperanza
Single Family Home | 3 Bedrooms, 3 Baths – 2,986 sqft | Price: $750,000 | MLS #201900642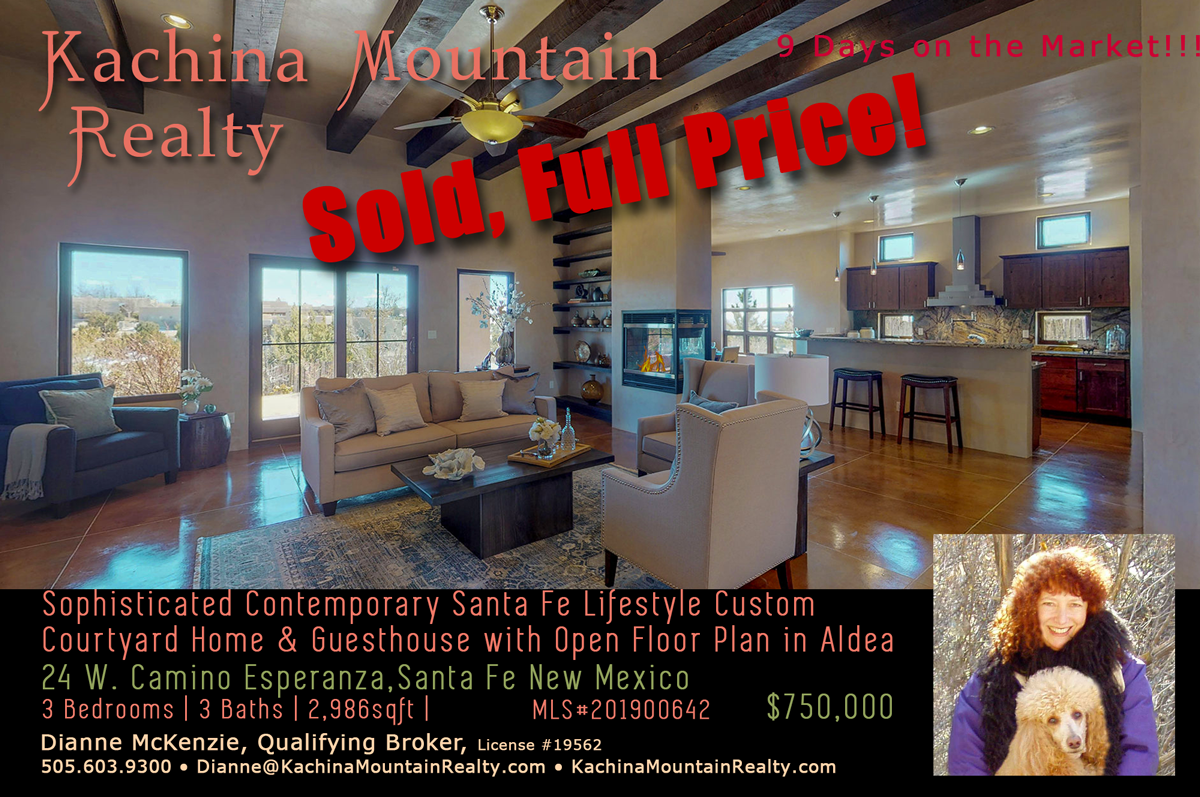 ---
Single Story Home For Sale in Vista Primera Santa Fe, New Mexico
SOLD!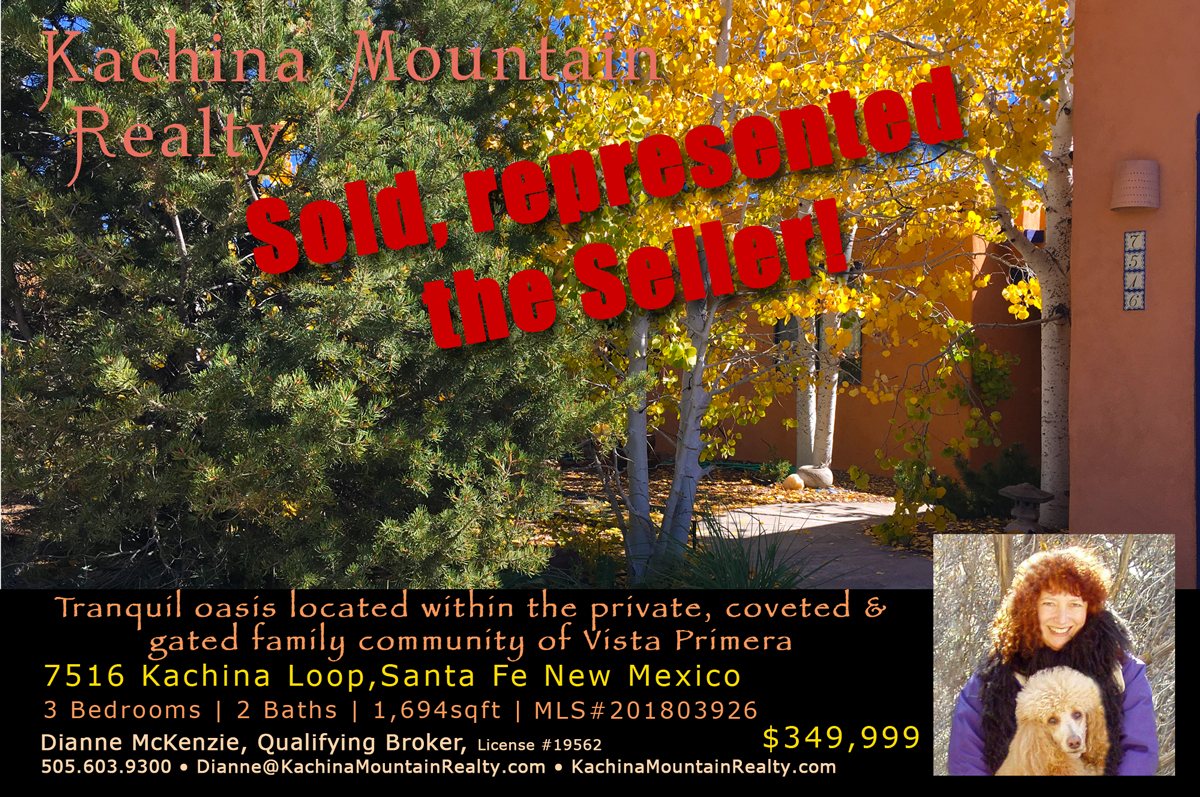 7516 Kachina Loop
Single Family Home | 3 Bedrooms, 2 Baths – 1,694 sqft | Price: $349,999 | MLS #201803926. PENDING
---
1 Narbona Pass, Santa Fe SOLD
Single Family Home | 3 Bedrooms, 2 Baths – 1,509 sqft | Price: $365,000 | MLS #201900396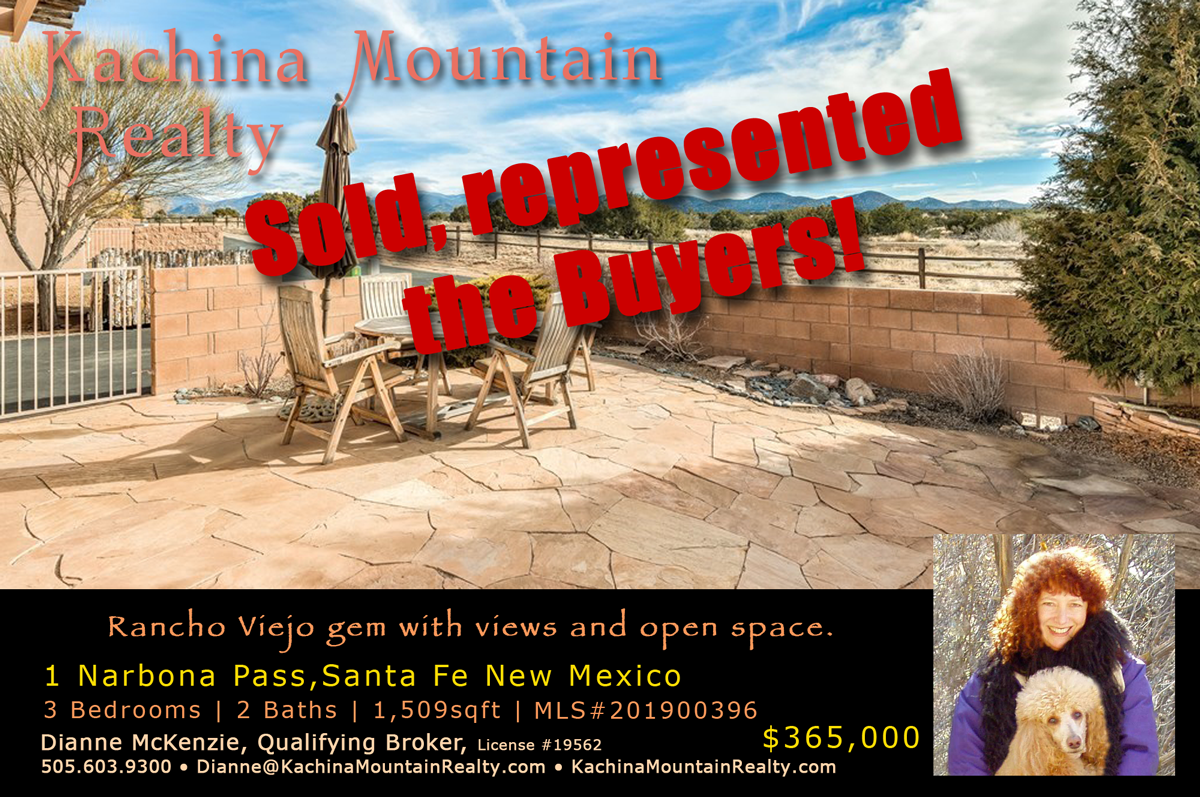 ---
Santa Fe Lot with Views
New Listing
47 Tierra Grande, Lot 6
Residential Lot 2.76 acres | Price: $ 150,000 | 
MLS #201901056
Come build your dream home in this private idyllic enclave of exceptional homes before the opportunity is gone.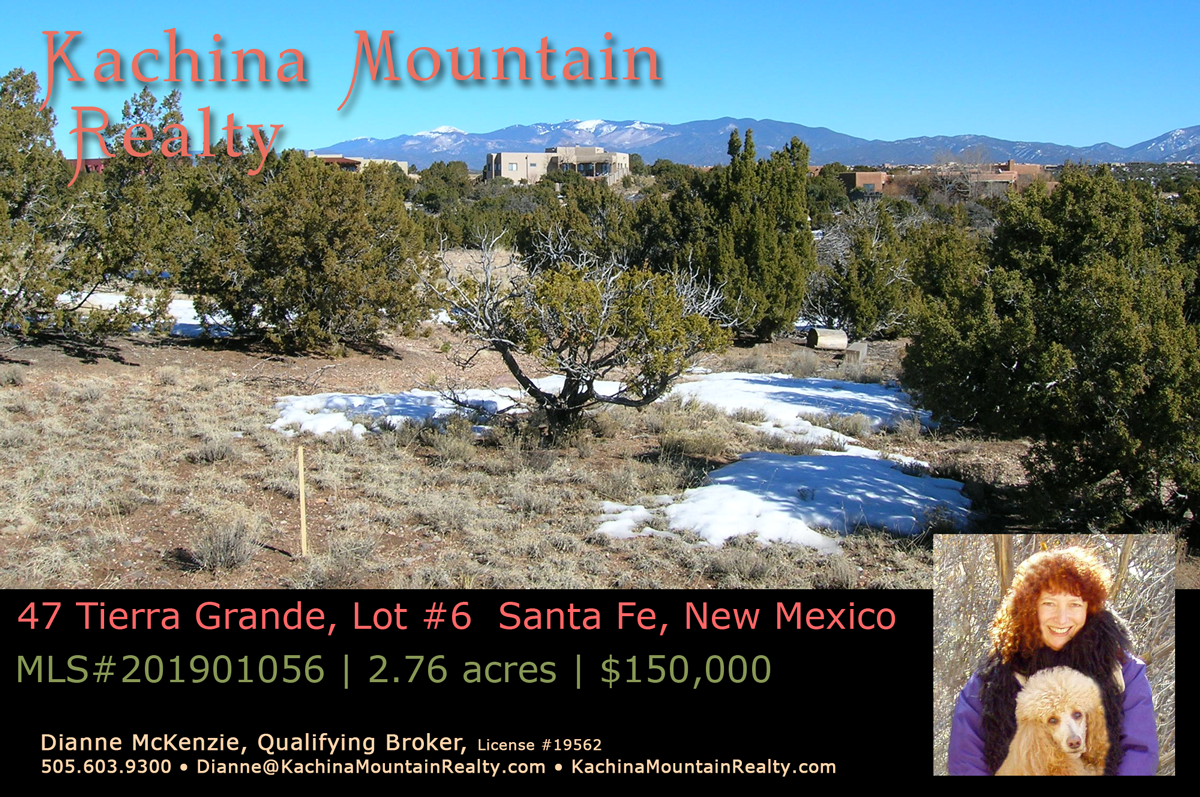 Tierra Grande is an upscale intimate 16 home community located on the west side of Santa Fe with sweeping 360˚ views. There are only 4 custom homes left-to-be built in this highly desirable neighborhood. Lot 6, 47 Tierra Grande, is a 2.76 acre site with an easy building site for a single level home. The two contiguous lots on either side are built out.
This south facing site has dramatic views to the east Sangre de Cristo mountain range & long breathtaking vistas to the Sandia & Ortiz mountains to the south. West sunset views beckons you to relax & experience the beauty of the Jemez range with the twinkling lights of Los Alamos at night. Flexible covenants allow for a variety of building architectural style options, including northern New Mexico pitched roof, contemporary & pueblo designs.
The property is allowed 2 horses, with access to miles of riding trails. This coveted location, has 2 shared community wells with generous water usage permitted. There is no timeline to build, so secure your piece of paradise now & build when you are ready! HOA dues include road maintenance. Easy access, located 6 miles/12 minutes from the Santa Fe plaza, on paved roads, Tierra Grande loop road will be chipped sealed this summer.
Download the PDF Brochure »
View the website »
Why buy an existing home with lots of compromises, when you can build your dream to suit your needs?
Incredible value & priced to sell!
---
Aldea Stats
2019 Stats: Sold, Pending, Listed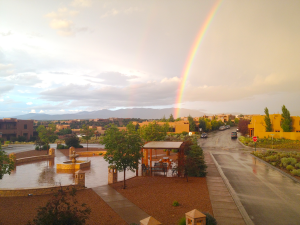 SOLD: 8 Homes, DOM 51 | 0 Lots, DOM 0
PENDING: 3 Homes | 0 Lots
LISTED: 3 Homes, Avg $404,665 | 5 Lots, Avg $70,800
Aldea de Santa Fe consists of 345 acres, with 205 acres of perpetual open space with 13 miles of walking trails, basketball & tennis courts, community center, (which offers yoga classes, exercise equipment & gathering space for events), a local cafe, superbly located in the high-value northwest corridor of Santa Fe County, with easy access to Highway 599, all just 10 minutes from downtown Santa Fe.
Aldea listings are very limited due to low inventory.

---
Las Campanas Real Estate News
2019 Stats: Sold, Pending, Listed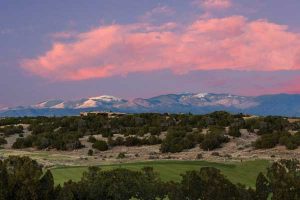 SOLD: 17 Homes, DOM 271 | 20 Lots, DOM 232
PENDING: 17 Homes | 5 Lots
LISTED: 32 Homes, Avg $1,648,436 | 54 Lots, Avg $167,334
Las Campanas Realty recently shared that 2018 was a record year in terms of sales and average sale prices since the downturn a decade ago for both the developer and the overall community. Average home prices for resales (excluding new construction) increased 9%, while average homesite prices increased 12.5% for the overall community and 15% for the developer. The demand for many to find the perfect location to enjoy the best four-season weather in the nation, a world-class private club and a special city that is recognized for its rich culture and diverse art community, makes Santa Fe the perfect fit. "Many buyers this year were already sold on Santa Fe and Las Campanas. They just needed to find the perfect site within the Las Campanas community," says Jonathan Bartlett, VP of Sales for Las Campanas Realty.
Las Campanas is the only luxury master-planned community in Santa Fe. Stretching across 4,700 acres surrounded by pristine high desert, the community is comprised of exclusive neighborhoods. Las Campanas is also home to The Club at Las Campanas, where members can enjoy two award-winning Jack Nicklaus Signature golf courses, the 46,000 square foot Hacienda Clubhouse, a peerless Equestrian Center and the Fitness & Tennis Center, which includes a luxurious spa.
There are currently 64 homes for sale in Las Campanas.
7 Homes under $1,000,000
57 Homes over $1,000,000
There are currently 54 Lots for sale in Las Campanas.
20 Lots under $100,000
34 Lots over $100,000
Black Mesa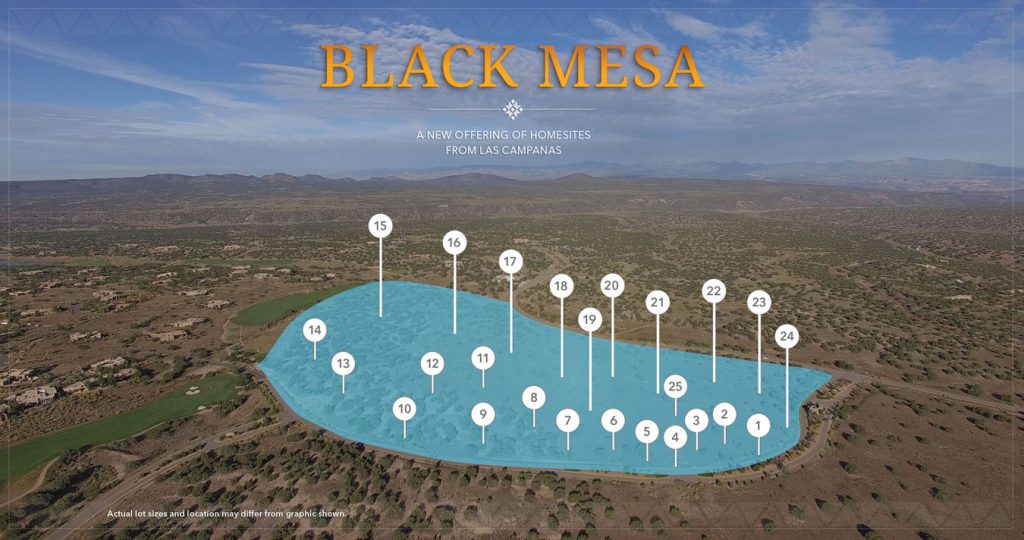 Las Campanas recently announced the release of the first new custom home neighborhood in over 10 years! Black Mesa, is their new 44 acre neighborhood consisting of 25 larger, estate sized mountain and golf view properties. The minimum size home in this section will be 2,500 sqft, with lots ranging from 1.02-2.58 acres. The property contains a centerline crest that rolls down in both directions off the roadway, creating dramatic unobstructed views.
Overlooking the sweeping mountain vistas of the Sangre de Cristo and Jemez Mountains, Las Campanas' new Black Mesa neighborhood offers a unique collection of homesites boasting the largest lot sizes in the best section of the Las Campanas property with awe-inspiring mountain views and centrally located to their finest amenities: golfing and the Hacienda Clubhouse.
Let me take you on a tour and arrange a stay at Las Campanas!
$1,000 Gift Card Offer
When you choose me to be your Real Estate Agent/ REALTOR®, I will give you a $1,000 Gift Card to the place of your choosing upon successful closing of your Las Campanas Developer Homesite in Las Campanas in 2018*.
A gift card allows my buyers to use it for the purchase of goods or services. It is a thank you from me to you, for trusting me with the most important transaction: the closing of a Developer Homesite in Las Campanas.
*Offer cannot be combined with any other offers
*Offer does not apply to past transactions
*Offer not valid or assignable to third-parties
Pulte Homes in Las Campanas
Pulte Homes has just announced the opening of their new development in Las Campanas. There are 4 designs, 3-5 bedrooms, 2.5-4.5 bathrooms, 2-4 garages, 2,669 sqft- 3,936 sqft, starting at $619,900+ to $714,990.
$500 Gift Card Offer
When you choose me to be your Real Estate Agent/ REALTOR®, I will give you a $500 Gift Card to the place of your choosing upon successful closing of your Pulte home in Las Campanas in 2018.*
A gift card allows my buyers to use it for the purchase of goods or services. It is a thank you from me to you, for trusting me with the most important transaction: the successful search, negotiation and the buying of your new Pulte home in Las Campanas in 2018.
*Offer cannot be combined with any other offers
*Offer does not apply to past transactions
*Offer not valid or assignable to third-parties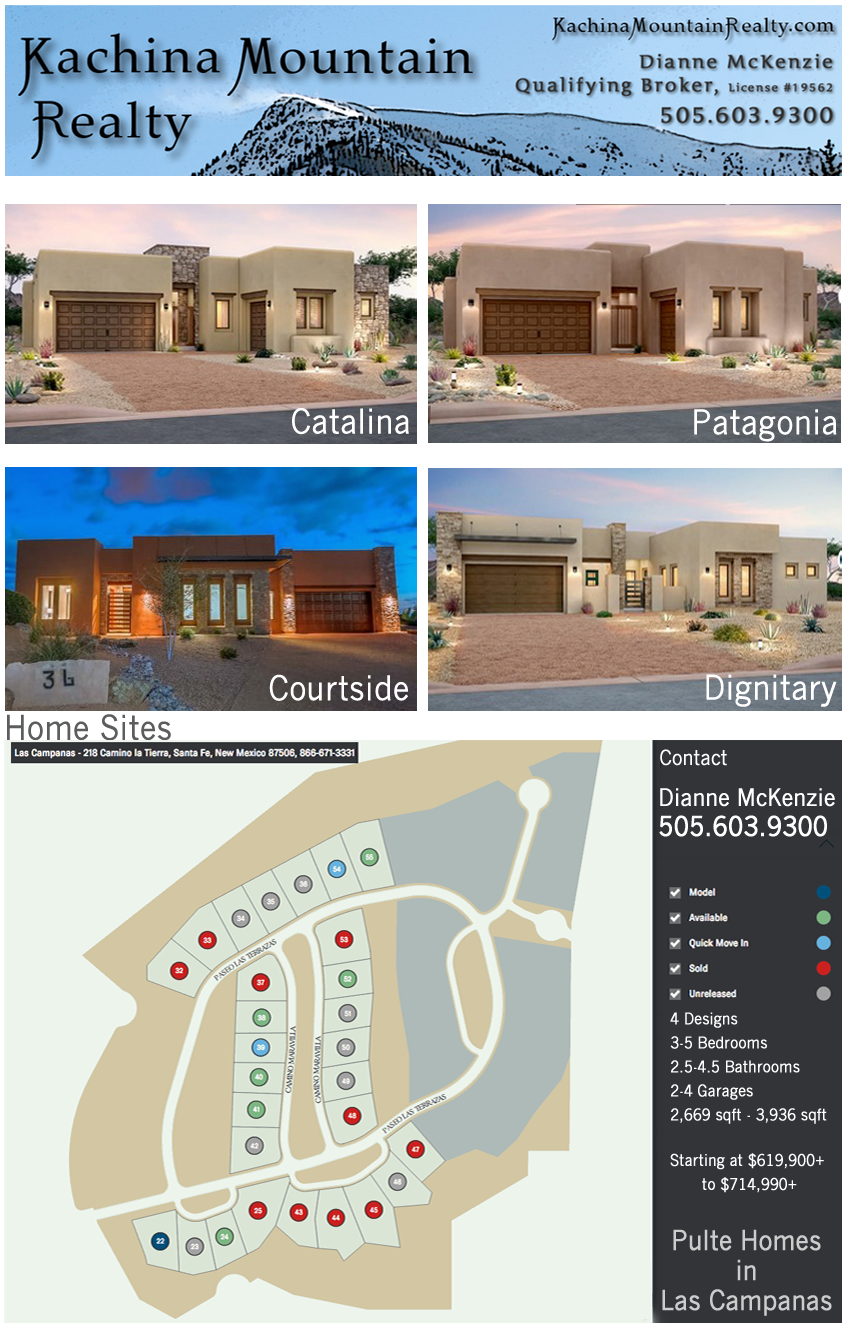 ---
Marketing Properties, Not Just Listing Properties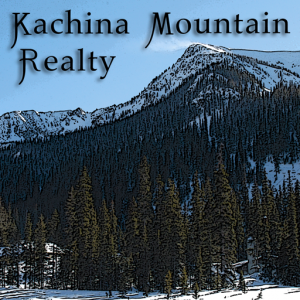 If you are thinking of selling your property, why not list it with a realtor who will market the property, not just list it in the MLS? By actively marketing your property, the property gets the most exposure to other realtors and to the general public through online blogging, email campaigns & the typical MLS exposure.
Call me, Dianne, 505.603.9300, to discuss your property needs, or for a tour of Lots & Homes in Aldea, Las Campanas and the Santa Fe region.
Visit the website for Santa Fe information: RealEstatePropertiesSantaFe.com
Visit the Kachina Mountain Realty company main website: KachinaMountainRealty.com
---
Taos Real Estate News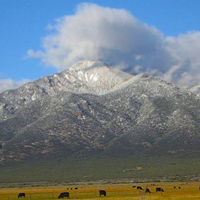 Experience the Quintessential Authentic Taos Adobe Compound
Main House & Casita: 4 Bedrooms | 3 Bathrooms | 2 Kitchens | 2,024 sq.ft. Interior living spaces | 1,107 sq.ft. exterior living spaces
TCAR MLS#: 101801 | SFAR MLS#: 201802629
Priced to Sell: $380,000
The main dwelling is a charming 1,574 sq.ft. single story territorial style home with 18" thick walls and traces its history to about 100+ years old. Well maintained and lovingly remodeled with modern conveniences, this property possess the following features: city water & sewer, natural gas, granite countertops, stacked washer/dryer, thermopane windows, multiple skylights, forced air heat, gas–log Jøtul stove for additional comfort and ambiance. Diamond plaster walls throughout, with nichos, vigas /wood ceilings, Saltillo tile, wood plank & stone floors, custom arched wood doors, antique style lighting fixtures, and eat-in country kitchen where culinary delights will create memorable experiences.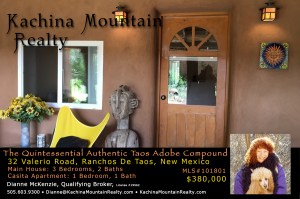 Southwest ambiance abounds as you dine al fresco in the 563 sq.ft. 15' deep recessed portal (covered patio with skylight) adjacent to a water feature "stream" with the seasonal sound of a flowing acequia, setting the mood in this peaceful oasis, complete with mature landscaping in a serene natural garden setting. Separate fenced outdoor spaces include an additional south facing portal with yard, a north side portal at the entrance of the home, and an east side yard with a storage shed, useful for gardening or recreational equipment and is included. There are plenty of possibilities to customize this landscape by adding a greenhouse, small orchard, vegetable/flower garden, children's play area or simply enjoy the graciousness of this very adaptable bucolic setting.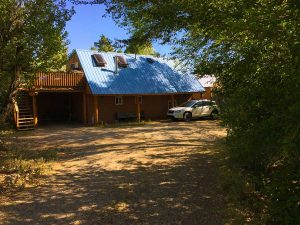 The delightful 450 sq.ft. casita is located over part of the main home with its own private exterior stair access with a pleasant 218 sq.ft. viewing deck overlooking the treetops and the lovely Ranchos pastures, where you can peacefully enjoy a glass of wine as the sun sets or a cup of coffee as the sun rises. Rent the self-contained romantic attic apartment casita or use as a personal guest space or office/studio. Amenities include: covered parking, gas-log heat stove, wood plank floors, cozy kitchen, stacked washer/dryer, large skylights, new porcelain fixtures, a sit-in tub with shower, wainscoting and plenty of charm.
This enclave is a perfect investment opportunity for full time or vacation living, excellent location for vacation rental or investment property rental. Several of the rooms in the main house open to the portals with exterior doors and would make an excellent home office or art studio. Ample parking is provided for residents and their guests. Live in one, rent the other or use as a home office, guest house or art studio, the options are flexible and endless! Property has a great rental history.
This quiet neighborhood compound is conveniently located within walking distance to Ranchos de Taos historic district, close with shops, restaurants and is rich in history. Just 4 miles north to the town of Taos, there are more restaurants, shops, galleries, museums, 15 minutes to Taos Pueblo, 25 minutes to Taos Ski Valley, 5 minutes to the Taos country club & golf course, 15 minutes to the Gorge on back roads, this enclave is also convenient to traveling south to Santa Fe & beyond.
View lots of photos: visit the property»
---
Selling & Buying Real Estate in Taos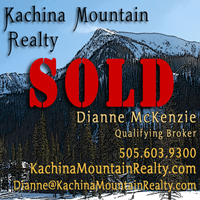 If you have been thinking about selling your home, now is probably a good time. Inventory is low and the demand for quality homes is up.
If you been looking to buy a home, you are probably frustrated with the lack of quality homes on the market at any price point.
I receive inquiries almost daily from out of town buyers who are researching homes in the Taos area. These buyer profiles are looking to live in a safe community, with a country atmosphere, small homes, with flexible spaces. They are wanting to move to the area, but can't find the properties that offer amenities that don't include huge HOA fees. They want walking trails, localized eateries, a small grocery store, community activities and a sense of neighborhood. The are either downsizing their home and retiring or wanting a second home. They are wanting to go smaller, but the quality of their lifestyle and home features are upscale. "Does such a community even exist?" they ask. In the coming months, I will be featuring such a community.
---
Home Decor Insights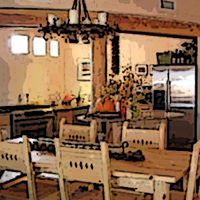 Summer is officially here
Forget summer solstice, summer starts memorial weekend for most of us.
It is time to plan easy summer menus, clean off the barbecue, and prepare your outdoor spaces for entertaining, lounging, and playing.
What kind of outdoor space do you imagine you would like to have? Colorful, minimal, eclectic? Its time to put out the outdoor rug, buy colorful pillows to place on the outdoor seating and to add a new table cloth for your outside dining experience. Add some plants, decorative twinkle lights and prepare for the long warm nights of summer.
Summer is a time for a fresh look, new ideas, and more energy, so why not let this spread into your outdoor spaces and your summer interior designs? Add colorful napkins, drinking glasses, seat cushions, flowers and start making lists of summer activities to attend. Plan for an event in your home at least once a month and celebrate with friends. There is so much to do in New Mexico, it is actually hard to decide. Summer concerts on the plaza in Santa Fe & Taos, will get you in the mood to kick back and have fun.
In our house, the screens have been added to the doors & windows. We are ready for the fun of being outside once again.

For ideas on decorating with autumn in mind, check out Pinterest and explore a whole new way to spend your time online and check out my Pinterest page: KachinaRealty Happy pinning!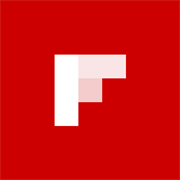 While you are surfing the "net" check out Flipboard for a variety of news and lifestyle reading.
---
Calendar of Events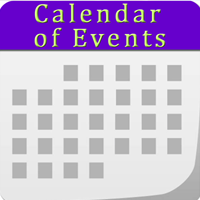 New Mexico has long been a center for arts, culture, classes and gourmet food. With such a strong art market, there are hundreds galleries to explore and experience, along with a wide selection of thriving restaurants. Our Museums feature culture, history and traditions of the region and the world. Santa Fe, Taos County and beyond have something scheduled every day & night of the week, all year long.
---
Entertainment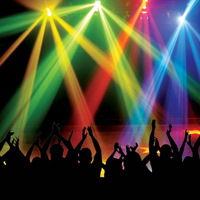 If there's one thing you can count on when spending time in New Mexico, it's the treasured experiences and wide selection of entertainment: music venues, great sporting events, theatrical and musical entertainment as well as year-round festivals.
From festivals, music concerts and dance performances to theatrical offerings by local and touring groups, the performing artists work hard to keep its locals and visitors entertained by both New Mexico performers and acclaimed stars from around the world.
---
About Kachina Mountain Realty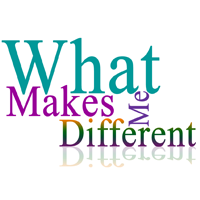 I am passionate about real estate development. I consider myself a "Dream Maker", and strive to help my clients manifest their dreams and lifestyle goals.
I believe that, "…the dreams which accompany all human actions should be nurtured by the places in which people live and work".
To promote this possibility, I encourages my clients to develop and share their dreams and lifestyle goals as part of the process of selling, buying or investing in property.
I have over thirty years of business experience as an executive producer, web architect, social media marketer, business developer, architecture assistant, real estate marketing developer and real estate consultant.
I am a licensed real estate qualifying broker for Kachina Mountain Realty & an accredited ACRE® real estate consultant. I have worked in the Santa Fe & Taos real estate market for years. I specialize in working with buyers and sellers who are looking for a solid real estate investment.
Contact me, Dianne McKenzie, for your real estate transactions & let me help you manifest your dreams!
I am readily available by cell phone, text, (505.603.9300) & email. I return calls promptly, seven days a week!
---