Eco Lifestyle And Home News – November 2021
Eco Lifestyle And Home News – November 2021


Dear Friends, Clients, Business Associates and Neighbors,
November marks the fifty-ninth edition of Eco Lifestyle and Home Newsletter produced by Kachina Mountain Realty. We offer Real Estate & Lifestyle news in the email newsletter covering Santa Fe, Taos County and beyond.
In this edition, we offer the following: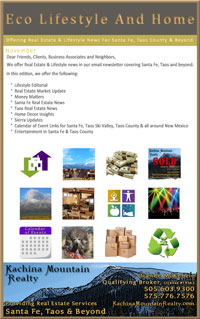 COVID-19 UPDATE
Lifestyle: Simplify
Real Estate Market Update
Santa Fe Real Estate News
Taos County Real Estate News
Home Decor Insights
Sierra Updates!
Calendar of Event Links for Santa Fe, Taos Ski Valley, Taos County & all around New Mexico
Entertainment Links for Santa Fe, Taos County & around New Mexico
---
COVID-19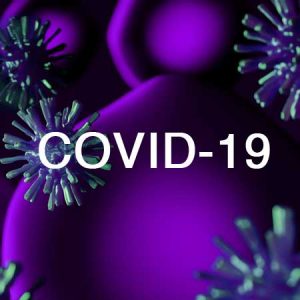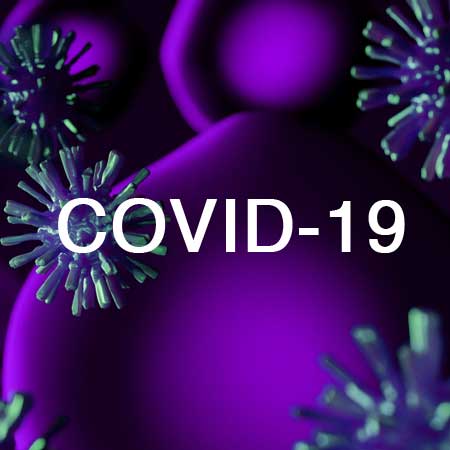 New Mexico surpasses 5,000 COVID-19 deaths
The state reports that 339 individuals are currently being hospitalized in New Mexico for COVID-19.
As of Monday, October 25, 2021, there are 240,277 COVID-19 cases designated as having recovered by the NMDOH.
In addition to the deaths, the state reported 2,335 additional COVID-19 cases over the three-day period. New Mexico has reported a total of 271,212 cases.
New Mexico's indoor mask mandate extended through Nov. 12
As New Mexico continues to record hundreds of new COVID-19 cases per day, the state on Friday extended a mandate that face masks be worn in all public indoor spaces through Nov. 12 as part of an ongoing effort to curb the spread of the deadly disease.
The decision to extend the statewide mask requirement comes as hospitals are once again headed toward implementing "crisis standards of care," in which they're forced to ration health care.
The Governor's Office wrote in its news release Lujan Grisham may decide to extend or lift the mask mandate after Nov. 12 as necessary. She will act upon the counsel and analysis of the state Medical Advisory Team and state health officials, the news release states.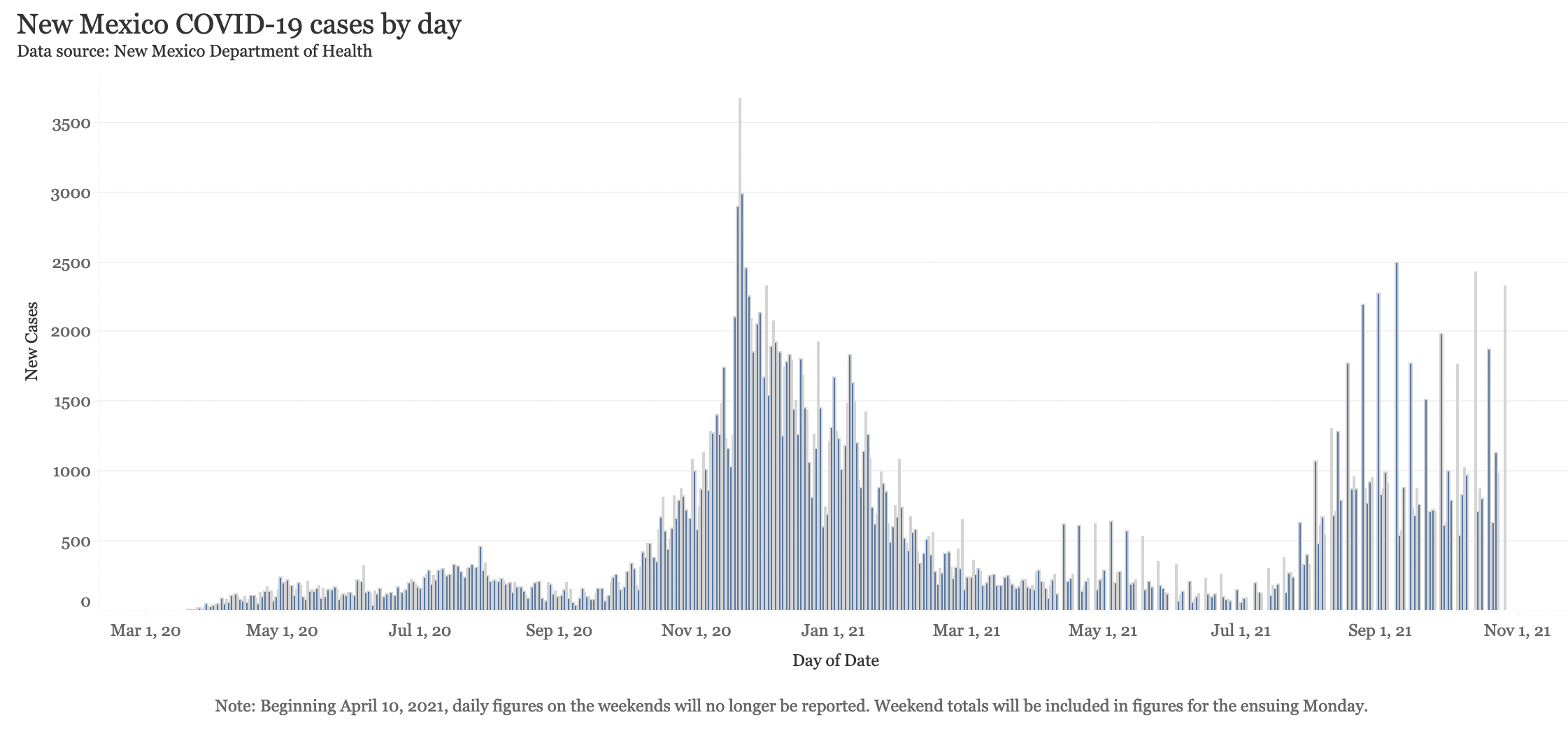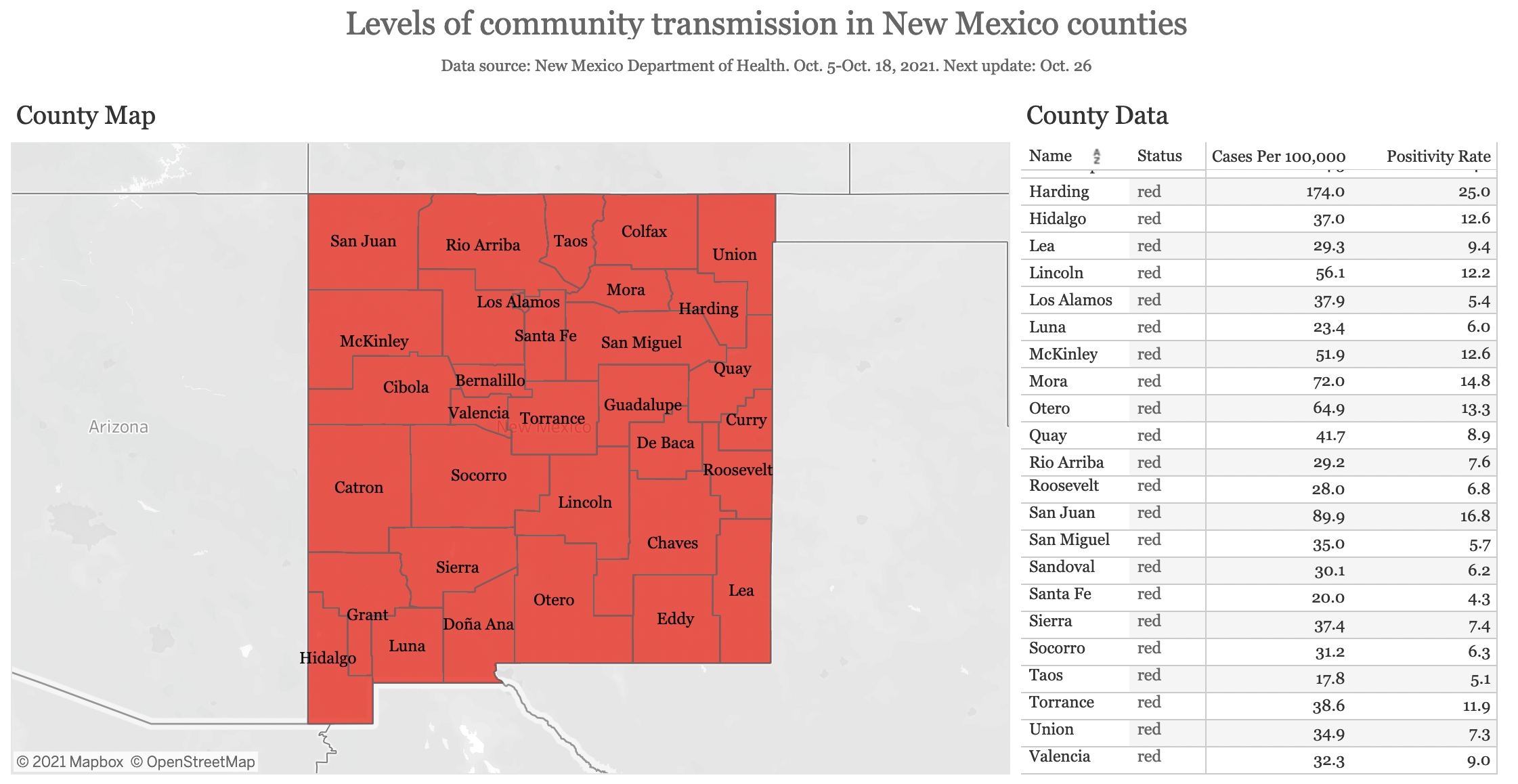 Bottom Line
Buckle up and hold tight, this pandemic is not over and we are not returning to "normal" any time soon!
It is important to note that private businesses and localities may maintain
mask and
social distancing
mandates, even for vaccinated
persons.
Please be mindful that many people who have been fully vaccinated may have underling health issues such as pulmonary, respiratory and immune issues, therefore they should still take precaution in wearing masks, as well as continue with social distancing.
What We Know
COVID-19 vaccines are effective at preventing COVID-19 disease, especially severe illness and death.
COVID-19 vaccines reduce the risk of people spreading COVID-19.
The Delta Variant is more infectious.
What We're Still Learning:
How effective are the vaccines against variants of the virus that causes COVID-19?
Early data show the vaccines masks work against some variants but could be less effective against others.
How well the vaccines protect people with weakened immune systems, including people who take immuno-suppressive medications.
How long COVID-19 vaccines can protect people?
As we know more, CDC will continue to update our recommendations for both vaccinated and unvaccinated people.
The Delta variant, which was first detected in India, now accounts for most of all infections in the United States, according to the Centers for Disease Control and Prevention. And this highly transmissible variant may be responsible for more cases in the U.S. states. The Delta variant may be associated with more severe disease for those who have underling health issues such as pulmonary, respiratory and immune issues, and therefore have a higher risk of hospitalization.
Resources & Links:
CORONA VIRUS
---
Lifestyle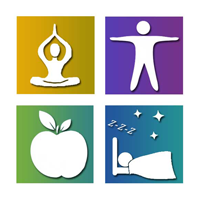 Simplify
"The ability to simplify means to eliminate the unnecessary so that the necessary may speak."
~ Hans Hoffman
"Out of clutter, find simplicity. From discord, find harmony. In the middle of difficulty lies opportunity."
~ Albert Einstein
As we approach the busy holiday season, we all seem to get involved with more activities, commitments and responsibilities that can quickly overwhelm us. Our daily lives can quickly become entangled in a maze of clutter, multi-tasking, complications, and stress.
Simplifying your life doesn't necessarily mean doing without.
To simplify ones life, does not mean you have to live without possessions or to live in frugality, but to slow down and live a more balanced, deliberate, healthier and thoughtful life.
I am in the process of moving towards a simpler way of being and have gathered some quotes that are inspiring me to re-examine my life as I prepare for the coming new year.
"Simplify your life amplifies your future."
"If you can't explain it simply, you don't understand it well enough." ~ Albert Einstein
"Our life is frittered away by detail… Simplify, simplify." ~ Henry David Thoreau
"Simplicity is the ultimate sophistication." ~ Leonardo da Vinci
"Life is really simple, but we insist on making it complicated." ~ Confucius
"Simplicity is the ultimate sophistication." ~ Leonardo da Vinci
Thank you for reading our newsletter & feel free to pass it on to other kindred spirits. ~ Dianne McKenzie & Sierra

---
Real Estate Market Update

Not much has changed in the month of October
Not a lot of houses on the market in Santa Fe. Prices are up $44,226 with a 5% decrease in the number of properties on the market. Average asking price in Santa Fe is $755,355.
---
Santa Fe Real Estate News
Aldea Real Estate Stats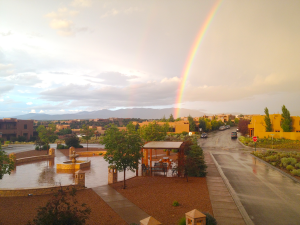 2021 Stats: Sold, Pending, Listed

SOLD: 31 Homes, DOM 53 | 3 Lots, DOM 35
PENDING: 4 Homes | 0 Lots
LISTED: 1 Homes, Avg $445,000 | 1 Lots, Avg $100,000
Aldea de Santa Fe consists of 345 acres, with 205 acres of perpetual open space with 13 miles of walking trails, basketball & tennis courts, community center, (which offers yoga classes, exercise equipment & gathering space for events), a local cafe, superbly located in the high-value northwest corridor of Santa Fe County, with easy access to Highway 599, all just 10 minutes from downtown Santa Fe.
As of late October, 2021, the highest priced home sold is 6 W. Via Plaza Nueva, on the market 1 day with an offer, closed in 37 days. 3,00sqft, sold at $366.67 a sqft. for $1,100,000. This is the highest priced home that sold in Aldea.
Currently there is a tonwhome listed for sale, 1,400 sqft for $445,000, $315 per sqft.
Sold: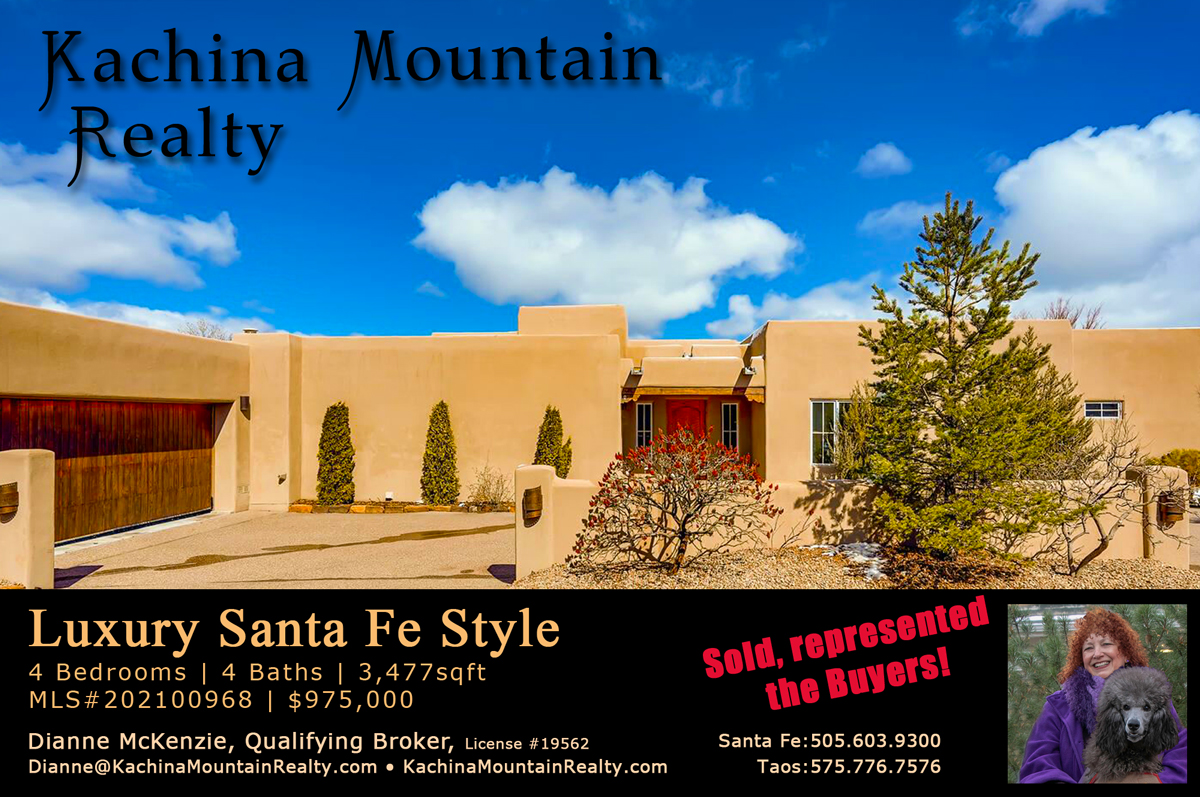 ---
Las Campanas Real Estate Stats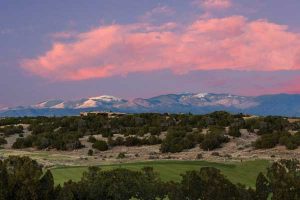 2021 Stats: Sold, Pending, Listed

SOLD: 75 Homes, DOM 52 | 62 Lots, DOM 136
PENDING: 23 Homes | 10 Lots
LISTED: 37 Homes, Avg $2,388,162 | 32 Lots, Avg $250,932


Las Campanas is the only luxury master-planned community in Santa Fe. Stretching across 4,700 acres surrounded by pristine high desert, the community is comprised of exclusive neighborhoods. Las Campanas is also home to The Club at Las Campanas, where members can enjoy two award-winning Jack Nicklaus Signature golf courses, the 46,000 square foot Hacienda Clubhouse, a peerless Equestrian Center and the Fitness & Tennis Center, which includes a luxurious spa.
There are currently 37 homes for sale in Las Campanas
1 Homes under $1,000,000
36 Homes over $1,000,000
There are currently 32 Lots for sale in Las Campanas
2 Lots under $100,000
30 Lots over $100,000
Let me take you on a tour in Las Campanas!
---
Marketing Properties, Not Just Listing Properties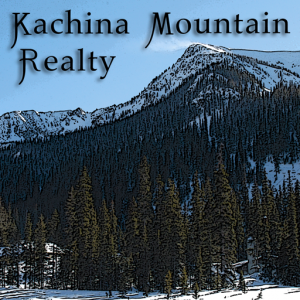 If you are thinking of selling your property, why not list it with a realtor who will market the property, not just list it in the MLS? By actively marketing your property, the property gets the most exposure to other realtors and to the general public through online blogging, email campaigns & the typical MLS exposure.
Call me, Dianne, 505.603.9300, to discuss your property needs, or for a tour of Lots & Homes in Aldea, Las Campanas and the Santa Fe region. Taos Office: 575.776.7576
Visit the website for Santa Fe information: RealEstatePropertiesSantaFe.com
Visit the Kachina Mountain Realty company main website: KachinaMountainRealty.com
---
Taos Real Estate News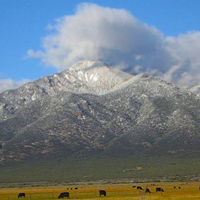 2021 Stats: Sold, Pending, Listed

*SOLD: 164 Homes, DOM 170 | 101 Lots, DOM 369
*PENDING: 92 Homes | 55 Lots
*LISTED: 53 Homes, Avg $798,679 | 183 Lots, Avg $231,652
* Areas tracked:
Lower North, Upper North, West North, Town of Taos, Taos Ski Valley, South West, South East
See map for areas »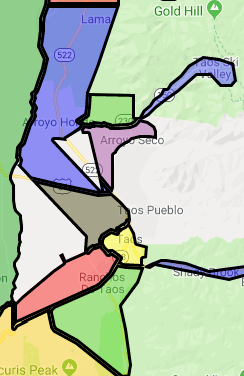 Taos is very different than Santa Fe in many ways. With a population of 5,763 people and many surrounding neighborhoods, Taos is the 39th largest community in New Mexico. The greater Taos area is made up of several unincorporated areas and neighborhoods that separates out as if they were their own destinations or towns. Unincorporated areas around Taos have distinctive names that represent the ancient traditions of naming a place for a stream or topographic feature. Arroyo Hondo, Arroyo Seco and El Prado are all such places. These are not towns and have no political jurisdiction, they are simply places that help folks zero in on a very specific neighborhood. Within Taos itself are many such neighborhoods that may comprise no more than six "blocks."
Selling real estate in Taos county is challenging for sellers, buyers and realtors, as the typical closing time for a property averages 90+ days, compared to under 30 days in Santa Fe. I have closed properties in Santa Fe under 20 days. There is a shortage of title companies which the realtors can work with in Taos. The back log of properties waiting to close often creates buyers to back out and leave the sellers in the same cycle for closing when the next offer comes in. Many buyers become frustrated as their lenders charge additional hold fees or back out all together. Below are some statistics that highlight the problem.
I receive inquiries almost daily from out of town buyers who are researching homes in the Taos area. These buyer profiles are looking to live in a safe community, with a country atmosphere, small homes, with flexible spaces. They are wanting to move to the area, but can't find the properties that offer amenities that don't include huge HOA fees. They want walking trails, localized eateries, a small grocery store, community activities and a sense of neighborhood. They are either downsizing their home and retiring or wanting a second home. They are wanting to go smaller, but the quality of their lifestyle and home features are upscale. "Does such a community even exist?" they ask.
In the coming months, I will be featuring such a community.
If you have been thinking about selling your home, now is probably a good time. Inventory is low and the demand for quality homes is up.
If you been looking to buy a home, you are probably frustrated with the lack of quality homes on the market at any price point.
Call our Taos Office: 575.776.7576
---
Home Decor Insights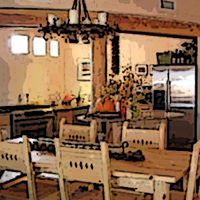 Celebrating Samhain & Dia de Los Muertos
HAPPY SAMHAIN!
Samhain is one of the ancient Celtic festivals, that is celebrated on October 31 through the night of November 1. This festival celebrates the end of harvesting and marks the beginning of the darker period of the year.
The traditional Irish pronunciation of Samhain is "sow-in," with the "-ow" sounding like the "-ow" in "cow." Other cultures pronounce the word differently; for example, Gaelic pronunciations include "sow-een" and "shahvin."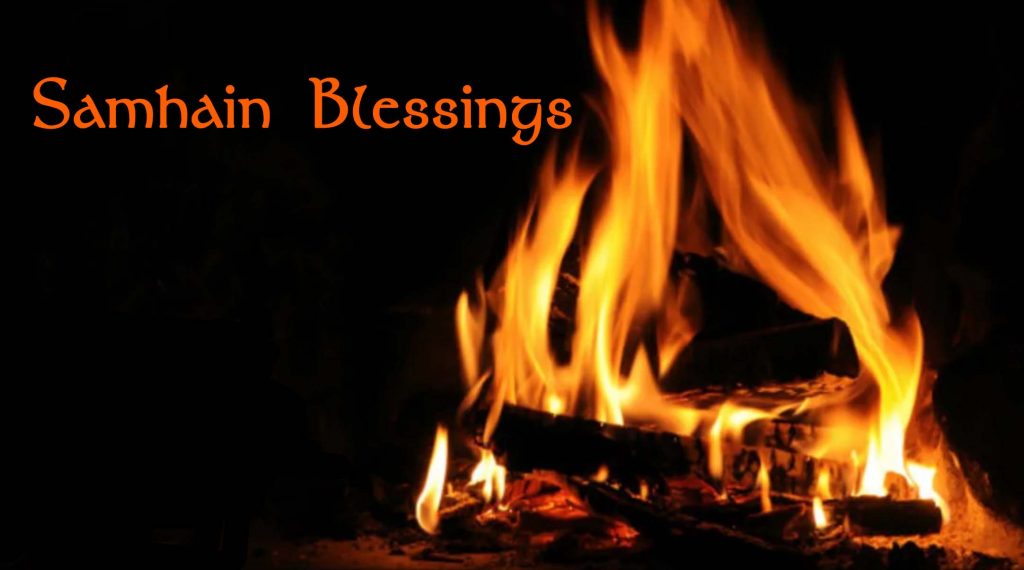 Historically Samhain is observed in Ireland, Isle of Man and Scotland. It has got pre-Christian roots and it gave birth to another holiday, today known as Halloween. Many people even confuse these two festivals, but Halloween was created after the merging of Samhain and All Souls' Day, celebrated on November 2. At the same time Samhain remained in it's original form.
Samhain is a pagan religious festival originating from an ancient Celtic spiritual tradition. Samhain has never been associated with something mystic or supernatural. It was only the time to bring the cattle from summer pastures to the winter pastures and choose the animals for slaughter. Big bonfires were a part of the ritual, but mostly today they are lit only in some regions of Ireland, Isle of Man and Scotland. People take the flames from bonfires back to their homes as a symbol of the sun.

Dia De Los Muertos
article from Day of the Dead
Day of the Dead (Dia De Los Muertos) is a two day holiday that reunites the living and dead. Families create ofrendas (Offerings) to honor their departed family members that have passed. These altars are decorated with bright yellow marigold flowers, photos of the departed, and the favorite foods and drinks of the one being honored. The offerings are believed to encourage visits from the land of the dead as the departed souls hear their prayers, smell their foods and join in the celebrations!
Day of the Dead is a rare holiday for celebrating death and life. It is unlike any holiday where mourning is exchanged for celebration.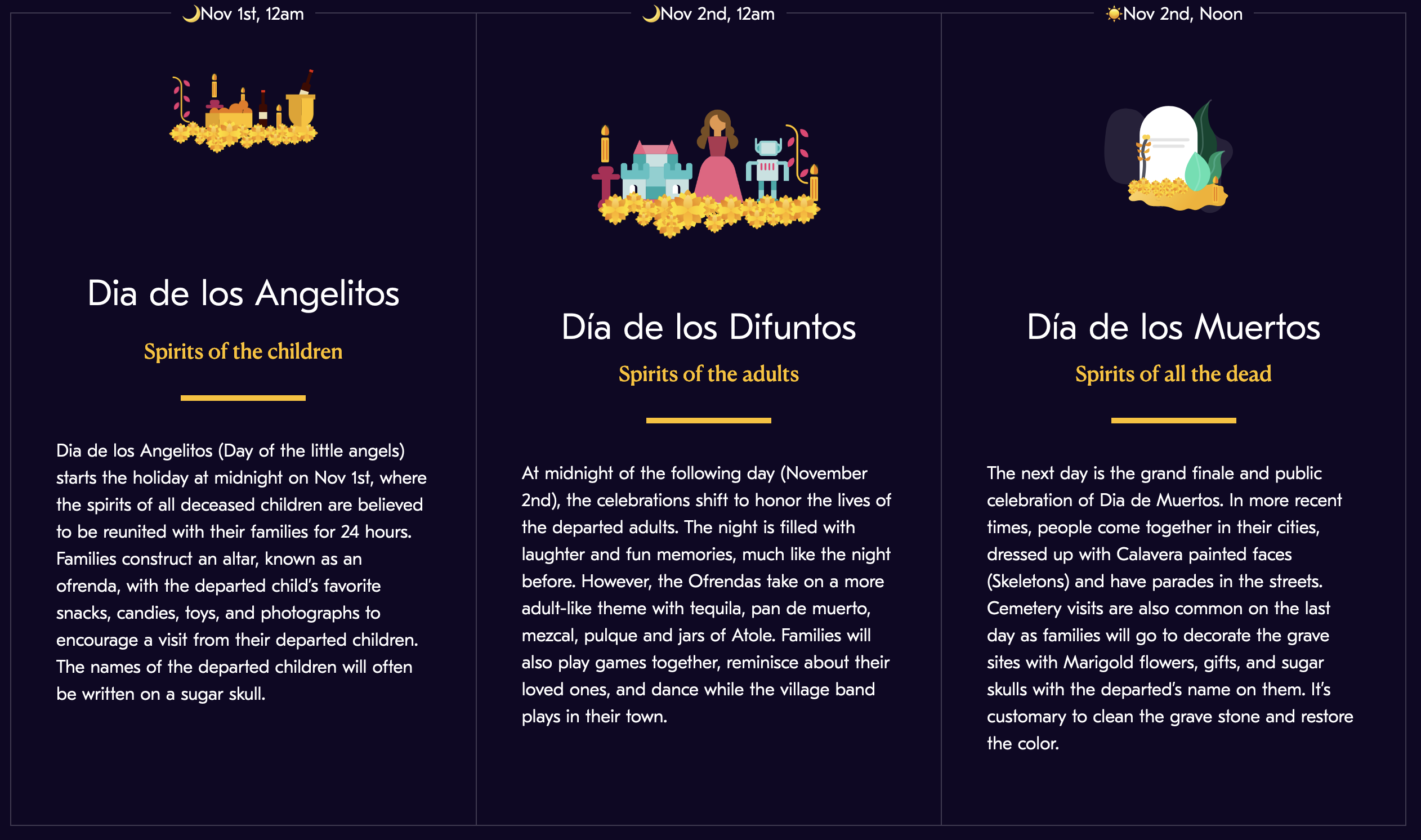 Day of the Dead is not the "Mexican Halloween" like it is sometimes mistaken to be because of the timing of the year. The two holidays originated with similar afterlife beliefs but are very different in modern day. Halloween began as a Celtic Festival where people would light bonfires and wear costumes to ward off ghosts but has recently turned into a tradition of costume wearing and trick-or-treating. Decorating your house with spiders and bats and wearing scary costumes is not done in most parts of Mexico.
Many of us see death as a sad event but those who celebrate Day of the Dead view death as a welcomed part of life. That is why you will see brightly colored skeletons and skulls everywhere during the holiday. They often are seen smiling, as a friendly nod to death, even mocking death. This view of death began way back during the one month Aztec festival where they celebrated the dead and paid homage to the lady of death, Mictlancíhuatl, who protected their departed loved ones and helped them in the afterlife.
Believe it or not, Mexicans are not the only ones to celebrate Day of the Dead. It is a widely celebrated holiday all over the world. In fact, many religious communities celebrate All Souls Day (also known as All Saints Day) during the same time as Day of the Dead. The act of honoring the dead is widely celebrated around the world but Day of the Dead is unique in its traditions: the ofrenda, the meaning of life and death, the use of calaveras, the style influenced by La Catrina, and more recently, the festivals in the streets.
"Our dead are never dead to us,
until we have forgotten them."
Our alter to celebrate those we love that have passed:
A link to the memorials that I have created online »

For ideas on decorating with autumn in mind, check out Pinterest and explore a whole new way to spend your time online and check out my Pinterest page: KachinaRealty Happy pinning!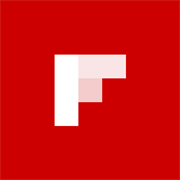 While you are surfing the "net" check out Flipboard for a variety of news and lifestyle reading.
---
Sierra
CFO, (Chief Fun Officer)
Our 2.7 year old female silver standard poodle
October 1-31, 2021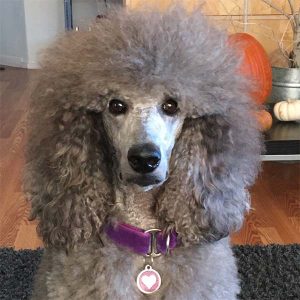 Our favorite time of year has finally come to the ranch! The leaves from the cottonwood trees have turned a bright deep yellow and the aspens on the mountain have dropped their leaves. In the valley there still is an array of autumn foliage and the air is crisp in the early mornings and evenings. We even had an early snow on the ranch! The holidays have started as we plan menus, events and put up autumn decorations around the house/office.
I weigh & measure Sierra once a month, so here are her stats as of September 30, 2021: 14″ collar, girth: 24″, height to shoulder: 25″ weight: 34.5 lbs.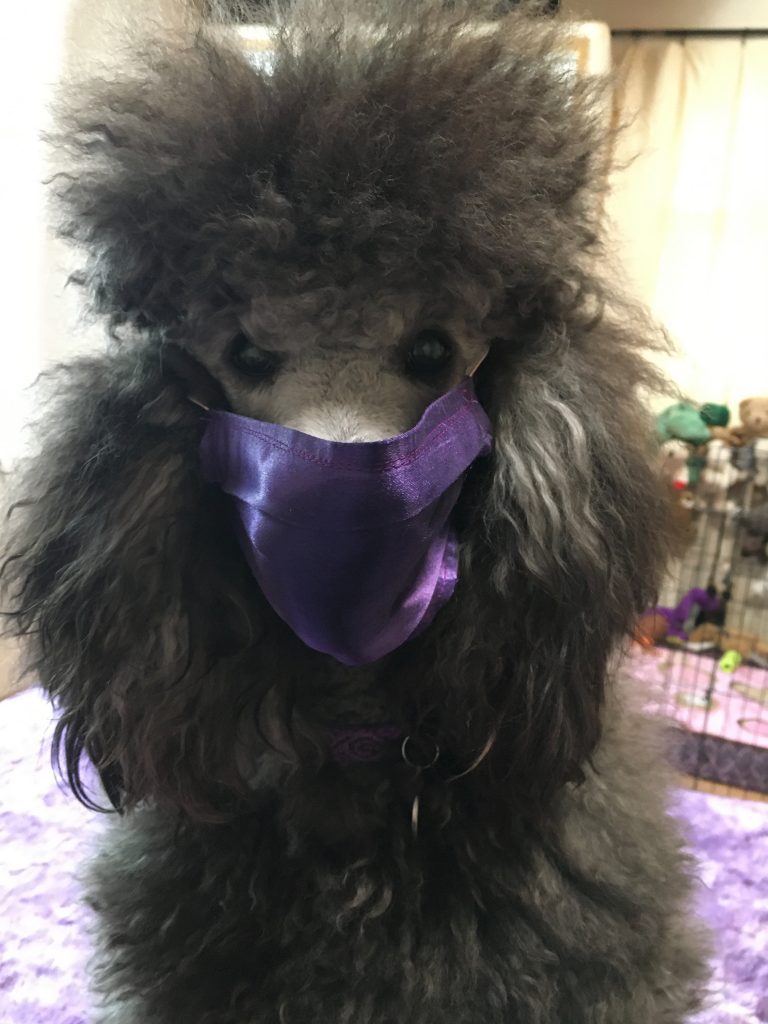 You really need to watch Sierra's videos as they capture her spirit!
Here is the link to Sierra's Videos »
Sierra's 1st video explains who she is and her new role at Kachina Mountain Realty. In Sierra's 2nd video she talks about Dianne's role at Kachina Mountain Realty in the era of COVID-19. In Sierra's 3rd video, Sierra talks about selling and buying real estate during the COVID-19 pandemic. In Sierra's 4th video she talks about how staying safe in the era of COVID-19.
Sierra's web page: www.diannemckenzie.com/sierra
More photos will be continually posted on her own web page, so check back monthly, as we chronicle her life with us!
---
Calendar of Events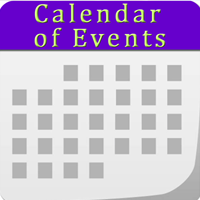 New Mexico has long been a center for arts, culture, classes and gourmet food. With such a strong art market, there are hundreds galleries to explore and experience, along with a wide selection of thriving restaurants. Our Museums feature culture, history and traditions of the region and the world. Santa Fe, Taos County and beyond have something scheduled every day & night of the week, all year long.
---
Entertainment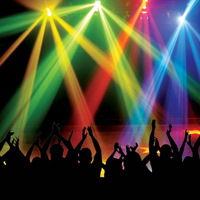 If there's one thing you can count on when spending time in New Mexico, it's the treasured experiences and wide selection of entertainment: music venues, great sporting events, theatrical and musical entertainment as well as year-round festivals.
From festivals, music concerts and dance performances to theatrical offerings by local and touring groups, the performing artists work hard to keep its locals and visitors entertained by both New Mexico performers and acclaimed stars from around the world.
---
About Kachina Mountain Realty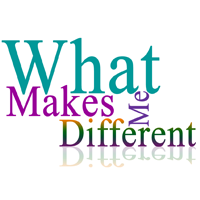 I am passionate about real estate development. I consider myself a "Dream Maker", and strive to help my clients manifest their dreams and lifestyle goals.
I believe that, "…the dreams which accompany all human actions should be nurtured by the places in which people live and work".
To promote this possibility, I encourages my clients to develop and share their dreams and lifestyle goals as part of the process of selling, buying or investing in property.
I have over thirty years of business experience as an executive producer, web architect, social media marketer, business developer, architecture assistant, real estate marketing developer and real estate consultant.
I am a licensed real estate qualifying broker for Kachina Mountain Realty & an accredited ACRE® real estate consultant. I have worked in the Santa Fe & Taos real estate market for years. I specialize in working with buyers and sellers who are looking for a solid real estate investment.
Contact me, Dianne McKenzie, for your real estate transactions & let me help you manifest your dreams!
I am readily available by cell phone, text, (505.603.9300) & email. I return calls promptly, seven days a week!
Taos Office: 575.776.7576
---
Go Green:

Recycle This E-Newsletter!
After you've enjoyed our Eco Lifestyle and Home newsletter, please recycle it by emailing it to a family member, friend, neighbor or coworker!
---