Eco Lifestyle And Home News – October 2021
Eco Lifestyle And Home News – October 2021


Dear Friends, Clients, Business Associates and Neighbors,
October marks the fifty-eigth edition of Eco Lifestyle and Home Newsletter produced by Kachina Mountain Realty. We offer Real Estate & Lifestyle news in the email newsletter covering Santa Fe, Taos County and beyond.
In this edition, we offer the following: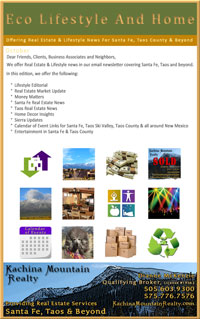 COVID-19 UPDATE
Lifestyle: Transformation
Real Estate Market Update
Money Matters
Santa Fe Real Estate News
Taos County Real Estate News
Home Decor Insights: by Debbie DeMarais
Sierra Updates!
Calendar of Event Links for Santa Fe, Taos Ski Valley, Taos County & all around New Mexico
Entertainment Links for Santa Fe, Taos County & around New Mexico
---
COVID-19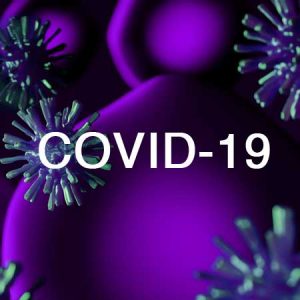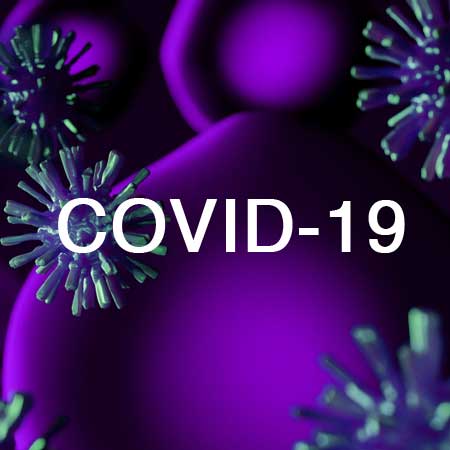 CDC Recommends Pfizer-BioNTech's COVID-19 Booster Shot for Certain Populations
Sep 26, 2021 | Press Room
Shots to be given at least six months after completion of Pfizer primary series
Moderna information coming shortly…
SANTA FE- On Friday morning, the federal Centers for Disease Control and Prevention (CDC) announced recommendations for certain populations to receive a booster shot of Pfizer COVID-19 vaccine at least six months after the completion of their Pfizer vaccine primary series. The New Mexico Medical Advisory Team has reviewed and endorsed these recommendations.
The CDC recommends the following individuals should receive their booster shot:
Individuals 65 years and older and residents in long-term care settings

should

receive a booster shot of Pfizer-BioNTech's COVID-19 vaccine at least 6 months after their Pfizer-BioNTech primary series

Individuals aged 50 to 64 with

certain underlying medical conditions

should

receive a booster shot of Pfizer-BioNTech's COVID-19 vaccine at least 6 months after their Pfizer-BioNTech primary series
In addition, the CDC identified groups that may receive a booster shot as well:
Individuals 18 to 49 who are at high risk for severe COVID-19 due to

certain underlying medical conditions

may

receive a booster shot of Pfizer-BioNTech's COVID-19 vaccine at least 6 months after their Pfizer-BioNTech primary series, based on their individual benefits and risks
Individuals aged 18-64 years who are at increased risk for COVID-19 exposure and transmission because of occupational or institutional setting

may

receive a booster shot of Pfizer-BioNTech's COVID-19 vaccine at least 6 months after their Pfizer-BioNTech primary series, based on their individual benefits and risks
Long-Term Care Facilities
The New Mexico Aging and Long-Term Services Department will coordinate the distribution of Pfizer boosters to the small number of residents and staff of long-term care facilities who received the Pfizer primary series.
Vaccine Distribution Plans
As with previous rounds of vaccine distribution, the State is finalizing appropriate distribution plans to reflect the new federal guidance. By the end of October, more than 70% of New Mexicans who have received Pfizer primary series will be eligible for boosters.
Early next week, DOH will release additional guidance about how New Mexicans can schedule their booster appointments.
Note: at this time, only Pfizer boosters are available, and neither CDC nor the New Mexico Department of Health recommends "mixing" one type of primary vaccine with a different type of booster vaccine.
The Department of Health also encourages New Mexicans to confirm that their vaccine records are up-to-date. New Mexicans who have received their primary Pfizer series through vaccineNM.org can log in to confirm or update their records. New Mexicans who need assistance updating their vaccineNM.org records can call the DOH hotline at 1-855-600-3453.
New Mexicans who received their primary series through another provider can visit vaxviewNM.org to confirm that they have two entries for COVID-19 MRNA "PFR" (Pfizer) shots. New Mexicans who need assistance updating their vaxviewNM.org record can call the NMSIIS Help Desk at 1-833-882-6454.
Bottom Line
Buckle up and hold tight, this pandemic is not over and we are not returning to "normal" any time soon!
It is important to note that private businesses and localities may maintain
mask and
social distancing
mandates, even for vaccinated
persons.
Please be mindful that many people who have been fully vaccinated may have underling health issues such as pulmonary, respiratory and immune issues, therefore they should still take precaution in wearing masks, as well as continue with social distancing.
What We Know
COVID-19 vaccines are effective at preventing COVID-19 disease, especially severe illness and death.
COVID-19 vaccines reduce the risk of people spreading COVID-19.
The Delta Variant is more infectious.
What We're Still Learning:
How effective are the vaccines against variants of the virus that causes COVID-19?
Early data show the vaccines masks work against some variants but could be less effective against others.
How well the vaccines protect people with weakened immune systems, including people who take immuno-suppressive medications.
How long COVID-19 vaccines can protect people?
As we know more, CDC will continue to update our recommendations for both vaccinated and unvaccinated people.
The Delta variant, which was first detected in India, now accounts for most of all infections in the United States, according to the Centers for Disease Control and Prevention. And this highly transmissible variant may be responsible for more cases in the U.S. states. The Delta variant may be associated with more severe disease for those who have underling health issues such as pulmonary, respiratory and immune issues, and therefore have a higher risk of hospitalization.
Resources & Links:
CORONA VIRUS
---
Lifestyle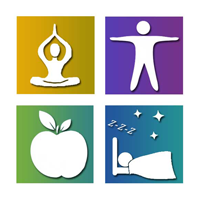 Transformation
"
Transformation usually involves the shedding of old ways, especially those that have become burdens. No matter who you are, no matter what has already happened to you, no matter what you have done, it is still possible to be and do something new."
~ Frederic and Mary Ann Brussat
"Change fixes the past. Transformation creates the future
." ~Chris McGoff
Change involves fixing and improving something, where as Transformation is about creating something new.
"
A butterfly is a transformation, not a better caterpillar."
~ Chris McGoff
So here we are again at another turning point in the season. Autumn is my favorite time of year. I love how the light is different, softer, more golden. I love the slight nip in the air. I feel more sentimental and nostalgic and seem to fall in love with everything again. I always have to buy the first pumpkins and decorate the house for the coming season.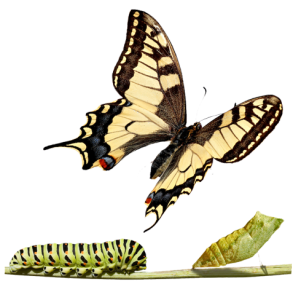 Watching the season evolve in nature, is also a way to get in touch with ourselves and observe how we have transformed within the last year's cycles. For me, my life is shifting, moving, evolving & letting go. We have moved/redesigned our living and work space again this year. For the first time in many years, I feel I am becoming more of who I really am. I am happier with my self and my surroundings. Living on the ranch really feels more like home than anything I have known since living on the California coast.
Transformation is scary, intense and challenging, no matter how necessary it is. There is a shedding of the familiar, regardless of how the old ways are no longer appropriate.
More thoughts from Chris McGoff:
"When you choose the path of TRANSFORMATION, it becomes easier to leave the past behind after thoroughly considering the As Is. You permit yourselves to envision the future freely; you make specific promises, with full INTEGRITY, about how things shall be. You take action to ensure that we live into your declarations about the future."
"When we transform in the direction of our dreams, we fulfill a sacred contract. We rise to a Hero's Journey challenge. That may mean confronting dark forests and dragons. It may mean doing things that family, friends, and colleagues don't approve of, or even understand. It may mean traveling unmarked paths — the kind that are "less traveled," primarily because they aren't, at first glance, terribly appealing." ~ Pilar Gerasimo,
I am not sure if I will emerge as a butterfly, but I know I am not going to be the same as I have been. Here's to transformation!
Thank you for reading our newsletter & feel free to pass it on to other kindred spirits. ~ Dianne McKenzie & Sierra

---
Real Estate Market Update

Not much has changed in the month of September
Not a lot of houses on the market in Santa Fe. A few weeks back I gave a tour of the Santa Fe area and showed perspective buyers the different areas in Santa Fe. The scarcity of available properties is incredible, compared to years past. For another potential buyer we could not find anything suitable under $350,000 range. The housing shortage is most notable in under $400,000, while there are more availability of houses in the higher range.
---
Santa Fe Real Estate News
Aldea Real Estate Stats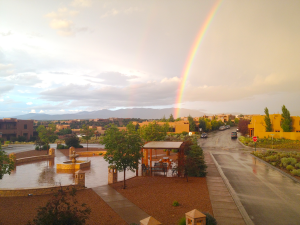 2021 Stats: Sold, Pending, Listed

SOLD: 27 Homes, DOM 47 | 3 Lots, DOM 35
PENDING: 4 Homes | 0 Lots
LISTED: 2 Homes, Avg $647,500| 1 Lots, Avg $100,000
Aldea de Santa Fe consists of 345 acres, with 205 acres of perpetual open space with 13 miles of walking trails, basketball & tennis courts, community center, (which offers yoga classes, exercise equipment & gathering space for events), a local cafe, superbly located in the high-value northwest corridor of Santa Fe County, with easy access to Highway 599, all just 10 minutes from downtown Santa Fe.
Spring is here and the listings have not yet picked up. Homes go pending within hours of being listed. Let me take you on a tour!
Current Listings: 2


Sold: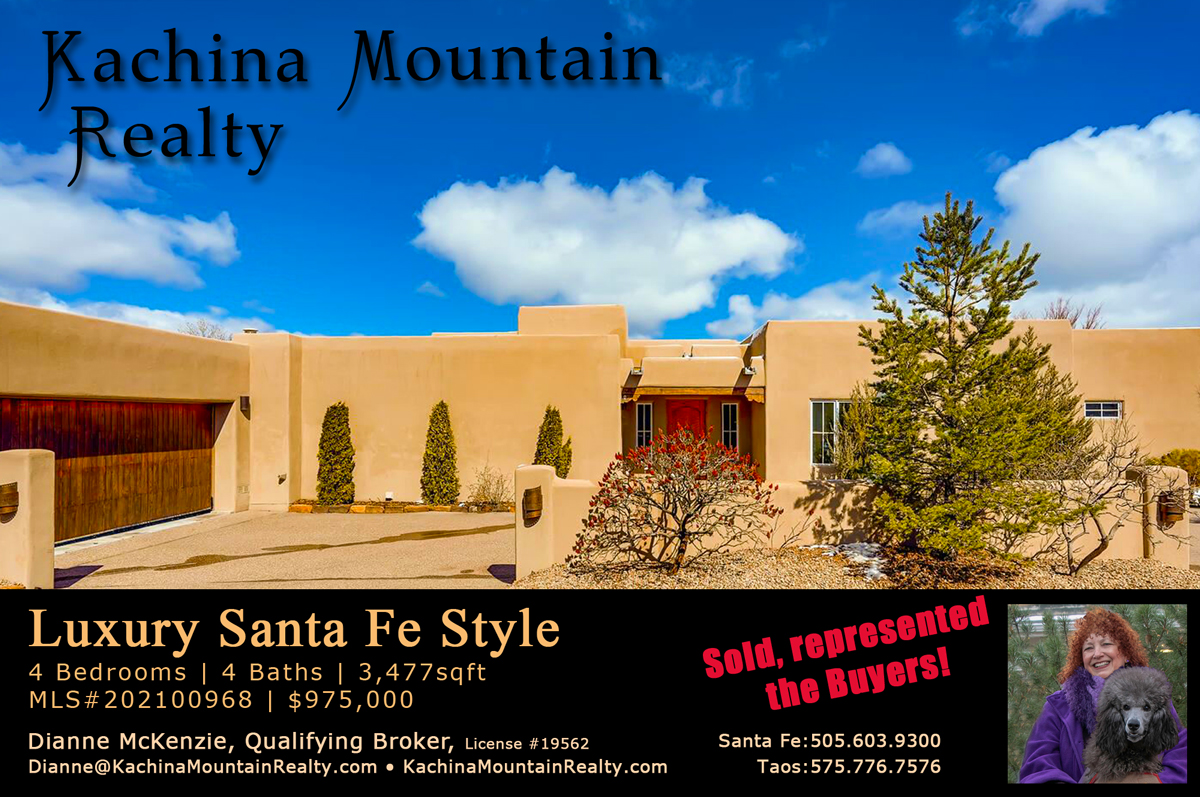 ---
Las Campanas Real Estate Stats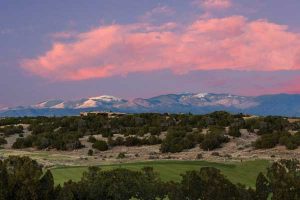 2021 Stats: Sold, Pending, Listed

SOLD: 68 Homes, DOM 55 | 58 Lots, DOM 137
PENDING: 24 Homes | 10 Lots
LISTED: 34 Homes, Avg $2,442,352 | 37 Lots, Avg $233,520


Las Campanas is the only luxury master-planned community in Santa Fe. Stretching across 4,700 acres surrounded by pristine high desert, the community is comprised of exclusive neighborhoods. Las Campanas is also home to The Club at Las Campanas, where members can enjoy two award-winning Jack Nicklaus Signature golf courses, the 46,000 square foot Hacienda Clubhouse, a peerless Equestrian Center and the Fitness & Tennis Center, which includes a luxurious spa.
There are currently 34 homes for sale in Las Campanas
1 Homes under $1,000,000
33 Homes over $1,000,000
There are currently 37 Lots for sale in Las Campanas
5 Lots under $100,000
32 Lots over $100,000
Let me take you on a tour in Las Campanas!
---
Marketing Properties, Not Just Listing Properties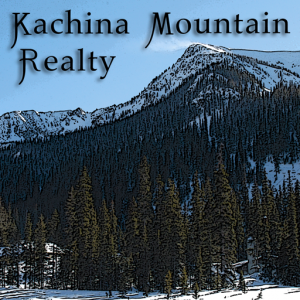 If you are thinking of selling your property, why not list it with a realtor who will market the property, not just list it in the MLS? By actively marketing your property, the property gets the most exposure to other realtors and to the general public through online blogging, email campaigns & the typical MLS exposure.
Call me, Dianne, 505.603.9300, to discuss your property needs, or for a tour of Lots & Homes in Aldea, Las Campanas and the Santa Fe region. Taos Office: 575.776.7576
Visit the website for Santa Fe information: RealEstatePropertiesSantaFe.com
Visit the Kachina Mountain Realty company main website: KachinaMountainRealty.com
---
Taos Real Estate News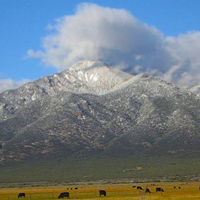 2021 Stats: Sold, Pending, Listed

*SOLD: 148 Homes, DOM 176 | 95 Lots, DOM 380
*PENDING: 93 Homes | 50 Lots
*LISTED: 54 Homes, Avg $823,537 | 189 Lots, Avg $245,654
* Areas tracked:
Lower North, Upper North, West North, Town of Taos, Taos Ski Valley, South West, South East
See map for areas »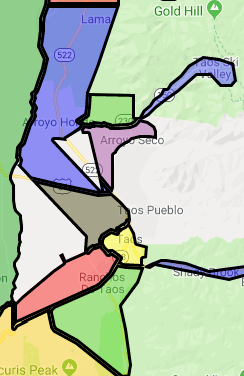 I receive inquiries almost daily from out of town buyers who are researching homes in the Taos area. These buyer profiles are looking to live in a safe community, with a country atmosphere, small homes, with flexible spaces. They are wanting to move to the area, but can't find the properties that offer amenities that don't include huge HOA fees. They want walking trails, localized eateries, a small grocery store, community activities and a sense of neighborhood. They are either downsizing their home and retiring or wanting a second home. They are wanting to go smaller, but the quality of their lifestyle and home features are upscale. "Does such a community even exist?" they ask.
In the coming months, I will be featuring such a community.
If you have been thinking about selling your home, now is probably a good time. Inventory is low and the demand for quality homes is up.
If you been looking to buy a home, you are probably frustrated with the lack of quality homes on the market at any price point.
Call our Taos Office: 575.776.7576
---
Home Decor Insights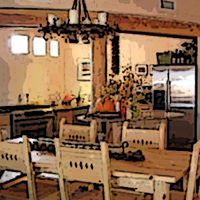 Adobe, Vigas, and Kiva Fireplaces:
Key Features of Santa Fe Architecture
By Debbie DeMarais, Owner of DeMarais HOME STAGING + DESIGN
Getting up-close, front-row views to the unique architecture of Santa Fe is one of the perks of being a home stager and designer in this town. I get to work in historic homes with traditional architectural details, in new homes with modern interpretations of classic features, and in homes in varying states of preservation, renovation, and restoration.
On my Instagram and Facebook pages this year, I've been diving deep into a study of Santa Fe-style architecture, researching new facts and sharing what I already know about some of the key features that set Santa Fe apart from the styles of, say, San Francisco, San Antonio, or Saint Louis.
I gathered up three of the more popular posts to share with you here. Adobe, vigas, and kivas really piqued the curiosity of many of my followers. So now I'm making it official and depositing the knowledge here on my blog where it can live on indefinitely, in a form that's way easier to access than social media. (If you've ever tried searching for something on Instagram, you know what I mean.)
Here's my guide to adobe, vigas, and kivas. Enjoy!
Adobe: Natural Earthen Construction
Adobe is a form of earthen building material originating from early indigenous Pueblo communities and adopted by the Spanish as they settled in the Southwestern territories around the 1500's. It is a mixture of mud, mixed clay and/or sand, with dried plant material, straw and/or manure mixed with water, and packed in a form to dry. The resulting earthen bricks are then stacked to build a wall, with the wet mixture used as a binding agent.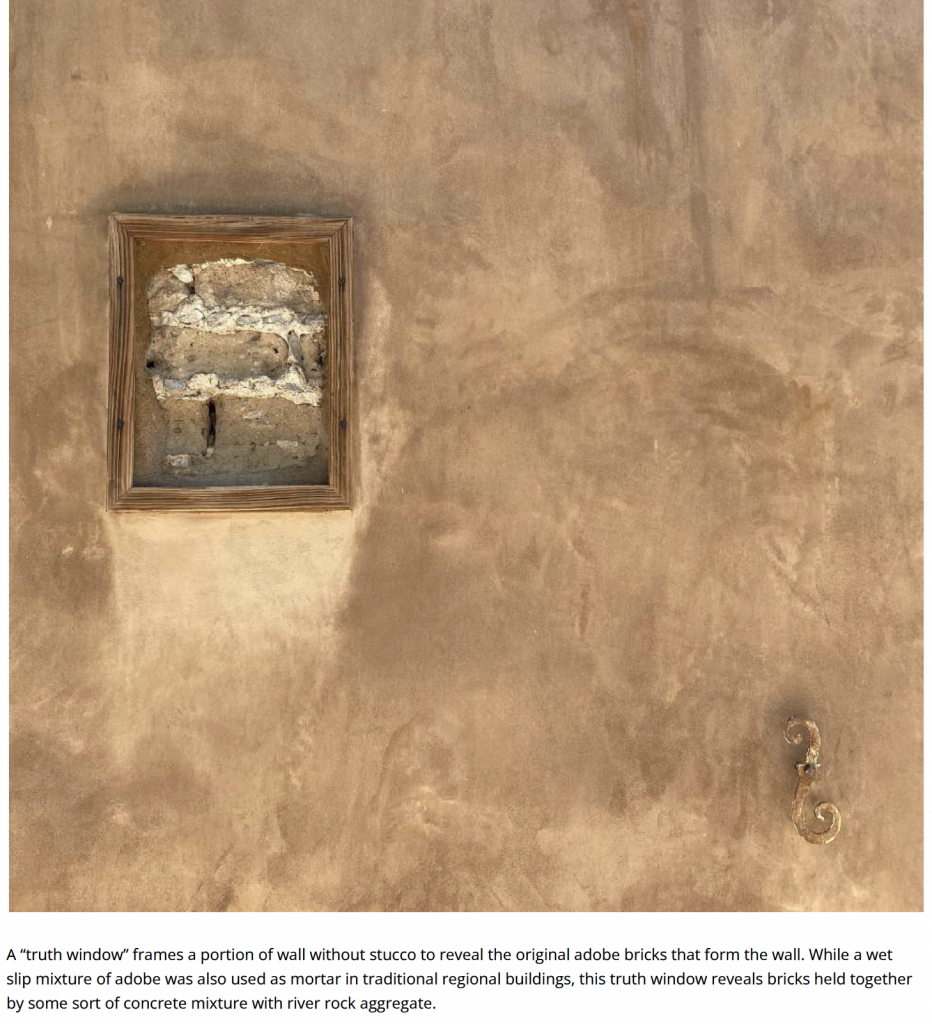 Adobe walls are often as thick as 12" or more and offer significant thermal mass which can help equalize interior temperatures even when outside temperatures fluctuate significantly over short periods. Well suited for dry climates, adobe does still benefit from a protective coating such as stucco or mud plaster.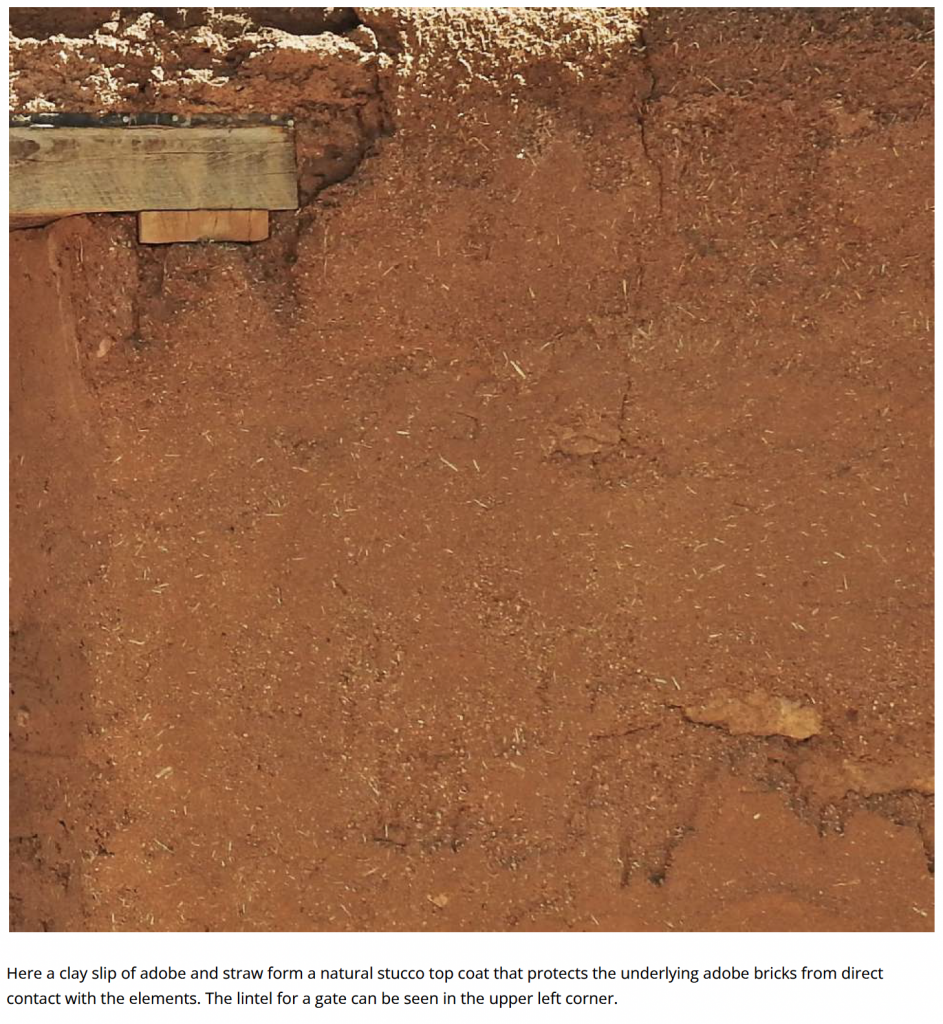 Today, adobe walls continue to be employed in building practices around Santa Fe, however additional elements are often incorporated to improve material strength and durability. Any walk around the historic districts of Santa Fe can yield examples of adobe walls, with decaying walls and truth windows allowing for easy glimpses into the history of a particular wall or building.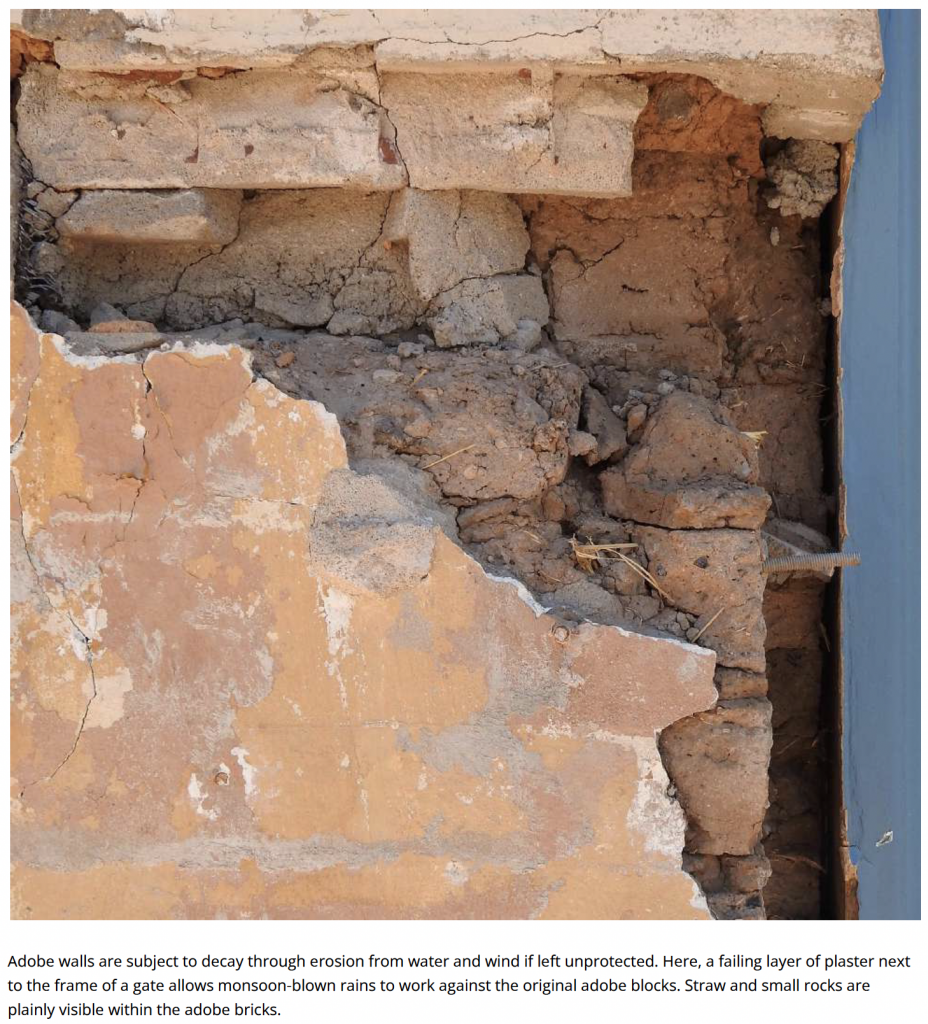 Vigas: Wooden Support Poles for New Mexican Ceilings
Walk into any traditional adobe home and look up. Those massive round logs above you are called vigas. If you think about the construction of an adobe home, with earth and straw bricks set atop one another, it's easy to see how the walls are made, but the roof? That's a difficult feat for bricks to manage.
Instead, traditional building techniques called on large beams, usually cut from Ponderosa pines up in the mountains. The logs were laid atop the adobe walls with subsequent layers of bricks laid above it. Then smaller, stripped branches were set atop the vigas and a final layer of earth was set atop that to form a roof.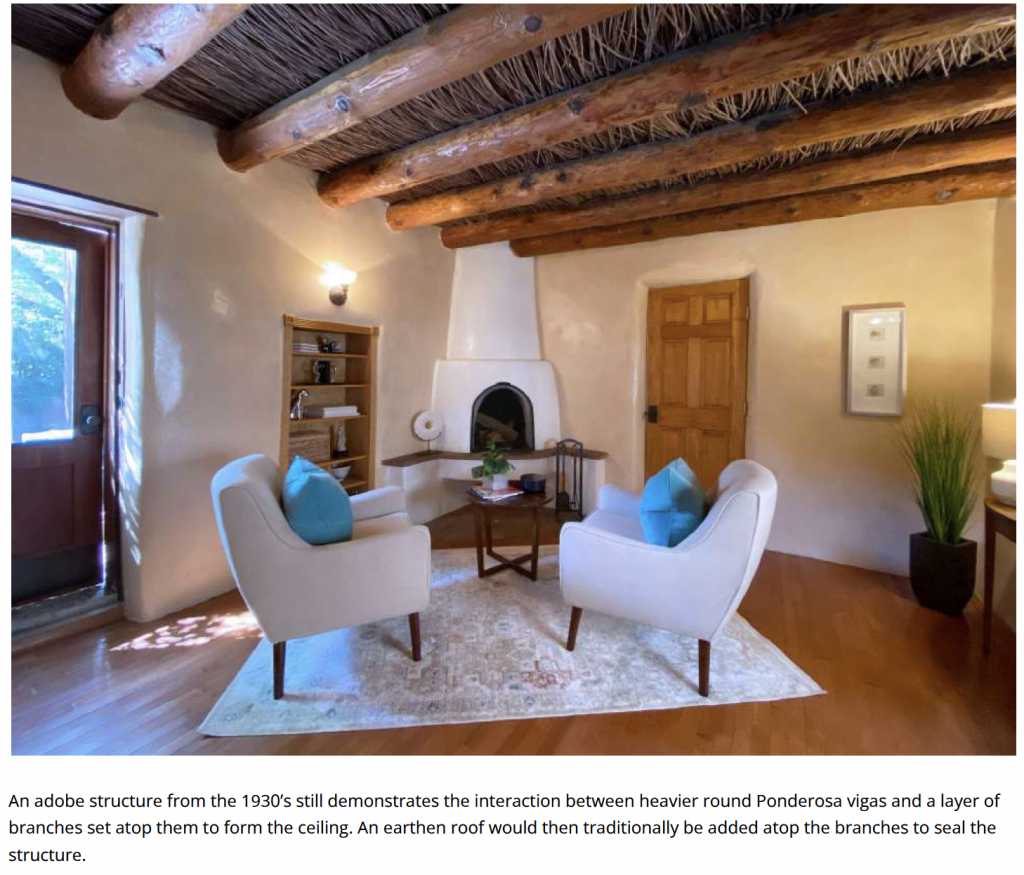 In an adobe structure, you'll see the ends of the vigas protruding through the exterior walls. Sometimes they'll be capped with metal sheeting or painted to protect them from the elements, and sometimes they are left to age naturally.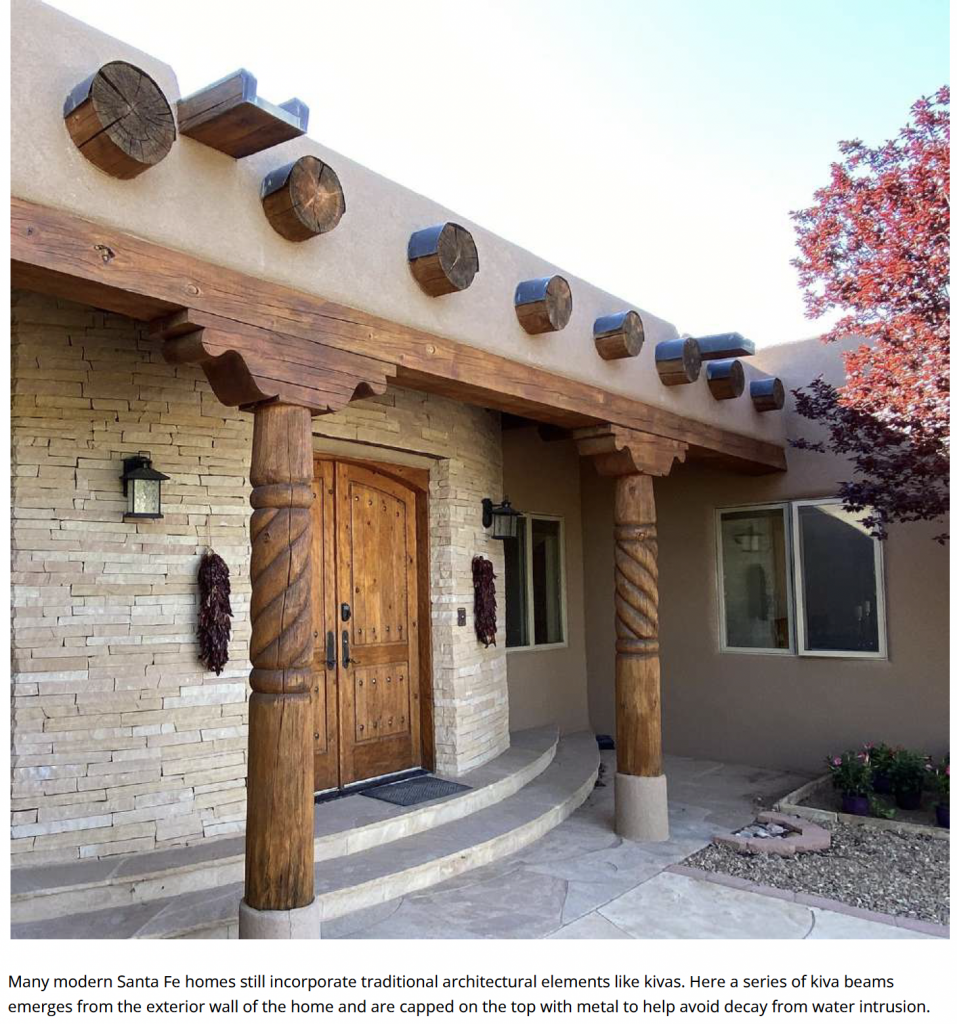 In extremely old, unrestored adobe structures, you can sometimes see the hole left behind after the viga eroded away over the decades.
Though few homes are still made with traditional adobe construction, vigas are still a common site in new adobe-style homes. While they don't serve the same critical structural purpose as they once did, seeing vigas is still a key indicator that you're in Santa Fe!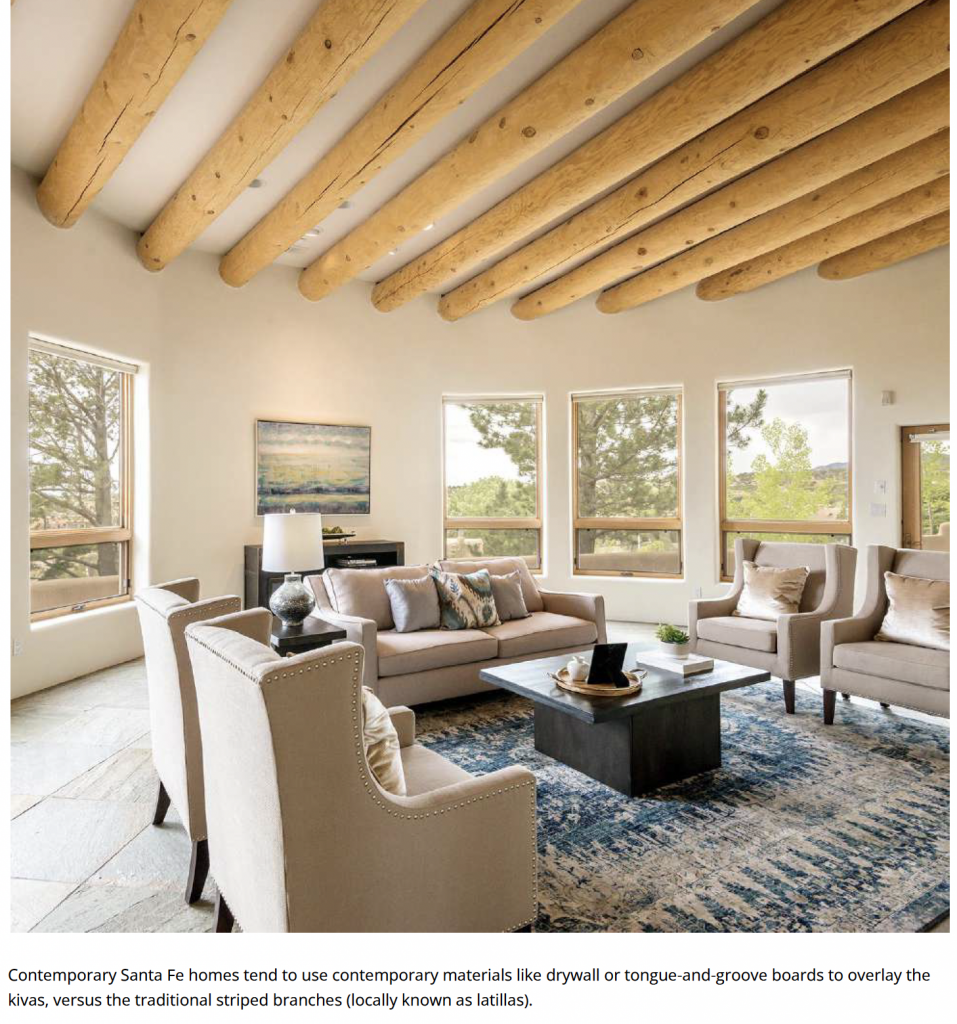 Kiva Fireplaces: Corner Fireplaces, Not Actual Kivas
With a name deriving from the round ceremonial and meeting chambers of many Ancestral Pueblo Peoples, the "kiva" fireplace is a common feature in Northern New Mexican homes, but the reason for its co-opting of the local Pueblos' terminology remains unclear to me. The rounded form of these corner fireplaces seem the only potential similarity to the tribal meeting spaces, although perhaps there's also some connection to the fact that tribal kivas also had a centralized fire space that was situated directly on the ground.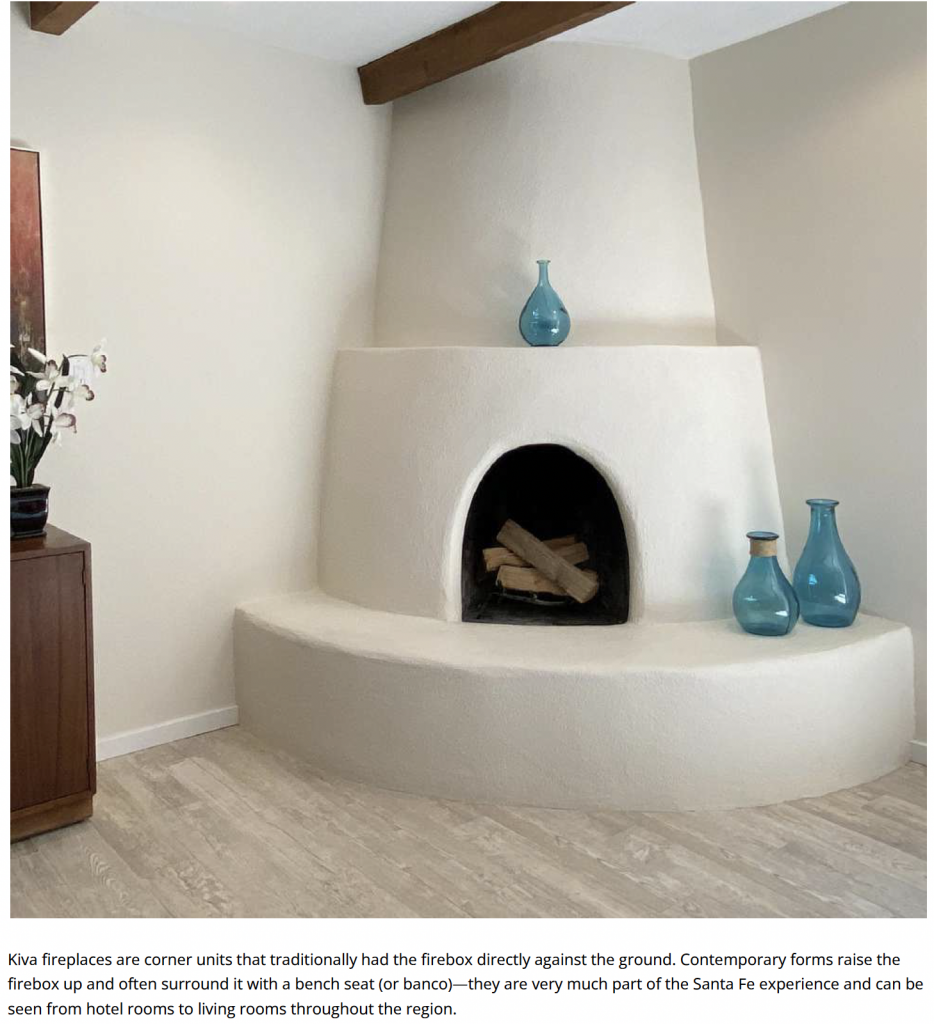 Kiva fireplaces were traditionally made using adobe bricks covered with hand-applied plaster, although in newer home construction they can be built in a variety of manners. An arched firebox follows the organic curve of the smoothed face, and the whole form often tapers as it extends upward. These fireplaces are usually situated in the corner of a room.
During Santa Fe's Colonial period, kitchen kivas were economical to use because they required only a few short logs standing on end for both cooking and heating a home.
The Revival period produced a variety of the styles and designs which are more common today and include fireboxes elevated off the floor with a shelf or bench seat (banco) directly in front. Kiva fireplaces can be found inside or outside a home, but those outside a home shouldn't be confused with horno baking ovens, which also have a long heritage in the area.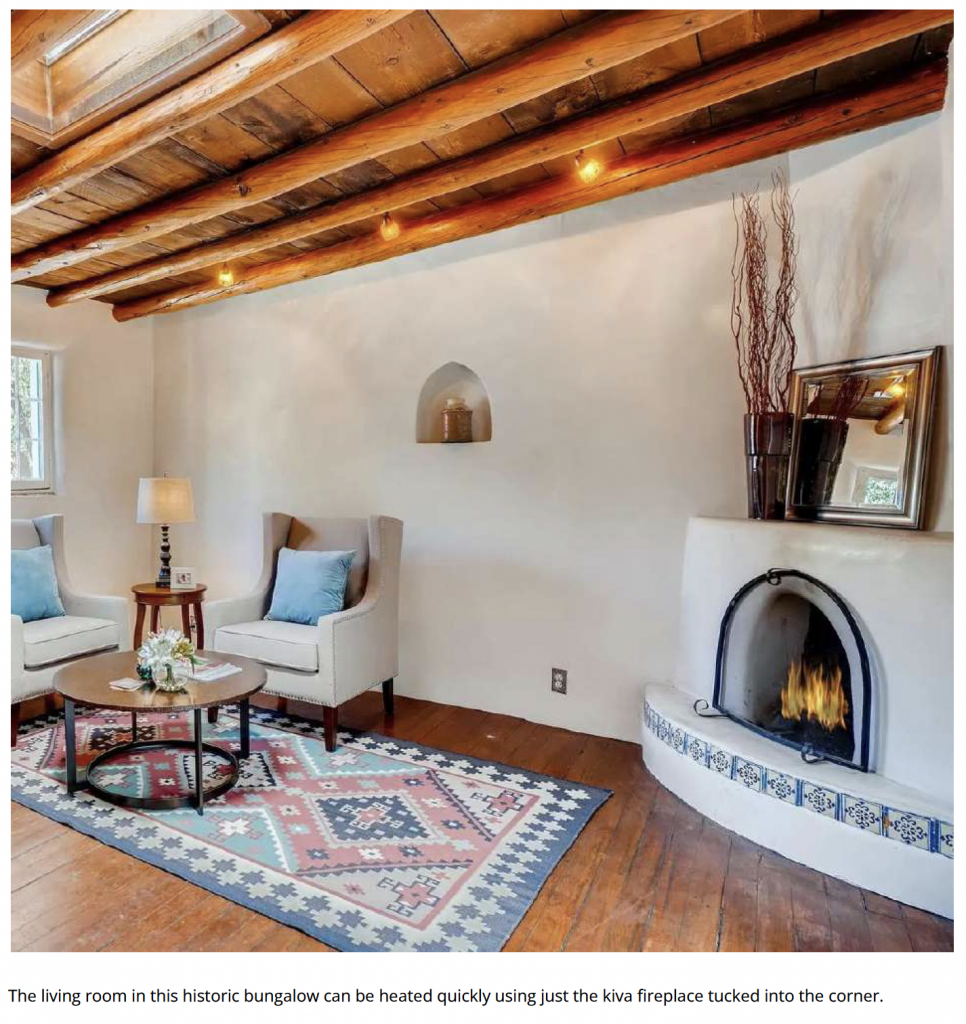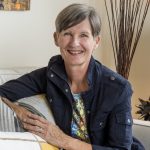 Debbie DeMarais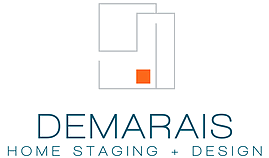 Certified Home Stager & Designer
HSR, CLIPP™, CCE, ASID Allied Member
505-699-4989
homestagingsantafe.com

For ideas on decorating with autumn in mind, check out Pinterest and explore a whole new way to spend your time online and check out my Pinterest page: KachinaRealty Happy pinning!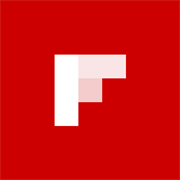 While you are surfing the "net" check out Flipboard for a variety of news and lifestyle reading.
---
Sierra
CFO, (Chief Fun Officer)
Our 2.6 year old silver standard poodle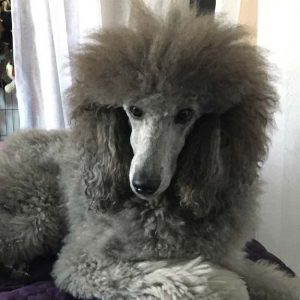 September 1-30, 2021
Sierra was in her 3rd heat for 23 days in September. She has been more affectionate and cuddly than her normal cuddly self.
We managed to survive her heat season without needing to prepare for coyote/poode puppies!
I weigh & measure Sierra once a month, so here are her stats as of September 30, 2021: 14″ collar, girth: 24″, height to shoulder: 25″ weight: 34.5 lbs.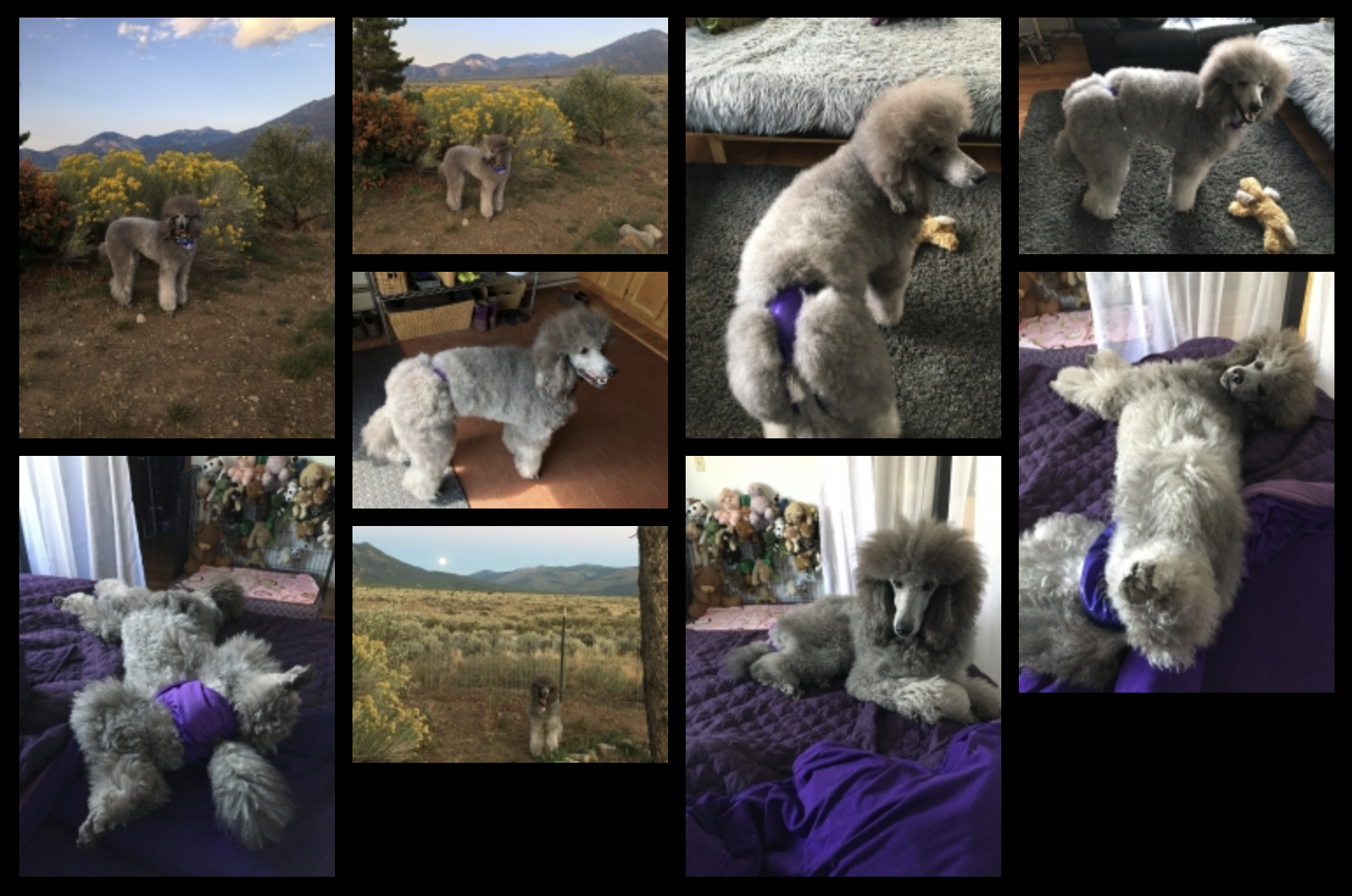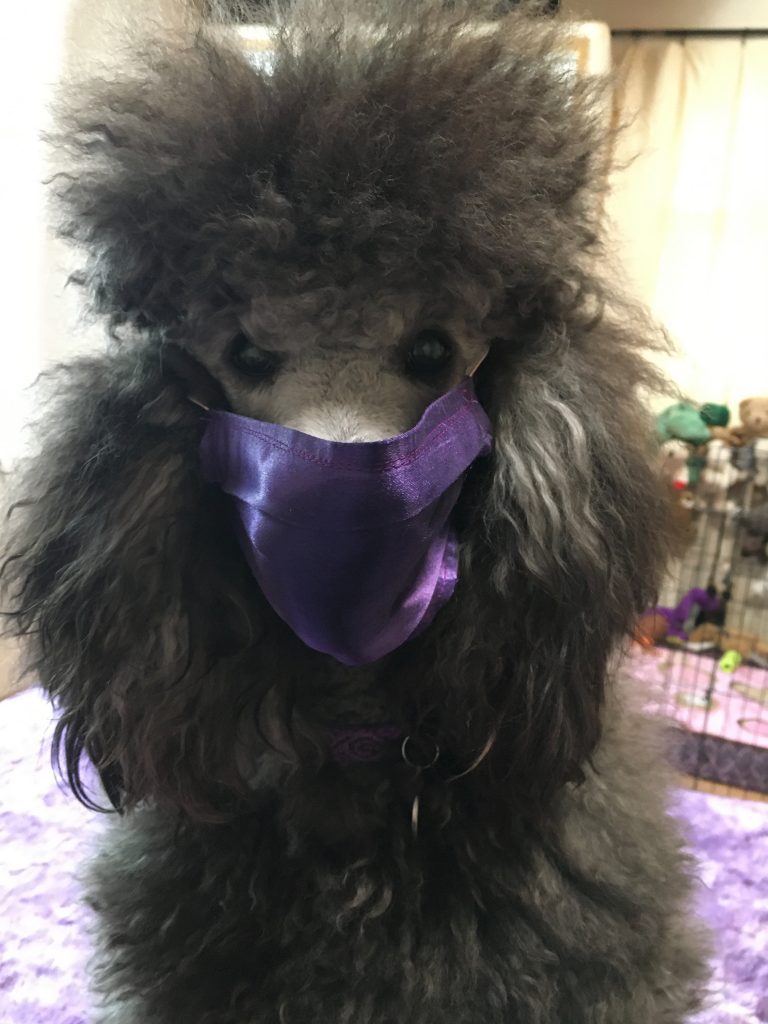 You really need to watch Sierra's videos as they capture her spirit!
Here is the link to Sierra's Videos »
Sierra's 1st video explains who she is and her new role at Kachina Mountain Realty. In Sierra's 2nd video she talks about Dianne's role at Kachina Mountain Realty in the era of COVID-19. In Sierra's 3rd video, Sierra talks about selling and buying real estate during the COVID-19 pandemic. In Sierra's 4th video she talks about how staying safe in the era of COVID-19.
Sierra's web page: www.diannemckenzie.com/sierra
More photos will be continually posted on her own web page, so check back monthly, as we chronicle her life with us!
---
Calendar of Events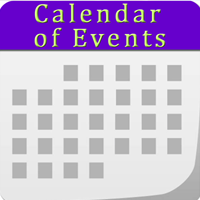 New Mexico has long been a center for arts, culture, classes and gourmet food. With such a strong art market, there are hundreds galleries to explore and experience, along with a wide selection of thriving restaurants. Our Museums feature culture, history and traditions of the region and the world. Santa Fe, Taos County and beyond have something scheduled every day & night of the week, all year long.
---
Entertainment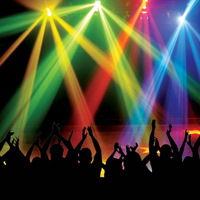 If there's one thing you can count on when spending time in New Mexico, it's the treasured experiences and wide selection of entertainment: music venues, great sporting events, theatrical and musical entertainment as well as year-round festivals.
From festivals, music concerts and dance performances to theatrical offerings by local and touring groups, the performing artists work hard to keep its locals and visitors entertained by both New Mexico performers and acclaimed stars from around the world.
---
About Kachina Mountain Realty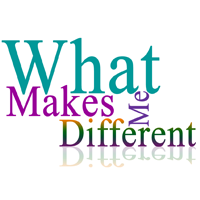 I am passionate about real estate development. I consider myself a "Dream Maker", and strive to help my clients manifest their dreams and lifestyle goals.
I believe that, "…the dreams which accompany all human actions should be nurtured by the places in which people live and work".
To promote this possibility, I encourages my clients to develop and share their dreams and lifestyle goals as part of the process of selling, buying or investing in property.
I have over thirty years of business experience as an executive producer, web architect, social media marketer, business developer, architecture assistant, real estate marketing developer and real estate consultant.
I am a licensed real estate qualifying broker for Kachina Mountain Realty & an accredited ACRE® real estate consultant. I have worked in the Santa Fe & Taos real estate market for years. I specialize in working with buyers and sellers who are looking for a solid real estate investment.
Contact me, Dianne McKenzie, for your real estate transactions & let me help you manifest your dreams!
I am readily available by cell phone, text, (505.603.9300) & email. I return calls promptly, seven days a week!
Taos Office: 575.776.7576
---
Go Green:

Recycle This E-Newsletter!
After you've enjoyed our Eco Lifestyle and Home newsletter, please recycle it by emailing it to a family member, friend, neighbor or coworker!
---