Eco Lifestyle And Home Newsletter April 2016 – Trust
Eco Lifestyle And Home Newsletter April 2016 – Trust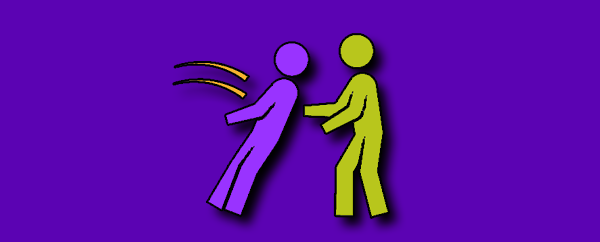 Dear Friends, Clients, Business Associates and Neighbors,
In this 29th edition of Eco Lifestyle and Home News, we offer Real Estate & Lifestyle news in 23 pages of content where our contributors address the current monthly theme of "Trust", as relates to all areas of our life.
 
In this edition we offer: 
Events Around New Mexico
Take a Hike! with Cecilie Bodman
April Numerology
Creating Clarity with Lainie Grimmer
Sarah Claudia Stout
Nerium: Age defying products
Savory Spice of Santa Fe
Mortgage News with Francis Phillips
Debbie DeMarais: Home Staging+Design
Real Estate Market Report Albuquerque
Albuquerque Real Estate Listings
Santa Fe Real Estate Listings: Aldea, Santa Fe & Las Campanas
Mobile Real Estate Search App: Free for Smart Phones & Tablets
Taos Ski Valley Real Estate News
Dog Treat Recipe of the Month: Standard poodle & service dog, Aeowyn, shares her Dog Treat Recipe
Free Reports: How Sellers Price Their Homes, How To Sell Your House For The Most Money In The Shortest Possible Time, and more…
Monthly Newsletter Theme For April: Trust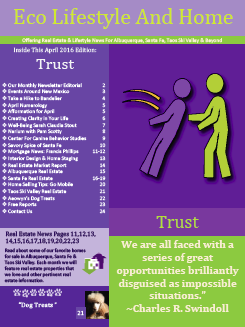 "Believe it or not this is the life you signed up for, so make it work for you. Follow your path and realize that the difficult situations are the ones that make you better and provide you with a much richer and happier existence. Life is tough. No doubt. But when you can learn to trust in the process of your life and accept where it has brought you to, the rewards are always richly granted. Remember the universe always has your back. So, learn to trust the process of your life to bring you to where you need to be. There isn't anywhere else to go. Enjoy the process." ~Donnalynn Civello
I do not think I am a very trusting soul. I don't have a deep sense of belief or "trust in the universe". I do not know what my higher purpose is, or why I am here or what "trusting the universe" really means. I am not a person of "faith". I understand what I have been able to accomplish, but I do not feel that there is divine guidance playing a part in my life.
I don't feel I am supported by my guides or the universe. I do not know who these guides are or where these guides reside. I must be deaf to their wisdom.
I do trust that I have the ability to keep evolving and surviving and persevering. I understand that life is a process of growing and evolving and learning through experiences. I do not have faith in some higher power, some mystical wisdom that is giving me opportunities and obstacles along the way, to help me grow. I do trust that I will make decisions and that I will have to live with the outcomes.
But what I do know now, is that by accepting what is, what has been, and what will be, causes me less suffering. I simply want to be happy: mentally and physically and to cultivate ease of well-being. I want to be competent, reliable, trustworthy, truthful, successful, kind and loving. It is a life process and by the time I really understand the answers to my searching, I probably won't exist in physical form and most likely not care about the outcome. I don't see my attitude as pessimistic, just realistic.
I used to keep this phrase written down in the glove box in my car: "Remember, you are living on a trust fund", just to remind me that all I really needed to do, is put one foot in front of another and keep going.
Thank you for reading our newsletter. ~ Dianne McKenzie & Aeowyn, Cecilie Bodman and our content contributors.
---
Eco Lifestyle and Home News comes to you in its twenty-ninth edition of our Newsletter. The creators of this newsletter are Dianne McKenzie & Cecilie Bodman, real estate associate brokers for Equity New Mexico. We decided to produce a conscious newsletter that has information about some real estate but more about living, playing & working. We also wanted to include our professional friends' expertise as it relates to home, health, well-being, & lifestyle.
Please introduce us to your friends and family for their real estate needs, whether they are considering buying a home or thinking about getting their home sold this year. Many thanks.
Thank you for reading our newsletter.
– Dianne McKenzie & Aeowyn, Cecilie Bodman & our content contributors