Eco Lifestyle And Home Newsletter July 2016 Healing
Eco Lifestyle And Home Newsletter July 2016 Healing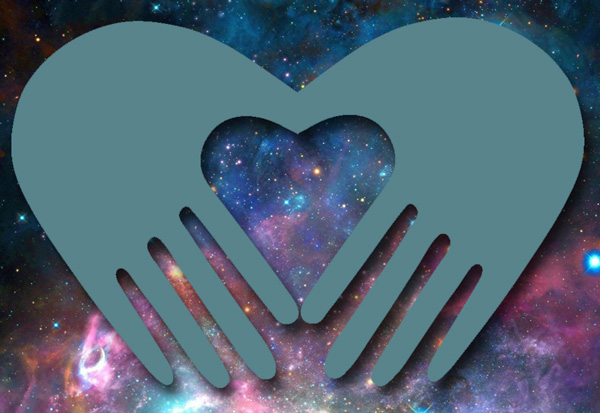 Dear Friends, Clients, Business Associates and Neighbors,
In this 32nd edition of Eco Lifestyle and Home News, we offer Real Estate & Lifestyle news in 23 pages of content where our contributors address the current monthly theme of "Healing", as relates to all areas of our life.
In this edition we offer: 
Events Around New Mexico
July Numerology
Creating Clarity with Lainie Grimmer
Sarah Claudia Stout
Nerium: Age defying products
Savory Spice of Santa Fe
Mortgage News with Francis Phillips
Debbie DeMarais: Home Staging+Design
Real Estate Market Report Albuquerque
Albuquerque Real Estate Listings
Santa Fe Real Estate Listings: Aldea, Santa Fe & Las Campanas
Mobile Real Estate Search App: Free for Smart Phones & Tablets
Taos Ski Valley Real Estate News
Dog Treat Recipe of the Month: Standard poodle & service dog, Aeowyn, shares her Dog Treat Recipe
Free Reports: How Sellers Price Their Homes, How To Sell Your House For The Most Money In The Shortest Possible Time, and more…
July Theme Editorial: Healing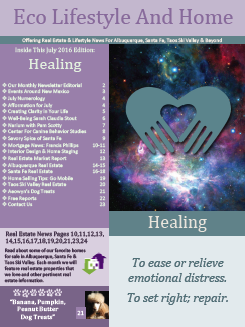 I have been a "follower" of Louise Hay since the early 1980's. She is one of the first teachers to advocate the power of positive thinking. Her books on daily affirmations, recordings and movies have always inspired me. More than 50 million copies of "You Can Heal Your Life" have been sold throughout the world. Louise offer tools and insights to help you heal your life.
If you are not familiar with her work, you must check out her websites: http://www.HealYourLife.com  & http://www.louisehay.com
"Through Louise's healing techniques and positive philosophy, millions have learned to create more of what they want in their lives–more wellness in their bodies, minds, and spirits."
From Louise Hay's website:
How to Heal
How you can heal your life or heal your body has been a constant human quest throughout time. Some people choose natural healing or holistic healing paths incorporating alternative healing methods such as healing herbs or crystal healing, while others choose faith healing using healing scriptures or healing hands.
Alternative Healing
Regardless of the healing program chosen, the restorative healing process is complicated by the lack of knowledge regarding the interaction between spiritual healing and physiological healing, leading many to seek holistic healing via alternative healing methods at natural healing centers.
What is Healing?
After all, what is healing? Healing refers to correcting a problem, and knowing exactly what needs to be healed can go a long way towards self-healing. Sometimes the healing power of a caring, reiki healing touch can lead to a natural healing, similar to a shaman healing. Yet for others, no-touch energy healing, or pranic healing, is exactly what is needed for self-healing.
Healing Process
And for others, to achieve self-healing, instead of using traditional healing prayers, reciting healing quotes or attending a healing retreat for spiritual healing is the healing code needed for true metaphysical healing.
Heal Your Life | Heal Your Body: How to heal your life is your choice – take the time to explore the many new age healing alternatives available today to heal your body and life.
Thank you for reading our newsletter. ~ Dianne McKenzie & Aeowyn, and Cecilie Bodman
---
Eco Lifestyle and Home News comes to you in its thirty second edition of our Newsletter. The creators of this newsletter are Dianne McKenzie & Cecilie Bodman, real estate associate brokers for Equity New Mexico. We decided to produce a conscious newsletter that has information about some real estate but more about living, playing & working. We also wanted to include our professional friends' expertise as it relates to home, health, well-being, & lifestyle.
Please introduce us to your friends and family for their real estate needs, whether they are considering buying a home or thinking about getting their home sold this year. Many thanks.
Thank you for reading our newsletter.
– Dianne McKenzie & Aeowyn, Cecilie Bodman & our content contributors