Eco Lifestyle And Home Newsletter March 2016 – Cultivate –
Eco Lifestyle And Home Newsletter
March 2016 – Cultivate –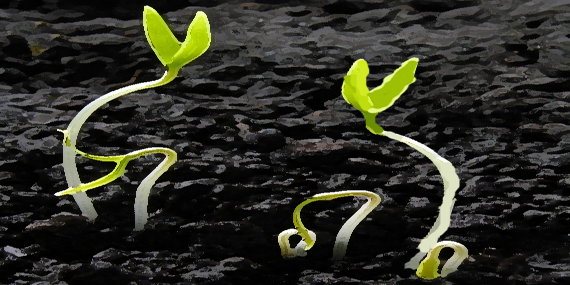 Dear Friends, Clients, Business Associates and Neighbors,
In this 28th edition of Eco Lifestyle and Home News, we offer Real Estate & Lifestyle news in 23 pages of content where our contributors address the current monthly theme of "Cultivate", as relates to all areas of our life.
 
In this edition we offer: 
Events Around New Mexico
Take a Hike! with Cecilie Bodman
March Numerology
Creating Clarity with Lainie Grimmer
Sarah Claudia Stout
Nerium: Age defying products
Savory Spice of Santa Fe
Mortgage News with Francis Phillips
Debbie DeMarais: Home Staging+Design
Real Estate Market Report Albuquerque
Albuquerque Real Estate Listings
Santa Fe Real Estate Listings: Aldea & Las Campanas
Mobile Real Estate Search App: Free for Smart Phones & Tablets
Taos Ski Valley Real Estate News
Dog Treat Recipe of the Month: Standard poodle & service dog, Aeowyn, shares her Dog Treat Recipe
Free Reports: How Sellers Price Their Homes, How To Sell Your House For The Most Money In The Shortest Possible Time, and more…
Monthly Newsletter Theme For March: Cultivate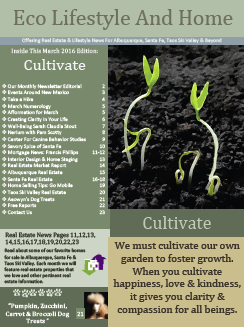 What do you want in your life? How do you want to live? What is important to you?
No matter what your answer is, it all comes down to 3 things: mental happiness, physical happiness, and ease of well-being. If you want financial stability, good health, love, the ability to travel, time with friends, time for making art etc… The answers revolve around happiness and ease of well-being.
But how do we succeed in reaching our goals? It starts with cultivation. It takes work, actively engaging in taking action: active learning, active thinking, active analyzing, active searching… If this all sounds like work, it is. Cultivating anything, takes ones active participation and it takes practice, tenacity, & intention.
To help one on the road to cultivate ones desires and reach ones goals, here are some steps to take, not just read, but to actively engage in discovering (cultivating) the answers.
Visualize yourself in 5 years from now. What do you see for yourself? What do you see yourself surrounded with? What do you see yourself doing, being, feeling?
What are you afraid of, right now?
What are you willing to do to stay true to who you are or who you want to be?
What areas of your life are in sync with what you want?
What areas in your life do you wish to change?
What do you wish you were doing that would make you happier?
What kinds of problem solving makes you feel successful?
What makes you unique?
What are your values?
Who are some of the people you admire and what are their characteristics that you admire?
What are some of the commonalities in the people that you admire?
What are your qualities that others would admire, if they knew you?
Creating a life worth living takes cultivation. Learning, solving problems, active participation, an eagerness to learn, to grow, to dream, to imagine, to make mistakes, and to fail. It's not whether you get knocked down, it's whether you get back up. Cultivation takes nurturing, learning, growing.
I am committed to cultivating kindness, compassion, understanding, wisdom, success, prosperity, good health and above all love. It takes practice; practice over and over and over again, and again. I think by the time I really "get it", I will be on my deathbed and see the "light". And then it is over until it starts again. The merry-go round keeps on turning. Cultivating is an endless process.
Thank you for reading our newsletter. ~ Dianne McKenzie & Aeowyn, Cecilie Bodman and our content contributors.
---
Eco Lifestyle and Home News comes to you in its twenty-seventh edition of our Newsletter. The creators of this newsletter are Dianne McKenzie & Cecilie Bodman, real estate associate brokers for Equity New Mexico. We decided to produce a conscious newsletter that has information about some real estate but more about living, playing & working. We also wanted to include our professional friends' expertise as it relates to home, health, well-being, & lifestyle.
Please introduce us to your friends and family for their real estate needs, whether they are considering buying a home or thinking about getting their home sold this year. Many thanks.
Thank you for reading our newsletter.
– Dianne McKenzie & Aeowyn, Cecilie Bodman & our content contributors