Eco Lifestyle And Home Newsletter November 2015 Simplify

Dear Friends, Clients, Business Associates and Neighbors,
In this 24th edition of Eco Lifestyle and Home News, we offer Real Estate & Lifestyle news in 24 pages of content where our contributors address the current monthly theme of "Simplify", as relates to all areas of our life.
In this edition we offer: 
Events Around New Mexico
Take a Hike!
November Numerology
Creating Clarity
Sarah Claudia Stout
Pamela Cornish, DOM
Nerium: Age defying products
Mortgage News with Francis Phillips
Special Offers to Our Readers: 10% Discount at Lowe's Home Improvement
Debbie DeMarais: Home Staging+Design
Real Estate Market Report Albuquerque
Albuquerque Real Estate Listings
Santa Fe Real Estate Listings: Aldea, Tessera & Las Campanas
Mobile Real Estate Search App: Free for Smart Phones & Tablets
Taos Ski Valley Real Estate News
Dog Treat Recipe of the Month: Standard poodle & service dog, Aeowyn, shares her Dog Treat Recipe
Free Reports: How Sellers Price Their Homes, How To Sell Your House For The Most Money In The Shortest Possible Time, and more…
November Theme Editorial: Simplify
"The ability to simplify means to eliminate the unnecessary so that the necessary may speak." ~ Hans Hoffman
 
"Out of clutter, find simplicity. From discord, find harmony. In the middle of difficulty lies opportunity." ~ Albert Einstein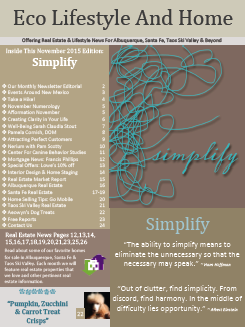 As we approach the busy holiday season, we all seem to get involved with more activities, commitments and responsibilities that can quickly overwhelm us. Our daily lives can quickly become entangled in a maze of clutter, multi-tasking, complications, and stress.
Simplifying your life doesn't necessarily mean doing without.
To simplify ones life, does not mean you have to live without possessions or to live in frugality, but to slow down and live a more balanced, deliberate, healthier and thoughtful life.
I am in the process of moving towards a simpler way of being and have gathered some quotes that are inspiring me to re-examine my life as I prepare for the coming new year.
" Simplify your life amplifies your future."
"If you can't explain it simply, you don't understand it well enough." ~ Albert Einstein
"Our life is frittered away by detail… Simplify, simplify." ~ Henry David Thoreau
"Simplicity is the ultimate sophistication." ~ Leonardo da Vinci
"Life is really simple, but we insist on making it complicated."  ~ Confucius
"Simplicity is the ultimate sophistication." ~ Leonardo da Vinci
Thank you for reading our newsletter. ~ Dianne McKenzie & Aeowyn, Cecilie Bodman & our content contributors
Can't wait?
---
Eco Lifestyle and Home News comes to you in its twenty-third edition of our Newsletter. The creators of this newsletter are Dianne McKenzie & Cecilie Bodman, real estate associate brokers for Equity New Mexico. We decided to produce a conscious newsletter that has information about some real estate but more about living, playing & working. We also wanted to include our professional friends' expertise as it relates to home, health, well-being, & lifestyle.
Please introduce us to your friends and family for their real estate needs, whether they are considering buying a home or thinking about getting their home sold this year. Many thanks.
Thank you for reading our newsletter.
– Dianne McKenzie & Aeowyn, Cecilie Bodman & our content contributors