Eco Lifestyle And Home Newsletter October 2015 Transformation
Eco Lifestyle And Home
Newsletter October 2015
Transformation

Dear Friends, Clients, Business Associates and Neighbors,
In this 23rd edition of Eco Lifestyle and Home News, we offer Real Estate & Lifestyle news in 25 pages of content where our contributors address the current monthly theme of "Transformation", as relates to all areas of our life.
 
In this edition we offer: 
Events Around New Mexico
Take a Hike! Art Hike in El Rito & Joseph Mica Mines in Ojo Caliente for 
October Numerology
Creating Clarity: Transformation
Sarah Claudia Stout: The Transformative Power of Befriending Shame
Pamela Cornish, DOM
Nerium: Age defying products
Mortgage News with Francis Phillips
Special Offers to Our Readers: 10% Discount at Lowe's Home Improvement
Debbie DeMarais: Home Staging+Design
Real Estate Market Report Albuquerque
Albuquerque Real Estate Listings
Santa Fe Real Estate Listings: Aldea, Tessera & Las Campanas
Mobile Real Estate Search App: Free for Smart Phones & Tablets
Taos Ski Valley Real Estate News
Dog Treat Recipe of the Month: Standard poodle & service dog, Aeowyn, shares her Pumpkin Apple Treats
Free Reports: How Sellers Price Their Homes, How To Sell Your House For The Most Money In The Shortest Possible Time, and more…
October Theme Editorial: Transformation
"Transformation usually involves the shedding of old ways, especially those that have become burdens. No matter who you are, no matter what has already happened to you, no matter what you have done, it is still possible to be and do something new."~ Frederic and Mary Ann Brussat
 
"Change fixes the past. Transformation creates the future." ~Chris McGoff
Change involves fixing and improving something, where as Transformation is about creating something new.
"A butterfly is a transformation, not a better caterpillar." ~ Chris McGoff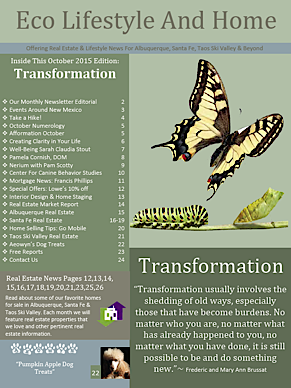 So here we are again at another turning point in the season. Autumn is my favorite time of year. I love how the light is different, softer, more golden. I love the slight nip in the air. I feel more sentimental and nostalgic and seem to fall in love with everything again. I always have to buy the first pumpkins and decorate the house for the coming season.
Watching the season evolve in nature, is also a way to get in touch with ourselves and observe how we have transformed within the last year's cycles. For me, my life is shifting, moving, evolving & letting go. We have moved/redesigned our living and work space several times this year. I am planning on a major transformation in the middle of this month with a total knee replacement, where I will transform from being in pain to eventually being able to walk without pain. After over a decade of pain, discomfort, and denial —followed by equally long periods of thinking about it, preparing, and "trying ", I am taking the plunge to transform my life. In preparation for the big event, I have been in physical rehab and started a healthier diet /lifestyle change.
Transformation is scary, intense and challenging, no matter how necessary it is. There is a shedding of the familiar, regardless of how the old ways are no longer appropriate.
More thoughts from Chris McGoff:
"When you choose the path of TRANSFORMATION, it becomes easier to leave the past behind after thoroughly considering the As Is. You permit yourselves to envision the future freely; you make specific promises, with full INTEGRITY, about how things shall be. You take action to ensure that we live into your declarations about the future."
"When we transform in the direction of our dreams, we fulfill a sacred contract. We rise to a Hero's Journey challenge. That may mean confronting dark forests and dragons. It may mean doing things that family, friends, and colleagues don't approve of, or even understand. It may mean traveling unmarked paths — the kind that are "less traveled," primarily because they aren't, at first glance, terribly appealing." ~ Pilar Gerasimo
I am not sure if I will emerge as a butterfly, but I know I am not going to be the same as I have been. Here's to transformation!
 
---
Eco Lifestyle and Home News comes to you in its twenty-third edition of our Newsletter. The creators of this newsletter are Dianne McKenzie & Cecilie Bodman, real estate associate brokers for Equity New Mexico. We decided to produce a conscious newsletter that has information about some real estate but more about living, playing & working. We also wanted to include our professional friends' expertise as it relates to home, health, well-being, & lifestyle.
Please introduce us to your friends and family for their real estate needs, whether they are considering buying a home or thinking about getting their home sold this year. Many thanks.
Thank you for reading our newsletter.
– Dianne McKenzie & Aeowyn, Cecilie Bodman & our content contributors