Eco Lifestyle And Home Newsletter September 2015 Well-Being
Eco Lifestyle And Home
Newsletter September 2015
Well-Being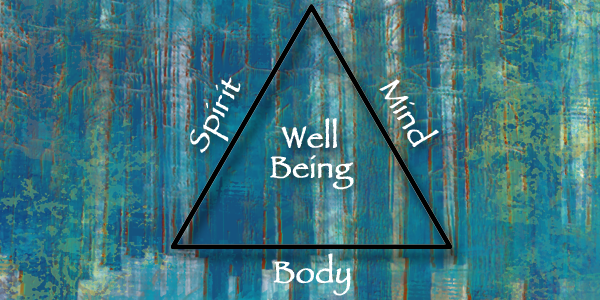 Dear Friends, Clients, Business Associates and Neighbors,
In this 22nd edition of Eco Lifestyle and Home News, we offer Real Estate & Lifestyle news in 25 pages of content where our contributors address the current monthly theme of "Well-Being", as relates to all areas of our life.
In this edition we offer: 
Events Around New Mexico
Take a Hike! Atalaya in Santa Fe
September Numerology
Creating Clarity: Well Being
Sarah Claudia Stout: The Well of Well-Being
Pamela Cornish, DOM
Attracting Perfect Customers
Mortgage News with Francis Phillips
Special Offers to Our Readers: 10% Discount at Lowe's Home Improvement
Debbie DeMarais: Home Staging+Design
Real Estate Market Report Albuquerque
Albuquerque Real Estate Listings
Santa Fe Real Estate Listings: Aldea, Tessera & Las Campanas
Mobile Real Estate Search App: Free for Smart Phones & Tablets
Taos Ski Valley Real Estate News
Dog Treat Recipe of the Month: Standard poodle & service dog, Aeowyn, shares her Peanut Butter Pumpkin Treats
Free Reports: How Sellers Price Their Homes, How To Sell Your House For The Most Money In The Shortest Possible Time, and more…
September Theme Editorial: Well-Being
"May all beings cultivate
mental happiness,
physical happiness and
ease of well-being."
– Loving Kindness Meditation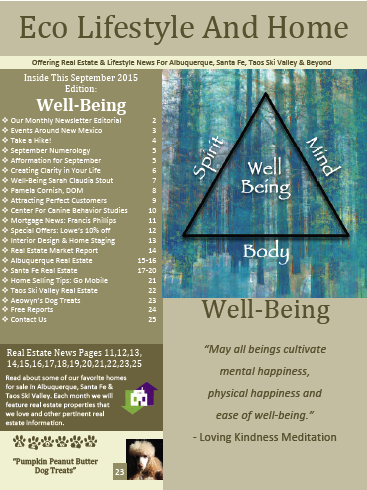 We all seek well-being. Cultivating well-being in our lives comes in many forms. For some, it comes from being in nature, spending time in ones art studio, playing with ones dog, spending quality time with friends and family, succeeding in business, being healthy etc.
Regardless of ones definition of well-being it all comes down to 3 things: mental happiness, physical happiness, and ease of well-being. It is really that simple.
Mental happiness gives us peace; peace from worry, peace from fear, peace from anger, peace from delusions, peace from grasping. Physical happiness takes in all aspects of our physical well-being: enjoyment of health, freedom from physical pain and suffering, and harmony with our bodies, having plenty of nutrition and food. The ease of well-being is a bit more complex to grasp. For me, "ease of well-being" means accepting what is, staying in the present moment, cultivating equanimity. The thoughts of "joy", "happiness", "loving kindness" come to mind.
Experiencing well-being doesn't have to come from the big successes in life. Well-being can be experienced in small fragments: noticing the watchful kindness in your dogs eyes, pausing to notice the sunset or experiencing the quiet of the sunrise, watching someone you love sleeping, savoring the taste of a meal.
If I waited for the big moments in life to be happy, joyful, or at ease, life might just pass me by without really noticing all the joy that is around me in the smallness of events.
So how do we cultivate more well-being? For me, it comes from a meditation practice that helps me be mindful. For others it might be through exercise, or playing a musical instrument, walking in nature etc. Finding well-being in the daily small events and really noticing them, celebrating them, pausing to experience them, is essential to cultivating a life of well-being.
May you cultivate mental happiness.
May you cultivate physical happiness.
May you cultivate ease of well-being.
---
Eco Lifestyle and Home News comes to you in its twenty-second edition of our Newsletter. The creators of this newsletter are Dianne McKenzie & Cecilie Bodman, real estate associate brokers for Equity New Mexico. We decided to produce a conscious newsletter that has information about some real estate but more about living, playing & working. We also wanted to include our professional friends' expertise as it relates to home, health, well-being, & lifestyle.
Please introduce us to your friends and family for their real estate needs, whether they are considering buying a home or thinking about getting their home sold this year. Many thanks.

Thank you for reading our newsletter.
– Dianne McKenzie & Aeowyn, Cecilie Bodman & our content contributors