Eco Lifestyle And Home Newsletter September 2016 Awareness
Eco Lifestyle And Home
Newsletter September 2016
Awareness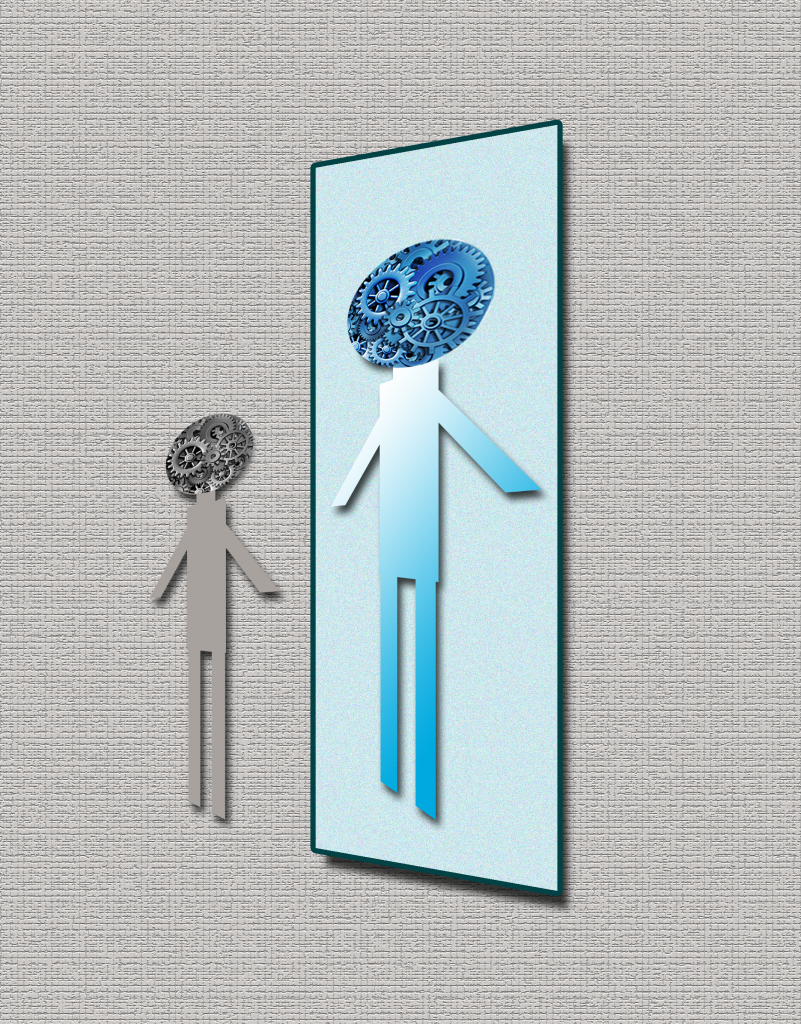 Dear Friends, Clients, Business Associates and Neighbors,
In this 34th edition of Eco Lifestyle and Home News, we offer Real Estate & Lifestyle news in 22 pages of content where our contributors address the current monthly theme of "Awareness", as relates to all areas of our life.
In this edition we offer: 
Events Around New Mexico
September Numerology
Creating Clarity with Lainie Grimmer
Sarah Claudia Stout
Nerium: Age defying products
Mortgage News with Francis Phillips
Debbie DeMarais: Home Staging+Design
Real Estate Market Report Albuquerque
Albuquerque Real Estate Listings
Santa Fe Real Estate Listings: Aldea, Santa Fe & Las Campanas
Mobile Real Estate Search App: Free for Smart Phones & Tablets
Taos Ski Valley Real Estate News
Dog Treat Recipe of the Month: Standard poodle & service dog, Aeowyn, shares her Dog Treat Recipe
Free Reports: How Sellers Price Their Homes, How To Sell Your House For The Most Money In The Shortest Possible Time, and more…
September Theme Editorial: Awareness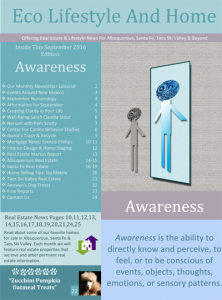 Cultivating awareness is the process of waking up. Listening, seeing, being truly present. Quotes often inspire me.  I have collected some that may inspire you:
"Enlightened leadership is spiritual if we understand spirituality not as some kind of religious dogma or ideology but as the domain of awareness where we experience values like truth, goodness, beauty, love and compassion, and also intuition, creativity, insight and focused attention." ~ Deepak Chopra
"Success is getting what you want, happiness is wanting what you get". ~ Dale Carnegie
"The greatest mistake of the movement has been trying to organize a sleeping people around specific goals. You have to wake the people up first, then you'll get action." ~ Malcolm X
"Waking up is not a selfish pursuit of happiness, it is a revolutionary stance, from the inside out, for the benefit of all beings in existence." ~ Noah Levine
"The Universe contains three things that cannot be destroyed; Being, Awareness and LOVE" ~ Deepak Chopra
"These things will destroy the human race: politics without principle, progress without compassion, wealth without work, learning without silence, religion without fearlessness, and worship without awareness." ~ Anthony de Mello
"Rather than being your thoughts and emotions, be the awareness behind them." 
~ Eckhart Tolle
"The whole idea of compassion is based on a keen awareness of the interdependence of all these living beings, which are all part of one another, and all involved in one another." ~ Thomas Merton
"Awareness is observation without choice, condemnation, or justification. Awareness is silent observation from which there arises understanding without the experiencer and the experienced. In this awareness, which is passive, the problem or the cause is given an opportunity to unfold itself and so give its full significance. In awareness there is no end in view to be gained, and there is no becoming, the 'me' and the 'mine' not being given the continuity." ~ Jiddu Krishnamurti
"Bring awareness to each act. Walking on the road, walk fully alert; eating, eat with awareness. Whatsoever you are doing, don't let the past and the future interfere. Be in the present. That's what awareness is all about." ~ Osho
 
"Every human has four endowments – self awareness, conscience, independent will and creative imagination. These give us the ultimate human freedom… The power to choose, to respond, to change." ~ Stephen R. Covey
"We need more explorers in consciousness and less followers of beliefs, isms, and credos. Religions and spiritual leaders influence millions by pushing their beliefs. They believe in the Bible, the Koran, and the Gita, but do not personally 'know' the essence within them. Too many believe in beliefs and are not who they profess to be, nor any closer to the truth than the totally unaware." ~ Robert S. Cosmar
Thank you for reading our newsletter. ~ Dianne McKenzie & Aeowyn, and Cecilie Bodman
---
Eco Lifestyle and Home News comes to you in its thirty second edition of our Newsletter. The creators of this newsletter are Dianne McKenzie & Cecilie Bodman, real estate associate brokers for Equity New Mexico. We decided to produce a conscious newsletter that has information about some real estate but more about living, playing & working. We also wanted to include our professional friends' expertise as it relates to home, health, well-being, & lifestyle.
Please introduce us to your friends and family for their real estate needs, whether they are considering buying a home or thinking about getting their home sold this year. Many thanks.
Thank you for reading our newsletter.
– Dianne McKenzie & Aeowyn, Cecilie Bodman & our content contributors

Save
Save
Save
Save
Save
Save
Save