Eco Lifestyle And Home December Newsletter – Giving
Eco Lifestyle And Home December Newsletter – Giving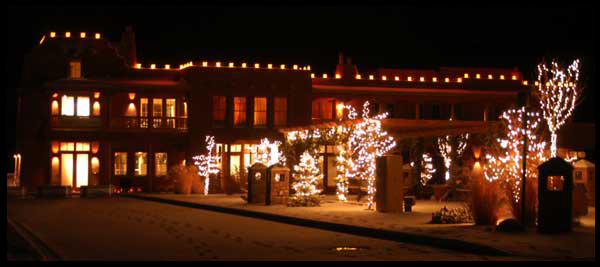 Dear Friends, Clients, Business Associates and Neighbors,
December's theme for our Eco Lifestyle and Home News is Giving.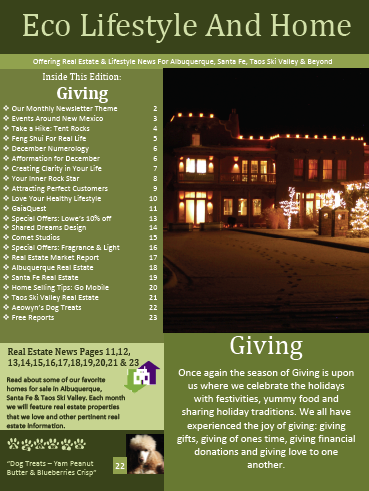 Giving
Once again the season of Giving is upon us where we celebrate the holidays with festivities, yummy food and sharing holiday traditions. We all have experienced the joy of giving: giving gifts, giving of ones time, giving financial donations and giving love to one another.
There is more to giving of things. I have just recently realized how powerful the gift of giving of honesty when it is also helpful.
I have noticed in recent group functions that many people speak their mind, without thought of how it would affect other people. Anger, accusations and incomplete truths can run rampant along with irrational, misguided, uninformed, and the fear based arguments. The crowd picks up on the energy and feeds more negativity. I have been at loss for comments to either set the "record straight", or retort a quick remark, or match the negative energy with a "honest" comment.
But when I think of being honest and helpful, I have given pause for thought. I have had long mental discussions with myself as how best to respond to group negative comments. How can I be helpful and honest? What can I say to make the situation better? I am reminded of a saying from The Buddha:
If it is not truthful and not helpful, don't say it.
If it is truthful and not helpful, don't say it.
If it is not truthful and helpful, don't say it.
If it is truthful and helpful, wait for the right time. – Buddha
There would be a lot fewer words spoken if this was everyone's guide. I keep coming back to this quote and marveling at how challenging it is to follow this simple, yet profound instruction.
Consistently speak only what is truthful AND helpful will give gift of kindness now during this holiday season as well as all year long.
Read the newsletter to find out how you can increase your ability to be giving.
In this edition our contributors address Giving as relates to all areas of our life.
In this edition we offer:
Events Around New Mexico
Take a Hike: Tent Rocks
Feng Shui for Real Life
December Numerology
Creating Clarity: Giving
Your Inner Rock Star Coach
Attracting Perfect Customers
Love Your Healthy Lifestyle with Julie Hansen
GaiaQuest: Permaculture
Special Offers to Our Readers: 10% Discount at Lowe's Home Improvement
Shared Dreams Design
Comet Studios: Myths & Facts
Special Offers: Fragrance and Light
Real Estate Market Report
Albuquerque Real Estate Listings
Santa Fe Real Estate Listings
Mobile Real Estate Search App: Free for Smart Phones & Tablets
Taos Ski Valley Real Estate News
Dog Treat Recipe of the Month: Standard poodle & service dog, Aeowyn, shares her Yam Peanut Butter Blueberry Treat Recipe
Free Reports: How Sellers Price Their Homes, How To Sell Your House For The Most Money In The Shortest Possible Time, and more…
Eco Lifestyle and Home News comes to you in its Thirteenth edition of our Newsletter. The creators of this newsletter are Dianne McKenzie & Cecilie Bodman, real estate associate brokers for Equity New Mexico. We decided to produce a conscious newsletter that has information about some real estate but more about living, playing & working. We also wanted to include our professional friends' expertise as it relates to home, health, well-being, & lifestyle.
Please introduce us to your friends and family for their real estate needs, whether they are considering buying a home or thinking about getting their home sold this year. Many thanks.
Sending blessing to all of you & hoping you find ways to give this holiday season!
Dianne McKenzie, Cecilie Bodman & Aeowyn