Eco Lifestyle And Home Newsletter February 2015 Harmony
Eco Lifestyle And Home
Newsletter February 2015
Harmony
Dear Friends, Clients, Business Associates and Neighbors,
February's theme for our Eco Lifestyle and Home News is Harmony.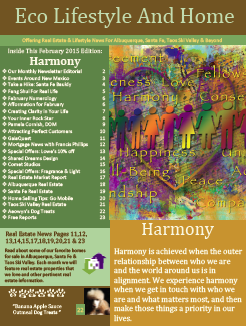 Harmony
The word "harmony" comes from the Greek word that means "joint, agreement, concord."
Another definition of harmony states: "Harmony is the combination of simultaneously sounded musical notes to produce a pleasing effect." The term harmony is used to refer to notes that, basically, come together to make a whole. Chords are several notes played together to form the basis of many harmonies. A choir is filled with dozens of voices that all blend together to make a sound. If the voices all sound good together, we marvel at their harmony.
Harmony is about unity, consensus & fellowship, all coming together for the greater good.
Living in community requires harmony in the midst of differing viewpoints, ideas, needs & reactions. Just like a talented conductor, it takes a skillful facilitator to bring the variety of viewpoints to a consensus.
When I look around at various planned communities, I sometimes see non-harmonious & contentious issues dividing communities; such as political polarization, debates about solar installations, the "chicken wars" of Eldorado or the anti barn restoration that was so divisive at The Sea Ranch in California. When community health is threatened by such disruptive issues, solutions need to be found that nurture & strengthen a critical mass of common community interests; as needed to maintain the harmonious balance that healthy communities require.
Creating harmony is to be at peace with one's immediate relations, those with whom one must live with every day. Calm silence, sincerity, & courteous words, whether one is agreeing or disagreeing with others, bridges the gap between differing viewpoints.
Humanity faces many unavoidable challenges that require our best defense without us creating additional unnecessary problems between ourselves. Kindness is the greatest catalyst of harmony.
Tips to create harmony:
Realize that if you are at peace with yourself, then it is easier for you to be at peace with others & your community.
Resolve conflicts with patience, tolerance, & communication. Education is the key to understanding & resolving issues.
Recognize that people have individual lifestyle preferences when it comes to things like food, fragrances, fashion, & entertainment & that sometimes one person's trash might be another person's treasure.
Recognize the abundant potential that exists for us to be adequately sustained through cooperation & an intelligent management of our resources.
Seek to enjoy life & seek to allow others to do the same.
Read the newsletter to find out how you can increase your ability to cultivate more harmony in your community and your life.
In this edition our contributors address Harmony as relates to all areas of our life.
In this edition we offer:
Events Around New Mexico
Take a Hike: Santa Fe Bauldy
Feng Shui for Real Life
February Numerology
Creating Clarity: Harmony
Your Inner Rock Star Coach
Pamela Cornish, DOM
Attracting Perfect Customers
GaiaQuest:
Mortgage News with Francis Phillips
Special Offers to Our Readers: 10% Discount at Lowe's Home Improvement
Shared Dreams Design
Comet Studios:
Special Offers: Fragrance and Light
Real Estate Market Report
Albuquerque Real Estate Listings
Santa Fe Real Estate Listings
Mobile Real Estate Search App: Free for Smart Phones & Tablets
Taos Ski Valley Real Estate News
Dog Treat Recipe of the Month: Standard poodle & service dog, Aeowyn, shares her Banana Apple Sauce Oatmeal Recipe
Free Reports: How Sellers Price Their Homes, How To Sell Your House For The Most Money In The Shortest Possible Time, and more…
Eco Lifestyle and Home News comes to you in its fifteenth edition of our Newsletter. The creators of this newsletter are Dianne McKenzie & Cecilie Bodman, real estate associate brokers for Equity New Mexico. We decided to produce a conscious newsletter that has information about some real estate but more about living, playing & working. We also wanted to include our professional friends' expertise as it relates to home, health, well-being, & lifestyle.
Please introduce us to your friends and family for their real estate needs, whether they are considering buying a home or thinking about getting their home sold this year. Many thanks.
Thank you for reading our newsletter!
Dianne McKenzie, Cecilie Bodman, Aeowyn & our content contributors