Favorite Current Homes For Sale In Aldea: 5 Arroyo Privado
Post navigation
Favorite Current Homes For Sale In Aldea: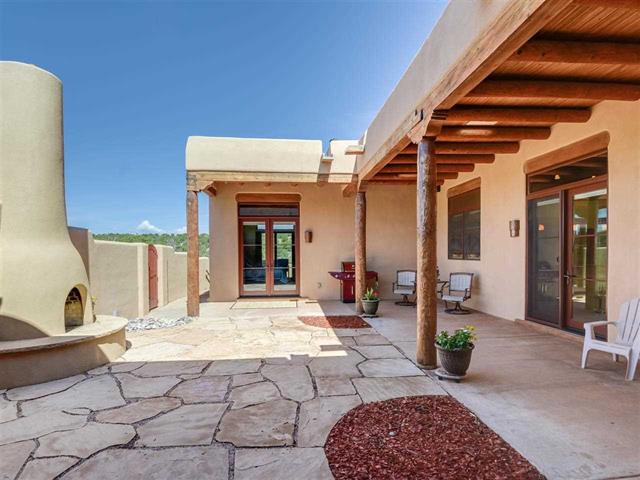 5 Arroyo Privado
Asking Price: $527,000
Bedrooms: 4
Baths: 4(3 3 1)
Total Sq Ft: 2,440
Price/TotSF: $215.98
Garage Spaces: 2
Guest House: 309
Levels: Two story
Interior Steps: yes
Number of Fireplaces: Three
 View the Slideshow:
[slideshow_deploy id='3194']
Property Description From the Santa Fe MLS:
"A former Parade of Homes Winner with a wonderful floor plan and a great location in Aldea – what could be better? How about an elegantly featured main house with an attendant guest casita (on same level as living areas) surrounding a charming center courtyard, perfect for gatherings nearly year-round. Beautiful finish details and spacious, open floor plan. This home naturally flows out to the courtyard spaces through glass doors giving a feeling of openness that exceeds its walls. The outdoor fireplace complete the setting…and this home becomes its own oasis, your private getaway from it all!"
What I like about this home is:
This is by far my favorite patio home currently on the market in Aldea. It has a separate guest house with its own full bath, which can be used as an office, upstairs bedroom with amazing arroyo views to the west and south, great for a media room that holds guests when present. This patio home is situated at the end lot, with open space bordering two sides, creating privacy and views like no other. The interior floor plan allows for separate spaces and communal areas that lead to the main portal covered private south facing courtyard, complete with outdoor fireplace. The master suite has patio access on east & west side with a fireplace.
The patio homes are a unique concept in Aldea and this one is the very best that was designed & built in Aldea. The southern views to Albuquerque & the Sandias are a coveted view corridor that is highly sought after and rarely found. Close to tennis courts, walking trails and priced very reasonably, you must come let me show you this home.
the quality upscale home, well crafted in detail with high end finishes, lighting & appliances
the views to the south & west.
the size, 4 bedrooms. Great vacation home for families and friends. Great retirement home too!
radiant heat, refrigerated central.
outdoor living areas with privacy & expansiveness.
Want to tour this home?
For a tour of this home and other homes, & townhomes in Aldea and the west & northwest side of Santa Fe, please call me, as I would love to show you our community and surrounding neighborhoods! I am readily available by cell phone, text, & email. I return calls promptly, seven days a week! Dianne: 505.603.9300
Specializing in real estate properties for Buyers & Sellers on Santa Fe's prestigious northwest side!
For a current PDF of Aldea Homes & Lots for sale contact me »
For My Sellers
When you choose me to be your Real Estate Agent/ Realtor©, I will give you a Gift Card to the place of your choosing upon successful closing of your home. Read more…»
For My Buyers
I offer a free Home Warranty for all Buyers who sign up with me to be your Realtor© upon every successful closing of your new home. Read more…»