Favorite Current Homes For Sale In Aldea: 37 Camino Botanica
Favorite Current Homes For Sale In Aldea: 37 Camino Botanica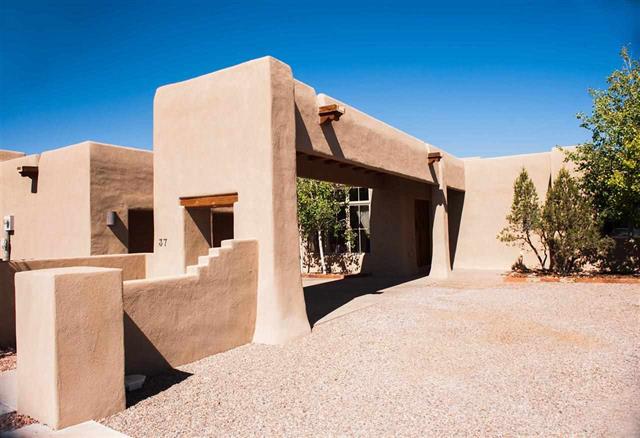 37 Camino Botanica
Asking Price: $699,00
Bedrooms: 3
Baths: 2(2 0 0)
Total Sq Ft: 3,279
Price/TotSF: $213.17
Garage Spaces: 2
Guest House: 309
Levels: single
Interior Steps: no
Number of Fireplaces: Three
Are you looking for a Santa Fe with panoramic views? Then I have a special home for you!
I get requests from buyers looking at homes on the west side of Santa Fe who strongly desire a southwest style home with long vistas.
View the Slideshow:
[slideshow_deploy id='3232']
Description from the SFAR MLS:
"This beautiful home built by Stewart Ewing in Aldea has all the extras: 3 bedrooms plus an office, living room plus a family room, formal dining room plus a breakfast nook. Situated on a ridge overlooking the neighborhood, the immaculate home features both Sangre and Jemez views. Practicality is not overlooked with a large capacity 75 gallon water heater, available cooking gas, and two garage door openers provided. Finishes include tile floors, granite countertops, hand adzed beams & corbels."
What I like about this home is:
Did I mention this home has amazing views from the west side, with vistas of most of Aldea, the Aldea Plaza, the Jemez Mountains and Los Alamos? The views are mesmerizing…This is a sunset viewing home! There is only a handful of homes with this great view and they have not been on the market in a very long time. Very upscale finishes,
This is my list of features that I really like:
the plaster walls, the adzed beams & doors
the breakfast room
large master suite luxury bathroom
the family/media room
covered west facing portal
and the views, the views, the views
Want to tour this home?
For a tour of this home and other homes, & townhomes in Aldea and the west & northwest side of Santa Fe, please call me, as I would love to show you our community and surrounding neighborhoods! I am readily available by cell phone, text, & email. I return calls promptly, seven days a week! Dianne: 505.603.9300
Specializing in real estate properties for Buyers & Sellers on Santa Fe's prestigious northwest side!
For a current PDF of Aldea Homes & Lots for sale contact me »
For My Sellers
When you choose me to be your Real Estate Agent/ Realtor©, I will give you a Gift Card to the place of your choosing upon successful closing of your home. Read more…»
For My Buyers
I offer a free Home Warranty for all Buyers who sign up with me to be your Realtor© upon every successful closing of your new home. Read more…»