I have found a great property in Aldea, at an affordable price
Are you looking for a custom built property in Aldea?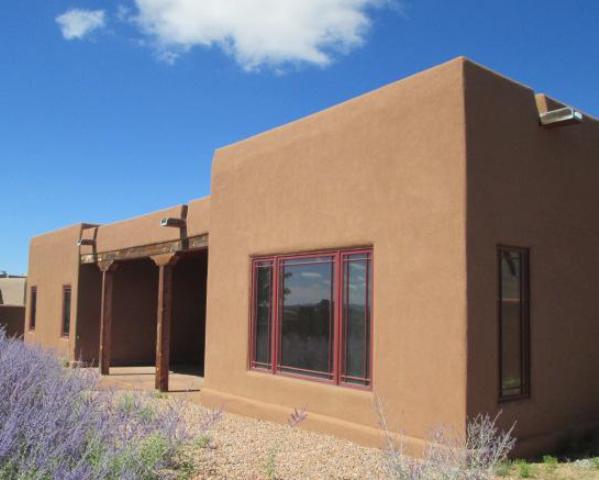 Then this property maybe right for you.
This property in Aldea, is a 3 bedroom 2.5 bath, master suite on one side and the other 2 bedrooms on the  south side. Views to the east with Sandia Mountain views out the front portal. Estimated square feet from 2004 building listing is 2,609, current listed at 2,661 sq ft. (* Square footage is not warranted by the Broker). It should be independently verified if it is of material interest to the Buyer.
The property has some special unique qualities from tiled floors throughout, beamed high ceilings, plaster walls in: master bedroom, living room, dining room, kitchen & entrance; dining room with high wood ceiling, large living room high wood & beam ceilings with corbels, radiant heated floors and refrigerated air conditioning, 2 gas fireplaces: one in the living room and other in the master bedroom; granite counter tops, custom hand carved front door, all on a single level. 2 car garage. Skylights throughout the house. High end lighting fixtures throughout. Deep covered portals east and west side make outside rooms for entertaining and relaxing.
No apparent roof leaks in the home or damage, just cosmetic re-plaster touch up of cracks, painting inside 2nd & 3rd bedrooms & wood staining on the outside only. I have pricing for plaster, painting & wood sealing repair from a contractor. Please inquire.
Kitchen appliances included, except for washer & dryer, which is not included. Landscaping is in need of tender loving care. Fenced front & back yard with custom gates. High efficiency windows.
This is a Bank owned property, not currently listed in the Santa Fe MLS, and only sold through an auction house. It has been changed to a set flat fee. The process can take time and is a bit more tedious than traditional Bank owned purchases, but I can help you through the process. If you have any interest in this property, I would like to be your buyer agent and help you through this purchase transaction.  I have a strategy for helping you purchase this home at a very favorable rate.
Price dropped to: $463,000 at approximately $177.99 sqft*
Call me for a tour: 505.603.9300
I recommend a home inspection, prior to making an offer. All utilities should be turned on prior to the inspection to help verify its condition. See my list of recommended Home Inspectors: https://www.realestatepropertiessantafe.com/resources/help-for-home-owners/
Slideshow: click through, pause or self play. Place your cursor over the image to control direction, pause or play.
[slideshow_deploy id='3018']
*Square footage is not warranted by broker. Buyer is encouraged to obtain independent verification of square footage.