Governor Michelle Lujan Grisham Message on COVID-19
"The sooner we control COVID-19, the sooner indoor dining can safely operate. The virus itself is keeping indoor dining unsafe – we have to slow the spread. We all have a role to play in fighting the virus and helping our economy get back on its feet." ~Governor Michelle Lujan Grisham

From The Albuquerque Journal:
Restaurants have highest rapid response rate
Sunday, July 26th, 2020 at 9:57pm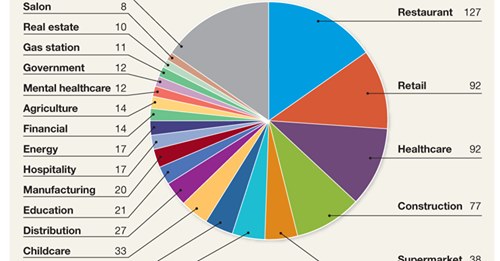 Restaurants make up 15% of the New Mexico businesses with at least one COVID-19 positive employee – more than any other industry in the state.
"People working in restaurants are not wearing the same personal protective equipment, the PPE that you're going to find in your medical office," Department of Health spokesman David Morgan said. "… So it makes perfect sense that they are among the highest risk groups out there for catching COVID-19."
And it's these high rates of cases in restaurants that have brought the industry to the forefront, especially as it relates to public health orders.
Gov. Michelle Lujan Grisham and administration officials have repeatedly cited the high number of rapid response cases in restaurants as one of the factors in the decision to once again halt indoor dining at restaurants.
"By economic sector, food industries make up the largest portion of COVID-19 workplace rapid responses and have already increased from previous weeks to last week," governor spokeswoman Nora Meyers Sackett said in an email two weeks ago.
Rapid response is the process the state uses to begin widespread testing at a workplace that has had an employee test positive.
As of July 23, 127 restaurants statewide had reported having an employee test positive.
Morgan said that even with precautions such as wearing protective equipment and maintaining social distance, restaurant workers are still coming into daily contact with people who are not wearing masks.
The focus on restaurants as a high-risk industry and the ensuing restrictions on restaurants has been contentious.
As the new public health order banning indoor dining took effect July 13, hundreds of businesses participated in the "Let Us Serve" protest sponsored by the New Mexico Restaurant Association. A lawsuit seeking to block the public health order was also filed by the NMRA and several restaurants.
Carol Wight, NMRA president and CEO, said the state data does not provide adequate evidence about the safety of restaurants, and while the data shows the number of workers infected it doesn't necessarily show that restaurants are responsible for the spread of the coronavirus.
"The Environment Department does not determine where the employee caught COVID," she said in an email.
Morgan said he couldn't comment on whether there is data showing community spread stemming from the restaurant industry, but he said it was clear that those working with the public, including in restaurants, are at the highest risk for infection.
Across all industries in the state, from May 11 to July 23, nearly 1,000 employees at 840 businesses tested positive for the virus, according to rapid response data published by the New Mexico Environment Department. This translates to roughly 5% of the state's total infected population.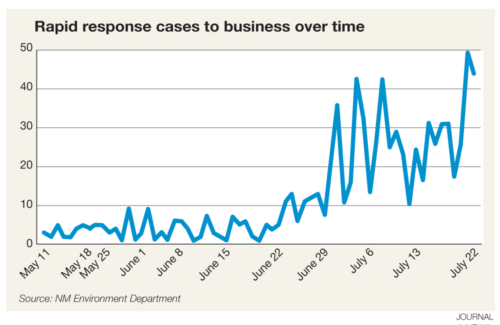 A Journal analysis found that 50% of the rapid response cases stem from just five industries: restaurant, retail, health care, construction and assisted living. After restaurants, retail and health care have the next largest shares of infections, with each industry representing around 11% of the businesses with an infected employee.
"These are the sectors where you are going to see a lot of human interactions," Morgan said. "And what we are seeing in New Mexico and nationwide is the more that we interact together as people, the higher the case numbers go."
More and more businesses are seeing employees test positive.
For much of May and June, fewer than 10 businesses per day had an employee test positive. But by July, every day saw 10 or more businesses with a positive case, and multiple days in July logged several dozen businesses with a positive test. On July 21, the state recorded its biggest daily total, with 49 businesses having at least one employee test positive.
Almost 1,000 employees across New Mexico had been infected by coronavirus as of July 23, according to data from the NMED.
The Journal analysis found that of the 840 businesses with at least one infected employee, 40% of all recorded cases were in Albuquerque. Albuquerque also leads the pack in infected workers at restaurants, retail, health care, construction and supermarkets with between 38% and 54.3%.