Making Face Masks For Family, Friends & Clients
Making Face Masks For Family, Friends, Clients
& Anyone Who Wants a Face Mask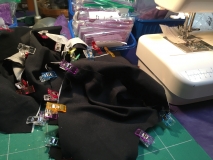 Since March 2020, my sister, Valarie McKenzie, and I (Dianne McKenzie) have been making face masks for family, friends, neighbors and clients to be worn during the COVID-19 pandemic. Valarie lives in Las Vegas, Nevada as a massage therapist extraordinaire at the Bellagio Spa & is an amazing healer. She, like most of us, is basically out of work, as the Spa is closed during the COVID-19 pandemic. While realtors are considered essential businesses (most buyers & sellers are on hold for now), massage therapists are not able to work on clients. So during our "down time", we started making face masks to give away for free.
Valarie and I come from several generations of seamstresses. Our Nana, was a "select gown" dressmaker in New Zealand and taught me to sew at a very early age. Our mother sewed all our clothes until I was in middle school, where I learned to sew all my own clothes. I was 25 years old before I bought my first "store bought dress". Valarie learned to sew on her own. While we now live several states away from each other, we talk on our cell phones (FaceTime) almost every day. We decided that since we both had a stock pile of fabric on hand, and had extra time to volunteer, that we should start sewing face masks. We have experimented with several designs and we are now settled on our version 4 of our face mask project. We have had lots of delays in making the masks working on a part time basis, as supplies for fabric, interfacing, elastic and nose bridges have been on back order from all internet sources.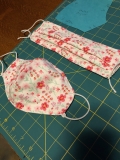 Our version 4 face mask is to be worn when one is around other people. The face masks are designed by Valarie & Dianne, made with love, and 3 layers of washable fabric, including internal interfacing, for added protection. Wear your mask when you are out in public and routinely wash/dry. Together and part time, we have made over 150 face masks & are giving them away for free to family, friends, neighbors & clients (and anyone who needs a face mask).
The face mask in our version 4 has a metal nose bridge that should be adjusted to fit your face. Try not to bend the nose bridge back to flat, as it will break if molded too frequently. The adjustable ear loops can be tightened, loosened or replaced as needed. The face mask should be worn so that the ear loop seam is on the inside of the mask.
Sierra's Talking Videos in the Era of COVID-19
Sierra, our silver standard poodle, has also become involved in our face mask efforts, by participating in several talking videos where she explains the importance of wearing face masks when around other people, social distancing, washing your hands frequently and stay-at-home precautions during the COVID-19 pandemic. You can view her talking videos at: http://DianneMckenzie.com/sierra/
PayPal Donations Needed for Face Mask Making
I have run out of some basic materials for now, therefore, I am taking a break from face mask sewing until we can fund our face mask making project (about $200 is needed for basic supplies, more to purchase additional fabric, once we run out). We are not purchasing any more materials until we can raise the money to keep making face masks. Once we reach our goal, we will order supplies and we will continue to make face mask and give them away for free to anyone who needs a face mask. While we each have the time to make the face masks, we need our own personal financial resources to go to our living expenses during this pandemic, especially since we do not know how long the pandemic will last and what the outcome will be. If you want to contribute to the material costs of making face masks, you can donate supplies and/or funds by contacting us (artist@diannemckenzie.com) or donating funds to our Paypal account:

PayPal Donation Payment Page Link »
We are sharing some of our design & production process in the images: