Where the Priciest, Cheapest New Homes Are
Where the Priciest, Cheapest New Homes Are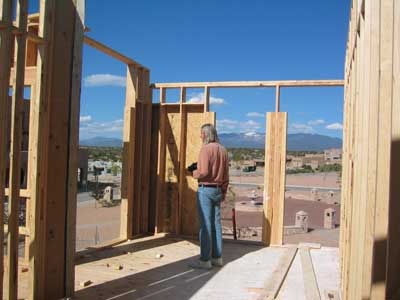 Since construction is definitely on the rise in Aldea, I thought my readers would like to know about housing starts across the country. How do we compare here in Santa Fe? New construction for an upscale home starts at $250 per square foot on up. Homes starts in Las Companas start at $300 per sq ft. Homewise claims to build in Aldea for under $250, but with add ons, portals, fencing and upscale finishes the homes will also climb above $250 per sq ft.
My experience with real estate prior to moving to New Mexico, comes from the west coast, Northern California. Northern California custom home building there is still higher than in Santa Fe. I keep an eye on the real estate market in the San Francisco Bay area, as I still miss the fog even after all these years!
Read the Article on the priciest & cheapest places to build:
If you want to build a new home in the Northeast, you could be paying some of the highest costs in the country, according to a new survey by the National Association of Home Builders, which recently released a breakdown of new single-family home prices by state and metro area.
The priciest places to get a new single-family built and sold are centered in three Northeastern states: Connecticut ($491,425), Massachusetts ($432,724), and New York ($411,169). NAHB economists also note that the District of Columbia is likely at the top as well, but the permit data available did not allow it to provide an estimate for median new-home prices there.
In the New-Home Market

New-Home Sales Surge Nearly 19%
Builders Pump Juice Into New-Home Market
Lot Shortages to Inflate New-Home Prices
On the other hand, for home buyers looking for the best deals on a new home, they may need to head to Delaware. Half of all new single-family homes sold in the state were less than $152,017, according to the NAHB study. Other states that had median new-home prices under $200,000 included Mississippi, Kentucky, and West Virginia.
The least-expensive new homes were mostly centered in the South Central states, while the priciest new homes were often clustered in coastal areas such as California, Hawaii, and the Northeast region, the survey notes.
Broken down to the metro level, the area with the highest median new-home prices was Bridgeport-Stamford-Norwalk, Conn. Half of all new single-family homes sold there were more than $878,625. Barnstable Town, Mass. ($616,381), and Napa, Calif. ($580,197), followed closely behind.
The least-expensive new homes at the metro level were found in Brownsville-Harlingen, Texas, where half of all new single-family homes sold for less than $116, 704, according to the survey.
Source: "New Home Prices by Metro Area and State," National Association of Home Builders Eye on Housing (July 9, 2014)