Eco Lifestyle And Home Newsletter August 2015 Mindfulness
Eco Lifestyle And Home Newsletter
August 2015 – Mindfulness
Dear Friends, Clients, Business Associates and Neighbors,
In this 21st edition of Eco Lifestyle and Home News, we offer Real Estate & Lifestyle news in 26 pages of content where our contributors address the current monthly theme of "Mindfulness", as relates to all areas of our life.
 
In this edition we offer:
Events Around New Mexico
Kelly Clarkston Concert Instead of a Hike!
August Numerology
Creating Clarity: Mindfulness
A Bit of Grace – Sarah Claudia Stout
Pamela Cornish, DOM
Attracting Perfect Customers
Mortgage News with Francis Phillips
Special Offers to Our Readers: 10% Discount at Lowe's Home Improvement
Shared Dreams Design
Special Offers: Fragrance and Light
Real Estate Market Report
Albuquerque Real Estate Listings
Santa Fe Real Estate Listings
Mobile Real Estate Search App: Free for Smart Phones & Tablets
Taos Ski Valley Real Estate News
Dog Treat Recipe of the Month: Standard poodle & service dog, Aeowyn, shares her Pumpkin, Blueberry, Apple Sauce Treats
Free Reports: How Sellers Price Their Homes, How To Sell Your House For The Most Money In The Shortest Possible Time, and more…
Can't wait? Read Our PDF Eco Lifestyle And Home News Now»
 
August Theme Editorial: Mindfulness
"Mindfulness means paying attention in a particular way;
On purpose, in the present moment, and nonjudgmentally."
~ Jon Kabat-Zinn's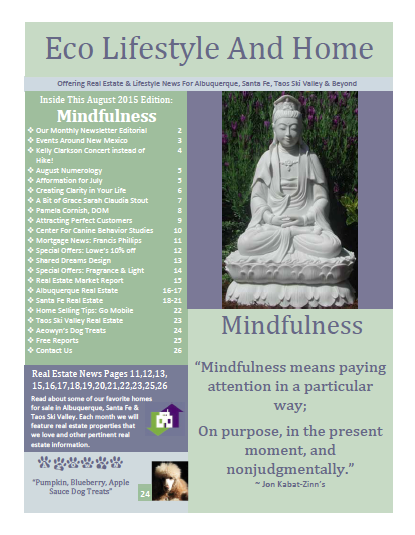 Meditation practices are tools for training the mind. Mindfulness is the intentional, accepting and non-judgmental focus of one's attention on the emotions, thoughts and sensations occurring in the present moment. Mindfulness helps one develop a greater clarity of awareness.
Mindfulness training has roots in Buddhist meditation, however a secular practice of mindfulness has entered the American mainstream & business environments in recent years. Thousands of studies have documented the physical and mental health benefits of mindfulness, inspiring countless programs to adapt the mindfulness training model for schools, prisons, hospitals, veterans' centers, and more recently corporations.
Studies have shown that practicing mindfulness, even for just a few weeks, can bring a variety of physical, psychological, and social benefits.
Mindfulness is good for our bodies, our minds, and our spirit. Mindfulness improves physical health, mental health and increases well-being.
I was exposed to mindfulness meditation in the 1980's before & after the Spirit Rock Meditation Retreat Center was built in Marin County, California. During the next 15 years I attended meditation silent retreats at Spirit Rock Center from weekends to up to month long retreats. I experienced the mindfulness meditation as a training that helps me respond to situations instead of just react to them. In essence meditation, as I experience it, increases the length of ones "fuse", giving me more time to think, respond more appropriately, than just an immediate reaction. When I can respond with clear thinking, the results are often much more helpful and insightful. Mindfulness training works, in part, by helping me to accept my experiences, including painful emotions, rather than react to them with aversion and avoidance.
When one cultivates mindfulness and compassion, it will lead to better understanding and decisions. 15 minutes of mindfulness meditation every day can change your life for the better. Give it a try for a month and feel the difference! Consider mindfulness meditation as a 15 minute spa treatment for your soul.
 
Can't wait? Read Our PDF Eco Lifestyle And Home News Now»
 
Eco Lifestyle and Home News comes to you in its twentieth edition of our Newsletter. The creators of this newsletter are Dianne McKenzie & Cecilie Bodman, real estate associate brokers for Equity New Mexico. We decided to produce a conscious newsletter that has information about some real estate but more about living, playing & working. We also wanted to include our professional friends' expertise as it relates to home, health, well-being, & lifestyle.
Please introduce us to your friends and family for their real estate needs, whether they are considering buying a home or thinking about getting their home sold this year. Many thanks.
Can't wait? Read Our PDF Eco Lifestyle And Home News Now»
Thank you for reading our newsletter.
– Dianne McKenzie & Aeowyn, Cecilie Bodman & our content contributors