Eco Lifestyle And Home Newsletter July 2015 Imagine
Eco Lifestyle And Home Newsletter – July 2015 – Imagine

Dear Friends, Clients, Business Associates and Neighbors,
In this 20th edition of Eco Lifestyle and Home News, we offer Real Estate & Lifestyle news in 25 pages of content where our contributors address the current monthly theme of "Imagine", as relates to all areas of our life.
In this edition we offer: 
Events Around New Mexico
Take a Hike: Tres Pistolas
July Numerology
Creating Clarity: July
Your Inner Rock Star Coach
Pamela Cornish, DOM
Attracting Perfect Customers
Mortgage News with Francis Phillips
Special Offers to Our Readers: 10% Discount at Lowe's Home Improvement
Shared Dreams Design
Special Offers: Fragrance and Light
Real Estate Market Report
Albuquerque Real Estate Listings
Santa Fe Real Estate Listings
Mobile Real Estate Search App: Free for Smart Phones & Tablets
Taos Ski Valley Real Estate News
Dog Treat Recipe of the Month: Standard poodle & service dog, Aeowyn, shares her Banana Carrot Cheese Treats
Free Reports: How Sellers Price Their Homes, How To Sell Your House For The Most Money In The Shortest Possible Time, and more…
July Theme Editorial: Imagine
"Imagination is more important than knowledge. For knowledge is limited to all we now know and understand, while imagination embraces the entire world, and all there ever will be to know and understand."
~ Albert Einstein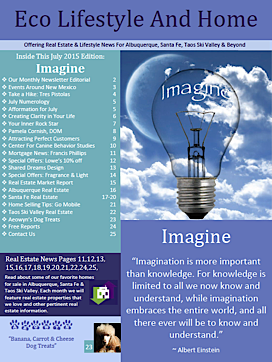 The ability to dream, take chances, and create the things we imagine… these are the skills of entrepreneurs, innovators and change makers. The future requires people who can problem-solve, adapt and communicate in workplaces and environments that are increasingly complex.
Creativity creates jobs, drives economic growth and provides answers to societal needs. And it also maximizes human potential. Research quoted in Newsweek says that people with high "creative self-efficacy" are better able to handle stress and are more "confident."
The creative power of imagination has an important role in the achievement of success in any field. What we imagine with faith and feelings comes into being. To be able to imagine is a great power that can change ones life. Creative visualization, positive thinking and affirmations are simple tools for cultivating imagination.
A developed and strong imagination strengthens creative abilities, and is a great tool for recreating and remodeling ones world and life.
Never underestimate the value of imagination — it's behind every great idea.
"First comes the thought; then organization of that thought into ideas and plans; then transformation of those plans into reality. The beginning, as you will observe, is in your imagination." ~From Napoleon Hill
Visioning is about cultivating dreams into reality through vivid mental imaging. It means creating a mental movie of oneself in an ideal future and working to bring that vision into being. Vivid mental imagery activates creative centers deep within our minds that trigger ideas on how to bring our visions into reality. In essence, the destination dictates the route. Without realizing it, imagining is influencing the present vision and is forming the future.
What do you imagine for yourself?  What steps are you taking to manifest your dreams? What are you imagining into your reality?
---
Eco Lifestyle and Home News comes to you in its twentieth edition of our Newsletter. The creators of this newsletter are Dianne McKenzie & Cecilie Bodman, real estate associate brokers for Equity New Mexico. We decided to produce a conscious newsletter that has information about some real estate but more about living, playing & working. We also wanted to include our professional friends' expertise as it relates to home, health, well-being, & lifestyle.
Please introduce us to your friends and family for their real estate needs, whether they are considering buying a home or thinking about getting their home sold this year. Many thanks.
Thank you for reading our newsletter.
– Dianne McKenzie & Aeowyn, Cecilie Bodman & our content contributors