Eco Lifestyle And Home July Newsletter – Success
Eco Lifestyle And Home July Newsletter – Success
Dear Friends, Clients, Business Associates and Neighbors,
July's theme for our Eco Lifestyle and Home News is Success.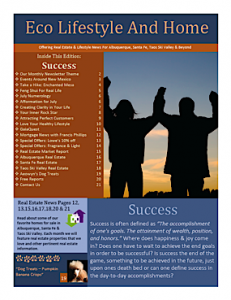 Success is often defined as "The accomplishment of one's goals. The attainment of wealth, position, and honors." Where does happiness & joy come in? Does one have to wait to achieve the end goals in order to be successful? Is success the end of the game, something to be achieved in the future, just upon ones death bed or can one define success in the day-to-day accomplishments?
So what is success, how do we define success? Is success something we achieve by ourselves or is it something we experience while in relationship? Achieving ones goals is a key factor, but is lasting success is a part of the process along the way to achieving ones goals? If success is the end game and the process of achieving success is not filled with happiness and joy, what purpose does success serve? I have been told that I have always wanted to "have my cake and eat it to", and I suppose this is true. I want "it" now. I have never liked waiting. I want to create "it", now. So I am choosing to be happy, now. I am discovering joy, now. And I am re-defining success, now, all along this journey alone and in relationship. If not now, when?
"The adventure towards any goal is what brings value to it. The path towards the goal is where your life unfolds and where success is truly meaningful. When you are in the process of working to achieve something, you are experiencing who you are and what you're made of. Your character is being tested and molded. 
When you become aware of the importance of every step in the process of achieving success, you are sending a message to yourself, as well as the entire universe, that you are not only here, but qualified and ready to overcome obstacles along the way. All of which are essential ingredients for happiness and true success."
Read the newsletter to find out how you can create more success in  your life!
In this edition our contributors address Consciousness as relates to all areas of our life.
In this edition we offer:
Events Around New Mexico
Take a Hike: Enchanted Mesa
Feng Shui for Real Life:Feng Shui Success Stories
July Numerology
Creating Clarity
Your Inner Rock Star Coach
Attracting Perfect Customers
Love Your Healthy Lifestyle with Julie Hansen
GaiaQuest: Center for Global Health & Well-Being
Special Offers to Our Readers: 10% Discount at Lowe's Home Improvement
Special Offers: Fragrance and Light
Mortgage News: from Francis Phillips
Real Estate Market Report
Albuquerque Real Estate Listings
Santa Fe Real Estate Listings
Taos Ski Valley Real Estate News
Dog Treat Recipe of the Month: Standard poodle & service dog, Aeowyn, shares her Pumpkin Banana Recipe
Free Reports: How Sellers Price Their Homes, How To Sell Your House For The Most Money In The Shortest Possible Time, and more…
Eco Lifestyle and Home News comes to you in its eighth edition of our Newsletter. The creators of this newsletter are Dianne McKenzie & Cecilie Bodman, real estate associate brokers for Equity New Mexico. We decided to produce a conscious newsletter that has information about some real estate but more about living, playing & working. We also wanted to include our professional friends' expertise as it relates to home, health, well-being, & lifestyle.
Please introduce us to your friends and family for their real estate needs, whether they are considering buying a home or thinking about getting their home sold this year. Many thanks.
Sending blessing to all of you and encouraging us all to create more consciousness in our lives!
Dianne McKenzie, Cecilie Bodman & Aeowyn