Great Product Recommendation
Product Recommendation
I am always looking online and in my local shops for great client gifts for my buyers and sellers. I try to find meaningful gifts that are often custom made. In the past I have added these products to my website. I do not get a referral fee, but I like promoting artisans and products that give me pleasure and delight. Some of the products are featured on my website, here. Items such as Glassybaby votive candles, Jaclyn Glass Art creating painted wine & champagne glasses, and Rustica Ornamentals make gift giving so much fun to give!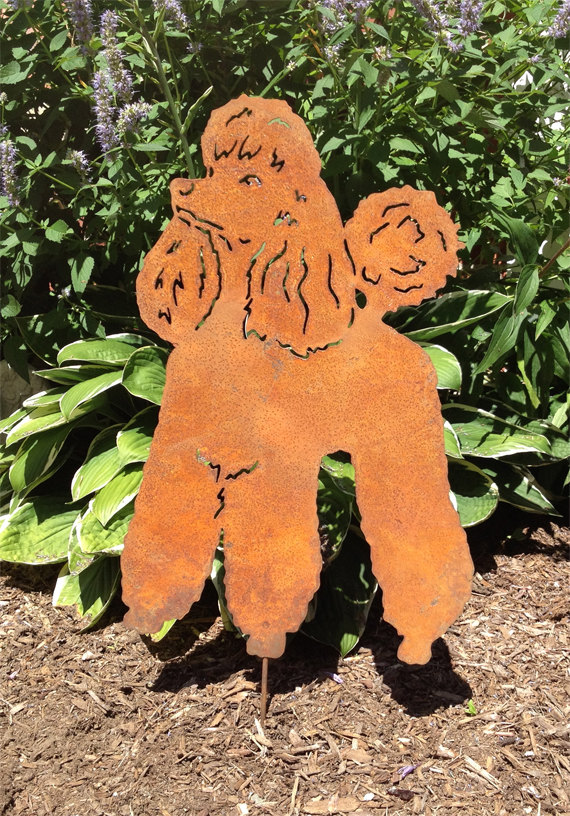 My newest discovery is Rustica Ornamentals.
I fell in love with the poodle and contacted the Etsy store where I also learned about their other products. I will be ordering this garden art design for my husband's birthday in July, but made to the exact size of our apricot standard poodle, Aeowyn, who is our office mascot and CFO (Chief Fun Officer).
The decorative metal yard stakes come in an amazing array of dog breeds that really capture the breeds essence. Krista and Chris also create custom pieces of ones own dog when provided with a photo.
From their Facebook page they also make custom metal panels that make great privacy screens. Their creativity seems to have no limits when it comes to metal crafting in all sizes. I am excited to discover them and will be adding them to my client gifts, where appropriate.
From their website:
"It all started when Chris Lerner & Krista Tulisano created a few yard ornaments for enjoyment in their own back yard, after giving a few of them away for Christmas presents and recalling the overwhelming response from friends and family, they decided they had to start Rustica Ornamentals LLC. Chris formally a Johnson and Wales graduate working as a chef for over 15 years. Chris had branched out into working with decorative plastics, metal and welding. Krista is a former Memphis College of art student who worked as an Advertising Marketing Manager. With Chris and Krista's artistic and marketing background combined, they produced RusticaOrnamentals.com creating hand crafted original Home, garden & Seasonal Decor."
61 Arrow Road, Bay 10
Wethersfield, CT 06109
Order by phone anytime: 860.778.6841
Contact Customer Service: 860.778.6841
Monday – Saturday, 10:00 am – 7:00 pm (EST)
E-mail: k.t@rusticaornamentals.com
Web: https://rusticaornamentals.com/
Etsy Store:http://www.etsy.com/shop/RusticaOrnamentals